Computer aided facilities management (CAFM) systems have significantly improved the way building information is stored and managed. But when it comes to virtually visualizing this data, CAFM providers such as ARCHIBUS usually have to rely on Building Information Modeling (BIM) software to connect the information to 3D building models.
BIM is not, however, the easiest way to visualize information, especially if modeling was not part of the building design process before construction. Given that BIM is a relatively new technology, many buildings do not have models. The challenges of introducing BIM models in existing buildings are well known, especially the costs and complexity of producing and maintaining the model.
Recent improvements in data capturing technology have changed this, making it possible to capture the data needed to update BIM much more efficiently. At the same time, this technology brings additional advantages, especially in being able to capture much more detailed and comprehensive data on a regular basis. To bring this significant innovation in BIM to its customers, ARCHIBUS teamed up with NavVis and German software design company, Büren & Partner (a NavVis Solution Partner), to integrate NavVis' 3D visualization software, the IndoorViewer, into ARCHIBUS' CAFM system. This means it is now possible for ARCHIBUS users to have 'Google Street View'-style access to buildings, which gives a much more detailed visualization of rooms, objects and assets (like a machine or piece of equipment).
The 3D visualization with NavVis IndoorViewer software is directly accessible in the ARCHIBUS interface. This is an entirely new interface that has been specifically developed by Büren & Partner to integrate ARCHIBUS and NavVis IndoorViewer software. The new interface provides a two-way exchange of information, making it possible to visualize the status of technical objects directly in the IndoorViewer. At the same time, it's possible to transfer data and information from IndoorViewer directly to the ARCHIBUS database. Anyone can therefore add a geo-tagged point of interest to an object visualized in the IndoorViewer, which can then be added to the database. The biggest advantage of this feature is the democratization of building information – it is now much easier for users unfamiliar with or unable to access CAD software to use the building model and even add information.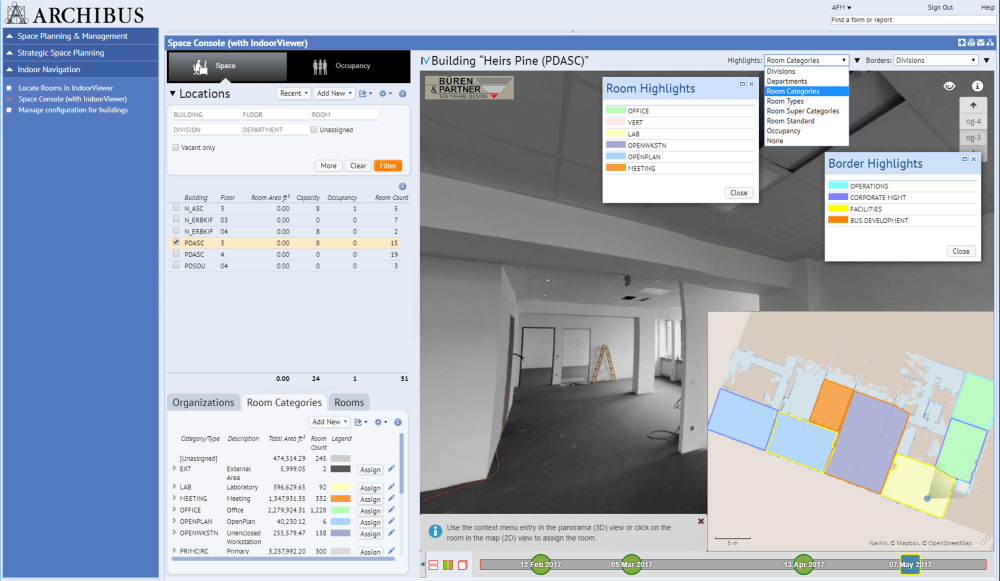 NavVis technology also brings further improvements to the ARCHIBUS CAFM system. In contrast to classic BIM models that merely represent the building plans, the actual state of the building is shown. The NavVis M3 Trolley captures point clouds with a resolution of 0.5 to 2 cm, which also allow measurements to be taken with great accuracy in the respective panoramic images.
Finally, there is perhaps the most obvious advantage: cost. The creation of classic BIM models, especially for existing buildings, requires considerable time and investment. With NavVis technology, ARCHIBUS users are now able to get buildings scanned much faster and visualize building information of existing structures at a much lower cost than ever before.
Want to find out more about how you can make this integration work for you?
Get in touch to schedule a discussion with one of our account managers.