NavVis IndoorViewer 2.5 includes a major update that lets you crop and download sections of large point clouds right in your browser!
NavVis IndoorViewer is well-known as web-based, 3D visualization software that lets users easily interact with and enrich laser scan data as realistic, fully immersive digital buildings. The intuitive interface and realistic 3D view make NavVis IndoorViewer a popular deliverable for building stakeholders without the technical expertise to work with point clouds and modeling software.
For more advanced users, such as laser scanning and AEC professionals, NavVis IndoorViewer often serves as an online hub for accessing, streaming and managing point cloud files. Using web-based software to manage point clouds, which often contain massive volumes of data, makes storing and sharing these files much easier and more efficient. Additionally, the NavVis IndoorViewer interface offers an intuitive and well-organized way to access and view point cloud files.
With the release of NavVis IndoorViewer 2.5, we are excited to be adding to this list of features by introducing some major new point cloud capabilities. This includes a feature that extends the point cloud functionality to let users select, crop and download sections of large point cloud files right from their browser.
Select and download sections of large point clouds in browser
A major challenge in working with large point cloud datasets to create and update 3D models of the built environment is that it can be difficult to find the exact section of the scan needed. Modelers often spend a lot of time using point cloud software to manually inspect and locate the section of the dataset that needs to be extracted.
With the point cloud functionality in NavVis IndoorViewer, users can upload scans from different devices and merge the datasets into a uniformly displayed building point cloud. In addition to streaming the point clouds in browser, users can view the files based on location or the real-world surroundings by viewing the floorplans and realistic 360° images. For users that need to access specific scans, the dataset menu lists every uploaded file separately and lets users jump to and display the relevant dataset.
Included in the latest version of NavVis IndoorViewer is a highly requested feature that enables users to select and crop specific sections of the point clouds being streamed in browser. These files can be saved and downloaded in e57 format, which can then be imported and used in any compatible third party modeling software. This exciting new feature eliminates the tedious task of searching for the right scan files, which is especially useful when creating and updating 3D models.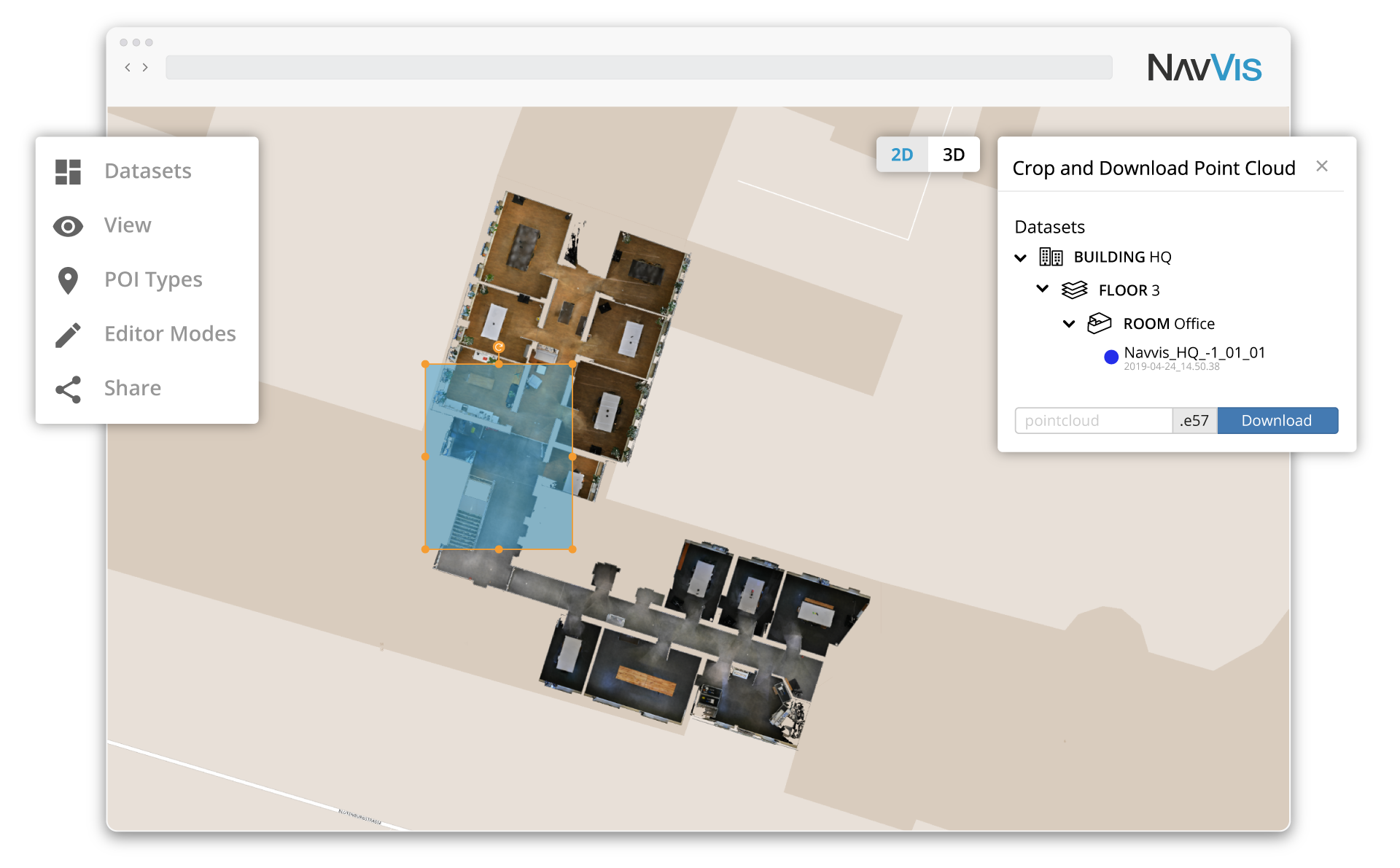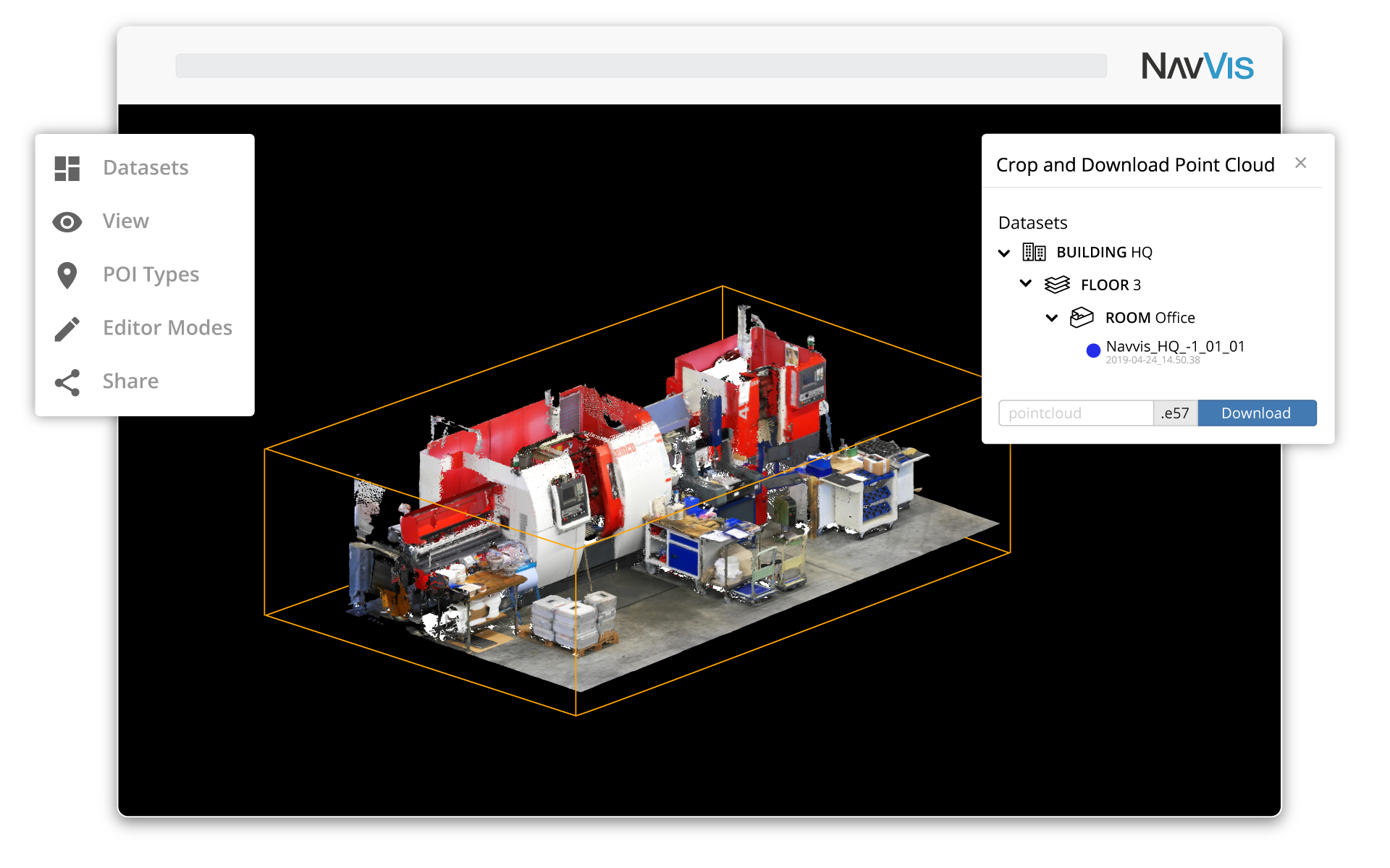 Seamlessly scroll through point clouds
Along with displaying digital buildings as realistic 360° walkthroughs and floorplans, NavVis IndoorViewer makes it possible to stream point clouds in browser. With the point cloud view, users can move through the datasets as if they are walking through the building or from the top-down. It's even possible to "fly through" the point cloud.
With the release of NavVis IndoorViewer 2.5, users will have an even more intuitive way to explore point clouds in browser. The latest release includes a new feature that lets you seamlessly move through point clouds using the two-finger scroll on your touch pad. Watch the video above to find out what it's like to view point clouds using this new feature.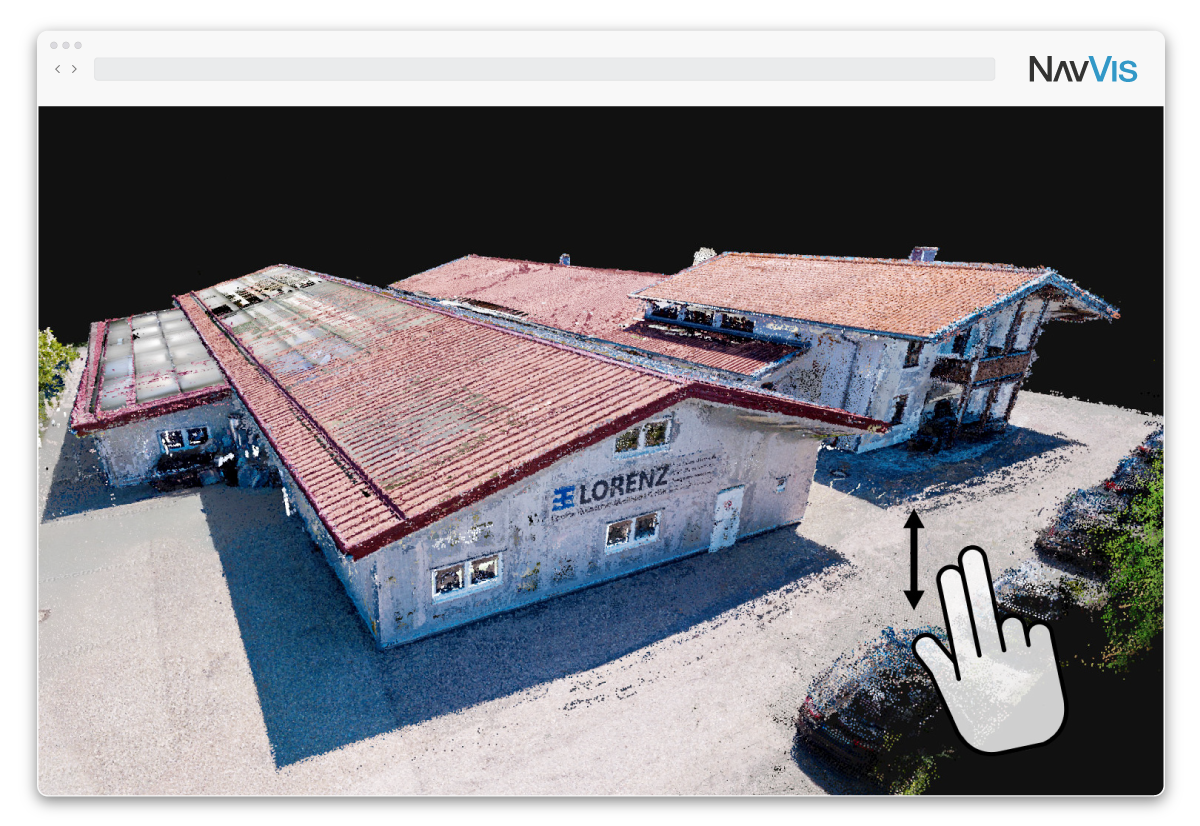 More on NavVis IndoorViewer 2.5
For all the new, improved and fixed items, read the full changelog.
If you are not yet using NavVis IndoorViewer, you can still try out these new features by registering for a free trial and using your point cloud files to create your own fully immersive 3D building by visiting www.navvis.com/cloud.