We're very pleased to announce that version 2.6 of NavVis IndoorViewer is here! With this release we are introducing a brand-new, highly accurate measurement tool, new feature support for e57 files from static scanners, new formats for saving downloaded point clouds, and support for on premise installation using Docker. Keep reading for more on these release note highlights.
Now every building stakeholder can take accurate virtual measurements
NavVis IndoorViewer is a popular deliverable among building stakeholders without the technical expertise to work with point clouds and modeling software, thanks to the realistic digital buildings and intuitive interface. One of the features that has proven to be useful among users across a number of industries is the measurement tool. It enables users to take measurements remotely on any device, saving time otherwise spent traveling to the site.
Since we know that this tool is quite important for many building stakeholders, we have been working hard to bring it to the next level. To do this, we have completely redesigned this feature to overcome two of the biggest problems with virtual measurement tools - accuracy and usability. On the one hand, point cloud measurements are quite accurate. But often these software tools are not accessible or even usable for a wide range of building stakeholders who lack the expertise in working with point clouds. If, on the other hand, the tool uses images or even meshes, which are much more user-friendly than point clouds, the tools are usually not reliable enough to produce accurate results.
To overcome these issues, we are very proud to share with you that we have developed a measurement tool that combines the best of both worlds. With the release of NavVis IndoorViewer 2.6, users can now take accurate measurements based on point clouds in the realistic 360° view.
That's not the only change, though. We've highlighted the most exciting changes below, so keep reading to find out what else is new and see for yourself why it now might just be better to take your measurements in NavVis IndoorViewer than actually going on site.
Where to find it: Ruler Icon on the left side of the screen
---
What you can do with the new measurement tool in NavVis IndoorViewer
1. Take accurate measurements based on point clouds - without having to deal with point clouds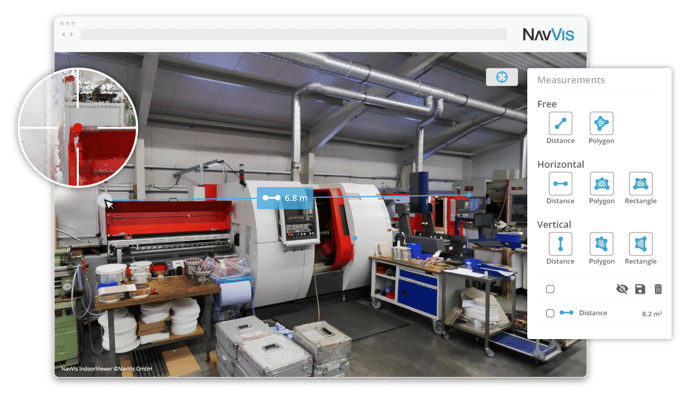 The point cloud data is what brings the highly accurate results to the measurements taken in NavVis IndoorViewer. However, not everyone knows how to work with point clouds. And even those who do know are probably aware that finding the right point to measure in a point cloud can be quite a challenge.
To overcome both of these challenges, the measurement tool in NavVis IndoorViewer now includes a magnifying feature in the realistic 360° view that provides a behind the scenes look at the point cloud. This lets users pick the exact point cloud point while benefiting from the intuitive interface of the fully immersive walkthrough.
Measurements can also be taken in the HD colored floorplans that appear in the 2D map view. These detailed floorplans are both easy to interpret and highly accurate because they have been generated using point clouds. In other words, the measurements taken in the 2D view of NavVis IndoorViewer are also highly accurate.
2. Get an overview of the entire building and detailed view of a specific location - at the same time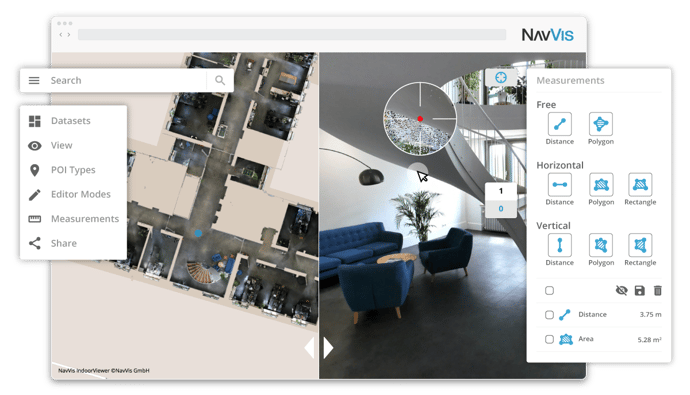 The new slider function in the measurement tool lets users simultaneously view the 2D floorplan and 3D view (360° image or point cloud). So on the one hand, this function provides an overview of the entire building, which makes it easier to locate the asset or area that is to be measured. And at the same time, the location selected on the floorplan appears in the realistic 360° view, making it possible to virtually walkthrough the area being measured or inspect the asset, similar to how a measurement would be taken on site.
3. Measure distances and areas in just a few clicks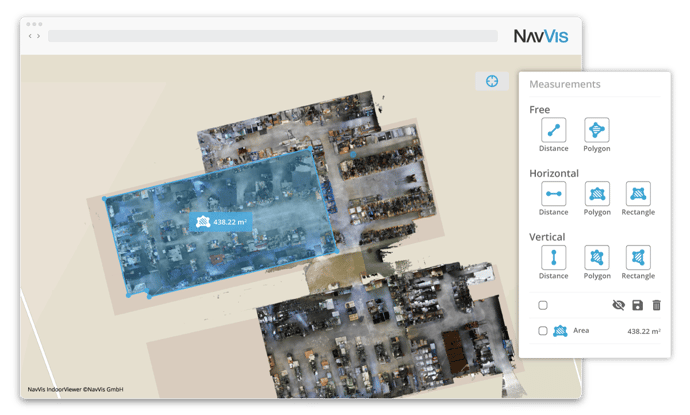 The new measurement tool in NavVis IndoorViewer now does more than measure height and distance. It includes functionality to select an entire area, which makes it possible for users to quickly determine the dimensions of the space. This means a factory planner, for example, can measure a piece of equipment in the 360° view and then use the floorplan to measure the entire surrounding area.
4. Keep track of your measurements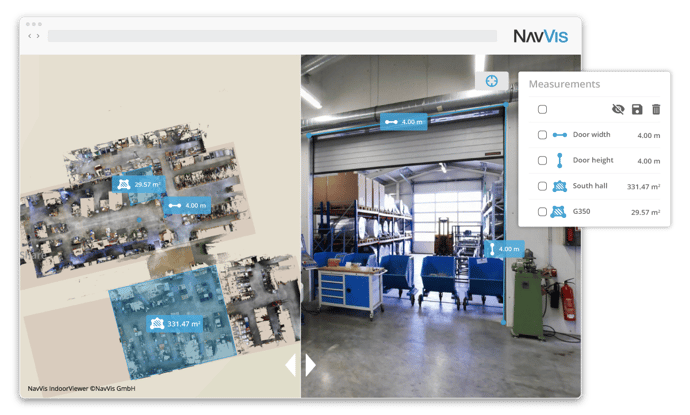 When planning to move equipment, refurbishing a building or even just if a space is frequently changing, the new function to name and save measurements means that users can keep track of measurements that have already been taken. This provides a fast, efficient way to check and verify measurements remotely, whenever the information is needed.
---
Routing and floorplans now automatically generated for static scans
To make NavVis IndoorViewer compatible with static scanners, we introduced a feature in fall of 2018 that converts structured e57 point cloud files into realistic 360° images. This made static scans available to users as fully immersive walkthroughs that let every building stakeholder intuitively interact with scan data.
The support of static scanners has proven to be very popular, especially since NavVis IndoorViewer was made available as a standalone software-as-a-service offering.

That's why we are very pleased to share that we have included additional feature support for structured e57 point cloud files with the latest release.
Auto-generated HD floorplans for static scans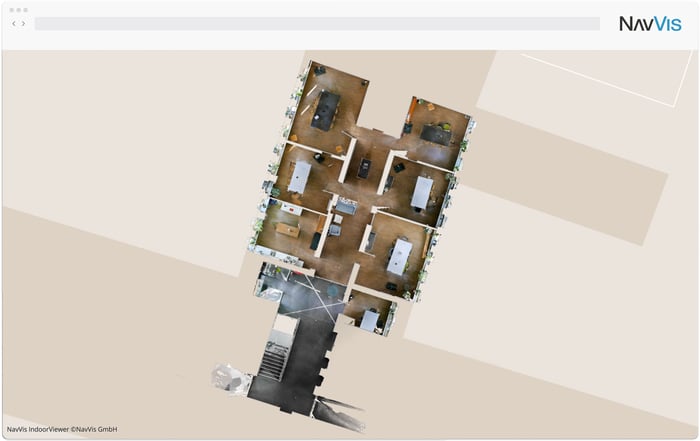 The first is automatically generated floorplans. This means that the highly detailed floorplans in NavVis IndoorViewer can now be generated in a few clicks for structured e57 point cloud files.
Where to find it: Settings > Dataset Management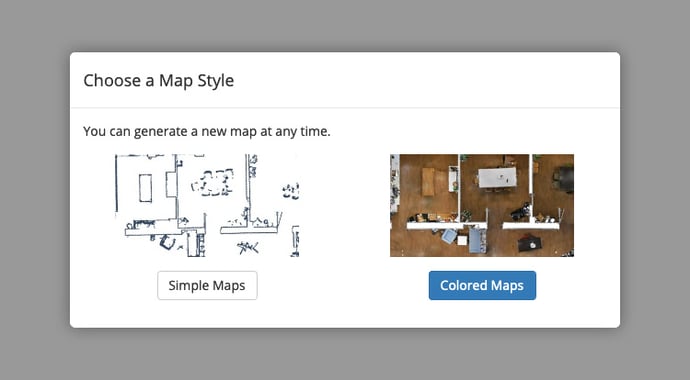 Indoor routing for static scans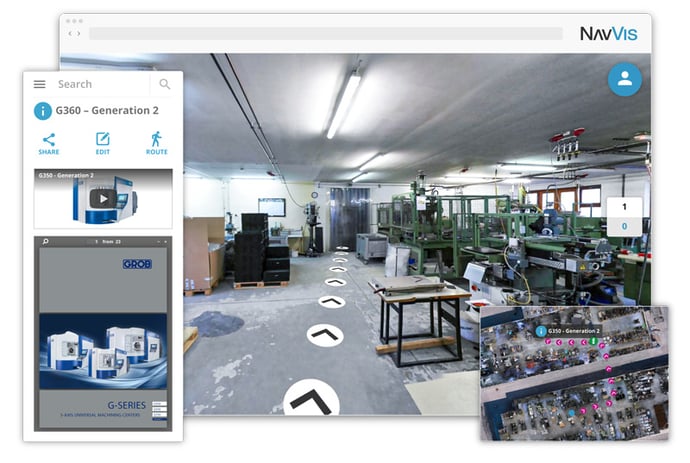 The second feature now available is the auto-generation of navigation graphs. While the routing function has been available in scans not captured by NavVis scanning hardware since the introduction of the path drawing tool, this feature can now be automatically added to point cloud files captured by static scanners that have been uploaded as structured e57 files to NavVis IndoorViewer.
Where to find it: Settings > Dataset Management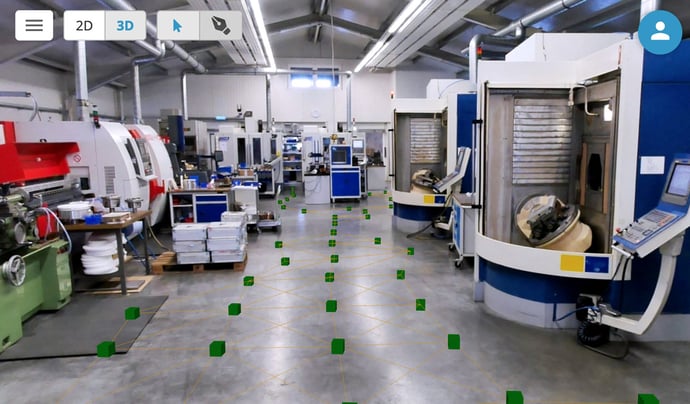 ---
Download point cloud files in .las and .ply formats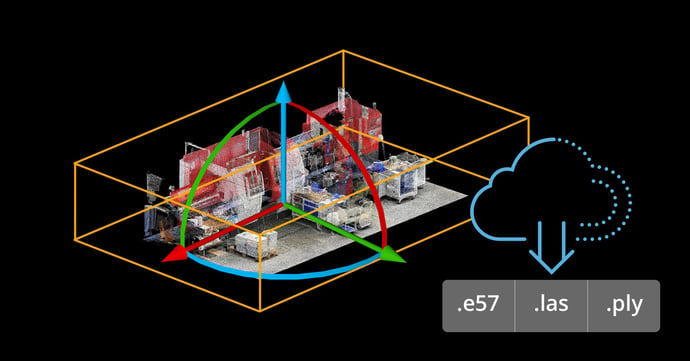 With the release of NavVis IndoorViewer 2.5, we introduced a brand new feature that lets users select, crop and download sections of the point clouds being streamed in browser.

Now we are introducing new file formats for saving downloads. In addition to e57, point cloud files can now be downloaded and saved in .las and .ply formats.
Where to find it: Editor Modes > Crop and Download Point Cloud
---
New point cloud viewing functionality
Streaming point clouds in browser is one of the original features of NavVis IndoorViewer. It means that building scans can easily be published, shared and accessed online.

With this release we've added some new, more intuitive ways for users to inspect and view the point cloud, including panning (Shift + drag or right-click + drag) and orbiting (Ctrl/Cmd + drag or middle-click + drag) around a point.
You can now also use the keyboard to adjust the point size by pressing the alt key and using the mouse wheel.
---
Docker installation now available for on premise hosting


For customers hosting NavVis IndoorViewer on premise, Linux installation is now possible using Docker. We highly encourage you to try installation via Docker, which uses less memory and makes it easier to upgrade and backup your software.
---
More on NavVis IndoorViewer 2.6
For all the new, improved and fixed items, read the full changelog.
If you are not yet using NavVis IndoorViewer, you can still try out these new features by registering for a free trial and using your point cloud files to create your own fully immersive 3D building by visiting www.navvis.com/cloud.
Are you ready to try NavVis IndoorViewer?

Create your own Trial Instance

Try our Demo Instance

Create your own 3D building by setting up a NavVis IndoorViewer instance with a 15-day free trial NavVis Cloud account.

Experience our web-based, fully immersive 3D building software right in your browser by exploring our demo instance.