5 Alternatives to Faro Focus S350
Note: This article is authored by NavVis and was last updated on 23.02.2022.
It used to be simple to buy a laser scanner. Now, as the number of options on the market grows, the decision is becoming much more complex.
Choosing the right tool in 2023 depends on your intended application. That means you need to know: Does this device help me get my projects done faster, safer, with less expense and greater efficiency? Does it produce data that meets my needs?
To know for sure, you'll need to compare your options carefully. That's why we've compiled this list of alternatives to Faro Focus S350. We've done the research on five leading alternatives and outlined the important details below to help you make an educated purchase decision.
NavVis VLX
NavVis VLX is a wearable mobile mapping system designed for versatility and speed without sacrificing data quality.
The system weighs 8.7 kg and features advanced ergonomics—including a hip belt for better weight distribution—that improve operator comfort over long scans. It's equipped with two LiDAR sensors, one on top and one in front, that capture 600,000 points per second, as well four cameras for full-coverage imagery without capturing the operator. It includes a large built-in touchscreen interface for live feedback and easy operation and hot-swappable batteries for 1.5 hours of continuous operation.
Its SLAM enables scans at up to 10 times the speed of terrestrial scanners, and has been rigorously tested to provide global accuracy of 6 mm in a testing area of 500 sq meters. This software also supports the use of ground and wall control points, which can be surveyed by total stations or GNSS and used to reduce drift, perform geo-registration, and align data sets captured by a variety of methodologies. The system also uses advanced image processing for HDR, auto-white balance, and realistic point cloud colorization.
With this image processing and the ability to scan outdoors, the system is suitable for capturing complex indoor spaces with challenging lighting, outdoor environments, and construction sites.
Good if: You want high speed and high data quality and accuracy (6 mm), comfort, the ability to scan in a variety of environments, and the ability to take on projects ranging from small to large.
GeoSLAM Zeb Revo RT
The GeoSLAM Zeb Revo RT is a handheld laser scanner that offers speed and extreme portability.
Its small form factor is designed for one-handed use, weighs 1.05 kg, and includes one LiDAR sensor that captures 43,000 points per second. The device does not include a camera in its base configuration, or a display, but you can buy accessories to attach a single panoramic camera, smartphone display, GNSS, a pole, and more. You also can add a plate to the bottom of the handle which allows for the capturing of ground control points. Its battery supports four hours of continuous scanning.
This system's SLAM enables movement in 6D, live feedback, and automatic alignment of multiple data sets. Its measured global accuracy is 6 mm. The Zeb Revo RT can bs used for the capture of both indoor and outdoor environments.
Good if: You want a mobile mapping system that prioritizes extreme portability, has a high speed of mapping, medium-to-low costs, and modularity, and your projects are small-to-medium-sized and can manage with a relative accuracy up to 6 mm.
Leica BLK360
The Leica BLK360 is a terrestrial laser scanner that prioritizes visualization and greater ease of use.
The device captures 360,000 points per second and weighs only 1 kg, making transportation and set up fast and easy. The device offers a 3D point accuracy of 6 mm at 10 meters and 8 mm at 20 meters. It comes with a one-year subscription to Leica's device-specific software and offers an iOS and Android app that is required for control of the device, Cyclone FIELD 360.
Good if: You want a low-cost, highly-portable, easy-to-use static laser scanner, have mainly small-scale projects, and prioritize ease of use.
Trimble X7
The Trimble X7 is a terrestrial laser scanner designed to improve the speed of tripod-based LiDAR and offer easier adoption for those comfortable with traditional methods.
The system weighs 5.8 kg including battery and features a variety of advanced features, including automatic calibration, calibration reports, survey-grade self-leveling, an assistant for on-site registration, and laser-pointer-based georeferencing. The tablet or PC-based software offers direct access to configuration during scanning, as well as visual feedback on scan progress.
Trimble X7 offers high-speed terrestrial capture, with a fast raw image capture of 15 images in 1 minute, (3 minutes with HDR imaging), and a measured range accuracy of 2 mm. It is also suitable for use indoors and out.
Good if: You want a terrestrial scanner that is faster than comparable terrestrial scanners and includes more advanced features, and millimeter-level accuracy is important to your project.
Leica BLK2GO
The Leica BLK2GO is a very portable handheld laser scanner with a novel design and easy operation.
It is designed for one-hand use and weighs 775 g. It features a single LiDAR sensor that captures 420,000 points per second, and a three-camera imaging system. The device features an award-nominated design with a sleek look, single-button operation, and an iOS app that offers visual feedback on an Apple mobile device held in the other hand. The battery offers 45-60 minutes of continuous scanning, and the device has a scanning range of up to 25 m.
The system's SLAM claims an accuracy of 10 mm indoors and it is suitable for indoor and outdoor use.
Good if: You are new to laser scanning, you prioritize extreme portability, you want a high speed of mapping, and your projects are small-to-medium-sized and can manage with an indoor accuracy of +/-10 mm.
NavVis VLX: Designed for complex environments demanding fast data acquisition
NavVis VLX wearable mobile mapping system consists of 2 multi-layer LiDAR sensors and 4 cameras. It can capture an immersive 360-degree view of the site and between 1,000 – 4,500 sqm of survey-grade data in a single dataset - 10 times faster than a terrestrial laser scanner.
Download data sheet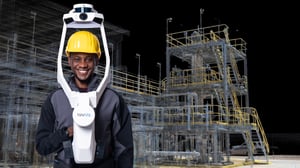 Use NavVis technology alongside your current surveying devices and workflows
From initial data capture to final delivery, the NavVis Reality Capture Solution seamlessly integrates into your existing scanning workflows, resulting in a hybrid solution that's fast, accurate, and delivers quality results.
Learn more
Read what gives our customers the competitive edge
Join the global movement
"For surveying complex building structures, mobile laser scanning is perfect. Without NavVis VLX, documenting this building would have been much more expensive and tedious, if not completely impossible."
"Even though the team snapped the data to every control point they could, they finished the capture of the 44.7 hectare area in only 2 days. Compare that to the 40 they budgeted for traditional survey."
"For a 20 million gallon tank, that's probably half a million square feet of surface area. Each tank could have taken a team of 6 people up to three weeks. Using NavVis VLX and manual methods, a team of two could be in and out of a tank in only four days."

Take the next step
The speed and scalability of mobile mapping devices is the best it's ever been, bringing survey-grade accuracy to the most challenging projects. Get hands on with NavVis mobile mapping systems and see for yourself what's possible.