Our customers' success is our success
NavVis is dedicated to your success, going beyond simply providing solutions. We are your best business partner - when your projects excel, so do we. It's crucial to us that YOU can achieve MORE: from scanning and processing to analyzing and collaborating.
"We've gone through different methodologies over the years and as the technology has grown. Now, with NavVis VLX, we can race through different floor plates, sizes of buildings, and complexities without really worrying too much. NavVis VLX will handle most circumstances. So we've had a lot of success with that, and we've quickly ramped up. We now have 4 NavVis VLX in operation every day, 5 hours a day. Those scanners run and produce around 1 to 1.5 million square feet of as-built capture per week. "
"We were looking for a solution for scanning as-built conditions in a faster process, and we found NavVis VLX to be extremely fast. We're saving 75% of our time on capture, and we're getting a point cloud out of that that's processed and used to either evaluate against an existing conditions model or to produce an existing conditions model. That accuracy is perfect, actually more than enough for what we're doing, so that whole process streamlining for us has been a huge cost saver."
"Using NavVis VLX, Asset Survey Solutions were able to reduce time on the road from four days (traditional survey done with a total station and GPS) down to four hours of total scanning time, representing a reduction of 87.5% in time spent in a hazardous environment. Along with these huge benefits in safety and efficiency, Asset Survey benefited from an infinitely more in-depth condition survey that can be used to settle any disputes once the project is handed over."
"One of the first benefits is that we're able to do big projects faster. With mobile mapping, we can travel to a site and spend one or two days instead of four or five — and that's helping us with one issue in the industry that everyone knows about: lack of resources. Everyone's trying to hire laser scanning professionals, and there's a lack of people. So, we look at tools like this as efficiency gainers. We're able to do more with what we have by buying a new tool rather than hiring another person."
"The Cloud Processing Add-on for NavVis IVION has really paved the way to better efficiency. We can process a multitude of scans at the same time. We can dump an entire terabyte of data, come back the next morning, and we've got our Lego pieces. Then we can go back and assemble them. It's been a complete game-changer. It's helping our small team to address the needs of our 1400-person company."
"NavVis is helping us by allowing us to capture data very quickly. And what that means is that I can be on-site for less time, which is less travel costs. I can turn data around to my customers faster, and we're able to do a lot of things faster than with a traditional terrestrial scanner. There's an awesome use case for NavVis VLX and NavVis IVION on any project size. So, time savings means I can get data in the customer's hands faster and we're on site less, causing less disruption."
"We utilize NavVis in upfront planning sessions where maybe the scope isn't fully defined. So instead of adopting a surgical approach with a traditional laser scanner - where we set up a tripod, it shoots an object, and we lose anything behind it... With this, you can walk around and you're going to build a 360 capture. You're going to grab all the data, and then there might be extra to be utilized when the scope changes. It's going to save me time and save you money. For me, for the client, it's a win-win."
"NavVis enables us to create accurate, real-time digital twins of indoor spaces for our customers. This capability enhances operational efficiency by providing a clear, detailed overview of the environment, facilitating streamlined logistics, resource allocation, and decision-making. NavVis simplifies complex processes by providing an intuitive platform for managing and visualizing indoor data. This streamlines workflows, reduces errors, and minimizes downtime, all contributing to a healthier ROI."
"For us, 3D mapping with NavVis VLX means reduced project risks and increased confidence in planning decisions, resulting in more robust designs and less friction during project deliveries."
"When we export all our NavVis VLX data and pull in our 3D models for underground infrastructure, everything lines up neatly. The best part is our customers using NavVis IVION to visit their sites virtually. On a productivity level, it's really taken our underground utility modeling workflow to the next level."
What our customers did with NavVis technology
How you can benefit as well
NavVis technology brings major improvements in efficiency and productivity without compromising on quality
up to 10
x
faster in the field and in the office
up to 82
%
labor time reduction
up to 50
%
project cost reduction
NavVis technology brings major improvements in efficiency and productivity without compromising on quality
Up to
10
x
faster in the field and in the office
50
%
project cost reduction
If you're the boss, reach out directly
Fill out this form to speak to our team of experts for personalized calculations or receive tailored answers to your questions
Ciao! Hola! Hallo! Salut! 你好! Cześć!
Our experts speak your language
Achieve 10x faster scanning with NavVis technology
Reduce labor time by up to 82%
Cut project expenses by as much as 50%
Receive personalized guidance through an in-depth ROI calculation to uncover unique benefits for your business
Explore new applications and services that can empower you to secure more deals
Enhance your quoting process using mobile mapping systems
BUILD BETTER REALITY
Laser scanning professionals around the globe continue to grow with NavVis
Join the global movement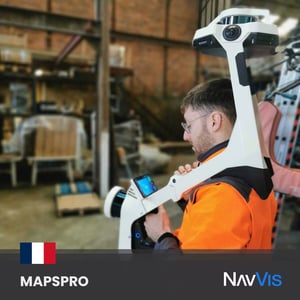 TOUCH
Teams like MAPSPRO are always looking for the best solutions to deliver top-notch results to their clients. However, some environments are more challenging to work in than others. With NavVis VLX, the team efficiently captures and processes every single detail, delivering high-quality point clouds without much interruption to operations or other setbacks.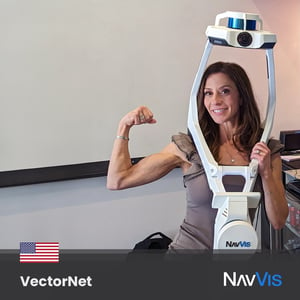 TOUCH
The VectorNet3D team in the USA pushes the boundaries of laser scanning, and leading the charge is the one and only Angela Somerville, a true expert in harnessing the full potential of our NavVis VLX, particularly in the construction industry. Her team got to Innovate with NavVis, and the results transformed their workflows.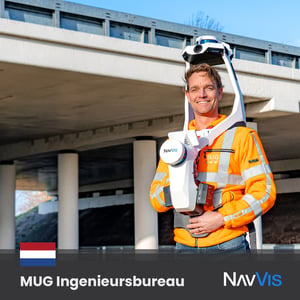 TOUCH
The crew at MUG Ingenieursbureau is happy to be a part of our global movement. Easy, fast, and efficient data capture is now possible with our tech, and their team couldn't be more satisfied by the results. Roads, rail, cables, pipes, and more are now digitally deliverable in various formats - the possibilities are endless when you Innovate with NavVis.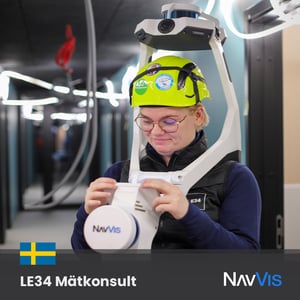 TOUCH
Surveyors from all around the globe, just like LE34 MÄTKONSULT, take initiative to provide next-level results to their clients - by using NavVis VLX. With our laser scanning tool, your data can be more accurate, and even in challenging environments, it enables the capture of data at unprecedented speed thanks to its wearability and technology.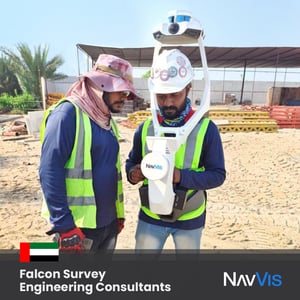 TOUCH
The Falcon Survey Engineering Consultants team wanted to use NavVis VLX to improve their workflows. They quickly realized that, by using our mobile mapping tool, they can now achieve more accurate results, reduce project errors, lessen their time on site, and even save money!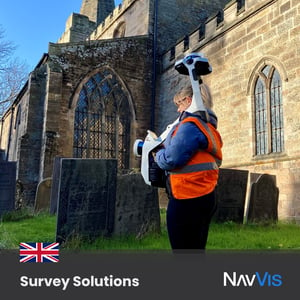 TOUCH
SURVEY SOLUTIONS quickly learned how valuable mobile mapping is for their workflows for survey and inspection purposes. NavVis VLX can tackle anything from complex indoor spaces with challenging lighting conditions to outdoor environments and construction sites.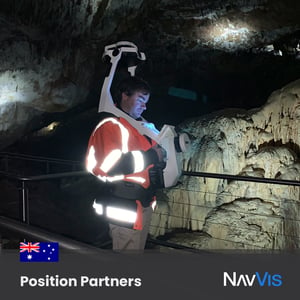 TOUCH
Matthew Jones from Position Partners as he puts our NavVis VLX to the test in some underground, low-light conditions. Our #LaserScanning device can help you deliver results with survey-grade accuracy even in these challenging environments.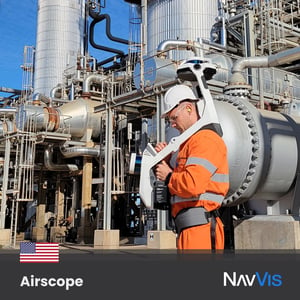 TOUCH
To tackle complex buildings, construction sites & more, the Airscope team chose to Innovate with NavVis. Our unique SLAM algorithms have been specifically developed to overcome the challenges of capturing high-quality point clouds with a mobile system - helping this team (and more all around the world) deliver accurate results!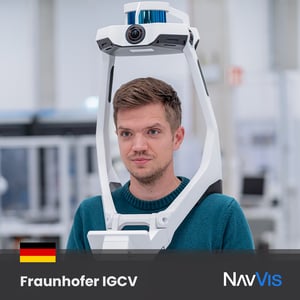 TOUCH
The Fraunhofer IGCV crew has cracked the code - work smarter, not harder! Our mobile mapping tool provides reliability, accuracy, and agility, making things easier when and where it's needed. Reduce costs and enhance your workflows, using the right tool for the job.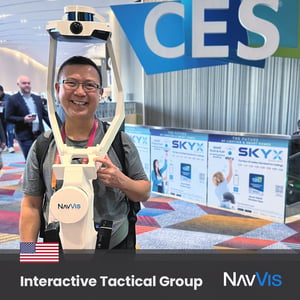 TOUCH
Michael Quan, founder of Interactive Tactical Group, was spotted cheerfully using his NavVis VLX while sharing the benefits of our laser scanning technology. Our wearable mobile mapping device offers accuracy, efficiency, and speed to those who want to positively transform their workflows!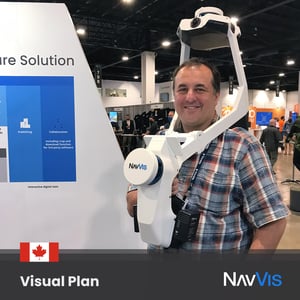 TOUCH
Our friend Kelly Watt from Visual Plan Reality Capture & Digital Twins Solutions knows it! His team was delighted to add NavVis VLX to their toolbox, and they can now tackle anything from complex indoor spaces with challenging light conditions to outdoor environments and construction sites - with time to spare!
TOUCH
Check out Tiaan Hattingh from Wyreframe wearing NavVis VLX - his smile says it all! Our mobile mapping tool is accurate and convenient, allowing you to capture high-quality point clouds in less time on the field.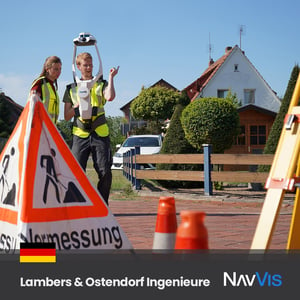 TOUCH
Surveying professionals André Frerichs and Miriam Krusch decided the way to offer their best services to clients is with NavVis VLX. Our mobile mapping tool helped them achieve precise, cost-effective, and time-efficient results in their projects. What a team!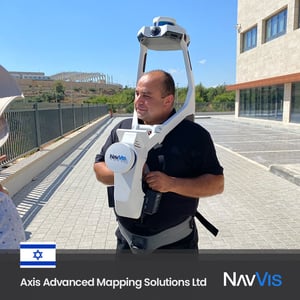 TOUCH
The laser scanning market in Israel is changing rapidly, and the expert engineers at Axis GPS & Advanced mapping solutions decided to Innovate with NavVis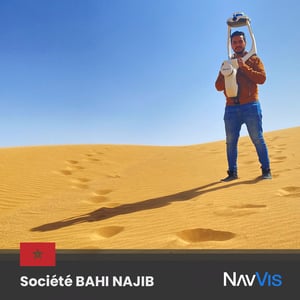 TOUCH
We love to see all the places our technology goes to Innovate with NavVis! Thanks to our friends from Société BAHI NAJIB for sharing this amazing photo from the Morrocan desert with NavVis VLX.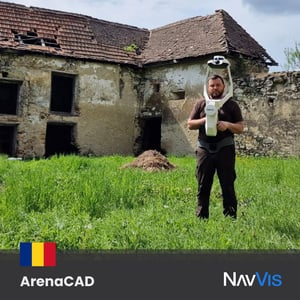 TOUCH
Our friend Andrei Oros from ArenaCAD in Romania chose to Innovate with NavVis and use NavVis VLX. It provides accurate data and high-quality point clouds and fits perfectly into scanning workflows.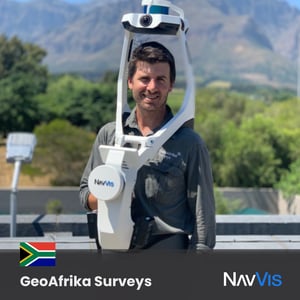 TOUCH
Terrence Elliott from GeoAfrika Surveys captures the true essence of what it means to Innovate with NavVis. As the first adopter of NavVis VLX in South Africa, we couldn't be more excited to see what you can accomplish with our next-generation mobile mapping technology!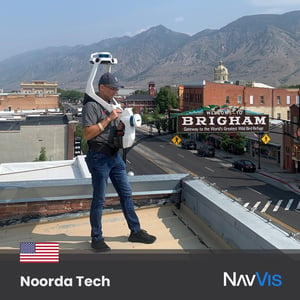 TOUCH
This is what Ty Phifer, COO of Noorda Tech, recommended. They often use NavVis VLX to create architectural existing condition models because of its accuracy level, wearability, and velocity - making their job easier!
Chat with an expert
Simply fill out the form, and we will be in touch.
Talk to us to discover customized solutions, unique applications, and significant ROI opportunities.

Our experts will clarify pricing details and assist you in optimizing your toolkit and services.

And if you would like a demo, don't hesitate to request one!
"As soon as we got our hands on a NavVis VLX, we were just blown away. We simply got more than what we were expecting, from data accuracy to data density with little to no noise... NavVis IVION is a real game-changer in the digitalization of assets and virtual visits, which facilitates the collaboration of different stakeholders. We found that NavVis is one of the few companies where the products are of such quality that the customer buys more than a solution, they buy a game-changing experience."

- Mohamed Mahmoud, Prime Zone Systemes