INTERGEO is the world's largest annual event for the geospatial industry. The team at NavVis will be in attendance again this year; here are five excellent reasons to pay our booth a visit.
Taking place in Stuttgart on 17-19 September, INTERGEO 2019 is an unmissable event for the geospatial industry, stuffed to the brim with exciting innovations in a dynamic and ever-changing field.
Naturally, a crack team of professionals from NavVis will be there, sharing the latest and greatest developments concerning our indoor spatial intelligence technology. You'll find us in Hall 3, booth number F3.056, bright-eyed and bushy-tailed.
Need a reason to come and visit us? Let's do better than that and give you five. Moreover, if you schedule a meeting with us today, we'll give you a free ticket to the show. How's that for an enticing incentive?
Reason #1: NavVis empowers laser scanning professionals
If you're a laser scanning professional whose primary activities are to scan buildings and provide as-built documentation, then the NavVis booth is an essential stopover.

Perhaps you want to upgrade from static laser scanners to mobile laser scanning, or maybe you're investigating new ways to generate floorplans for your customers. Alternatively, if you're already engaged in Building Information Modeling (BIM) and its myriad applications, you're probably eager to learn more.

If you're looking to keep pace with the industry and work smarter, not harder, we have a set of compelling propositions for you. Experience a live demonstration of NavVis Indoor Spatial Intelligence technology, including the NavVis M6 Indoor Mobile Mapping System (IMMS) and NavVis IndoorViewer 3D visualization software.
Reason #2: It's time to upgrade from static laser scanners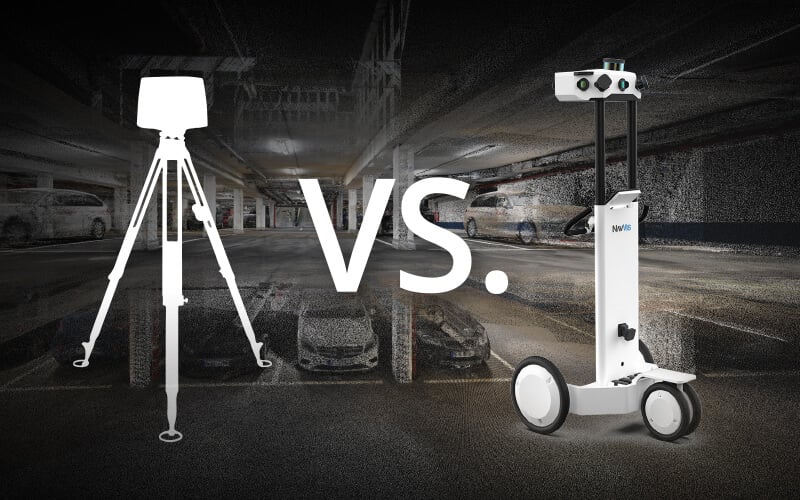 Using a traditional, tripod-based static laser scanner to create as-built documentation of large commercial and industrial properties is a highly labor-intensive process. It's possible, certainly, but it's also time-consuming and inefficient.

Why? Because a static laser scanner requires multiple scanning positions to ensure it doesn't miss any details. Time spent setting these up will eat away at the total area you can capture per day. It's especially true of indoor spaces with limited visibility from walls, pillars, and other obstacles that drive up the number of required scanning locations.

Mobile laser scanning promises continuous data capture that's smooth and scalable but still accurate, rapidly scanning complex areas at the speed of walking through a building. Visit our booth and get hands-on with the NavVis M6 IMMS, our flagship device for next-generation reality capture.
Reason #3: Wow your customers with an entirely new deliverable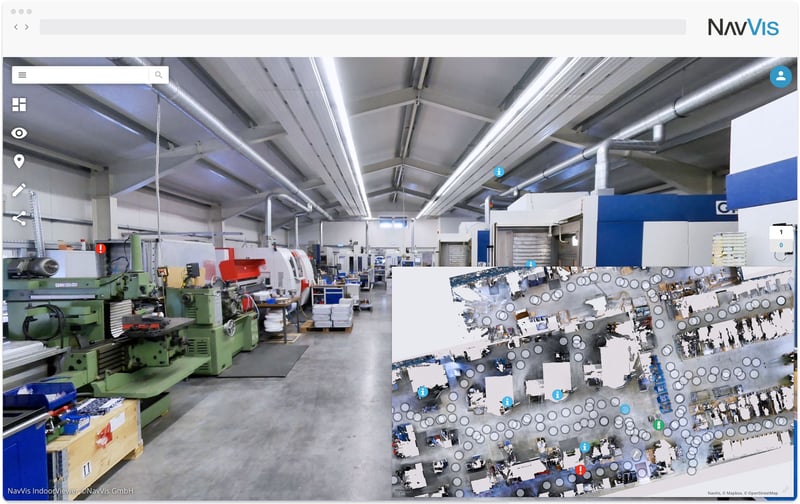 When it comes to project deliverables with indoor spatial intelligence, laser scanning professionals are in something of a quandary. Clients are demanding more than a basic paper floorplan for their end-use. However, nor is BIM the answer; models are expensive and time-consuming to produce, and user-friendliness isn't a priority.

The best-case scenario is for real-world building data captured by a laser scanner to be made accessible for every user. NavVis IndoorViewer does exactly that, combining point clouds with realistic visualization and an intuitive interface. In short, 3D visualization software which can deliver building models through a standard web browser.

When you can automatically generate digital floorplans and panoramic walkthroughs of a site, which are also remotely accessible, your clients will be delighted with the result. Plus, you can import E57 point clouds from other scanning devices, making NavVis IndoorViewer a versatile tool for managing multiple scans from multiple sources.
Reason #4: Learn how SLAM will disrupt the industry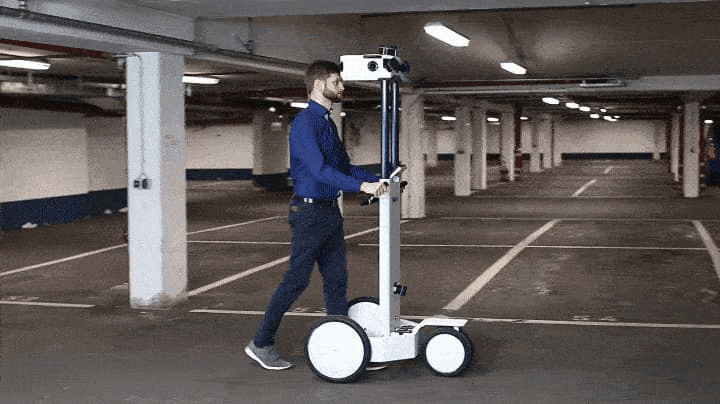 The NavVis M6 is based on SLAM technology, short for "simultaneous localization and mapping," a technique originally developed for robotics applications. Thus equipped with SLAM sensors, the mobile scanning device can incrementally build a map of its environment and localize itself within that map.

Pretty amazing, right? Using SLAM technology has disruptive potential for the way that indoor environments are scanned, and the way that building data is both captured and consumed. However, essential to note is that not all SLAM is created equal.

NavVis has several unique innovations to offer: the first is Precision SLAM technology to improve accuracy in more complex environments such as long corridors. The second is 6D SLAM, which precisely determines the position and orientation of the M6 in all six degrees of freedom (x, y, z and yaw, pitch, roll).

With 6D SLAM, when the NavVis M6 is rolling up ramps or over rough terrains like cobblestone or construction debris, it will always track its position. It marks a significant leap forward in increasing the reliability and precision of the positioning, even in complex environments, and is more suitable for large-scale scanning projects over a static laser scanner.
Reason #5: An opportunity to meet two of the NavVis founders
NavVis was founded in 2013 by four bright young graduates from the Technical University Munich, and we've come a long way since then. Two of the founders, CEO Felix Reinshagen and CTO Georg Schroth, will be attending the first day of INTERGEO to answer your questions. Prepare to be dazzled!

Also, present for the duration of the show is several members of the NavVis team. They're ready to support you in any queries you may have about our current range of services. There may even be a sneak preview of some top-secret projects we have in the pipeline. Come to the booth and be among the first to find out...
Book a meeting with us and get a free ticket to INTERGEO 2019
Finally, we have a little gift for the diligent folks who made this it far down the page. Schedule a meeting with NavVis now, and we'll give you a free ticket to attend the show.
If you're ready to learn about the revolution taking place in indoor spatial intelligence, meeting with us at INTERGEO 2019 will prove to be a valuable use of your time. That's a promise.