In a series of blogs focused on the built environment, journalist Stephen Cousins explains the benefits of laser scanning and how 3D models enable Building Information Modeling (BIM).
Constantly evolving 3D scanning techniques, including drones, UAVs, terrestrial scanners and digital photogrammetry, make it possible to map almost every corner of a construction site at an unprecedented level of detail.
During the design phase, this is typically focused on refurbishment, retrofit or extension projects (see blog post "Everything you need to know about Scan-to-BIM" here). At that stage, sketchy documentation and drawings of the existing building need to be replaced or enhanced with an accurate as-built record.
When it comes to the construction phase, scanning technologies can be applied to all types of project, including new builds. They provide a highly accurate and regularly updated record of progress on site, with associated benefits for cost, build quality and delivery.
The benefits of laser scanning in construction
On a typical construction project, rework can account for up to 15 percent of the cost of construction. But frequent 3D scanning can highlight any potential issues before they turn into change orders, reducing risk for the main contractor.
Scanning at set intervals makes it possible to document critical milestones, such as hand-offs between different trades, to compare work delivered with as-designed models and drawings for quality assurance.
US surveying firm Precision Point understands better than most the merits of 3D laser scanning. I recently spoke with company founder and CEO Mark Hanna. Mark explained that a comprehensive 3D laser survey is effectively a replica of the building at the time of the scan. It can be referred to ensuring that subcontractors have complied with contract deliverables.
"It keeps the contractors honest and greatly reduces change orders that typically come out of projects that are poorly documented without laser scanning," he said. And transparency of information sharing is a proven way to reduce conflict on projects in the construction industry.
In certain situations, laser scans can mine additional information on a specific aspect of construction so that corrective action can be taken. For example, an accurate model of a concrete slab can identify areas that are not flat and the software can determine the volume of material required to adjust the level, a process that reduces waste.
Millimeter accurate scan data on piping, HVAC, structural steel, rebar in concrete etc, tagged with actual installation dates can be compared to the design to verify that all components are installed in the correct locations. If any errors are uncovered, it may be possible to revise the design and fabricate new components rather than have to carry out remedial work onsite.
A record of what is behind the walls, above the ceilings and under the floor slabs can benefit clients and building owners. They can use it post-handover for building management and maintenance, or as the basis for future renovation work.
Hanna comments: "Scanning items soon to be hidden behind walls and ceilings creates a permanent as-built record for the building owner or facility manager. That record is superior to picture documentation, enabling geo-positioned pictures with point and click measurement and point of interest creation for communication and collaboration."
Speed, detail, frequency
General contractors often outsource laser scanning services to specialist surveying firms, like Precision Point, but many choose to carry out the work in-house by renting or purchasing their own laser scanner and software.
Selecting the most suitable devices for the job will depend on factors, such as the size of the project, the definition of data required, and the speed and frequency surveys need to be completed.
Terrestrial 3D laser scanners typically deliver the highest level of accuracy, able to record very dense point clouds. These are three-dimensional digital pictures of the space based on a large collection points, including X, Y, Z coordinates, color and reflectance values. Such point cloud data can be exported to BIM software.
Drones or unmanned aerial systems can be deployed to capture topography and building exteriors, including hard to reach areas on roofs, as high resolution images that can be stitched together to create point clouds.
A mobile mapping system like the NavVis M6 trolley can have a major impact on projects that need to rapidly and frequently capture high quality data to update as-built information.
The M6 is up to 10 times faster than static scanning devices and able to capture 100,000 to 150,000 square foot of data per day, verses about 25,000 square foot using a tripod scanner. This is particularly useful on a congested building site with a limited time window for access by a surveyor.
In addition, the M6 integrates the new 6D SLAM (Simultaneous Localization and Mapping) technology designed to accurately capture data on uneven surfaces, particularly relevant in demanding environments like construction sites.
From 3D scan to intelligent design
Capturing 3D as a point cloud is only half the battle when it comes to Scan-to-BIM and there are different methods available to project teams to export and interrogate the images in software.
Certain project review software is able to import point clouds of actual "built-conditions" and overlay a common coordinate system to run clash-detentions against the design to highlight issues. The federated BIM model, which typically includes the architecture, structure and MEP, can be regularly updated to match the point cloud.
"If a project was originally designed in BIM, the ongoing scanning milestones can be used to adjust the existing BIM," says Hanna.
At present, there is no fully automated or instant way of converting point cloud data into intelligent BIM components. The process remains mostly manual and specialist and is typically undertaken by a surveying firm or other professional.
Some software tools like Autodesk Revit are able to semi-automate modeling, using algorithms that recognize geometries for things like pipes, structural steel and walls and convert them into geometric BIM objects.
For those that don't want to expend time and energy modeling, NavVis' Indoor Viewer software provides a handy shortcut. The web-based tool makes it easy to view and navigate, Google Street View-style, through highly-realistic panoramic images of the project. It allows you to view, mark-up and take measurements in a point cloud.
"The fact it's web-based makes it easy to share and collaborate with project stakeholders," says Hanna.
Construction teams worldwide are starting to understand the speed and accuracy benefits of laser scanning over traditional surveys, and when the results are brought into BIM the possibilities are virtually endless.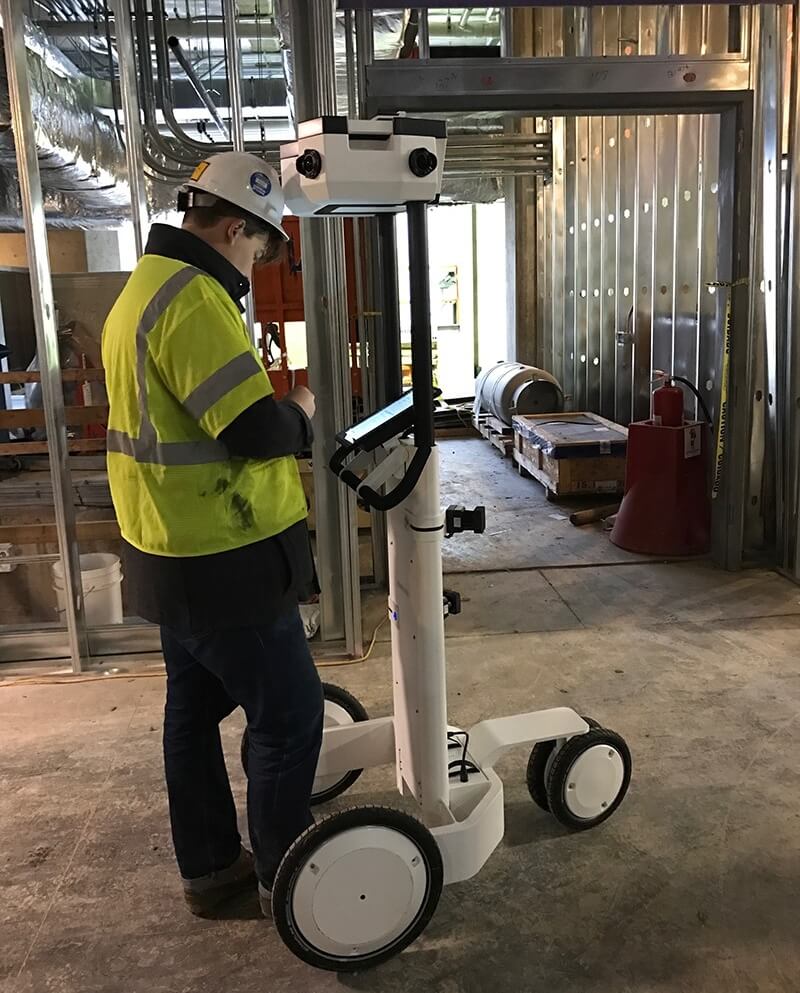 For more information visit: NavVis Virtual Construction Monitoring