Last week the NavVis team attended Intergeo 2018, the world's largest trade fair in the field of geodesy, spatial data and land management. It's the place to be if you want to meet the people and see the devices that turn abstract values into maps and make spatial data meaningful.
At NavVis, we have a particular interest in spatial data and Intergeo is a great place to get a glimpse into the future of this field. It was very clear this year that spatial intelligence is becoming an important driver of the digital revolution. BIM, smart cities, and even augmented reality and virtual reality will all depend on our ability to create 3D digital representations of the real world.
The growing applications for indoor scanning technology were addressed by our CTO, Georg Schroth, in an interview at InterGeo this year. Watch the video below to find out:
How to enable the adoption of BIM in the entire building lifecycle
How existing structures can be brought to BIM
What can be done to make point cloud data more consumer-friendly
Why SLAM technology is being used to improve the quality of data captured by mobile scanning devices
The emerging trends in indoor spatial intelligence


At Intergeo, it was clear that mobile data capture is already playing an important role in driving the digital revolution. Mobile devices enable capturing data at scale, which is critical for the widespread application of digital maps and models. At NavVis, we've seen this as a driver for the adoption of our indoor mobile mapping system. This trend was even more evident at Intergeo, where mobile scanning devices were everywhere.
But it's not just data capture that will drive the digital revolution. The way this data is consumed will play an equally important role by making digital data accessible to a broader consumer base. At Intergeo, many people who stopped by the booth to play with our M6 indoor mobile mapping system were quickly drawn to the interactive display screen where they could try out our NavVis IndoorViewer software.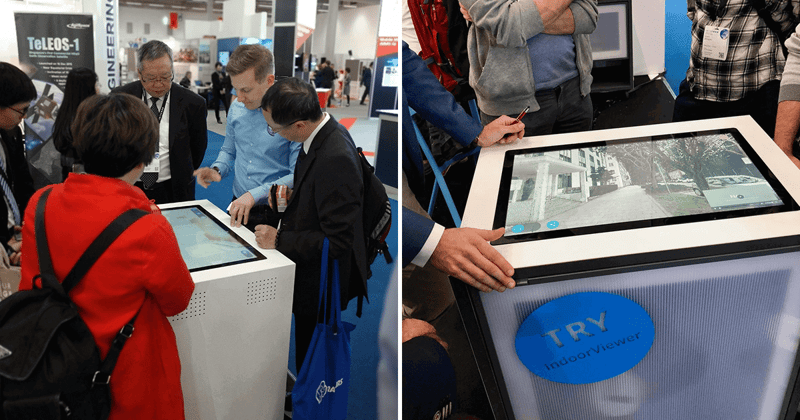 One visitor, for example, was looking for a Scan-to-BIM solution but was very excited by the possibility of adding an additional deliverable that would let not just architects work with the scan data to plan and execute a renovation but also the team that manages the facilities and operations of the building. It was evident in conversations like these that there is so much untapped potential in spatial intelligence – and that change is on the horizon. We are very excited to see how it unfolds!