As industry 4.0 has taken hold in the manufacturing industry, the idea of a digital twin has gained in popularity. Put simply, a digital twin is a digital replica of a physical asset or facility. Digital twins make it possible to assess & review an asset virtually before production or in the case of factories, without physically visiting the space.
So far, product design has led the way in the manufacturing industry on digital twin technology, using them to test & optimize new products before going into production. However, many factory planners are also now realizing the potential of building 3D digital twins of their facilities, in order to design, plan & test in a virtual environment before rolling out factory or assembly changes.
For example, we posted on this blog about a leading German automotive company pioneering the use of NavVis IndoorViewer within their manufacturing facilities. NavVis IndoorViewer combines highly accurate point cloud data with 360° panoramic images to create a realistic, immersive digital twin. With NavVis IndoorViewer, users can 'walk through' their building to assess & measure different areas, exactly as they would do in real life.
In this blog post, we will review a recent case study of a project where NavVis technology was applied in the planning of a factory expansion, to highlight the benefits of digital twin technology for factory planners.
If you'd like to skip ahead to download the full case study, click here!
The challenge: transition to a digital factory
Elabo is a leading provider of specialist technical workstation systems for electrical engineering and electronics. Part of the company's vision for future innovation is to become a provider of digital factory solutions.
Ahead of an expansion of their own manufacturing and training facilities, the company decided to design and plan the new facilities in a digital model, with the aim of not only creating a digital twin of the factory but also eventually providing their customers with a similar service.
A combined digital factory solution
Elabo chose the NavVis IndoorViewer and IPO.Plan software as a combined digital factory solution for their expansion. NavVis technology was used to capture & visualize the as-is conditions of Elabo's facilities within a digital twin, whilst IPO.Plan software was employed to simulate & optimize workflows before making any physical changes to the factory.
Capture accurate as-is data: the first task when creating a digital twin is to collect up to date information on as-is conditions. In this case, the NavVis M6 indoor mobile mapping system was used to capture a detailed point cloud of Elabo's facilities. Elabo saw the benefits of using laser scanning to collect more detailed and accurate data and chose NavVis for the speed at which it could capture the data. 14,000 square meters were scanned in 6 hours, meaning disruption of production was minimal.
Intuitive, realistic visualization: the point cloud was combined with 360° panoramic imagery also captured by NavVis M6 to create a digital twin of Elabo's factory in NavVis IndoorViewer. The Elabo team were able to explore & interact with their building exactly as they would do in real life, to assess the current state of the facilities. Additionally, they can share this data at the click of a button, facilitating communication with key project stakeholders.
Simulation with context: NavVis IndoorViewer has now been integrated within IPO.Plan software to allow users to plan and simulate side by side with a realistic view of their facilities. This helps both to speed up modeling and provide real world context to the modeled representation used for simulation.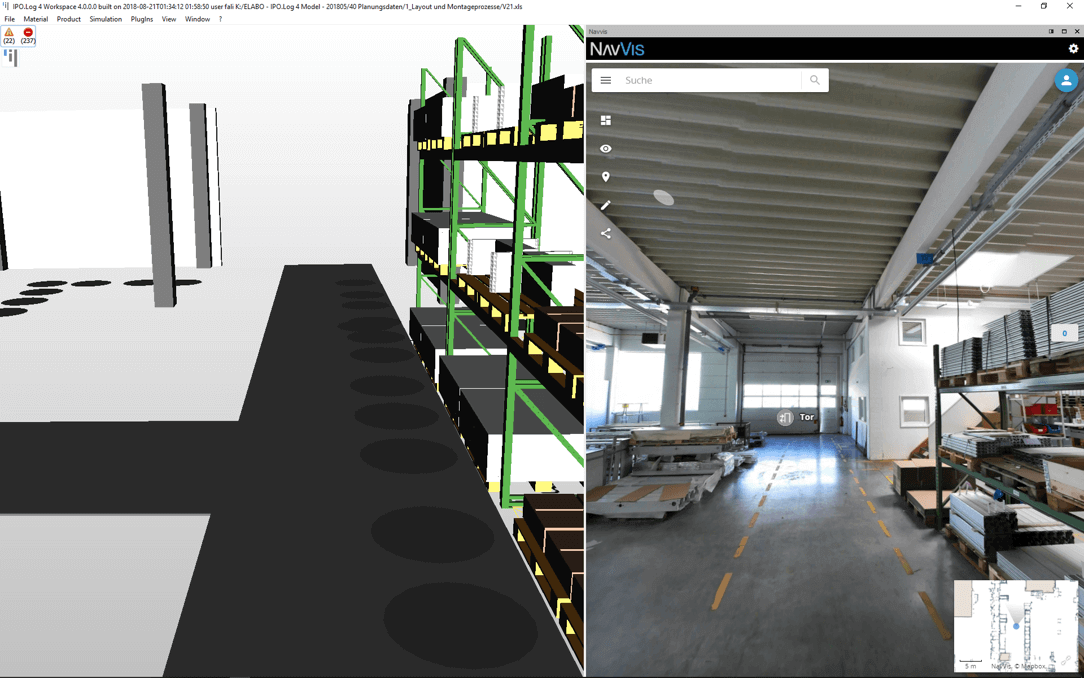 The NavVis IndoorViewer IPO.Plan integration provides a side by side comparison with real-world context
For more detail on this project and how NavVis digital factory solutions can be applied to factory planning, download the fully case study here.