European Investment Bank provides NavVis with €20 million funding as part of the Investment Plan for Europe, cementing the company's world-leading position in digital twin technology.
NavVis is pleased to announce that the European Investment Bank (EIB) has provided financing of €20 million to the company, as part of their Investment Plan for Europe. Read the official press release.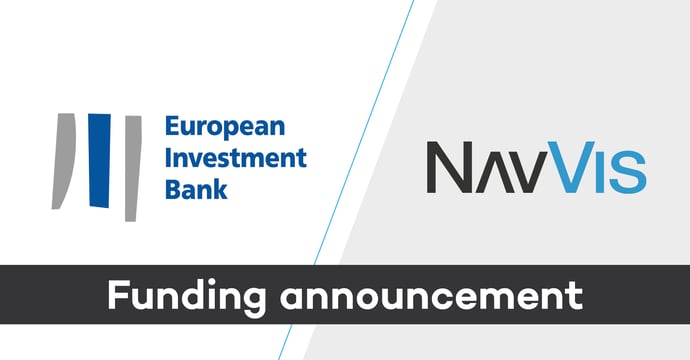 The funding comes as NavVis experiences accelerated growth and demand for its digital twin solutions, and will be invested in building out our leading technology position in reality capture, simultaneous localization and mapping (SLAM), computer vision and visual positioning, and further expand our global footprint.
With changes to global manufacturing in the wake of the COVID-19 crisis, NavVis anticipates a long-term shift towards enterprise-ready digital twin solutions which maintain continuity of operations while also guaranteeing workforce health and safety.
"We're proud to receive this financing from the EIB, which represents an important milestone in our long-term vision of digitizing all buildings," says NavVis co-founder and CEO Felix Reinshagen. "The EIB clearly recognizes the untapped potential not just in Europe but around the world, and supports our belief that in the future there will be a digital twin of every building."
Felix continues: "The funds will be used for the continuous build-out of our technology and global market presence, and we'll double down in the months ahead on our expansion into the digital factory space. Now more than ever, enterprises need our support in managing their digital transformation."
Demand for digital twin solutions continues to grow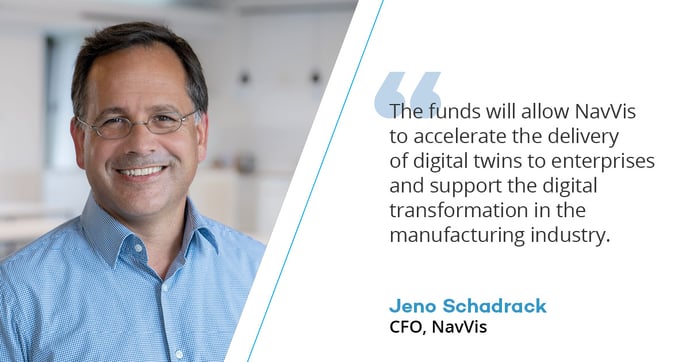 The financing was made possible by the support of the European Fund for Strategic Investments (EFSI). EFSI is the central pillar of the Investment Plan for Europe, under which the EIB Group and the European Commission act as strategic partners to boost the competitiveness of the European economy.
"We're honored to have won EIB as a partner who shares our market view and technology vision, and trusts in NavVis to play a leading role in the global market for indoor spatial intelligence," said NavVis CFO Jeno Schadrack.
"The funds will allow NavVis to accelerate the delivery of digital twins to enterprises and support the digital transformation in the manufacturing industry. It also demonstrates that Europe plays an important role in game-changing innovations."
In addition to NavVis' foundational technologies, the new capital will be used to strengthen our presence in our core markets, where the demand for digital twin solutions is greater than ever before.
According to a recent report by Deloitte, the projected compound annual growth rate of the digital twins market is 38%, from US$3.8 billion in 2019 to US$35.8 billion by 2025.
NavVis is a key player in the European tech sector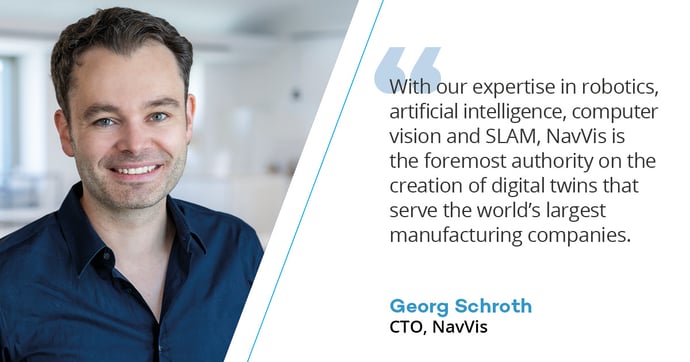 The additional financing also coincides with the successful launch of NavVis VLX, which opens up a new frontier in mobile mapping: wearable devices which are faster, more compact and more affordable, while also providing survey-grade data quality that lays the foundation for digital twins.
"With NavVis VLX. we offer a groundbreaking mobile reality capture solution with unprecedented speed and data quality for laser scanning professionals," says co-founder and CTO Georg Schroth.
"And with our unparalleled in-house expertise in robotics, artificial intelligence, computer vision, and SLAM, NavVis is today the foremost authority on the creation of digital twins that serve the world's largest manufacturing companies."
Since it was founded in 2013, NavVis has risen to become one of the most dynamic technology startups in Germany, with over 200 employees from 40 nations, operating from three offices on three continents.
More than 300 NavVis customers and partners in 40 countries are actively working on groundbreaking projects. Today we are the world's largest indoor data platform, growing by 5 million square meters per month. And with the NavVis Digital Factory Solution, we offer the most scalable, on-demand service that's ready to start digitizing factories around the world today.
Thank you for your continued support! The NavVis team would like to extend heartfelt gratitude to every user, customer, partner, developer, and friend who helped bring us to this point.
Bulent Yusuf
Bulent is the Content Marketing Manager at NavVis. He loves technology, writing, and above all speaking about himself in the third person.