Don't let a lack of collaboration be a road blocker in your AEC project. In this article, we dive into how to enhance teamwork & transparency across teams.
According to the World Economic Forum, 98% of megaprojects suffer from cost overruns of more than a staggering 30%, with 77% of projects delayed by over 40%, and amongst the biggest causes is a lack of collaboration.
Designing, constructing, and managing multi-million-dollar building projects is a vast undertaking. It requires the collective strength of a huge multi-disciplinary team of architects, engineers, surveyors, builders, consultants, and manufacturers, from small specialist suppliers and sub-contractors to large corporate firms. Defined by lengthy contractual agreements, frameworks, and partnerships, this unique supply chain ecosystem fits into a complex project hierarchy, with deliverables co-dependent on each other. Any delay from one supplier has a knock-on effect, putting project timelines at risk. This project group can only deliver and thrive if collaboration and teamwork play a central role.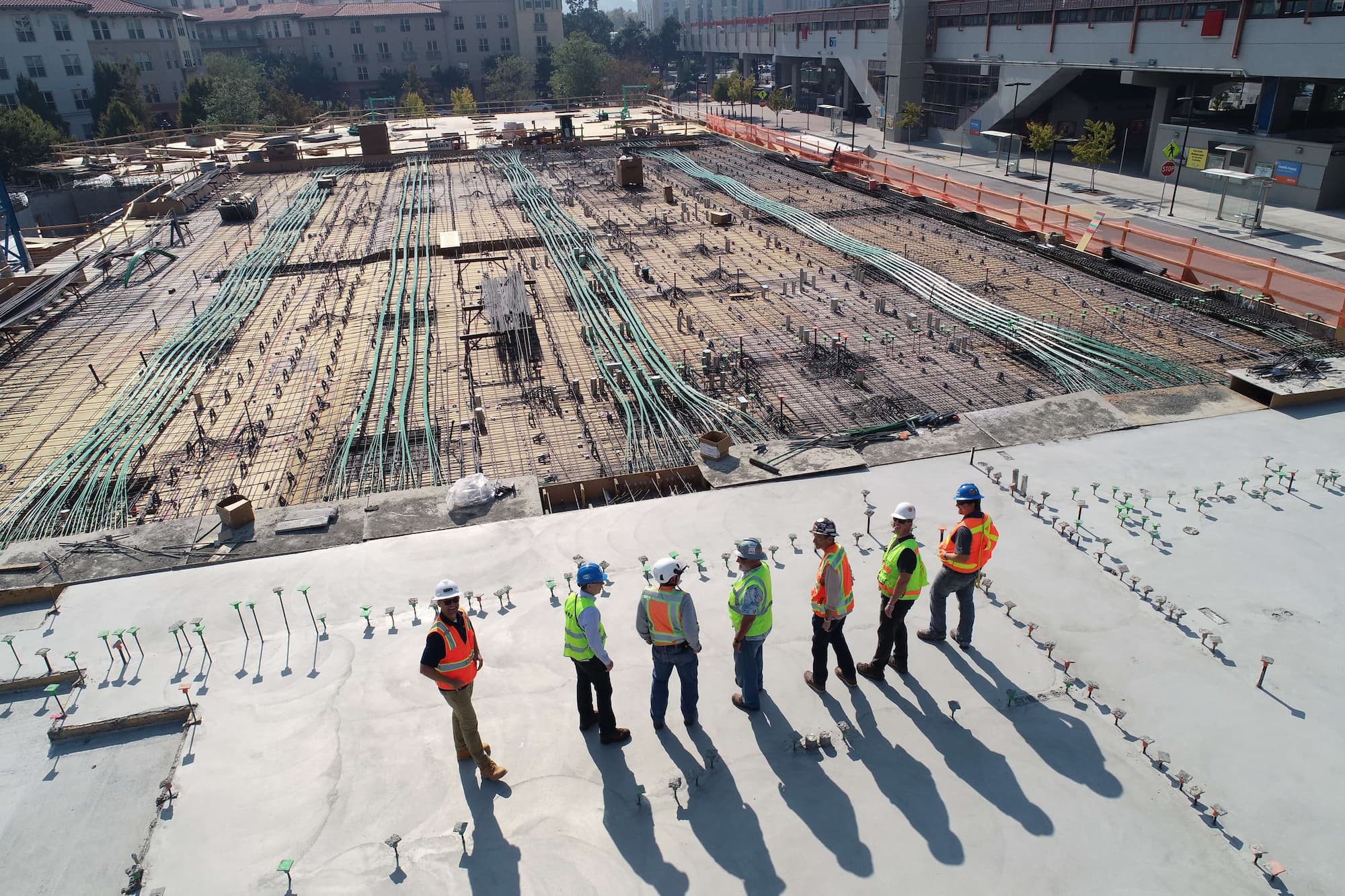 Bringing people together with a shared purpose, a collaborative working environment has the power to solve problems faster, promote innovation and improve project performance. A study conducted by research firm i4CP found collaborative teams are 5-times more productive, more motivated, and deliver better outcomes for their shareholders.
So, why is collaboration eluding the AEC sector?
Fundamentally, the building process is complex and often fraught with political, logistical, contractual, and financial challenges. The highly competitive project-based nature of the industry is inherently fragmented, highly risky, and has been plagued by mistrust and communication issues for decades.

According to the Shaping of the Future of Construction Report by the World Economic Forum, the engineering and construction sector has been notoriously slow to embrace new technology, together with an aging workforce and difficulties in recruiting skilled staff, which has caused productivity rates to stagnate.

So, how can the AEC industry overcome its challenges to promote collaboration?


According to consulting firm McKinsey, 97% of employees believe lack of alignment within a team impacts the project outcome. Communication at the initial design and planning stage is key, allowing contractors to gain a better understanding of the project from the outset. Defining clear roles, assigning accountability, and highlighting common goals, help create a unified vision whilst removing ambiguity and miscommunication. It also means firms can accurately forecast costs, create realistic deadlines and highlight potential pitfalls early, helping avoid the mental and financial stress associated with unexpected changes, costs, and delays.


Project managers and team members alike need to have a collaborative mindset, promoting inclusive communication, and encouraging feedback. By listening to each other, discussing options, and agreeing on the action as a team, everyone can be aligned and pulled in the same direction.


A recent study by AutoDesk found that 52% of project rework is caused by miscommunication and poor data, costing US firms $31.3 billion. Could reliable accessible data provide the gateway to better collaboration?

Accurate spatial data provides the foundations of any building project. When different contractors use different data sets, that's when errors start to occur, and the risk for potential rework goes up. Having a single trustworthy source of as-is site conditions provides unambiguous guidance for decision-making, allowing firms to work together to verify positions and alignment, and detect potential clashes in design and build much sooner. Helping to prevent costly errors, waste of materials, and expensive delays to project deliverables.


Building Information Modelling (BIM)

BIM plays a key role, proving a powerful tool for project stakeholders to collect, consolidate and share project information within a 3D model. This single dataset, on an environment accessible from any internet-enabled device no matter the location, provides a collective understanding of the project, promoting cooperation, and coordination. If widely used and accepted, it has huge potential to deliver better client outcomes.

Wrapping up
There is a huge opportunity for the architecture, engineering, and construction sector to improve productivity, reduce waste and prevent the billions of dollars lost in project delays, and overruns through effective collaboration. Not to mention the human impact of collaboration, realized through enhancing team morale, improving staff retention rates, and creating long-term partnerships.
The impact of the COVID-19 pandemic has accelerated the need for collaboration, as firms adapt to a new way of operating. Developments in digitalization and cloud-based processes will help streamline project management, promote collaborative working practices, and attract a new generation of digitally savvy professionals that will help encourage transformation and change.
But successfully implementing collaboration requires a change in attitude and behavior which is holding the industry back, and not easy to influence. Standardized processes, innovative technology, and cultural change across the value chain can pave the way for collaborative working, but in order to have any impact, teams need to start with relationships they can trust and data they have confidence in.
Interested in finding out how NavVis solutions can provide accurate and trustworthy as-built data for project collaboration. Get in touch!