With the Industrial Cloud, Volkswagen launches a major new initiative that NavVis is proud to support from the outset. Let's explore what it is and how it works.
NavVis has long been a champion for digital transformation in production planning and management. We provide enterprises with a powerful way to build and operate custom digital twin solutions of entire manufacturing facilities to optimize their planning and operations workflow.
As part of our ongoing effort to bring technological innovation to the manufacturing industry through the NavVis Digital Factory solution, we're participating in a new initiative from Volkswagen and Amazon Web Services. The newly launched Industrial Cloud marks a significant milestone in driving production and supply chain management into the digital age. Read on to find out what that means for you and your business.
What is the Industrial Cloud?
The Industrial Cloud comprises three parts -- an open platform, community, and a forthcoming marketplace for cloud-based solutions – which will accelerate the digital transformation of production, logistics and supply chain management.
The design of the Industrial Cloud has an open architecture that not only connects production to the cloud but also standardizes the sharing and exchange of data. It paves the way towards developing entirely new digital solutions and applications in manufacturing and logistics.
Of critical importance to the Industrial Cloud's success is its community, a diverse group of parts suppliers, technology providers, system integrators, independent software vendors (ISVs), logistics providers, and original equipment manufacturers (OEMs). Together, they will deliver and consume new services and solutions that address a wide variety of manufacturing and logistics use cases and business opportunities.
The third component will be the marketplace. Upon launch, it will be a trusted, secure environment for the sale and distribution of proven manufacturing and supply chain applications.
What is the NavVis Digital Factory?
Imagine for a moment; instant transportation to the shop floor of any production site around the world, from wherever you are and whenever you like.
The NavVis Digital Factory solution makes this a reality.
As a single solution suitable for universal application, a NavVis Digital Factory offers significant benefits for your entire organization, ranging from global operations and planning to the local factory shop floor.
Your global team will enjoy unified operations, an uptick in best practice sharing, and a reduction in the need for extensive travel (contributing to a smaller carbon footprint and cost savings). Meanwhile, local teams can apply the solution to repair and maintenance processes, and as a spatial/visual master interface for a wide range of software applications.
One of the key benefits of the NavVis Digital Factory solution is that we work together with our customers to build a custom solution, and then our dedicated enterprise team will deliver and implement our enterprise-ready technology.
The entire process can be summed up in three steps:
First, we determine how digital twin technology can best serve your team – globally and locally – during the consultation phase.
Next is data capture: we leverage our global network of certified mapping partners to scan your factories, wherever the location.
Finally, there is implementation, where we take care of set-up and customization.
The net result is a secure, cloud-hosted virtual site of all your factories that can be accessed using a web link on any standard web browser.
An extensive partnership between NavVis and the Industrial Cloud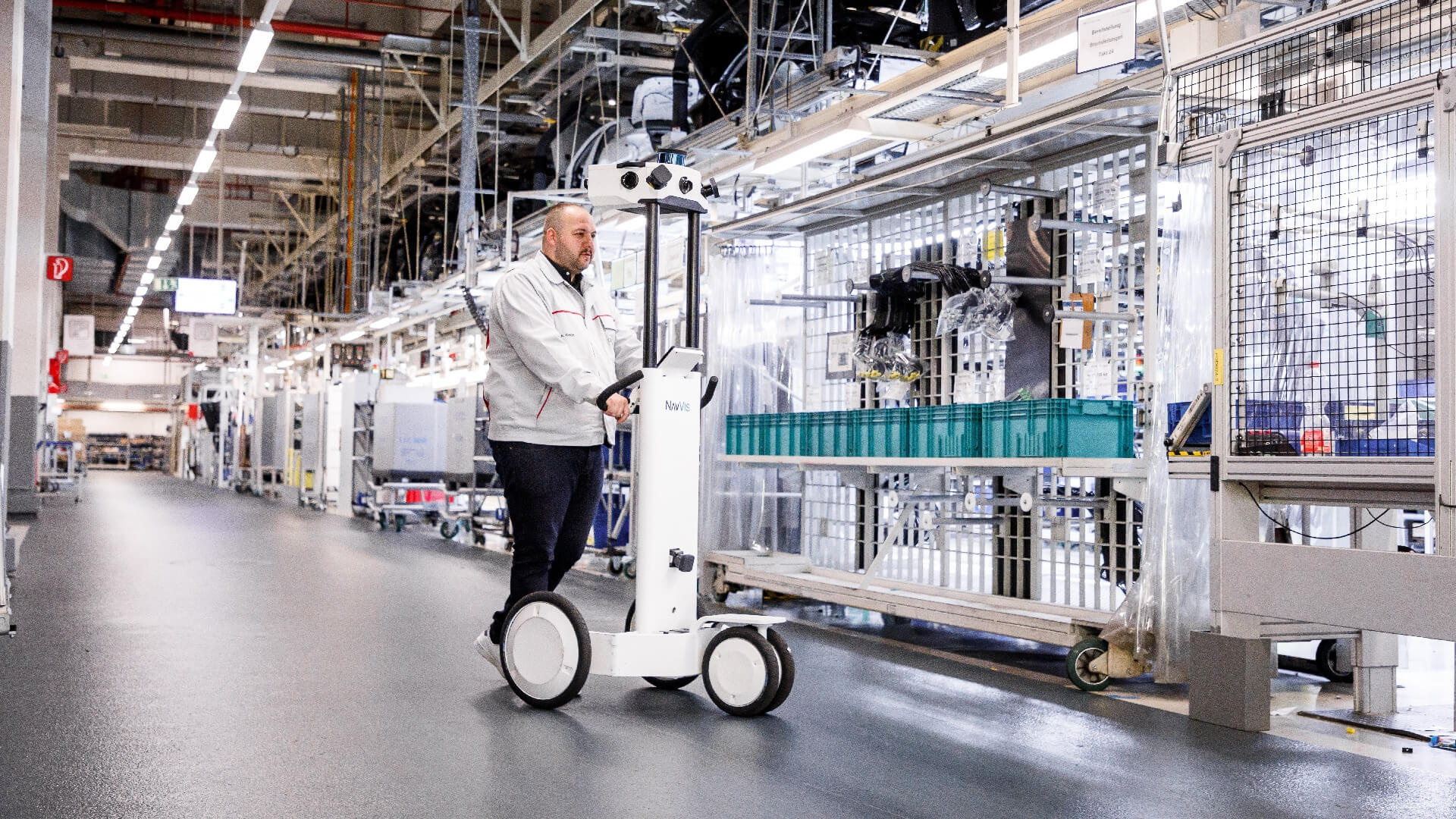 Image source: Audi AG
Users of the Industrial Cloud from Volkswagen and AWS as well as its partners will benefit immensely from leveraging NavVis technology.
For more than five years, NavVis has been an exclusive supplier of digital twin solutions to several Volkswagen brands, including Audi AG, Škoda Auto a.s, and Volkswagen Group Services GmbH. Looking to the future, these diverse initiatives with individual brands will pivot towards customizing the NavVis Digital Factory even further for Volkswagen Group requirements, making our solutions easily accessible to all Volkswagen brands and the entire production network.
NavVis and Volkswagen Group share the same vision: to connect globally distributed production sites through a centralized platform. Here at NavVis, we have accumulated profound expertise in digitalizing the built environment for enterprises. We believe that the Industrial Cloud from Volkswagen and AWS represents a paradigm shift in the efficient provision of global services like ours, connecting more than 120 production sites and 1500 suppliers and partners.