NavVis Chief Revenue Officer Finn Boysen explains why factory planning based on up-to-date information is a top priority for OEMs in the automotive industry.
The automotive industry is undergoing a massive transformation. Perhaps the greatest in its hundreds-plus year-old history. Because of significant changes to underlying production structures, factory planning that's based on up-to-date data is now a top priority for Original Equipment Manufacturers (OEMs).
Regarding factory planning in the automotive industry, NavVis Chief Revenue Officer Finn Boysen recalls a recent example from his extensive experience: "A customer has a large factory in Eastern Europe and there they were switching to a new car model. However, the entire planning was made based on incorrect data," he explained on a recent episode of the Fabrik der Zunkunft podcast.
"Eight weeks before implementation they realized that three centimeters hadn't been accounted for, and consequently there was no space for an important machine. Using low quality data had cost the company a lot of money!"
An isolated case? Not at all. Examples of this happening can be found again and again in large and well-known companies from all over the world.
Currently, the production structure in car factories is changing due to new products. The task in this context is often quite pragmatic: a new production line is planned for an existing factory, but it's not known in precise detail what's already inside the factory. Where are the machines, for example, or the columns or the pipes? Plus, with continuous improvement (CI) processes, refinements are made on an ongoing basis but the changes aren't always entered into systems. This affects medium-sized companies as well as large ones.
There's also the question of travel. It's often necessary to visit factories in Hungary, China or elsewhere to carry out the necessary measurements for factory planning on site. The era of COVID-19, however, has made something as straightforward as booking a plane ticket highly unpredictable. These problems add to the already demanding challenges of factory planning: that new products must be brought to market faster and cheaper – while at the same time complexity is increasing.
"Poor data quality often means enormous additional costs and loss of time. For example, if a production line can't run through a gate or connections are laid differently than intended," Boysen points out.
"Companies must be able to trust their data, which they use to make far-reaching decisions. To do that, it's absolutely imperative that it's up-to-date and reflects the reality of the factory floor."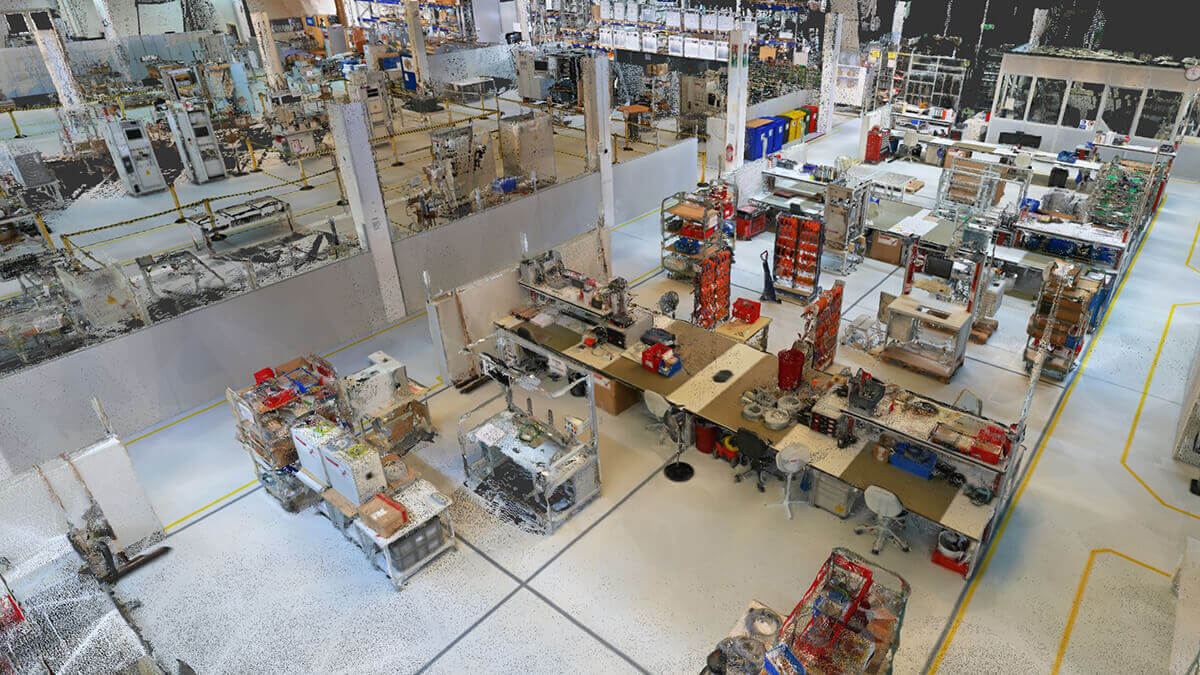 It's not just the collection of data, but how it's used
The core competencies at NavVis are not only in the collection of high-quality data with millimeter-level accuracy, but in making this data "intelligent" and accessible.
NavVis has long been an advocate of digital transformation in manufacturing, with a product range offering enterprises powerful options for creating and operating customized digital twin solutions of entire production facilities, so they can optimize their planning and operational processes.
Based in Munich, Germany, NavVis now employs more than 200 people and has over 400 customers in 40 countries. The data obtained with mobile mapping devices like NavVis VLX can be used in a variety of ways, including layout planning and CI processes. In addition to the automotive industry, customers come primarily from the consumer goods, electronics and process industries.
The data must be made available to all these sectors in a comprehensible form so that users can work with it without any problems. With NavVis IVION Enterprise, the data is available in the browser – anyone who has the rights can access it, it is very easy to use.
But the data must also be complete and consistent. With technologies like terrestrial laser scanning or BIM, the task of updating factory documentation might take several years – not only would the costs be high for such an extended duration, but the data would already be too old to be useful and the process would have to start all over again.
With solutions offered by NavVis, an entire factory with a million square meters can be converted into a digital twin; documentation on the factory is quickly bought up to date.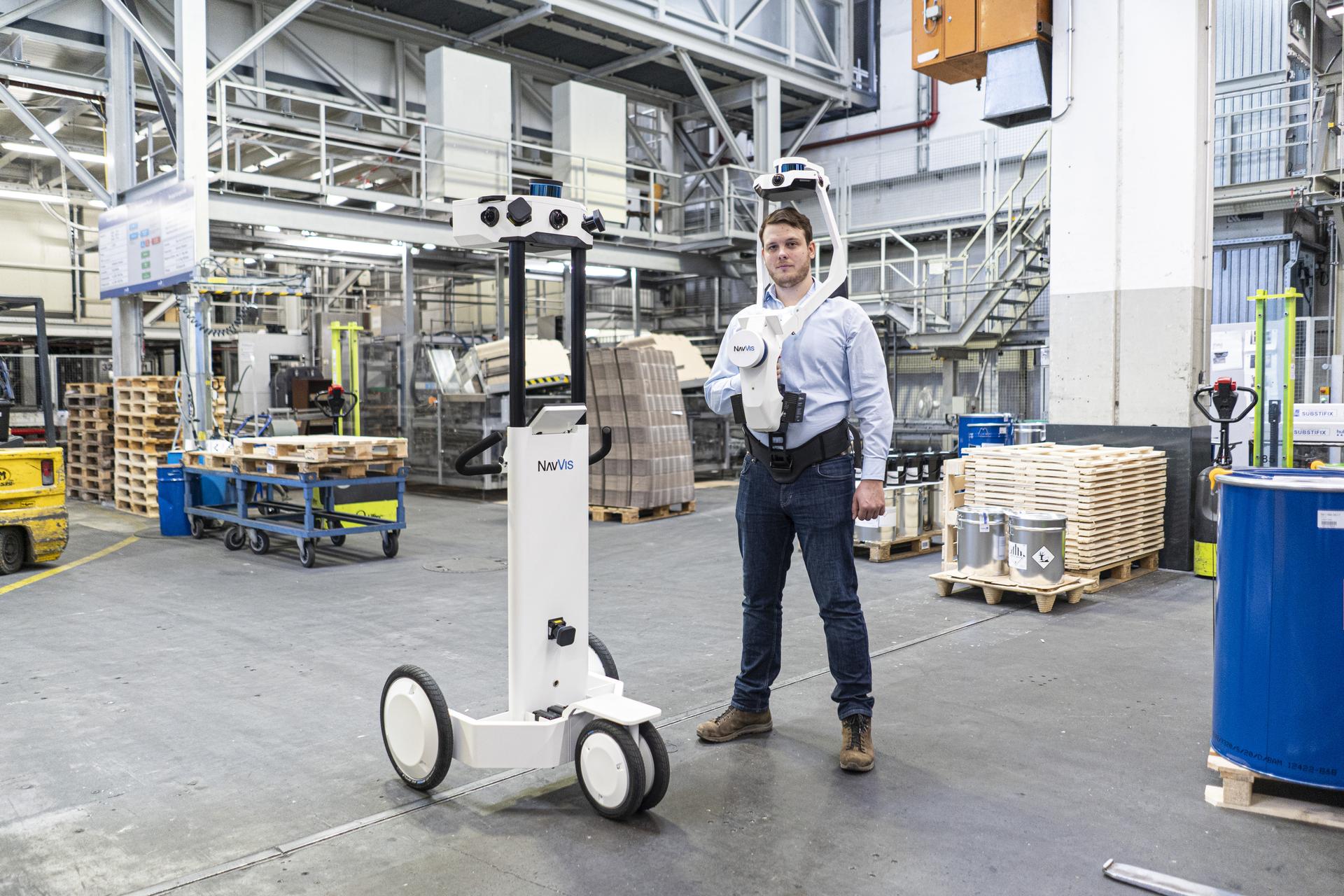 Real-world use case: Audi
Mobile mapping technology is used to digitalize the production halls and buildings of premium car manufacturer Audi, in southern Germany, integrating point cloud data generated by the NavVis M6 mobile mapping system into the existing planning systems. Combined with a new vision for production planning, processes can now be completely mapped, optimized and simulated on the computer.
After the data is processed and made available through NavVis IVION Enterprise, authorized persons can navigate through the virtual production halls with any standard web browser on a computer, tablet or smartphone and look around and zoom in on production lines or machines; important details are highlighted as points of interest and sections are downloadable as point clouds.
With every machine in the plant captured as a point cloud, this data can be incorporated into digital CAD factory models so that the entire hall with all machines and equipment can be virtually retrieved and monitored.
This saves employees a lot of time and money and implements the goal of location-independent production planning. As a result, the factory planners of the premium car manufacturer can now carry out measurements in production halls from their home offices.
Options for creating a digital factory
Regarding data collection, customers have the choice of either doing it themselves or commissioning NavVis to do it. NavVis handles the latter with the support of a network of worldwide partners that collects the data and merges it into a (global) Digital Twin, which is made available as a complete solution in NavVis software.
"If it involves multiple large factories, a project like this can sometimes take up to a year. Around 10,000 to 20,000 square meters can be recorded per day, and about a week later we can make the data available," explains Boysen.
"By the way, there aren't many companies that can organize such a worldwide scanning job – we're one of the very few."
Boysen continues: "Of course, clients can also carry out the scans themselves. However, they must have a certain level of competence and experience in the subject. The decisive point for investing in the NavVis solution is not that a customer wants the first digital twin, but that they want to keep it up-to-date. After all, there are areas where something changes every week – and it doesn't even have to be a rebuild. Then, of course, a NavVis mobile mapping device operated by an employee is worth its weight in gold."
Especially since the use cases of the system are manifold beyond factory planning. These include, among other things, documentation for conversions or new buildings as well as support for maintenance.
"With large customers we sometimes see 20 or 30 different applications. Because once data is available, the imagination also comes, and this can then extend to the training of apprentices or logistics planning," Boysen explains.
"But the focus is on 'global operations' – working with factories worldwide. Thanks to our technology, users can view these virtually and communicate with people on the ground about this data."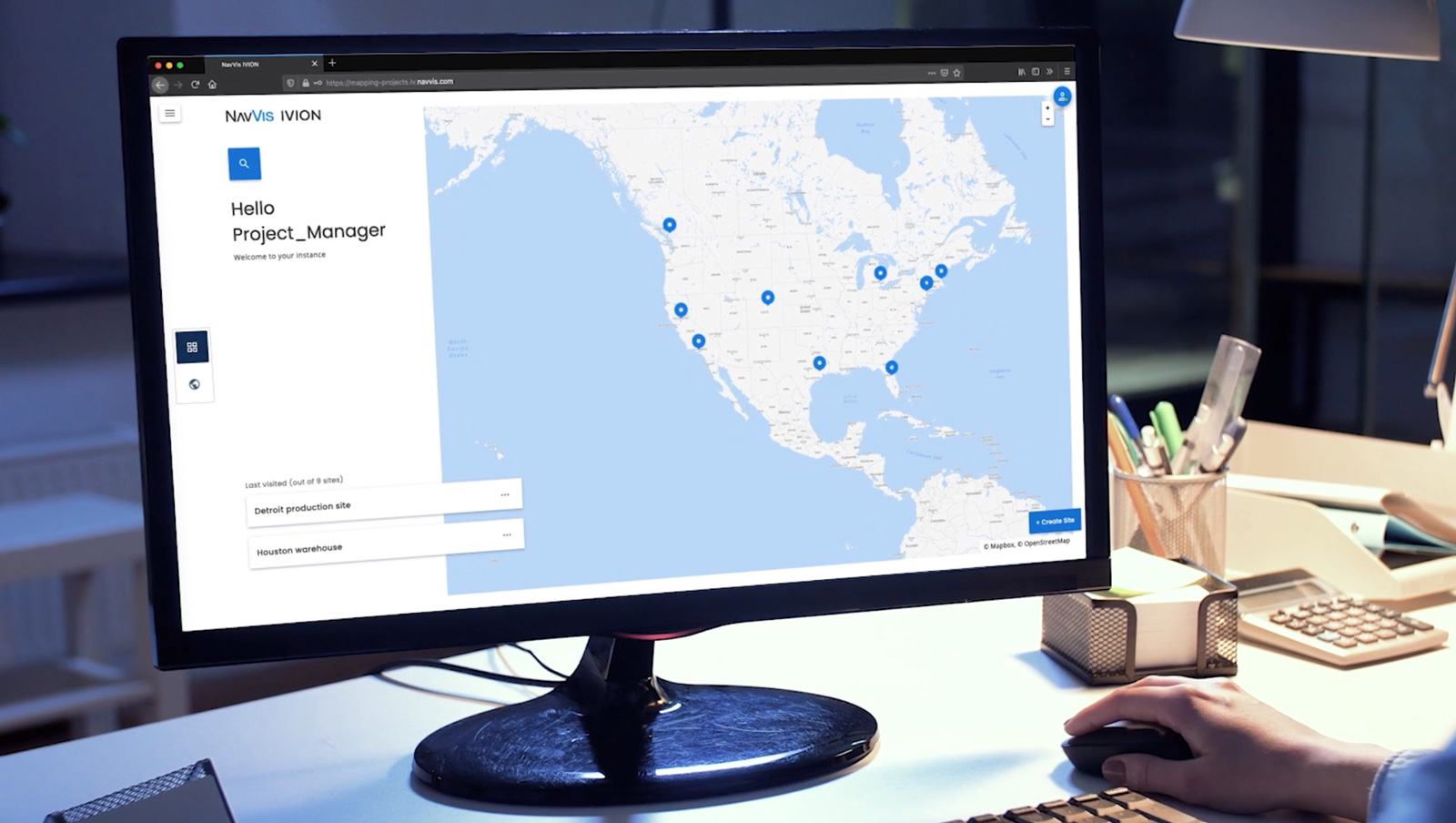 Partnering with the Volkswagen Industrial Cloud
NavVis also plays an important role in the newly-launched Volkswagen Industrial Cloud, which aims to bring production, logistics and supply chain management into the digital age.
The VW Industrial Cloud consists of an open platform, a community and a future marketplace for cloud-based solutions. The community includes, among others, parts suppliers, technology providers, system integrators and independent software vendors who will jointly offer and use new services and solutions to cover a wide range of use cases and business opportunities in manufacturing and logistics.
All parties will gain immensely from the use of NavVis technology, with benefits ranging from unified workflows and increased sharing of best practices to a reduction in the need for extensive travel.
Wrapping up
NavVis solutions have undoubtedly established themselves in the automotive industry. They impress users above all with their speed of implementation and downsteam cost savings. And, of course, with their currency and accessibility through NavVis IVION Enterprise. It's precisely this interaction of seeing the data and making it available to all users that is convincing.
In addition, the newly released app, NavVis IVION Go, also offers great potential for the future: planning processes are supported interactively at an early stage, and flexibility increases for specific use cases in the factory. As the ability to 'make the collected data intelligent' grows, it which also results in new use cases.
"We see the benefits of our technology today and tomorrow in making existing processes more digital, sustainable and accurate. In addition, by saving costs and converting production lines more quickly, they solve problems faster and thus contribute to the factory's output," Boysen says in summary.
"We want to connect technology with people so that they enjoy working with NavVis solutions – that's our goal. With an improved process, after all, productivity gains are inevitable."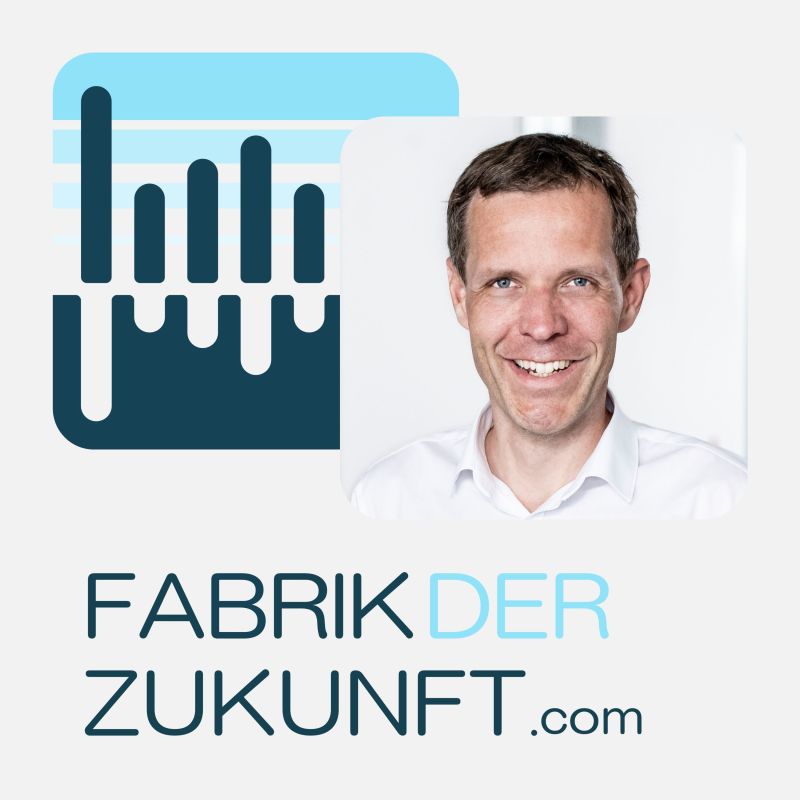 For more insights from NavVis Chief Revenue Officer Finn Boysen, listen to the Fabrik der Zukunft podcast with host Tobias Herwig here in German.