For specialists working with large point cloud datasets, NavVis IVION is a powerful tool for streaming, sharing, and working with point clouds online.
As with many things in the modern world, data is the main currency of the indoor scanning revolution. Bits and bytes of information, amounting to terabytes in volume, precisely make up the dimensions of the built environment in point clouds.
Increasingly, those large point cloud datasets are being used to create 3D building models or to update a specific section of an existing model. But using point clouds in 3D modeling software – whether it's BIM or CAD – to create and update models of the built environment can be a lot more challenging than it sounds.
First things first, you'll have to sift through the hard drive or other storage media where this dataset lives. Then, you'll probably need to use dedicated software to manually inspect the point cloud to locate the precise section of the scan that needs to be extracted.
Both steps are slow and laborious – and all that needs to happen before you can even implement the update. The features in NavVis IVION are specifically designed to optimize these workflows.
What is NavVis IVION?
NavVis IVION is a web-based 3D building visualization software where users can interact with laser scan data as realistic, fully immersive digital buildings.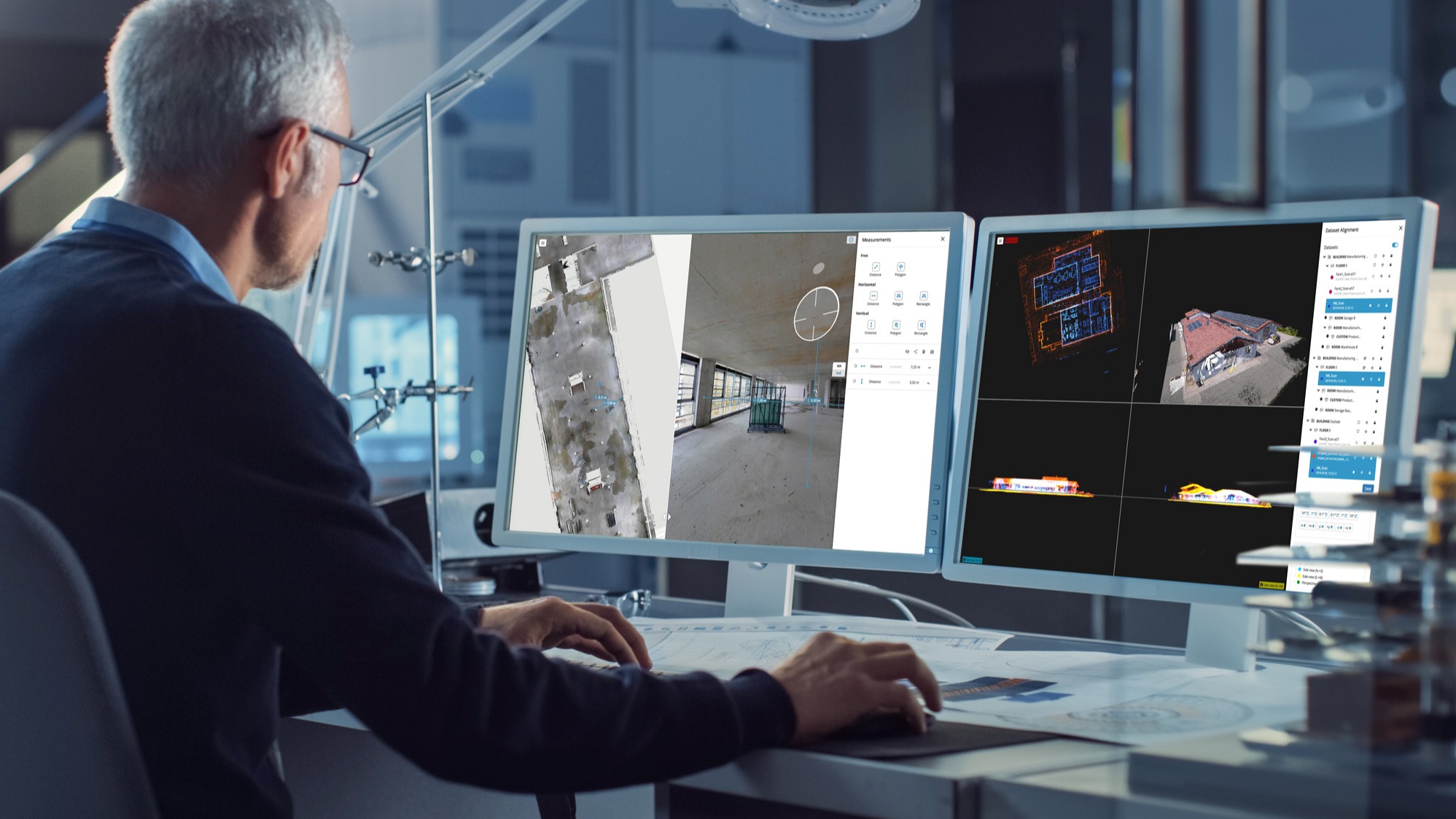 Point clouds can be viewed and explored from multiple perspectives – bird's eye view, walkthrough, 2D floorplans, and 360-degree panoramic images – via any standard web browser.
The intuitive interface of NavVis IVION makes it especially attractive to building stakeholders who do not have the specialist knowledge needed to work with point clouds and advanced software.
For more advanced users like laser scanning and AEC professionals, NavVis IVION also brings value as a central hub from which to access, stream, and manage point cloud files.
A sophisticated solution for large point cloud datasets
Two key features of NavVis IVION that significantly enhance the point cloud functionality are the ability to select, crop, and download sections of large point cloud files and the ability to mark and measure specific areas of a point cloud directly in a web browser.
What this means is that it's now possible for anyone working with large point cloud files to easily find, highlight, and download a specific portion of the point cloud they need to work with at any given point in time. In addition, users can take centimeter-accurate point-to-point measurements. Then, they're able to markup the data to highlight key areas or areas that need to be rearranged.
Another benefit is that users are no longer dependent on physical storage devices such as hard drives, USB sticks, and SD cards to store and manage their point clouds.
And why is that beneficial? Because these devices are effectively silos of data that make access to large point cloud datasets more cumbersome than necessary (and that's before we factor in large teams of BIM and AEC professionals collaborating remotely from multiple locations and time-zones).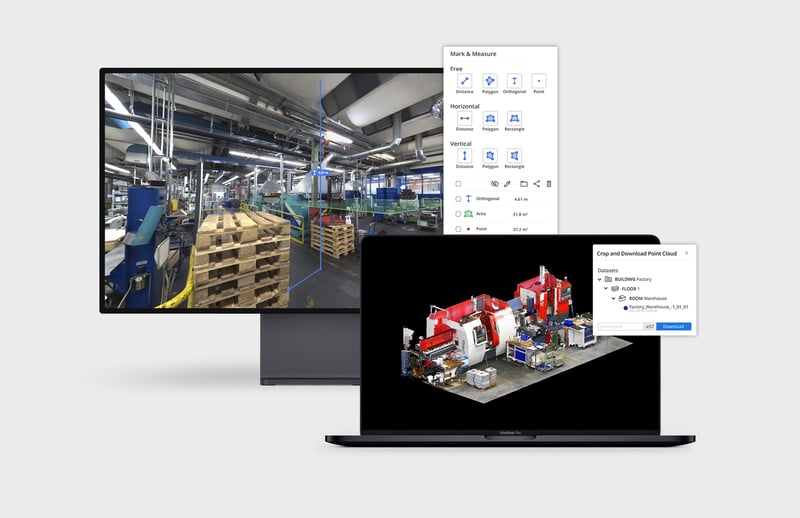 Advanced functionality every 3D building modeler can appreciate
Using NavVis IVION, you can easily upload point cloud files in all standard formats, and merge point cloud files from multiple devices into a single, comprehensive 3D model.
With all the important data in one place, where individual scans are listed conveniently in a dataset menu, you can quickly jump to the specific scan that you need.
You can also find the relevant point cloud data in the 2D floorplan or 3D panorama perspectives. The detailed digital representation of the physical site provides helpful visual cues to speed up your search.
And now, the most exciting part: you can select, crop, and download specific sections of the point clouds in your browser. These files are exportable in e57 format for local saves, and suitable for use in any compatible third-party modeling software. Instead of sharing the entire datasets, this allows you to share the data you need with all relevant stakeholders, which is much simpler and faster.

Factory planning as a real-world use case with Mark & Measure
In addition to being able to crop and download specific areas of the point cloud, NavVis IVION's Mark & Measure tool allows users to conveniently take, organize in folders, and share point-to-point measurements.
Let's examine a real-world use case in the manufacturing industry, where a factory planner is using NavVis IVION to design a new layout for lean process improvement.
First, once the latest scan is uploaded to NavVis IVION, areas that need to be rearranged can be identified and marked using a colorized overlay, uniquely named, and grouped into folders for even further clarity using the Mark & Measure tool.
Once the production steps and workplaces are marked in NavVis IVION as documentation of the current layout, the new and existing layouts can be easily compared. The factory planner can see that the new planned layout not only optimizes material flow, but also demonstrates where there is saved space that could be used in the future to install an additional line.
When planning is complete, the marked information can be shared with colleagues via a web link or exported into an auto-generated PDF that includes the links to each markup, description of the workflow step, and related space usage.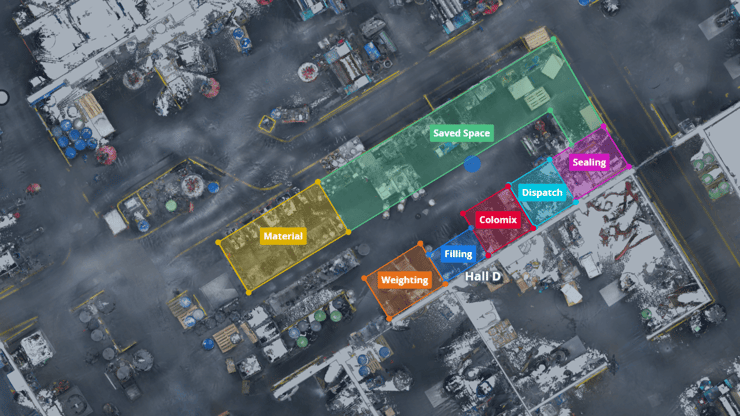 Wrapping up
With NavVis IVION, you have the power to upload point clouds, merge datasets from multiple sources, manage scan data, look at it from several perspectives, select, crop, and download precise sections of your data, mark relevant areas, and take accurate measurements.
Would you like to learn more? Stay tuned for more insights into how our flagship software solution can enhance the great indoors.
Until then, if you're curious to learn more about NavVis IVION, sign up here for a free trial or arrange a demonstration. We'd be delighted to hear from you.
Originally published November 13th, 2019 9:00:00 AM, updated March 2nd, 2022