For BIM or CAD specialists working with large point cloud datasets to create or update 3D models of the built environment, NavVis IndoorViewer is a powerful tool for streaming, sharing, and downloading point clouds online.
As with many things in the modern world, data is the core currency of the indoor scanning revolution. Bits and bytes of information, amounting to terabytes in volume, which precisely demarcate the dimensions of the built environment as point clouds.
Increasingly, those large point cloud datasets are being used to create 3D building models or to update a specific section of an existing model. But using point clouds in 3D modeling software – whether it's BIM or CAD – to create and update models of the built environment can be a lot more challenging than it sounds.
First things first, you'll have to sift through the hard drive or other storage media where this dataset resides. Then you'll probably need to use dedicated software to manually inspect the point cloud to locate the precise section of the scan that requires extraction.
Both steps are slow and laborious – and all that needs to happen before you can even implement the update. The new features in NavVis IndoorViewer 2.5 are specifically designed to address a workflow like this and make it even better.
What is NavVis IndoorViewer?
NavVis IndoorViewer is a web-based 3D building visualization software where users can interact with laser scan data as realistic, fully immersive digital buildings.
Point clouds can be viewed and explored from multiple perspectives – bird's eye view, walkthrough, 2D floorplans, and 360-degree panoramic images – via any standard web browser.
The intuitive interface of NavVis IndoorViewer makes it especially attractive to building stakeholders without the specialist knowledge to work with point clouds and advanced software.
For more advanced users like laser scanning and AEC professionals, NavVis IndoorViewer also brings value as a central hub from which to access, stream, and manage point cloud files.
A sophisticated solution for large point cloud datasets
New with version 2.5, we've introduced a set of new capabilities for working with point clouds. One key feature significantly enhances the point cloud functionality so that users can select, crop, and download sections of large point cloud files from within their browser.
What this means is that for anyone working with large point cloud files, it's now possible to easily find, highlight, and download a specific portion of the point cloud they need to work with at any given point in time.
Another benefit is that it frees up users from depending on physical storage devices like hard drives, USB sticks, and SD cards to store and manage their point clouds.
Why? Because these devices are effectively silos of data that make access to large point cloud datasets more cumbersome than necessary (and that's before we factor in large teams of BIM and AEC professionals collaborating remotely from multiple locations and time-zones).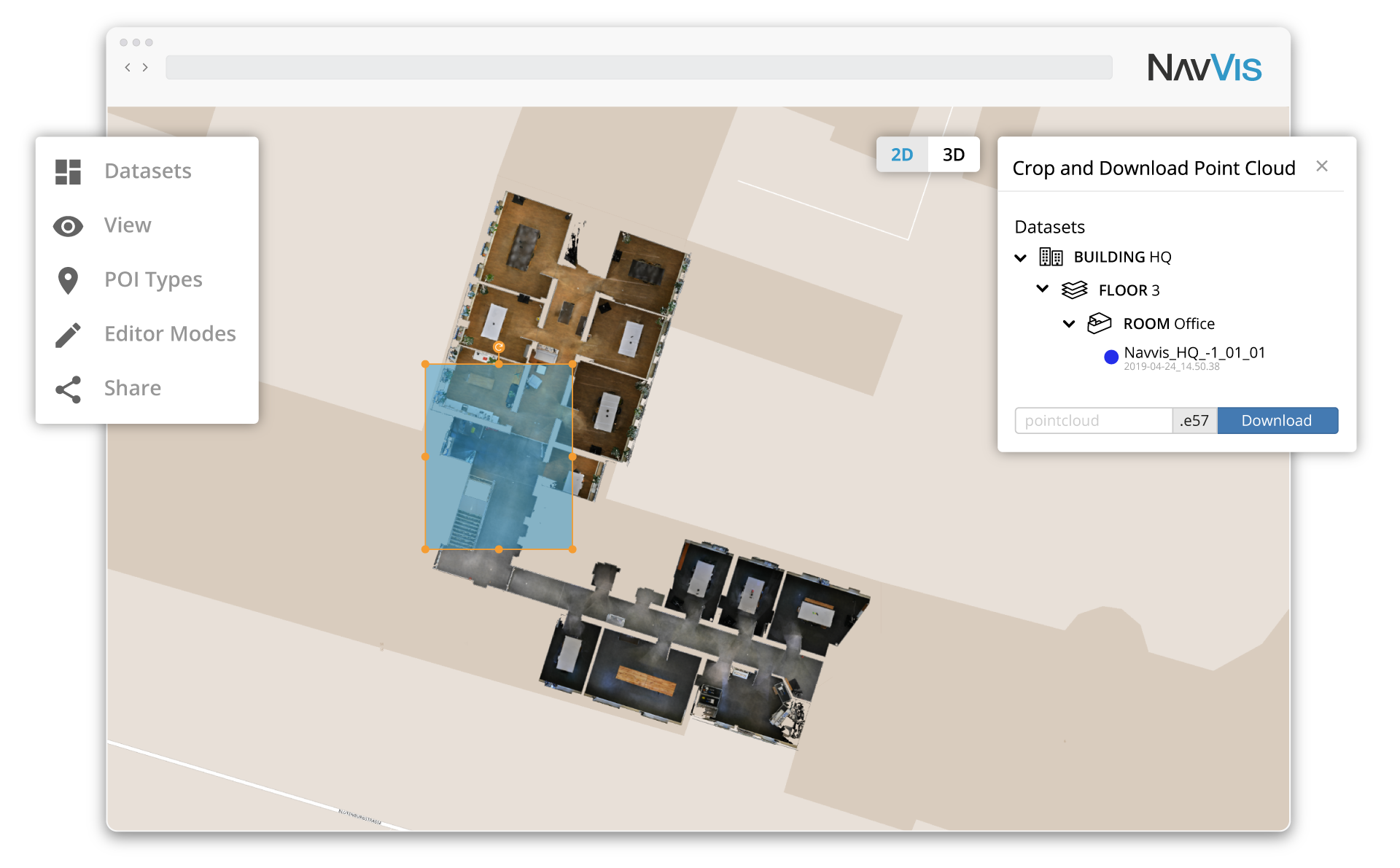 Advanced functionality every 3D building modeler can appreciate
Using NavVis IndoorViewer, you can easily upload point cloud files in all standard formats, and merge point cloud files from multiple devices into a single, comprehensive 3D building.
With all the pertinent data in one place, where individual scans are listed conveniently in a dataset menu, you can quickly jump to the specific scan that you need.
You can also find the relevant point cloud data in the 2D floorplan or 3D panorama perspectives. The detailed digital representation of the physical site provides helpful visual cues to speed up your search.
And now, the most exciting part: you can select and crop specific sections of the point clouds in your browser. These files are exportable in e57 format for local saves, and suitable for use in any compatible third-party modeling software.
This way, for instance, you can share the file right away with an external supplier planning a new installation or retrofitting project. They'll be able to learn about the measurements of a particular area of the building in the time it takes to read an email.

Factory planning as a real world use case
Let's take a look at a real world use case in the manufacturing industry. In this case, a factory planner would be updating a 3D model after a scan of the factory. This is especially helpful when, for example, the factory planner needs to update the shop floor layout in the 3D model because machines have been moved.
Once the latest scan has been uploaded to NavVis IndoorViewer, the section of the model that needs to be updated can be easily located, either by using the dataset menu, search function, or the floorplan.
Using the intuitive menu to crop and download, you can exactly define the space required, including details like power connectivity or overhead ventilation, and pinpoint precisely the geometry that's needed.
Once the machine has been selected, it can be downloaded and saved as an e57 point cloud file. That file can then be opened in third party modeling software to update the factory model.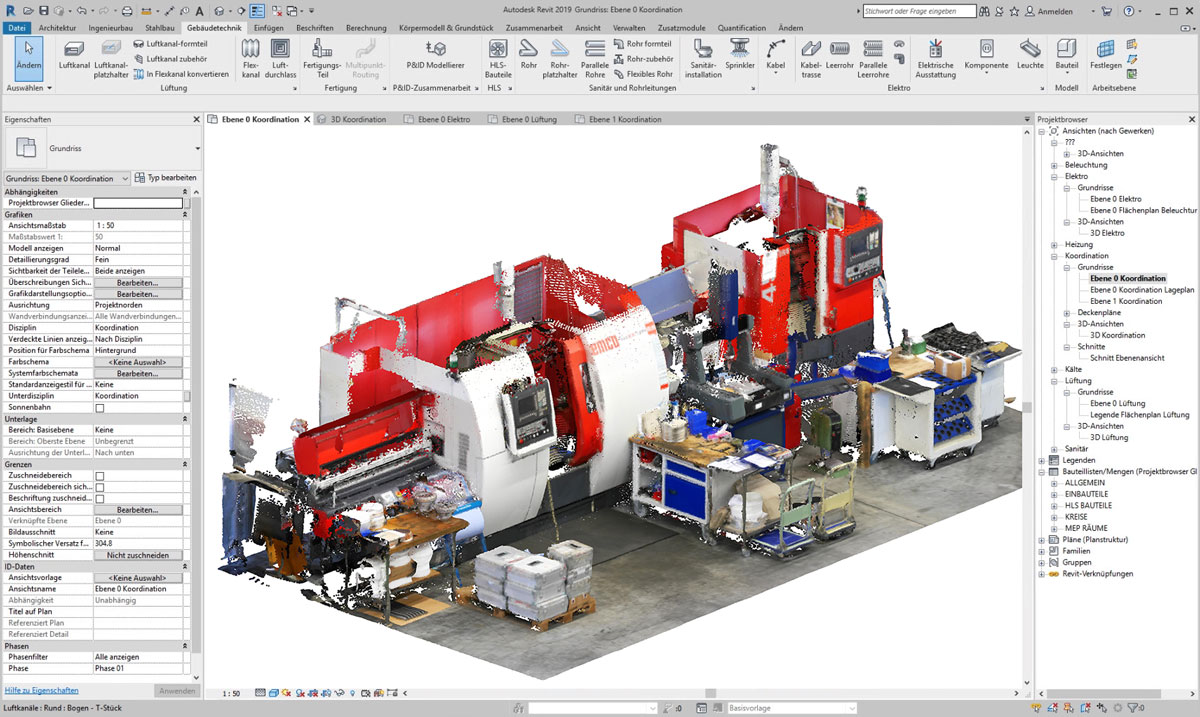 Wrapping up
With the latest and greatest version of NavVis IndoorViewer, you have the power to upload point clouds, merge datasets from multiple sources, manage scan data, look at it from several perspectives – and now select, crop, and download precise sections of your data.
Would you like to learn more? Stay tuned for more insights into how our flagship software solution can enhance the great indoors.
Until then, if you're curious to learn more about NavVis IndoorViewer, sign up here for a free trial or arrange a demonstration. We'd be delighted to hear from you.