NavVis IVION, formerly known as NavVis IndoorViewer, is a supercharged new platform for owners, operators and contractors to transform all buildings and assets into intelligent spaces.
NavVis, an innovator in mobile mapping and reality capture, today announces the launch of NavVis IVION, a complete spatial data platform that empowers owners, operators and contractors to transform buildings and assets into intelligent spaces. Previously known as NavVis IndoorViewer, the fresh name and branding of NavVis IVION represents an evolutionary leap forward for our flagship software.
The most fundamental change is that NavVis IVION is not a standalone product but a product family consisting of two flavors: NavVis IVION Core and NavVIS IVION Enterprise. The decision to grow and branch out is based on extensive interaction with our loyal customers, who have asked NavVis to develop custom applications purpose built for their business needs.
Enhanced with new features and improvements, users are better able to transform point clouds of buildings and assets into web-based intelligent spaces which are accessible to every stakeholder. The result is a digital twin for smart collaboration and decision making, closing the gap between the physical and digital world.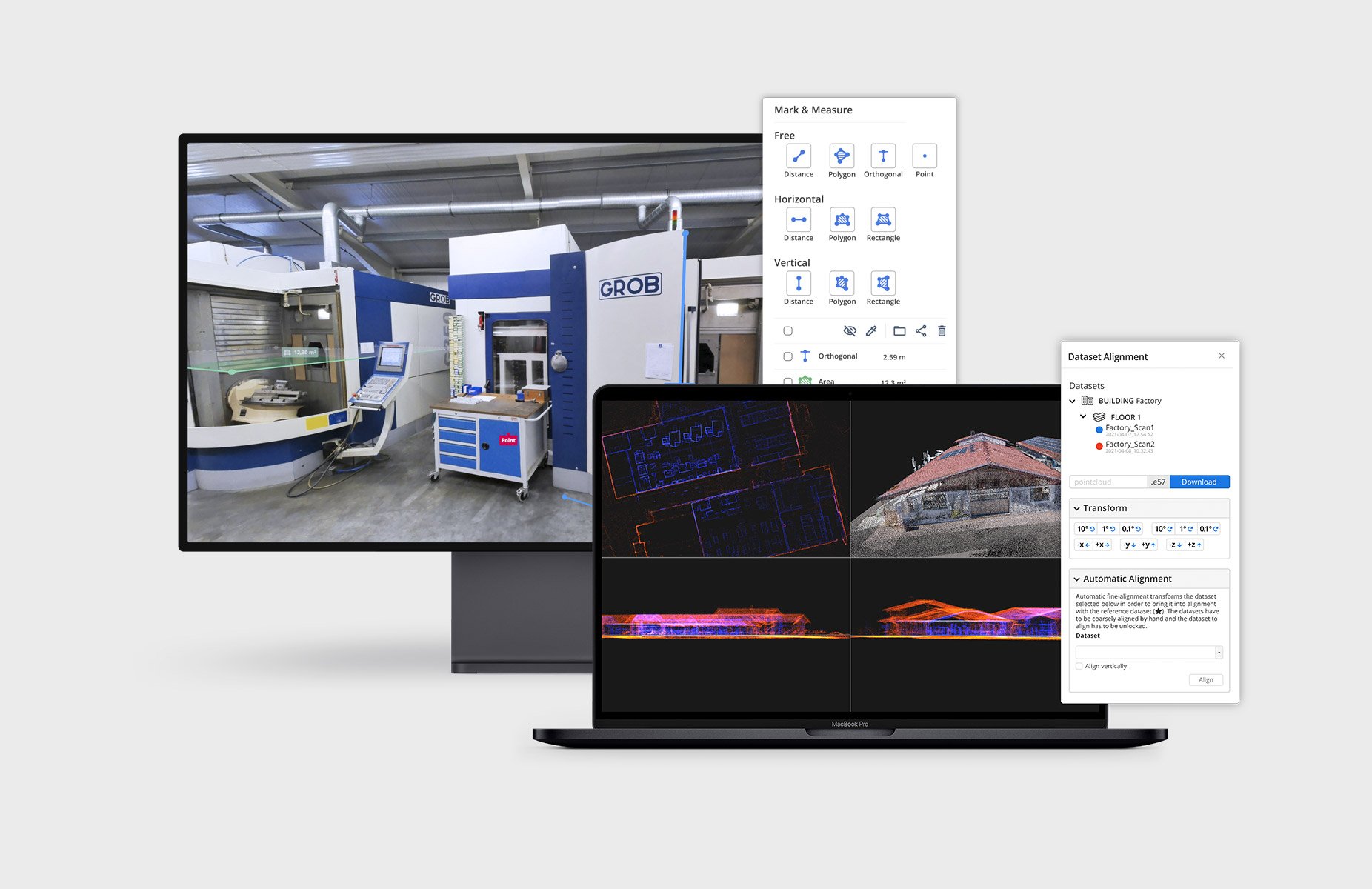 For laser scanning and AEC professionals: NavVis IVION Core
NavVis IVION Core is a reality capture platform for laser scanning and AEC professionals, enabling them to manage their 3D scans more effectively with tools for creation, collaboration, and publication. Users of NavVis IVION Core will find that their mobile mapping workflows are more efficient, model creation and delivery is faster, and greater value is added to buildings and assets.
"NavVis IVION Core represents the future of reality capture software," says Lisa Cali, Head of Product Web and Cloud at NavVis. "We want to offer our users a next-generation platform that not only transforms their mobile mapping workflows but also extends them so that they can do more with their spatial data."
Another reason to use NavVis IVION Core is that the need for high-end computers, specialist software and technical skills can limit access of reality capture data to select individuals. With NavVis IVION Core, point clouds and panoramic images are transformed into intelligent spaces which are accessible to every stakeholder from any standard web browser.
Key benefits of NavVis IVION Core:
Efficiently process, register, publish, and deliver your scan data online.
Inspect, plan and measure with building visualizations which are easy to navigate.
Provide your team and clients access to the complete point cloud data from anywhere.
Optimize scan-to-BIM workflows and boost verification efficiency.
Go beyond modeling and offer your clients even more value with a new kind of deliverable that extends the use of 3D scan data.

For factory planners and engineering teams: NavVis IVION Enterprise
We created NavVis IVION Enterprise because we recognized that factory documentation today is inconsistent and only accessible to experts using specialist software. With NavVis IVION Enterprise, stakeholders at every level of the business can interact with realistic digital twins of their factories.
"Offering remote access to a production network through an intuitive web interface provides stakeholders with all the necessary information to make the right decisions with confidence," says Stefan Sander, Global Head of Enterprise Professional Services at NavVis.
NavVis IVION Enterprise supports factory planners and engineering departments to better understand, collaborate and make the right decisions, based on actual site conditions they can trust. Moreover, it can empower key stakeholders to explore best practice scenarios, remotely engage suppliers, and drastically accelerate their time to market.
Key benefits of NavVis IVION Enterprise:
Be at any site instantly and find information effortlessly, reducing the need for extensive travel.
Data that's current and reliable, enhancing industrial engineering productivity and collaboration between stakeholders.
Compare the as-is conditions with plans by directly accessing and downloading the relevant 3D scan data from within your browser.
A virtual factory where you can conceptualize and discuss changes together with suppliers and customers.

AR positioning technology with NavVis IVION Go
But wait, there's more. An exclusive new module for NavVis IVION Enterprise is NavVis IVION Go, an app for iOS and Android devices that connects the shop floor with the digital world.
Powered by industry-leading AR positioning technology, NavVis IVION Go enables operations and maintenance managers to sync up information and tasks with their physical context and location.
Users can efficiently log observations, issues and best practices to then share, discuss and track progress with their colleagues. NavVis IVION Go is scalable to industrial environments and does not require special infrastructure or hardware to use the app.
"NavVis IVION Go allows you to take the digital twin of your factory with you to the shop floor, readily available at your fingertips," says Sebastian Hilsenbeck, Head of Positioning & Mobile at NavVis. "The app is location aware to keep you focused on the information that's relevant to your current whereabouts inside the factory."
Key benefits of NavVIS IVION Go:
Contextual digital notations to increase team productivity during 5S and Gemba walks.
Intuitive workflow for collecting continuous improvement ideas and best practices.
Share precise location of defects and surrounding assets to reduce maintenance downtime.
Release dates and further information
NavVis IVION will be officially released worldwide towards the end of April 2021, together with NavVis IVION Core, NavVis IVION Enterprise, and NavVis IVION Go.
NavVis IVION Go is only compatible with an active NavVis IVION Enterprise account, and will be available to download from the iOS App Store and Google Play on 27 April 2021.
For more information, visit www.navvis.com/ivion.