NavVis Mapping Partner 4INDOOR scanned 55,000 sqm of the new pier at Amsterdam Airport Schiphol in only three days using the NavVis M6.
With nearly 72 million travelers passing through its gates in 2019, Amsterdam Airport Schiphol is the third-busiest airport in Europe. To meet this demand, now and into the future, the Royal Schiphol Group has embarked on an ambitious construction and renovation program that includes a new pier and terminal.
The new pier will cover an area of about 55,000 sqm – equivalent to 11 football fields – and is scheduled for completion in December 2020. When fully operational it will add eight gates for a smoother flow of travelers, but it will also be a model for sustainability through its extensive use of biomaterial, insulating glass, and recycled plastic and marble. The Royal Schiphol Group also plans to install solar panels on an area of 5,000 sqm, providing energy to various amenities onsite.
In a modern construction project, modern planning methods like BIM (Building Information Modeling) play a critical part. Which is how Dutch surveying company – and NavVis Mapping Partner – 4INDOOR came to be involved, winning the contract to digitally capture the new pier during the construction phase.
The philosophy at 4INDOOR is to accelerate digital transformation. "With our dedicated team we map indoor spaces and create unique digital content," explains co-founder Hychem El Kasri, "which should lead to reliable geometry and data that has been collected from one source."
Using the NavVis M6 Indoor Mobile Mapping System (IMMS), the experts at 4INDOOR converted laser scans into high-quality point clouds for integration into the overall BIM model of the Schiphol.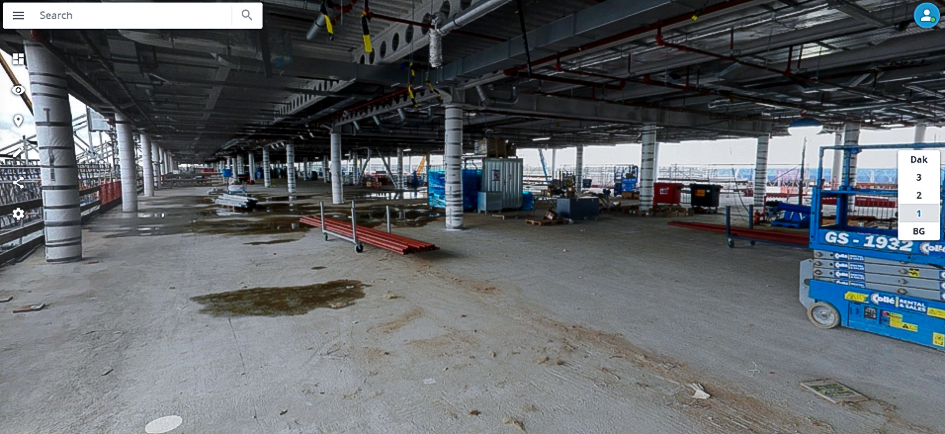 Scan-to-BIM provides high quality as-built documentation
How did 4INDOOR approach this project? Over the course of three days in October 2019, the team visited the pier under construction and used the NavVis M6 for simultaneous 3D laser scanning and to take 360° panoramic photos.

After processing, the dataset was made accessible using NavVis IndoorViewer for a complete, web-based 3D visualization of the entire site.
According to the Schiphol's BIM Manager Michiel van Wijk, "the data will be used, among other things, to familiarize our internal organization with the pier without having to disrupt the construction work."
In addition, he continues, the detailed BIM models are compared to the scans on basic components so that the plans can be verified. "For example, we want to receive high quality as-built documentation on which we can rely on in the future, as our base that we can link to asset information."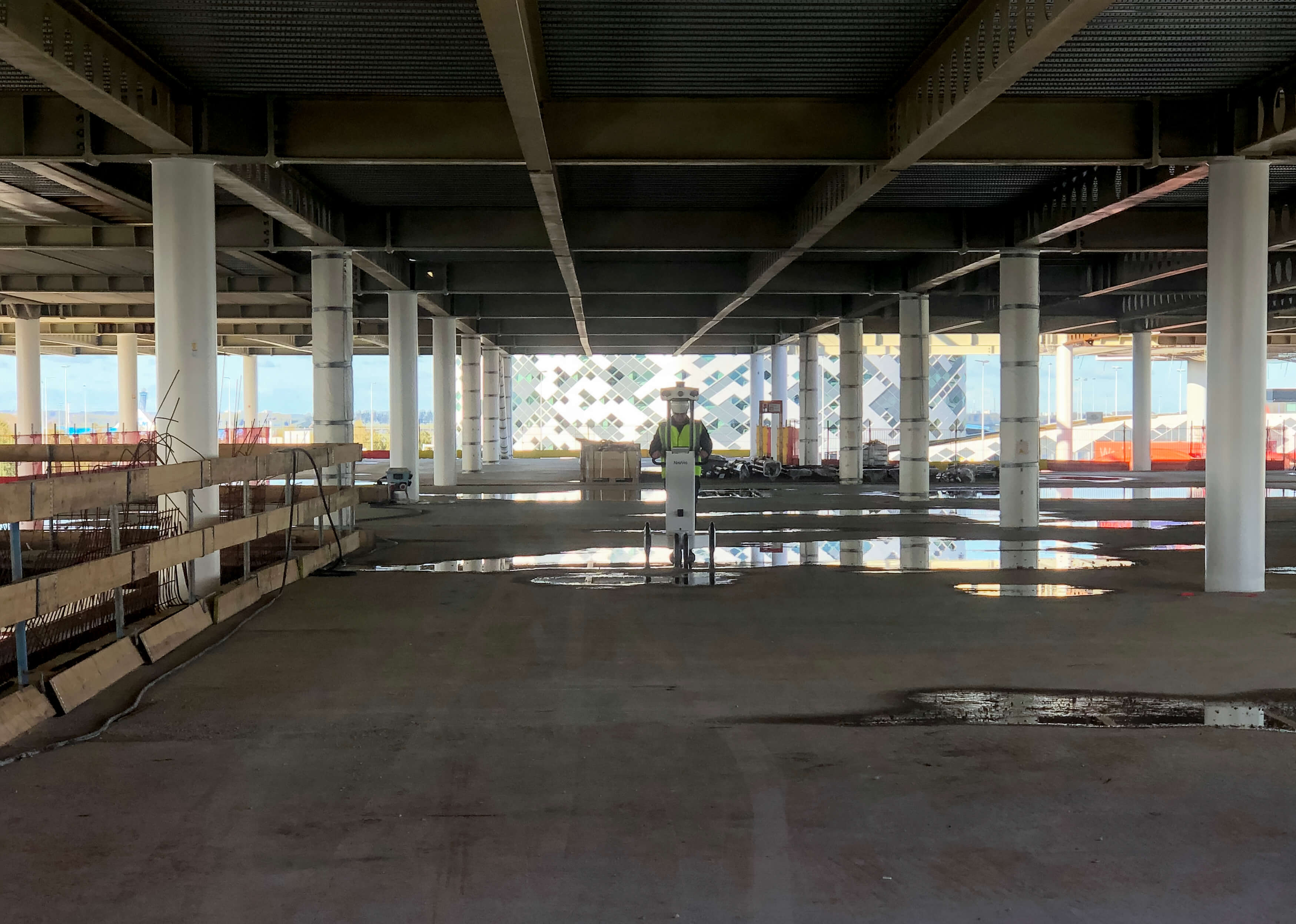 Reality capture without interrupting construction
Elsewhere at the Schiphol, the new terminal (which is actually an extension of the existing terminal) is scheduled to open in 2023. It will provide capacity for an estimated 14 million more passengers to travel each year.

There's no doubt that this is a complex, large-scale project, requiring a great deal of specialized knowledge and experience. But regardless, the airport continues to operate normally while the construction and renovation work takes place.
"With NavVis IndoorViewer, point clouds are transformed into web-based, fully immersive 3D buildings that let every stakeholder explore and interact with scanned spaces as if they're on site."
For the team at 4INDOOR, the challenge was that they had to execute their task as fast as possible. They had to scan and photograph an area 55,000 sqm with no disruption to the construction work taking place.

But using the NavVis M6, they were able to map the entire site within three days – capturing up to 25,000 sqm per day, depending on the building – which made the process of 3D laser scanning faster and cheaper than traditional terrestrial scanning methods.
Deliverables within five working days
According to Hychem El Kasri, they were able to deliver a NavVis IndoorViewer instance of the pier to Schiphol airport within five working days after scanning.
"Here at 4INDOOR, we believe in continuous development and innovation and deliver solutions that have an impact," he explains.

"With NavVis IndoorViewer, point clouds are transformed into web-based, fully immersive 3D buildings that let every stakeholder explore and interact with scanned spaces as if they're on site."