Meet Leslie Rosa, a Business Development Specialist Squad Lead in the USA, who is on a strong growth path at NavVis and encourages more young people to check out the company.
1. Can you tell us about a project you have worked on that demonstrates your technical abilities?
In my capacity as a Squad Lead for the Business Development Specialist (BDS) team, it is a given that you will be talking to people from different backgrounds almost every other day. This includes listening to different use cases from individuals who have a varying understanding of laser scanning technology and may not have any familiarity with NavVis. My role is to create curiosity within these individuals, so they are inclined to move through their customer journey. I get to use my insights and in-depth knowledge of our products and NavVis every day.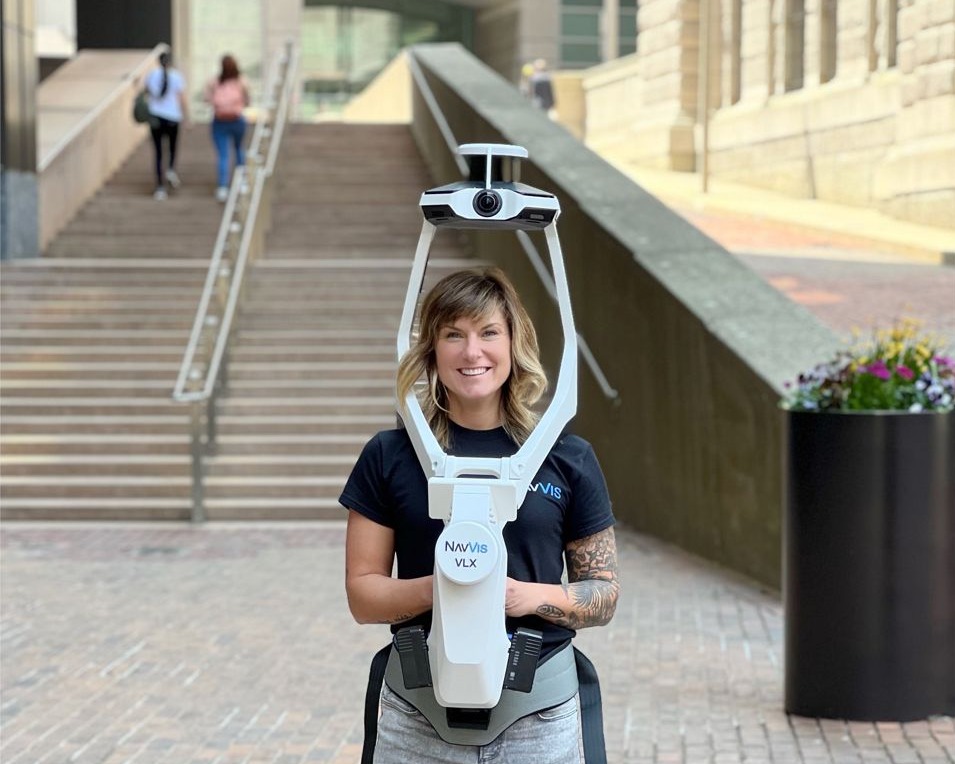 2. How do you stay current with the latest technologies and advancements in your field?
Connecting with my Account Executives keeps me up to date on what they get to see and hear from their networks. I also follow several industry-leading newsletters, attend events, webinars, and of course, use LinkedIn to stay in the know.
3. How do you approach problem-solving and troubleshooting in your work?
If it is a problem that I can try and figure out on my own rather than rely on support, I take that approach first. For additional support with leadership duties, I ask my team lead for coaching, and mentorship around the specific problem as well as seek support from my own leadership and coach. We also have an amazing team of customer success managers who are always willing to help answer detailed technical questions.
4. Can you give an example of a time when you had to collaborate with cross-functional teams to complete a project?
This is my favorite part! We are so grateful to have an incredible marketing and events team here at NavVis. Events and webinars are some of my most recent opportunities to work collaboratively with other teams. This also allows me the opportunity to work with my direct team as well. For example, I recently hosted a webinar with a Customer Success Manager, which gave me an opportunity to work closely with him and the marketing teams who support webinar production. It is an extremely vital part of our 'ecosystem' and I look forward to having more opportunities to work cross-collaboratively!
5. How do you prioritize and manage your workload to meet tight deadlines?
Time blocking and keeping my schedule in alignment with revenue-generating activities and value is how I generally prioritize. I also keep a sticky note on my desk that says, "What is your why?" It sounds silly, but I look at it whenever I start to feel overwhelmed or have too much on my plate. It helps remind me of the scope of what I am working on and my focus on what value and impact I can have.
6. Can you discuss a time when you had to adapt to a new technology or programming language?
I did not come from a technical laser scanning background so first and foremost, learning about the NavVis and its place in the different industries is an ongoing educational opportunity for me. Also, with our BDS Team, we use a variety of platforms, such as ZoomInfo, LinkedIn Sales Navigator, and Hubspot. I am consistently learning how to use these better and more efficiently.
7. How do you handle difficult or complex technical challenges in your work?
Ask for help! Utilizing as many resources as possible from the specific platform itself but I also rely heavily on my colleagues that have more insight, experience, or a deeper understanding of the technology.
8. Can you tell us about a particularly innovative solution you have developed for a client or employer?
I don't have an innovative solution, but I do think my LinkedIn presence has had an incredible amount of traction for both my personal and NavVis branding. There I am gaining a better understanding of how to post and what to share, as well as utilizing LinkedIn Live - which is a fun and easy way to get my network engaged.
9. How do you approach testing and quality assurance in your work?
I am a metrics person and I like to see stats. Working with my manager, Lindsie Bristow, to ensure not only my dashboards are accurate but also building them for each of my team members. It is important for the team to see the 'bigger picture' of what we are up to.
For LinkedIn – it is all a matter of engagement. Are people connecting (or not) with my content? Does it resonate with my target audience? Are people connecting with me after a post?
10. Can you discuss a time when you had to effectively communicate technical information to non-technical stakeholders?
In several first outreach/qualifying calls, it is an important step to understand where they are with their technical knowledge of laser scanning and SLAM-based scanning. It is less common than we would like to believe. Explaining it in a way that sparks curiosity as well as understanding how it could be valuable for them is extremely important.
The Insider Report was brought to you by Lidar News. Follow along as they give an inside look at the NavVis team and stay tuned for the next report!