NavVis now offers digital factory solutions on the Amazon Web Services Partner Network, supporting essential tasks like equipment relocation and assembly line planning.
Manufacturing industries are in an intense period of transition. NavVis is proud to offer its digital factory solutions on Amazon Web Services (AWS), so that enterprises can maintain continuity of operations while keeping their employees safe.
The NavVis Digital Factory Solution provides manufacturing professionals with unprecedented insight into the capabilities and status of their production network. Using a standard web browser on any computer, tablet, or smartphone, multidisciplinary teams can virtually interact with the shop floor of any production site around the world. All stakeholders can collaborate and make decisions using the latest 3D data based on the most accurate information – regardless of their technical ability.
"Working with AWS is an excellent opportunity to drive forward the digital transformation," says Felix Reinshagen, NavVis co-founder and CEO. "Together we will support Enterprise customers with the digitalization of their physical assets, enabling them to become leaner, more efficient, and more competitive."
With always-on availability of data, scalable for organizations big and small, businesses can significantly increase their productivity across multiple sites and around the world.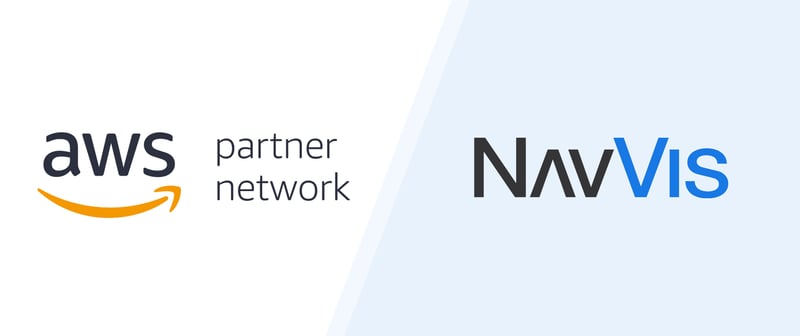 Benefits of AWS Partnership
Scalable AWS Storage solutions make it possible to NavVis to provide for swift, dependable access to the vast amounts of data needed for any digital factory project.
Summary of benefits that NavVis leverages as an AWS Partner:
Greater security
Increased flexibility
Reduction of latency
Worldwide availability
Easy connection to our customers' cloud environments
This is necessary because the high-quality point clouds which underpin NavVis technology are often limited to professionals working with tools that can digest the big data generated by laser scanning and 360-degree imagery.
With NavVis IVION Enterprise (previously known as NavVis IndoorViewer), for instance, point clouds are transformed into web-based, fully immersive 3D buildings that let every stakeholder explore and interact with scanned spaces as if they are on site. The AWS Identity and Rights Management services enable a role-based access model for the virtual building.
And there are even more AWS products that can enhance the experience for NavVis end-customers, such as AWS SageMaker which adds spatial intelligence to a predictive maintenance routine, or to enable object recognition during the scan and Digital Twin creation process.
Benefits of the NavVis Digital Factory Solution
As a single solution suitable for universal application, a NavVis Digital Factory Solution offers multiple benefits for the enterprise, ranging from global operations and planning to the local factory shop floor. These include:
Lead-time reduction and faster go-to-market;
Reduced travel and increased productivity through remote collaboration;
Greater savings by mitigating production quality issues from planning mistakes.
In effect, global teams will enjoy unified operations, an uptick in best practice sharing, and a reduction in the need for extensive travel (contributing to a smaller carbon footprint and cost savings).
Meanwhile, local teams can apply the solution to their repair and maintenance processes, and as a spatial/visual interface for a wide range of applications.
By enriching the digital twin of a factory with customer-specific information and data at the correct location, for example, multiple workflows in the areas of operations, continuous improvement, industrial engineering, or maintenance receive a dynamic upgrade. 
Using the NavVis Digital Factory Solution, the advantages for enterprises quickly become apparent; increased transparency, improved remote collaboration, quicker decision-making, higher efficiency of workflows, and a reduction in travel cost.