Modern reality capture and visualization technologies like the NavVis Digital Factory Solution can make the process of layout and assembly planning more effective than ever before.
When a manufacturer seeks to make operational improvements in their factories – whether it's to save on costs, time, or reduce waste – one of their core activities will be layout and assembly line planning.
The layout of a factory or production facility has a significant impact on day-to-day operations. How far will the raw materials have to travel, for example, from the building entrance to the production line? How close is the machinery to the necessary ventilation ducts, lighting, or power cables? And once the finished product rolls off the line, how long before it reaches the QA bench, then loaded onto transport? All these factors are important, and a poor layout has real consequences for the bottom line.
Broadly defined, then, "layout and assembly line planning" is the arrangement of all equipment, machinery, and furnishings within a building, in accordance with a company's performance goals. Typically, a Central Factory Layout or Assembly Line Planning Department – or Industrial Engineering Department – would subdivide the task into conceptualization, detailed planning, and execution.
Modern reality capture and visualization technologies like the NavVis Digital Factory Solution can make the process of layout and assembly planning more effective than ever before. Especially concerning the conceptualization and detailed planning stages. Read on to find out why.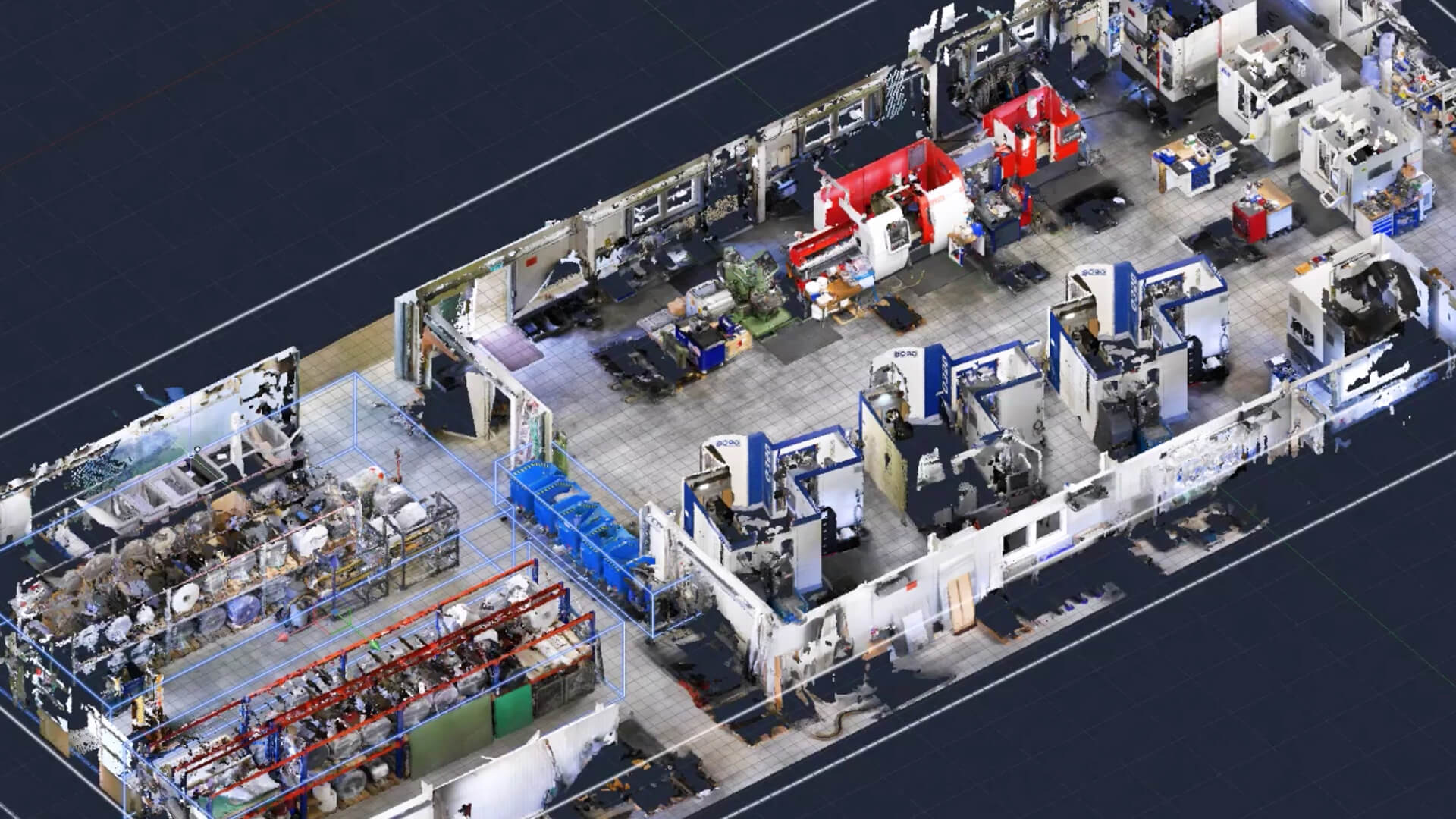 Reasons for layout and assembly line planning
Managers and teams responsible for layout and assembly changes today need a dynamic decision-making process.
The trigger for a change might be the introduction of new products and services, the need for space optimization, or to switch up their output in accordance with changing market conditions. In the case of the automotive industry, for example, these events happen at an accelerated pace with car model derivatives.
Other reasons for assembly line changes might be a revision to start of production (SOP) or a product reaching end of production (EOP), but also optimization processes such as line balancing and continuous improvement.
Industrial engineers employed by the company are responsible for the planning and management of these change projects, and they're typically carried out using external contractors.
Challenges facing layout and assembly planning today
One problem for project managers is when they must rely on outdated or incomplete documentation for their planning. The effort required to pull together existing paperwork from disparate sources can be a tremendous waste of time. It can also cause unnecessary mistakes and change requests, which in turn leads to longer planning cycles and overruns of the project budget.
Another issue occurs when planning is based on a top-down two-dimensional perspective – like a basic floor plan – instead of a feature-rich model. Omitting the third dimension from consideration leaves out important details like height to accommodate over-head installations, or access to ventilation, lighting and power cables.
Next is the question of how time-consuming and expensive the planning process can be, if onsite status quo acquisition is required. Travel to and from the factory for site and equipment inspections can drag out the process into weeks and months, especially if the factory is in a remote location, or if there are sudden restrictions on travel for health and safety concerns.
Rounding out our series of challenges for the weary planner are the data silos that exist between departments and factories, compounded by different 3D data tools, formats, and workflows.
On the topic of 3D data tools, specifically, there's probably limited accessibility for personnel in different teams; while specialized CAD (Computer-Aided Design) applications are undeniably powerful, such tools are daunting for people who aren't trained to use them.
The layout and assembly workflow, upgraded
In the scenario outlined in the video above, we need to design a new layout with regards to a classical Lean process improvement. Lean manufacturing was defined in 1996 by researchers James Womack and Daniel Jones as "...a way to do more and more with less and less – less human effort, less equipment, less time, and less space - while coming closer and closer to providing customers exactly what they want."
Lean factory layouts shouldn't be developed by just one group of individuals, however. It needs to be a collaborative effort from a range of stakeholders across the business, after a future state map has been created. Incorporating stakeholders' perspectives and engaging them during layout development is vital to the success of a factory layout design.
NavVis IVION Enterprise (previously known as NavVis IndoorViewer) enables all stakeholders to virtually inspect different layouts and communicate more efficiently with each other. Without having to physically travel, managers and teams can remotely visit sites to understand machines, tools, and even entire factory layouts. This empowers them to quickly make qualified decisions without the need to be on-site and make substantial savings on time and money spent traveling.
Using NavVis IVION Enterprise, it's easy to isolate point clouds of the location earmarked for improvements. First, we export the point cloud from NavVis IVION Enterprise. Then, using a third-party application we can segment the point cloud and precisely define the workstations which needs to be relocated. Finally, by using CAD software we can mock up several different Layouts and determine which one is the most efficient (while simultaneously eliminating the need to model the equipment). In addition, point cloud segments can be visualized along with existing 3D CAD models.
Wrapping up
And so, what would be the economic benefits of such a solution? Based on conversations with our customers, we estimate that internal acquisition of "as-is" conditions of the factory is at least 50% faster than previously.
Similarly, project managers have reduced their planning mistakes by as much as 70%, spent 40% less time travelling to and from the site, and increased project execution speed by 20%. Go-to-market is accelerated, simply by upgrading the process of implementing assembly line changes.
But perhaps most importantly for future-proofing your organization, the NavVis Digital Factory Solution enables seamless collaboration with a 3D virtualization of your global manufacturing network. For more information, download our complimentary guide to taking the next steps towards your digital factory with NavVis.