Introducing NavVis IVION Enterprise and NavVis IVION Go, two new technologies which deliver greater transparency to your global manufacturing network.
We're thrilled today to launch NavVis IVION Enterprise and NavVis IVION Go, two new technologies that bring transparency to your manufacturing footprint.
NavVis IVION Enterprise is a spatial data platform for factory planners and engineering departments, where distributed teams can interact with realistic digital twins of their factories as though they were physically on site.
"Offering remote access to a production network through an intuitive web interface provides stakeholders with all the necessary information to make the right decisions with confidence," says Stefan Sander, Global Head of Enterprise Professional Services at NavVis.
"NavVis IVION Enterprise overcomes the problem of relying on documentation that's outdated, incomplete or scattered around different sites. Now teams can better collaborate, explore best practice scenarios, and engage with remote suppliers."
And with the NavVis IVION Go app for iOS and Android devices – an exclusive module for NavVis IVION Enterprise – you can carry your digital twin in your pocket.
"NavVis IVION Go allows you to take the digital twin of your factory with you to the shop floor, readily available at your fingertips," says Sebastian Hilsenbeck, Head of Positioning & Mobile at NavVis. "The app is location aware to keep you focused on the information that's relevant to your current whereabouts inside the factory.
Accelerate time to market with NavVis IVION Enterprise
NavVis IVION Enterprise is designed from the ground up with enterprise-grade features and security to support your global operations. Teams from every location can quickly assess the current conditions of a site or multiple sites, and use this information as a reliable basis for collaboration and decision-making.
Access all your projects from one account. Easily switch between sites from a central dashboard. Each site has a unique website address and user permissions, giving you complete control over site usage. Enter the latitude and longitude or a custom spatial reference system for each site.
Download sections of a point cloud in different file formats, so you can edit your point clouds and import them into other software programs. Make a selection in the point cloud with the 3D crop box to download only what you need.
An easy to use, scalable content management system for adding geo-tagged information and media to 3D scans. Users can right-click anywhere on the screen to add and view this information as points of interest. The powerful search function makes it easy for users to find the information they need.
Take accurate point-to-point measurements. 360° immersive images are not just digital images. The pixels in these images are enriched by laser scans, which makes it possible to interact with scanned spaces as if you are on site, including taking measurements.
NavVis IVION Enterprise is also designed for data security and GDPR compliance, hosted on Amazon data centers in Frankfurt am Main, Germany. Enterprises can rely on a robust user management dashboard and the use of encrypted file system and data connections as well as restricted access to your network via VPN access.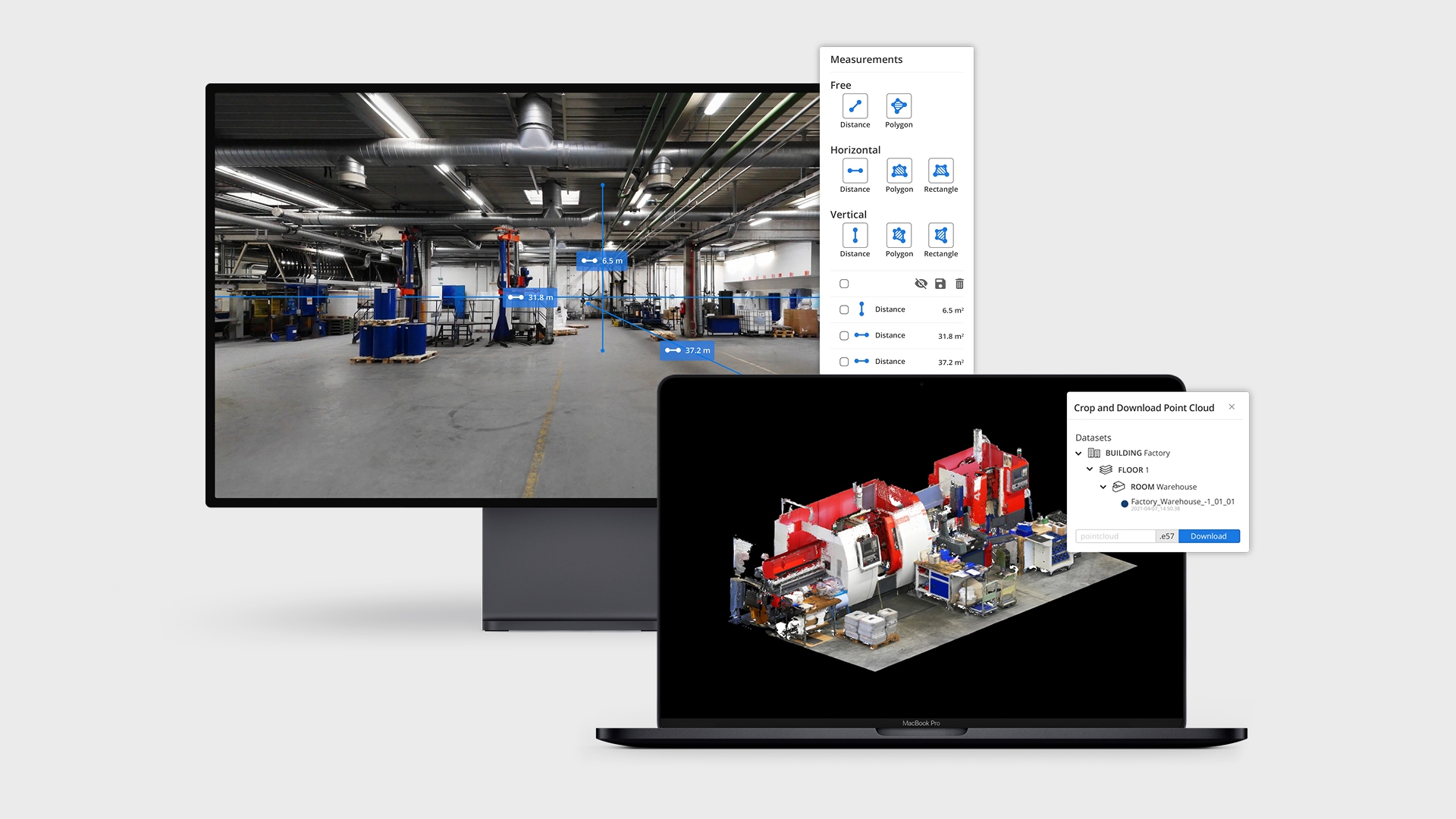 Lean management meets digital twins with NavVis IVION Go
Powered by industry-leading AR positioning technology, NavVis IVION Go is an app for iOS and Android devices that enables operations and maintenance managers to sync up information and tasks with their physical context and location.
How does it work? NavVis IVION Go uses your smartphone camera to recognize your surroundings and assets such as machinery and tools. This is matched with your digital factory imagery to identify your location.
Users can efficiently log observations, issues and best practices to then share, discuss and track progress with their colleagues. NavVis IVION Go is scalable to industrial environments and does not require special infrastructure or hardware to use the app.
Positioning and tracking: With industry-leading AR positioning technology, NavVis IVION Go enables users to find their location within the digital twin using only their mobile device.
Points of interest: Geotagged points of interest (POIs) enable access to in-context digital information inside your factory, so you don't have to manually search through handbooks, dashboards, or other documentation.
Location-aware content: Share content about your location inside the factory with your colleagues, and minimize the time needed to communicate the location of issues and defects.
Map view: Access digitally-stored information within the context of your location inside the factory, and switch between 3D panoramas and 2D floorplan views.
With an easy-to-use workflow for collecting improvement ideas, the benefits of NavVis IVION Go quickly become apparent. Team productivity is increased during 5S and Gemba walks using contextual digital notations, while maintenance downtime is reduced by sharing the precise location of defects and surrounding assets.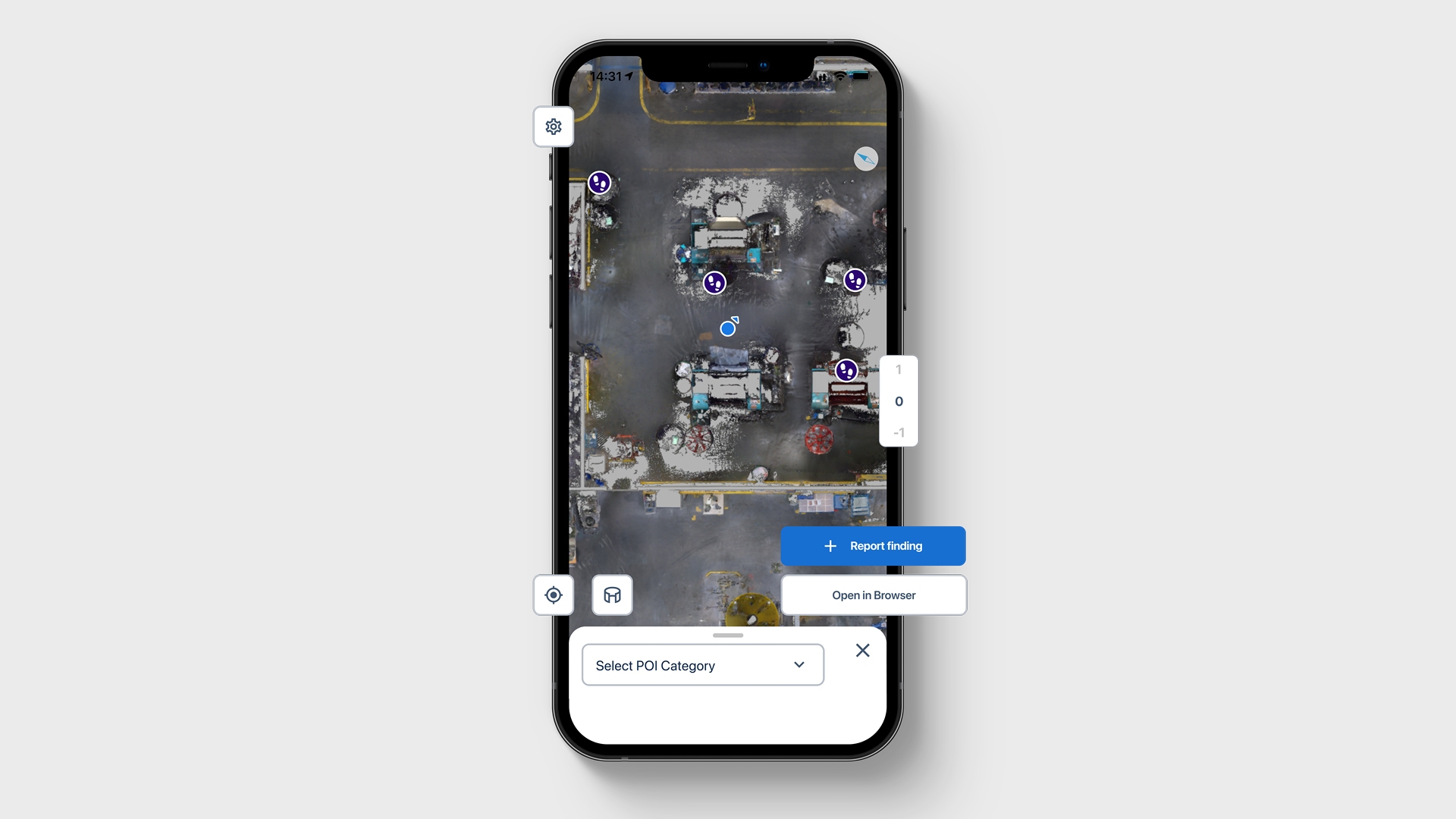 Release dates and further information
Whether you need to scope and retrofit an assembly line, or want to share best practices with a colleague on the other side of the world, NavVis IVION Enterprise and NavVis IVION Go will ensure information consistency, promote collaboration, reduce planning errors, and ultimately accelerate your time to market.
NavVis IVION Enterprise is officially released worldwide towards the end of April 2021.
NavVis IVION Go is only compatible with an active NavVis IVION Enterprise account, and will be available to download from the iOS App Store and Google Play on 27 April 2021.
Reach out to us for a free consultation about how NavVis IVION Enterprise and NavVis IVION Go can benefit your organization. We'd be delighted to tell you more.
Meanwhile, more details about the entire NavVis IVION family can be found in our official press release.