The NavVis Indoor Mobile Mapping System enabled Siemens to scan 10,000 sqm in one day without interrupting production, creating a digital factory twin.
Located in a town in Bavaria, Germany, the Siemens Electronics Works Amberg manufactures a range of precision products like programmable logic controllers and human-machine interfaces. The site is a world-class digital factory, pioneering digitalization initiatives to drive efficiencies and shorten time to market.
Indeed, without increasing the size of the production area – 10,000 square meters – and with almost no change in staffing levels, the factory has increased its production capacity thirteen-fold since it first opened in 1989. These efficiency gains have also increased production flexibility, enabling the factory to manufacture over 1000 product variants per day and one product per second.
Siemens Electronics Works Amberg continues to pioneer innovations in the digital factory; in 2018 they completed a project with NavVis to implement a fully immersive digital twin of the indoor space.
"With NavVis IndoorViewer, I have my factory in my pocket," says Thomas Meier, Head of Technology Excellence at Siemens Electronics Works. "I can take out my phone, and I can show my factory to my suppliers."
The need for accurate data and documentation
The challenge with the Siemens Amberg factory, as with all modern manufacturing facilities, is to provide multiple stakeholders with up-to-the-minute information about the current condition of the site.
Factory planners need accurate data and context for assembly line relocation projects, whether it's for initial scoping or implementation when tendering the necessary suppliers. Keeping track and accurately documenting the multiple incremental shop floor changes to respond to new market demands can be incredibly challenging.
"We have to continuously relocate machines or assembly equipment to other factories," explains Meier.
Siemens also regularly invites potential customers to visit Amberg, running over 400 factory tours a year. For safety reasons and to avoid disrupting production schedules, tours are conducted on a balcony above the shop floor. With only a birds-eye view of the facility, however, customers don't have the opportunity to take a closer look at specific machines.
"We're doing our guided tours for our visitors from the balcony so they can have a full overview of our production," says Meier. "But in some cases, it's also necessary to go to the details."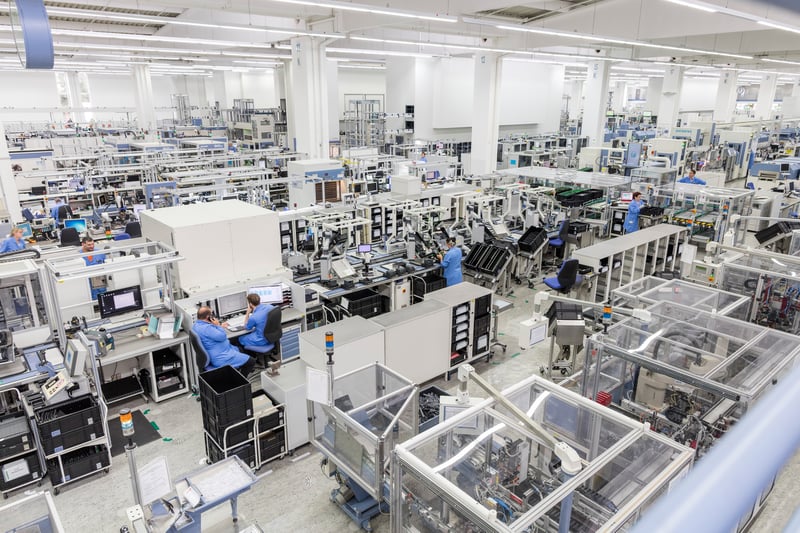 A speedy solution with NavVis M6
Enter NavVis. Siemens approached us to investigate how our digital factory solution could empower them to build a virtual replica of their factory space, so they could unlock greater operational efficiency and improve collaboration between factory stakeholders globally.
The first step was to generate a point cloud of their production floor quickly and without fuss; the NavVis Indoor Mobile Mapping System was used to scan 10,000 sqm in a single day, with minimal interruption to operations.
And when the team at Siemens saw a virtual replica of their facility from within NavVis IndoorViewer, the value of the NavVis digital factory solution truly became apparent.
Combining accurate point cloud data with 360˚ panoramic images, NavVis IndoorViewer provides an immersive 3D walkthrough; building stakeholders can instantly review the "as-is" state of the factory from any web browser.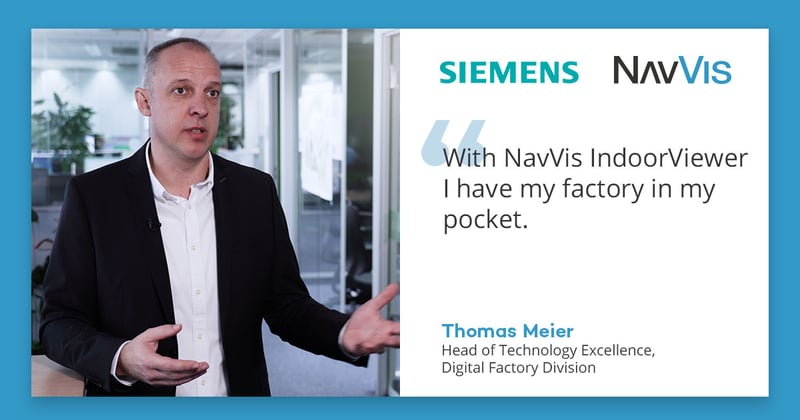 More efficient assembly planning and factory tours
According to Thomas Meier, Siemens now use their factory digital twin of the Electronics Works Amberg for several different use-cases – and are exploring potential applications for the future.
"In the past, colleagues have to come to me to Amberg and see the production equipment, so that they get an overview or an impression how it looks like," Meier says.
"Now with NavVis IndoorViewer, my stakeholders don't need to come to Amberg, they simply navigate the 3D immersive model of our factory, which saves a lot of traveling costs for us."
Download the case study for the full story on how Siemens pushes the digital factory boundaries with immersive digital twin technology by NavVis.