A virtual demo isn't a webinar, but also isn't the same as an in-person demo. So what is it? Sean Higgins interviews Noah Eckhous from NavVis to find out.
Over the past few years, it's likely that many of your office meetings have been conducted through a computer screen. That's why you might think that a virtual demo is the same as an in-person demo — but conducted remotely. You'd be wrong.
Virtual demos are a unique experience. They can offer crucial answers that you won't find in blog posts, white papers, case studies, webinars, or even in-person demos.
To find out why virtual demos are an important part of the buying process, I caught up with NavVis' Senior Customer Success Manager, Noah Eckhous. He explained what goes on in a virtual demo, why you should care, and why they're your first chance to get a real "peek behind the curtain."
Virtual demos 101
Eckhous says that each company does it differently, but NavVis conducts a virtual demo in a webinar format: a structured, prepared presentation from the customer success team followed by a Q&A session. You could easily attend these sessions during your lunch break and get on with your day.
Currently, NavVis is running two virtual demos for NavVis VLX. The idea is that you could attend both and walk away with a holistic, in-depth understanding of the device.
The first virtual session is focused on hardware and workflow. The team begins by walking you through the parts of the device. They'll talk laser range, camera resolution, battery life, scan duration, and other technical details. They'll discuss ergonomics, covering how to wear the device and how it packs up.
Think of it as "an overview of the data sheet and the nitty-gritty of using the device in the field," says Eckhous.
The workflow portion of the demo sees the team running through an example project. One "stakeholder" captures data, another processes it, and a third generates a model using the data. In this way, they demonstrate the device's full workflow from "field to finish."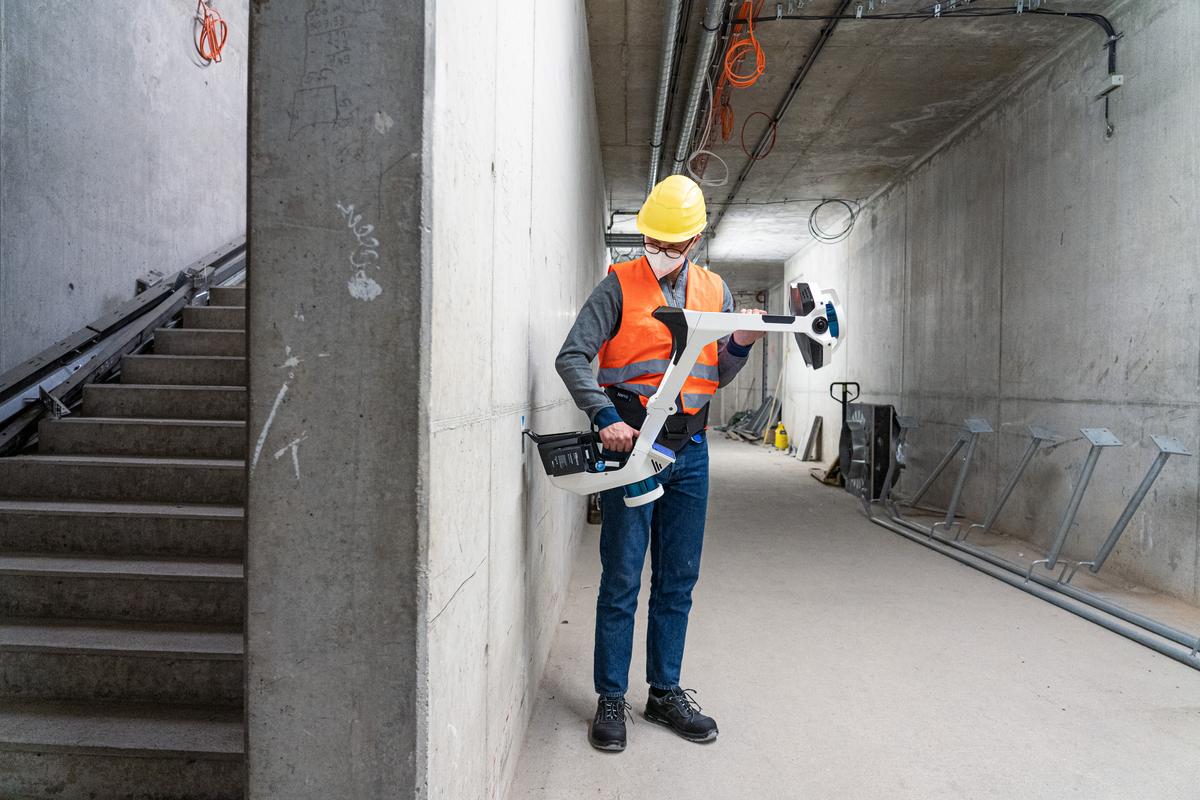 A second virtual demo is focused on mobile mapping accuracy. Here, the team starts with a candid talk about the device's real-world accuracy (as well as their rigorous methodology for determining its accuracy). They'll also explain best practices for getting accurate results, how to use NavVis VLX's quality map, and how to perform alignment with control points.
They end the session with a business discussion of accuracy. Here, you and the other companies attending will explore how to sell the accuracy to clients, and how to build accuracy into your quotes.
Why should you care?
As you know, an in-person demo offers you a chance to use the device before purchase — maybe you walk up a weird staircase in your office or take it around the building to see how the SLAM algorithm handles outdoor environments.
So why wouldn't you just start with an in-person demo?
Eckhous says that these in-person demos are great for laser scanning professionals who understand how mobile mapping technology works and what they need from it. They offer tremendous value to potential buyers that are ready to audition their candidates before making a final purchase decision.
But what if you're new to mobile mapping? Or you're earlier in your research? What if you're still deciding what's right for your business, but you still have questions you want answered? That's when you should attend a virtual demo.
What are the benefits?
As Eckhous explains, a virtual demo of a tool like NavVis VLX will "help you to get more transparency earlier in your buying process." Here are a few of the benefits they offer.
Real answers to technical questions
Reading blog posts, white papers, and case studies can teach you a lot. But a NavVis virtual demo will put you in touch with the customer success team, which Eckhous likes to call "the technical conscience of the sales team." Ask a direct technical question, and the team will give you a real answer.
Have some questions about how accurate the system really is? The battery life? Whether a mobile mapping system can handle your unusual applications? Attend a virtual demo and you'll find out.
Usually, getting these kinds of in-depth answers requires contacting a salesperson and starting the sales process. But if you're not quite ready for that, a virtual demo can offer crucial technical answers with much less commitment.
"Normally," says Eckhous, "you'd have to go through two or more conversations with a rep before you get to a conversation with the customer success team, or me. This way, you get access to the technical person you want to be questioning in the first place."
Learn from your peers and colleagues
The last big benefit is that you'll attend a virtual demo alongside 30 or so other companies in your industry who are also interested in the tool. You'll get answers to questions you didn't even think to ask.
"Maybe somebody from company A has a really good question that companies B through E didn't think to ask," says Eckhous. "That question might get the whole group thinking differently. During a virtual demo, you benefit from the 'hive mind,' so you're collectively able to get a lot of big answers out of a session."
A lot of information, a little commitment
A virtual demo can be a lot more than an in-person demo conducted over the internet. NavVis uses them to give you real answers about the tools you're considering for your business. A virtual demo can give you a "peek behind the curtain" that no other resource can offer. And all for a trivial amount of effort.
"If you have any kind of question from the reading you've done, or a webinar you've attended, and you want some technical or practical answers? Just sign into a virtual demo webinar," says Eckhous. "And then disappear into the shadows as soon as it's over."
And you're in luck - NavVis runs virtual demos every month, and in multiple languages. Get an overview of what's coming up and register for one that catches your eye here.
Sean Higgins is an independent technology writer, former trade publication editor, and outdoors enthusiast. He believes that clear, buzzword-free writing about 3D technologies is a public service.