Connect your Autodesk Revit BIM models to NavVis reality capture technology for a more efficient as-built verification workflow from your desktop.
Even with their advanced knowledge of working with BIM models and point clouds, updating a BIM model of an existing building can be a time-consuming task, whether it entails physically visiting a location to take measurements and photographs, or using point clouds that might not provide the level of detail an onsite visit would.
If creating a BIM model of an existing building from scratch, the as-built documentation can often be outdated and fragmented. The BIM modeler will spend a lot of energy meticulously piecing together data to create one cohesive BIM model which – even then – can't always be trusted.
NavVis provides an all-in-one solution that captures and visualizes the built environment.
With the NavVis IndoorViewer Add-in for Autodesk Revit, users can now improve BIM workflows by connecting Revit models to 360° immersive imagery and point clouds that display the current state of the building.
What is the NavVis IndoorViewer Add-in for Autodesk Revit?
The NavVis IndoorViewer Add-in for Autodesk Revit optimizes the workflow of creating and updating BIM models of existing buildings.
The add-in connects BIM models to NavVis IndoorViewer 3D visualization software, which displays 3D scans as panoramic images and point clouds within your browser.
The add-in makes it possible to view a side-by-side comparison of your BIM model and the corresponding NavVis IndoorViewer instance directly from within Autodesk Revit.
It can be used with data that has been captured by a NavVis indoor mobile mapping system, which captures both dense panoramic images and point clouds, or data from a static scanner.
When a static scanner is used, NavVis IndoorViewer automatically converts structured e57 point clouds files into 360° immersive walkthroughs.

This graphic demonstrates how NavVis technology can optimize a scan-to-BIM workflow and be used to generate new deliverables, such as digital twins.
How is it used?
Users need a working NavVis IndoorViewer instance to use this add-in. For more information on how to get your NavVis IndoorViewer instance, visit here.

The add-in displays the scanned state of a building as 360° immersive imagery enriched with point clouds. Users have a side by side visual of as-built vs. as-is for accurately and efficiently updating BIM models of existing buildings.

Users can also find their location in the add-in by simply clicking the position in the BIM model that needs updating. This eliminates the tedious task of sifting through documentation and photographs of existing conditions.

In effect, they can directly compare as-built BIM models with the reality on site without actually leaving their desk, facilitating faster and simper verification.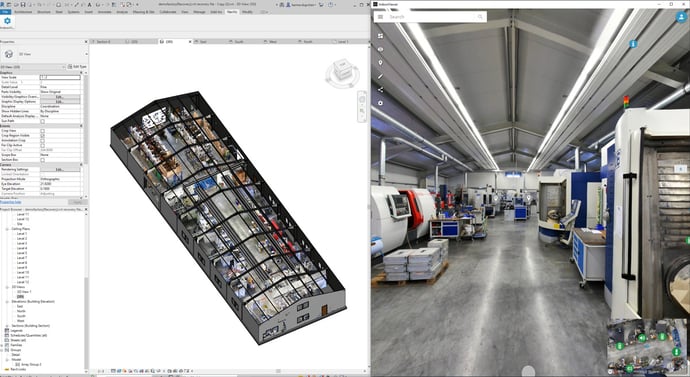 View a side-by-side comparison of a BIM model in Autodesk Revit with immersive panoramic imagery from NavVis IndoorViewer.
Key benefits and advantages
Compare "as-built" with "as-is": Realistic 360° immersive imagery provides users with a real-world comparison tool that enables them to spot differences quickly and easily. The highly detailed panoramic images in NavVis IndoorViewer depict reality, allowing users to work with confidence.

Verify measurements remotely: A web-based 3D visualization enhanced with dense point clouds enables users to take accurate, point to point measurements of existing conditions directly from their desktop. This feature makes modeling, updating and verifying measurements possible without having to leave the comfort of your office.

Share and publish changes online: The NavVis IndoorViewer Add-in for Autodesk Revit significantly improves scan-to-BIM project collaboration by allowing users to share updated or important information online with all relevant stakeholders. This process is as simple as sharing a link over email.
Wrapping up
With the NavVis IndoorViewer Add-in for Autodesk Revit, users can enjoy the added value that the NavVis IndoorViewer offers, such as adding geo-tagged, searchable information, taking measurements, virtual routing and even cropping and downloading point clouds in browser.
Users will no longer have to deal with the inconvenience of outdated documentation, tedious verification, and fragmentary collaboration with building stakeholders. The NavVis IndoorViewer Add-in for Autodesk Revit can also double as an added deliverable that laser scanning professionals can offer their scan-to-BIM customers.
Are you ready to try NavVis IndoorViewer?

Create your own Trial Instance

Try our Demo Instance

Create your own 3D building by setting up a NavVis IndoorViewer instance with a 15-day free trial NavVis Cloud account.

Experience our web-based, fully immersive 3D building software right in your browser by exploring our demo instance.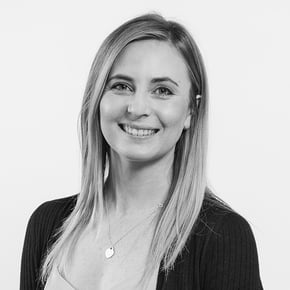 Siobhan Reisinger
Siobhan is a Marketing Program Manager at NavVis. In her multifaceted role, she works towards driving the commercial success of NavVis Products, never shying away from deep diving into complex topics.