Many reality capture pros now use hybrid workflows with mobile mapping devices, terrestrial laser scanners or drones, combining the strengths of each.
You've heard the debate. Are mobile mapping devices better than terrestrial laser scanners? Are terrestrial laser scanners better than drone photogrammetry? Is 360° photography secretly better than all of the above? Which 3D capture tool is the best?
These questions may seem complex, but the answer is simple. According to Mark Hanna, president and founder of PrecisionPoint, the "best" capture tool is often more than one capture tool.
Hanna is among a growing number of leading professionals that now use hybrid workflows. They bring TLS, mobile scanners, and/or drones into the field, and then use each one for the job it does best. Then, with judicious use of survey control, they combine these data sets into a single point cloud for their customers.
The benefits are huge. This hybrid approach offers greater flexibility. It helps technicians adapt to the real-world challenges of any site. And, it enables providers to better serve their customers.
To illustrate just how powerful hybrid workflows can be, we'll show you how some leading providers are combining capture tools to handle their toughest projects.
SurvTech Solutions: Mobile & TLS
American service providers SurvTech Solutions have started combining mobile scanning and TLS for large captures. Recently, the company wrote about documenting the historic Perfecto Garcia Brothers Cigar Factory, a historic building that sprawls over 44,000 sq ft of Tampa, Florida.
To capture the interior, SurvTech Solutions used a NavVis M6 mobile mapping system, which enabled them to work up to 10 times faster by moving at a walking speed.
To capture the façade, the team used a terrestrial scanner. This TLS offered the range to complete the documentation with a minimal number of set ups.
SurvTech Solutions say this hybrid workflow helped them offer their customer faster turnaround and lower project costs, all without sacrificing on quality. They also plan to recreate this workflow for a variety of projects going forward.
"The use of both pieces of equipment combined," the company writes, "yields highly accurate and precise measurements in all situations and environments."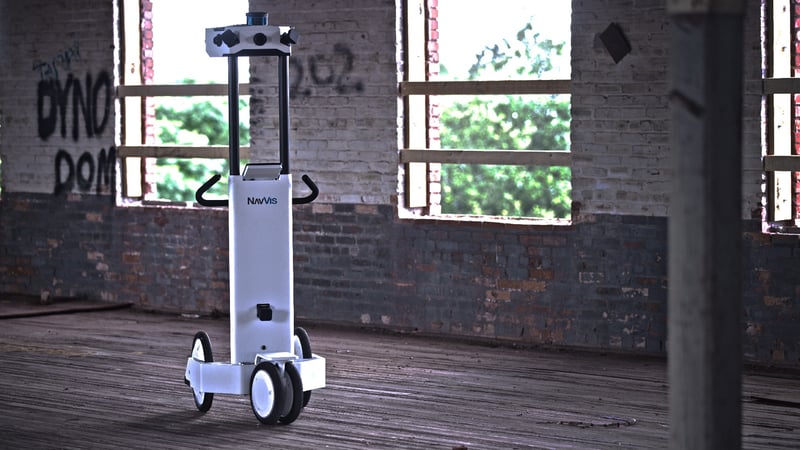 MyDigitalBuildings: Mobile & TLS & Drone
Multi-disciplinary service provider MyDigitalBuildings took on an experimental project to BIM model a 4000 sq meter asset just before demolition. The goal was to measure the volumes of the elements that would be removed and to identify materials that could be recovered.
Given this creative use of BIM, you won't be surprised to learn that MyDigitalBuildings used a unique hybrid workflow for the capture stage. The team documented the façade with a terrestrial scanner. They say this tool enabled them to "see" into passages that were too narrow for a mobile mapper.
MyDigitalBuildings also scanned the passageways of the building with the TLS. This helped them to build a "skeleton" onto which they could register the point clouds generated by the mobile scanner. This had the benefit of keeping the mobile captures shorter, and reducing the potential for drift.
Next, they captured "a multitude" of rooms attached to the passageways with a NavVis M6. As you might expect, this saved them a considerable amount of time.
Lastly, the team documented the roof using drone photogrammetry, since that part of the asset wouldn't be accessible to scan operators.
Given the success of this project, MyDigitalBuildings continues to be optimistic about hybrid workflows going forward.
"By opting for a multi-technology survey protocol," they write, "we are more flexible in our building coverage strategy and can adapt to the specificities (size, height, accessibility, etc.) of each zone."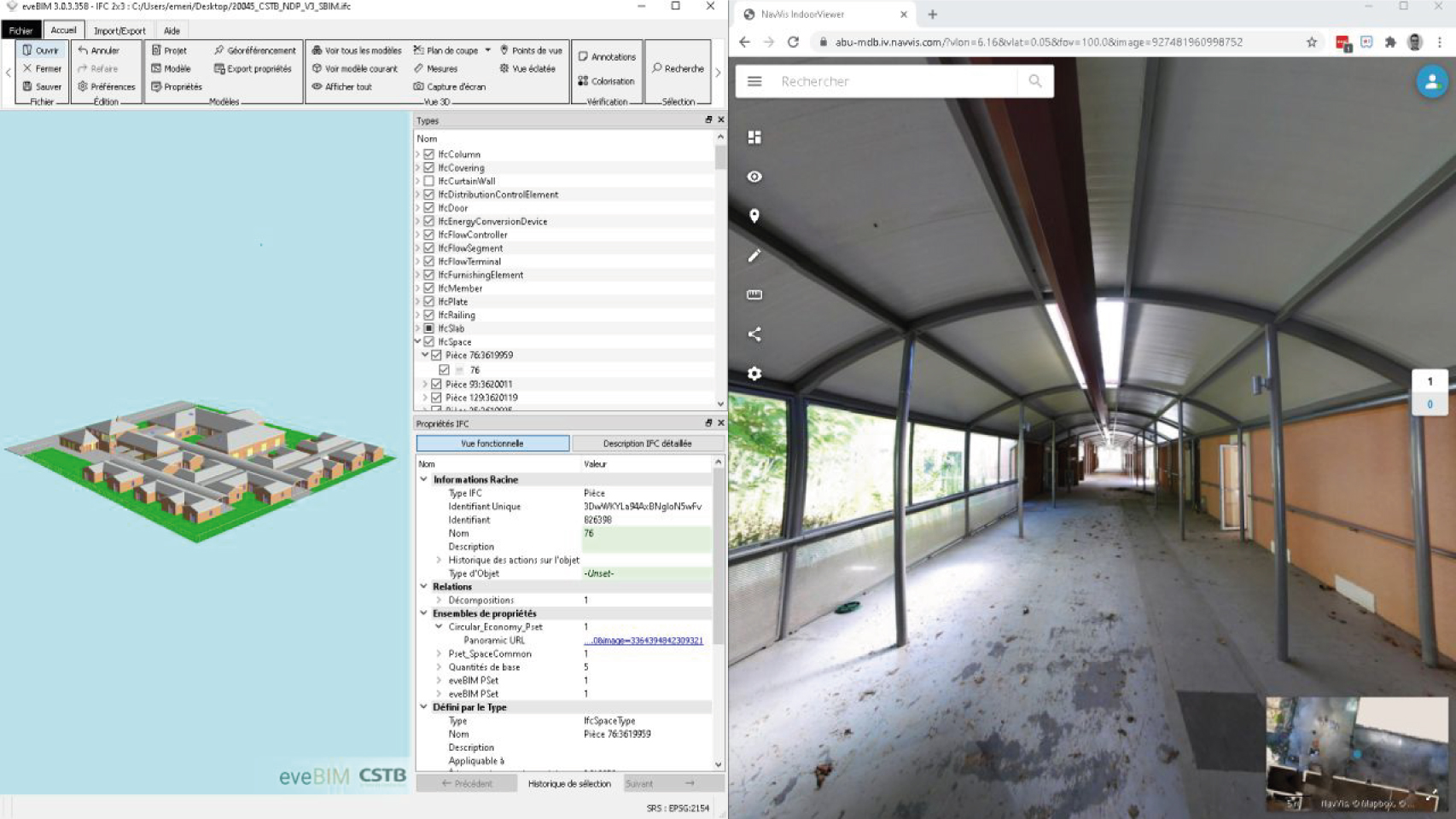 S3D Services: Mobile & Drone
Laser scanning professionals S3D Services hold the distinction of providing the first digital twin of a real estate asset in the Greater East Region of France. To do this, they needed to capture and model a high school and its extensive grounds, spread over nearly 40,000 sq meters.
To do this, they captured the interior with a NavVis M6 mobile scanner. With a skilled operator, they write, they were able to produce data with "a high level of precision in the point clouds" and "panoramic photos of high quality."
After that, a second team used drone photogrammetry to capture the high school's roof and extensive grounds.
They say that this hybrid workflow was a great success – as well as an opportunity to "demonstrate the dynamism and complementary nature of the offers on our territory."
Ingenieursbureau Groothedde: Mobile & TLS
Dutch service providers Groothedde recently documented the Wildbaan Castle in Leuvenheim using both mobile mapping and TLS.
The team captured the interior using a NavVis VLX mobile mapping system and captured the exterior with a TLS. They were pleased with the results, and called this hybrid workflow "the best of both worlds."
Here's an animated flythrough of the resulting point cloud.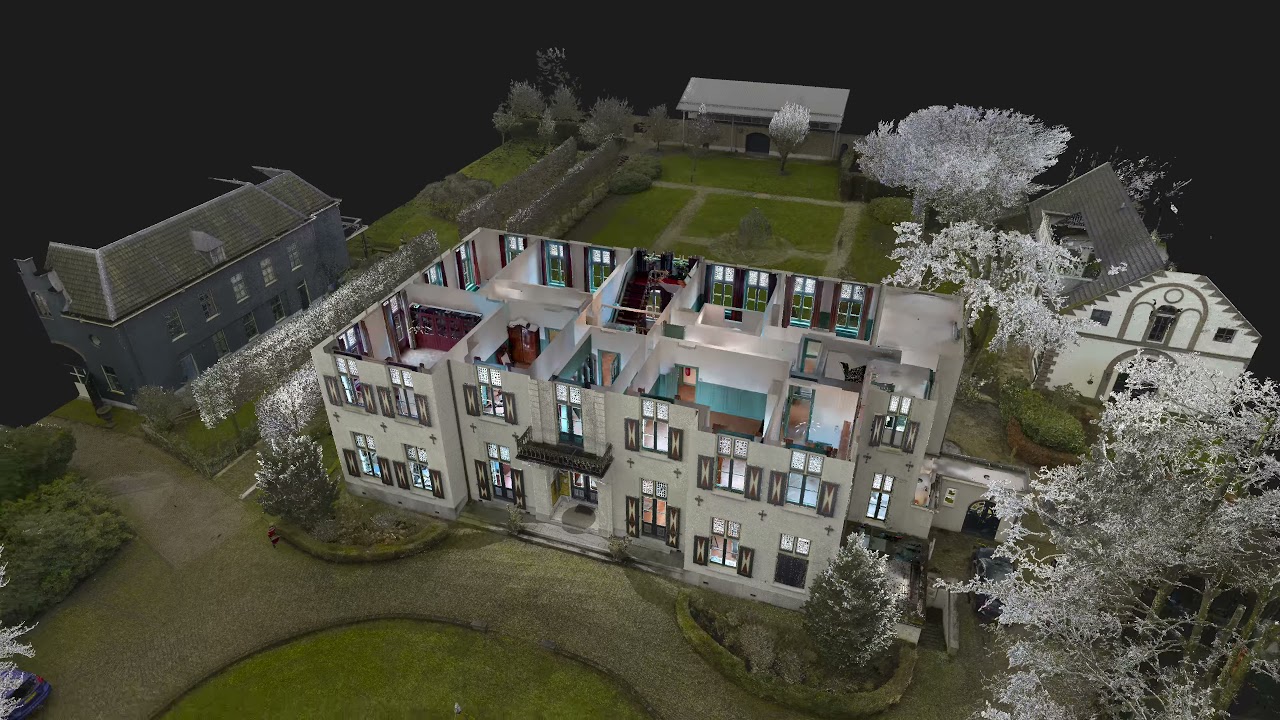 PrecisionPoint: Mobile & TLS
Last year, PrecisionPoint was documenting an office building. The project was a little different from usual: they needed to capture not only the architectural elements, but also the piping above the ceiling tiles. To achieve this goal, PrecisionPoint developed a creative hybrid workflow that went beyond the usual indoor/outdoor division.
First, they placed checkerboard targets on the floor, located specifically below the piping they needed to scan. Next, they captured those targets with a terrestrial scanner. Then they poked the scanner above the ceiling tiles to capture the piping. These two scans had sufficient overlap to ensure that the technician could easily align them during post processing.
Next, the team sent a second technician out with a NavVis M6 mobile scanner to capture the rest of the interior space.
PrecisionPoint says this hybrid approach enabled them to finish the capture job 10 times faster than they could have managed with TLS alone.
Prologue Systems: Mobile & TLS
American service provider Prologue Systems was hired to capture a 50,000 sq ft Texarkana Aluminum casting facility.
The customer's demands were exacting. Since they needed the data to design and fabricate plant improvements, they wanted accurate documentation of floor geometry, MEP infrastructure, and casting process equipment. They also needed the work finished in one day to minimize the facility's downtime.
Prologue met the challenge with a hybrid workflow. They performed one scan of the facility with their new NavVis VLX, and finished in only 40 minutes. Next, they used a TLS to capture selected areas in higher accuracy, a process that took another 8 hours.
This hybrid workflow enabled them to meet a tight deadline without sacrificing on the accuracy their customer needed for design and fabrication work.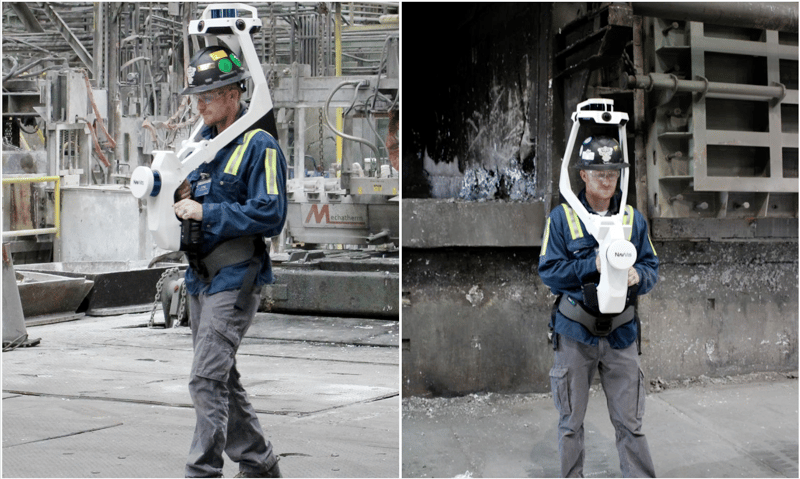 Rapp Group: Mobile & TLS
In a recent article, Swiss service provider Rapp Group asks whether mobile mappers can replace their TLS. "Wouldn't it be tempting," they ask, "to just strap on the scanner like a backpack and start walking?"
To answer this question, the company got their hands on NavVis VLX for early testing in February 2020. And they saw immediately that mobile mapping is not a replacement for their terrestrial scanners, but a powerful addition.
"It expands our range of scanning services," they write. "With an accuracy of approx. 2 cm, the NavVis VLX is the ideal device for us for most tasks in area cadaster and the growing "Scan2BIM" market. However, if the highest level of accuracy is required, the stationary scanner is still the first choice."
That's why Rapp Group – like the other service providers on our list – have concluded that hybrid workflows are the real future of scanning. Instead of settling on mobile scanning or TLS, they say, they approach each project individually. That means evaluating their needs for speed, mobility, and data accuracy, and then bringing the right combination of tools to meet those needs.
Rapp Group says that following the same approach will help you "adapt to your customers," and be "targeted, depending on the situation."
Put another way: It will help you offer your customers the best of both worlds.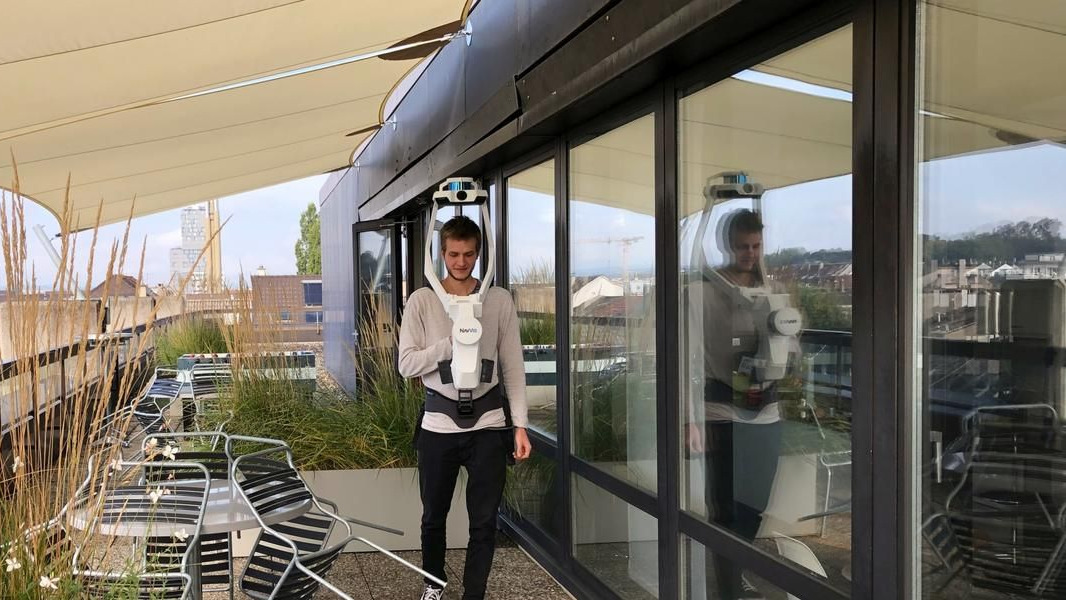 Sean Higgins is an independent technology writer, former trade publication editor, and outdoors enthusiast. He believes that clear, buzzword-free writing about 3D technologies is a public service.