The new Cloud Processing Add-on for NavVis IndoorViewer makes fast work of post-processing your NavVis point cloud data. Learn all about the key features here.
Today sees the launch of the Cloud Processing Add-on for NavVis IndoorViewer. We're bringing our post and web processing tools to the cloud, so that users now have a fast, simple solution to process point cloud data generated by NavVis M6 and NavVis VLX.
Based on extensive input from our partners and customers, the key features of the new Cloud Processing Add-on are specifically designed to address workflow bottlenecks, making the post-processing experience the most efficient and user-friendly it has ever been.
"We wanted to offer our users a processing tool that significantly speeds up and simplifies their workflows, so that they can benefit both in the short and long term" says Lisa Cali, Head of Product, Web & Cloud at NavVis. "The Cloud Processing Add-on for NavVis IndoorViewer makes this possible."
Preliminary feedback from our beta program participants has been overwhelmingly positive. The Cloud Processing Add-on is "incredibly straightforward and a true time-saver," says Neil Wakeman, BIM Technology Lead, Wade Trim Group. "The convenience of the cloud allows us to process multiple datasets from any location."

David Gillies, Head of Product, Cognica, says the new add-on is "exactly what I would have hoped for from NavVis and the NavVis IndoorViewer experience, a superb addition!"
What is NavVis IndoorViewer?
NavVis IndoorViewer is a web application that combines realistic 3D visualization of buildings with an intuitive interface that anyone can use.
Building scan data uploaded to NavVis IndoorViewer is presented as fully immersive 360° images, point clouds, and digital floor plans. While the 360° and point cloud views allow users to move through scanned spaces in 3D, the map view provides a 2D overview of the scanned structure and its surroundings.
To take advantage of the features offered by the Cloud Processing Add-on for NavVis IndoorViewer, users require an active account for the NavVis Cloud SaaS (software as a service) solution.
The benefits of processing in the cloud
Process wherever and whenever
From processing to viewing scan data in NavVis IndoorViewer, users can now benefit from an entirely cloud-based workflow. Start, monitor and finish processing tasks wherever and whenever you want and reduce the time from mapping to usable data. All that's needed is an internet connection. This means you now have the flexibility to upload and begin processing your NavVis scan data directly onsite from any machine, without having to wait until you are back in the office.
Efficiency where it matters
Complete scan projects faster and maximize your productivity. Process multiple datasets in parallel and save valuable time and effort for the tasks that require individual attention. No need to wait until the upload is finished, users can simply configure the processing settings for an automatic start. You'll then receive an email notification as soon as your data has been successfully processed.
Easy to set up and use
An uncomplicated workflow and user-friendly interface eliminate the need for extensive onboarding and additional training. Simply drag and drop datasets to upload them and then follow the straightforward steps to begin processing. Processed data is available to move directly into NavVis IndoorViewer Dataset Management or, alternatively, the point clouds can be downloaded in .e57 or .ply format.
Intuitive and reliable
Set up processing tasks to be successful and to deliver reliable results the first time. Get an overview of every control point in your dataset and view their exact location on the quality map. You can then choose the ones you would like to use and even identify potential errors – all before processing begins. Monitor the status of each processing task via the live progress bar to estimate time remaining and pause a task at any moment.
Designed for laser scanning professionals and AEC companies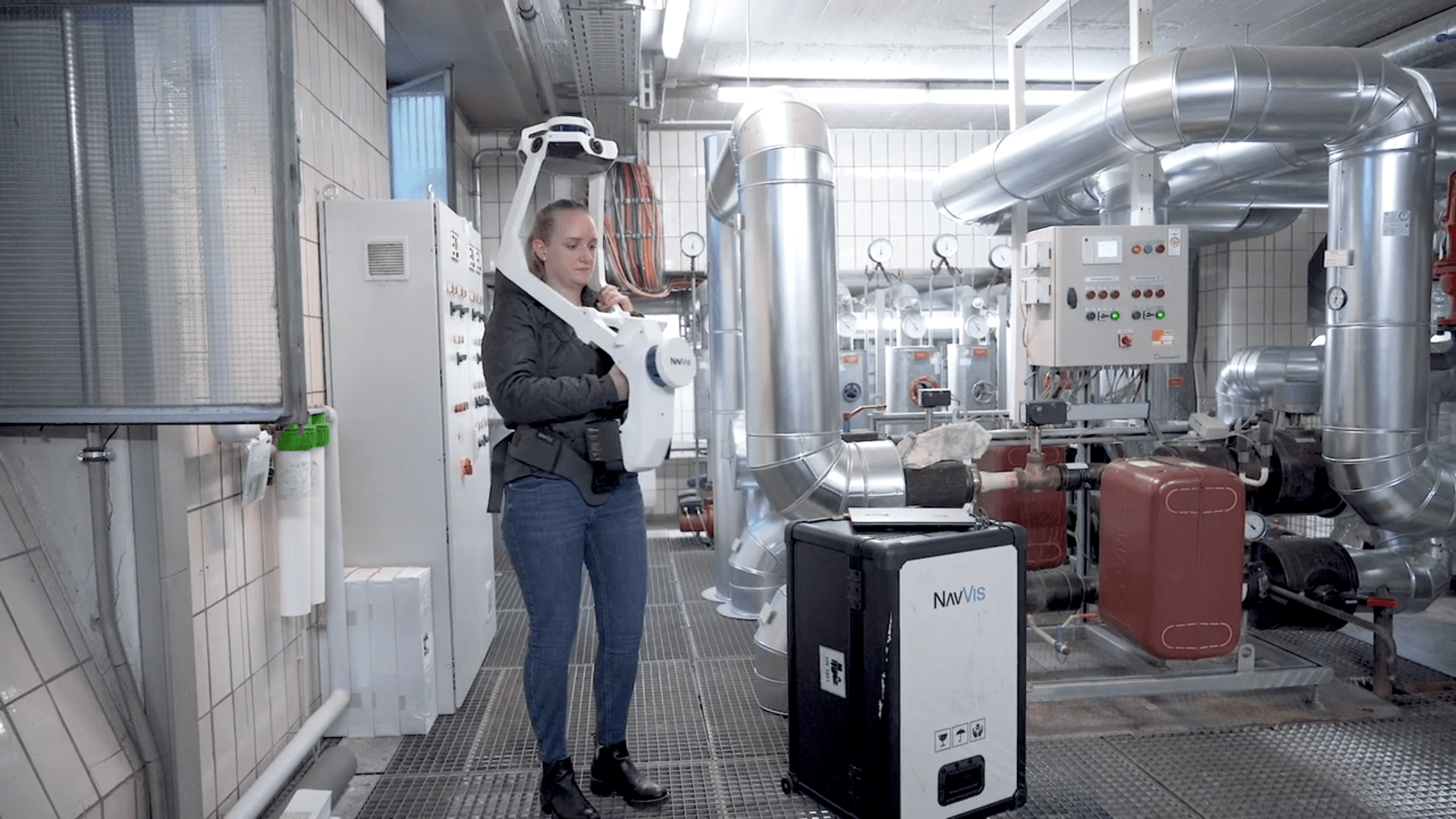 Who will find the Cloud Processing Add-on for NavVis IndoorViewer beneficial? One user group will be laser scanning service providers and surveying companies with existing business in providing building documentation.
Another will be AEC (architecture, engineering and construction) companies who supply design, planning, engineering or construction services for the built environment. These companies will already have in-house expertise with laser scanning or in working with point clouds for BIM modeling.
Based on extensive conversations with professionals from both groups, a picture emerged of the most common pain-points. Firstly, that the task of processing itself is extremely time-consuming and requires many man hours – especially when large or multiple datasets need to be processed.
Next, we learned that learning and adopting new post-processing workflows is extremely complex and, again, time-consuming. Time which is lost when allocated towards learning how to work with new operating systems for processing (which may even require additional IT skills and training).
Another pair of challenges manifest themselves in the form of cost, when purchasing dedicated hardware for desktop processing, and the lack of flexibility when processing can only be done from one location and from one machine.
Using the Cloud Processing Add-on for NavVis IndoorViewer, these problems are eliminated. Users can now process multiple datasets simultaneously. Onboarding is quicker because it's easy to learn and operate, and there's no longer the need to purchase or maintain a dedicated processing machine.
Plus, you now have more flexibility with starting and monitoring processing tasks, which can be done from anywhere with an internet connection. Time is saved due to one-step configuration of a processing task during upload. And you can even identify errors prior to the start of processing, so that you have fewer issues processing your data for more consistent results.
Wrapping up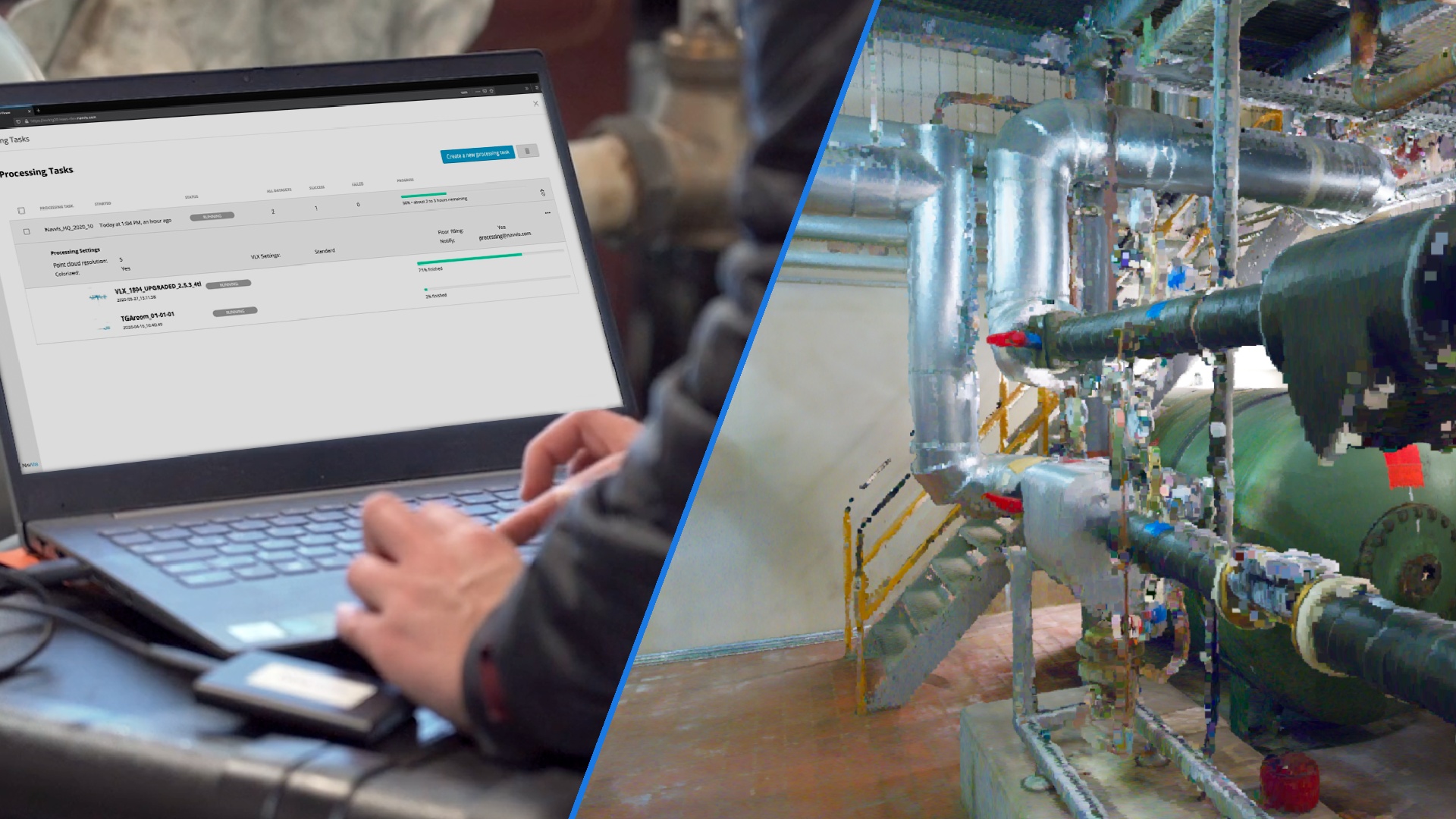 Here's a summary of the new features you'll be sure to love in the Cloud Processing Add-on for NavVis IndoorViewer:
Drag and drop datasets. To upload a dataset, simply drag and drop folders and files into the designated area. It's as easy as that!
Live progress bar. Follow progress to the minute, with a live progress bar that keeps you updated on the status of each processing task, so you know exactly how long until it's completed.
Process in parallel. This highly anticipated feature of the add-on lets you processes multiple datasets in parallel so that you only have to wait as long as the largest dataset saving you time for the tasks that require individual attention.
Get notified. When processing is complete, you'll be sent a notification via email so that you can quickly access and work with your data as soon as it's ready.
One-step configuration. Configure individual settings of a processing task, such as point cloud mode, point cloud resolution and colorization, all while your dataset is uploading.
Copy and download. Processed data can be quickly and painlessly copied to dataset management in NavVis IndoorViewer. You can even download the point cloud to be used in other applications.
Early error detection.

An intuitive

interface lets you verify control points and painlessly identify any potential errors before processing even begins.
Would you like to learn more? Get in touch to talk to an expert, book a demo, or peruse our content library to find details about the ways NavVis can enhance your business.