Meet our Finance Team Lead, Moritz Pfeiffer, & find out how he went from a working student to a team lead & some fun facts about the early days of NavVis!
People are at the heart of NavVis. We're much more than the innovative technology we've developed; we're a dynamic, culturally diverse, close-knit group working together to achieve remarkable things. That's why we launched the NavVis Employee Spotlight. We're showcasing to future candidates what life is like at NavVis, and the inspiring people with whom you could collaborate.
This time we chatted with Moritz Pfeiffer, Finance Team Lead, who started at NavVis about nine years ago as a working student. Through hard work and by keeping an open mind, he worked his way up to become the Finance Team lead. He now runs a team of nine (& growing!) and is the go-to when it comes to everything involving finance... and what's new at IKEA. Read the full interview below!
Q: Tell us a little bit about your background and how you got to where you are today.
Born and raised in Frankfurt, I moved to Munich for my studies. Karlsruhe was another option, but living near the Alps was exciting, as I enjoy skiing way more than the long car drives normally required to get there. I've been very happy with this decision, even though I moved back to Frankfurt and now work mainly remotely for NavVis.
My studies of information systems at TUM - a combination of business studies and informatics - helped me land my first student job at one of the Big 4 consulting firms where I worked on different IT consulting projects. It took me quite some time to earn back the money I had to spend on nice shirts and on a suit but nevertheless, it was a great time where I learned so much about how the business world really works.
After a year I wanted something different – a friend told me to check out startups and I started my search. I applied for the first five internships that came up on my university website (without any clue of what they do exactly) and that's how I found NavVis.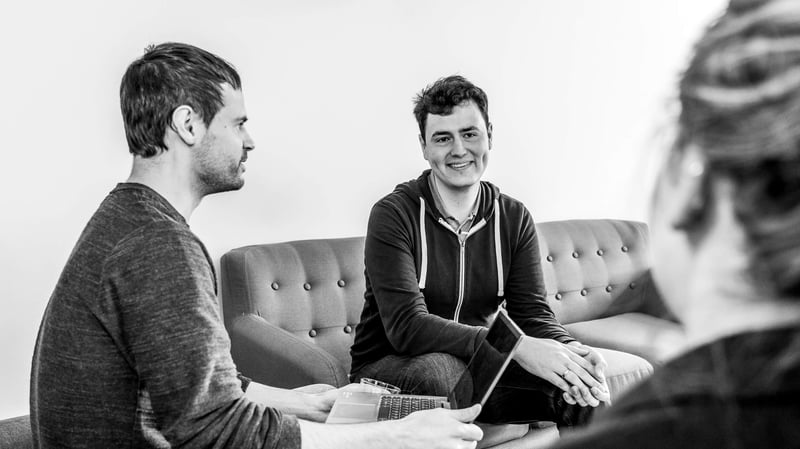 Q: What attracted you to NavVis?
To be honest: they answered first. But that definitely isn't the whole story. I still remember my interview in the conference room NavVis had while we were still sharing rooms with the university chair. The rooms we have today have a great hybrid communication setup – allowing everyone to join meetings even when not in Munich. Back then the conference room NavVis used also had a ton of communication equipment – just in a more traditional sense.
One of the chair's previous professors used the room as a telephone museum, so not only were the meeting room walls plastered with telephones, but he also regularly checked on them – even if we were meeting C-level executives from large automotive companies. But I think this also made NavVis so attractive to me: we have the technology that makes big players meet us in a telephone museum, but we still stayed grounded.
My interview was run by our CEO Felix and an intern. Felix left the room momentarily and I asked him if working at NavVis was as good as Felix had presented it. Fortunately, he said it was. Fast-forward to nine years later, he was right.
I always said I'll never leave NavVis until I get bored – it hasn't happened yet.
Q: Can you tell us about how you've grown into a team lead over the years after starting as a working student?
When I joined NavVis I had yet to learn what someone does in finance. And as we were still a very small team, I also worked on many different topics: I answered and managed candidates' applications (no People team yet), worked on sales presentations (no Marketing team yet), designed our CRM system (no Business Operations team yet), organized shipping (no Logistics team yet), and visited tradeshows (only a very small Sales team) – in short, I was quite busy.
One of my bigger tasks during my initial internship was designing a monthly financial report for our investors as well as our founders to keep everyone informed about our business performance. This got me in contact with our financials for the first time. And over the months I started to work on more and more projects related to what we would call financial analysis or accounting today.
During this time NavVis grew considerably. We reached a point where we needed both senior leadership and more workforce to handle our finances. So, suddenly, I got my first working student - while still being one myself.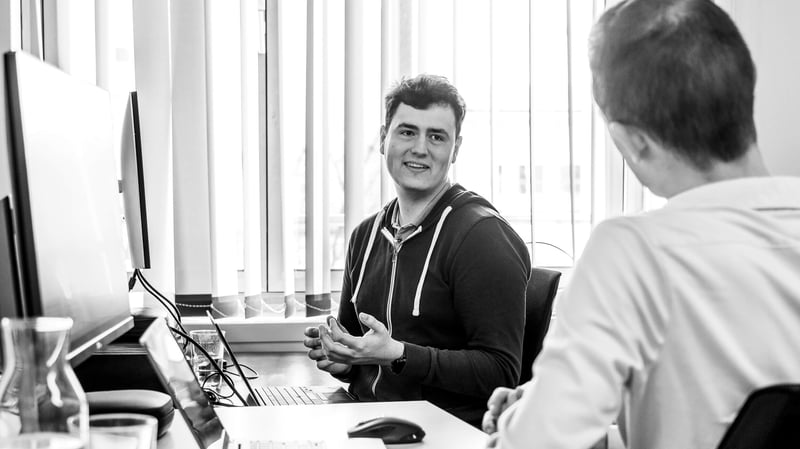 People management must be learned like any other skill. That being said, I was likely the worst supervisor this working student ever had. I had no idea it would be much harder to manage someone else compared to managing yourself. Our CFO mentioned that having a team means you get more things done, but often in a totally different form than what you expected... and it's very true.
After finishing university and starting full-time at NavVis, the finance team grew, and with that, my challenges now in a team lead role. Looking back, I wouldn't say it was a promotion, it felt more like switching jobs. Promotion always sounded like you are doing the same job, just bigger. However, I don't think this is true when you switch from an individual contributor to a people lead. It's rather about suddenly needing skills you didn't need before. Fortunately, I got a lot of support from my team, leadership at NavVis, and external peers that helped me build these skills. This allowed the team and I to build a scalable global accounting setup, close multiple financial rounds, establish best practices in financial analysis, and launch an internal data warehouse.
Q: Have you noticed any shifts in the NavVis culture from when you first started to now?
Well, it's been a while since I went to lunch with the whole company, that's for sure - NavVis today is so much larger in every way compared to when I joined in 2014. Back then, all our staff could fit in one small room. Of course, this allowed for a different work approach to what we have today. But I think we've done a great job at keeping the culture that developed out of the early days.
I've never met someone at NavVis that had a "can't do" attitude. I also like our high level of ownership. That's something we kept from the early days, and it helped us grow over the years at such high speed.
We also became way more data-driven in our decisions. In the beginning, there wasn't much data to base decisions on as NavVis was small, and the geospatial market was only starting to develop into what we know today. Today, we are able (and also need) to use data to focus our marketing efforts, sync production teams with sales activities, and evaluate which country or customer segment to tackle next.
Professionalism also increased, for sure. While NavVis always aims to train internal people for leadership roles, we also added some senior team members that came with extensive backgrounds from other companies. Their ideas greatly influenced our processes, work results, and communications.
Q: How do you approach working with NavVis leadership & investors?
The most important thing is to not be intimidated about working with people more senior than you. At NavVis, I always liked how grounded and approachable everyone is. We all have our flaws - some are late to meetings, some can be too detail-oriented, and some really don't like morning meetings. But because I've been with NavVis for such a long time, I'm able to better prepare accordingly.
It is also important to be mindful of the impact your work has on the company's overall performance. The insights my team and I assemble are guiding decisions in the company – a minor error in our budget could throw our cash forecast for the year off by a six-digit number.
Q: What are some things your team does for fun?
The finance team is very remote. We are split across multiple time zones and are only very seldom all in one place. That means that growing together as a team is way more difficult than it would be if we would all sit in the same office every day (which feels like an outdated concept now anyway). This made us find ways to come together remotely.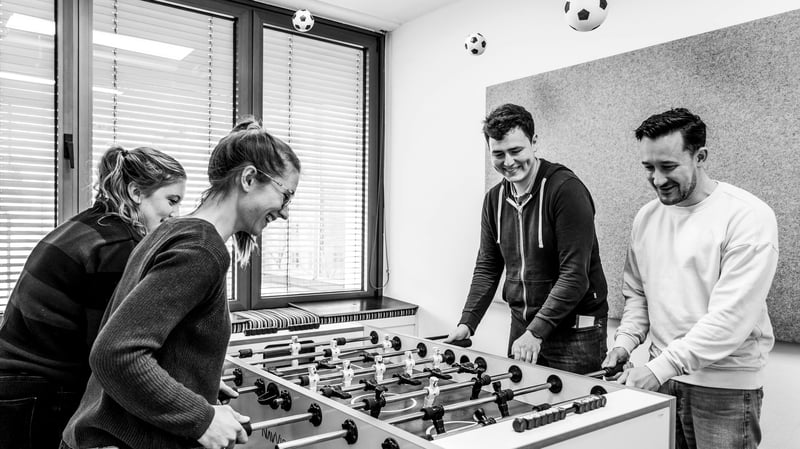 Once a week we meet for a digital breakfast where we talk about everything but work – it doesn't replace talking in person at the coffee machine, but it does help the team connect. We also meet every Friday for our so-called "Fun session" where the finance team comes together with teams like legal and business operations to play a few rounds of online games like Scribble or GeoGuesser.
While I really like these regular digital get-togethers, they can't replace physically meeting from time to time. Around once per quarter, the team tries to meet in person to partake in workshops and have some fun together – last quarter we went night sledding, for example.
Q: What is something that might surprise us about you?
First, I still remember sitting in an accounting lecture and mentioning to a peer about not having any idea what to do after my studies. I was just sure about one thing – never ever would I need anything out of this class. I guess this didn't work out as expected.
Second, I'm in love with IKEA. Everything is so thought through - they sell a lasagne tray that perfectly fits three sheets of lasagna noodles without any need to break them first!
Third, I probably have one of the biggest board game collections at NavVis, perfectly matched by hundreds of unplayed games in my Steam library. I've also played quite some hours of online games - I even qualified for an offline tournament once where my team and I got beat very badly - it was a lot of fun though.
Finally, I enjoy working on my smart home setup, which keeps me quite busy. I can start the popcorn machine from hundreds of kilometers away, more people should be amazed by this technology!
Do you want to join Moritz in a flexible, dynamic, inspiring work environment? Check out our open positions, we are hiring across all departments!