Deploying NavVis VLX at a construction site in Stuttgart, Germany, every AEC pro on the project is delighted by its versatility, robustness and accuracy.
How versatile is the NavVis VLX mobile mapping system? Let's answer this question through the prism of a large construction project in Stuttgart, Germany, where 157 residential units are in the process of being built for a local developer, Pflugfelder Real Estate.
Engaged in this complex undertaking are Kappes & Partners, a leading provider of construction project management services, and JSB Architects, seasoned practitioners in delivering as-built documentation to their clients.
Hearing the experiences of these Architecture, Engineering and Construction (AEC) professionals in their own words, we can see the real value that reality capture brings to all stakeholders on a project like this, nimbly straddling the twin disciplines of construction project management and architecture.
And with recent improvements rolled out with NavVis VLX 2nd generation – design features like IP42 for resistance against solid objects larger than 1 mm and vertically dripping water, and a robust SLAM algorithm that's just as capable scanning outdoors as it is indoors – the rigors of a busy construction site are not a problem for everyday operation.
A multi-year project with a 12,000 square meter plot size
For over 50 years, Kappes and Partners have provided construction project management services all over Germany. With offices in Stuttgart and Berlin, this firm of architects and engineers has worked on projects big and small.
"We're facing quite a lot of challenges in the AEC industry these days," says Dr. Alexander Kappes, Managing Partner.
"There's a huge demand for construction projects and because of that, finding trusted partners is key," he explains.
"Always delivering high-quality results is crucial: That's why we rely on NavVis VLX for scanning our construction site here at Vogelsang. "
The Vogelsang project encompasses four free-standing residential towers and one elliptical building, plus 163 underground parking spaces. With a plot size of 12,000 sqm, the construction time is estimated at three years. Scans taken with NavVis VLX are used to verify the Building Information Modeling (BIM) against the as-built conditions of the construction site.
"Accuracy is another big priority for us," Dr. Kappes continues, as they need precise measurements to determine whether the model correctly reflects the as-built state of the project.
"Together with our partners, we have achieved amazing results at the Vogelsang construction site by repeatedly taking measurements of the walls throughout several construction phases."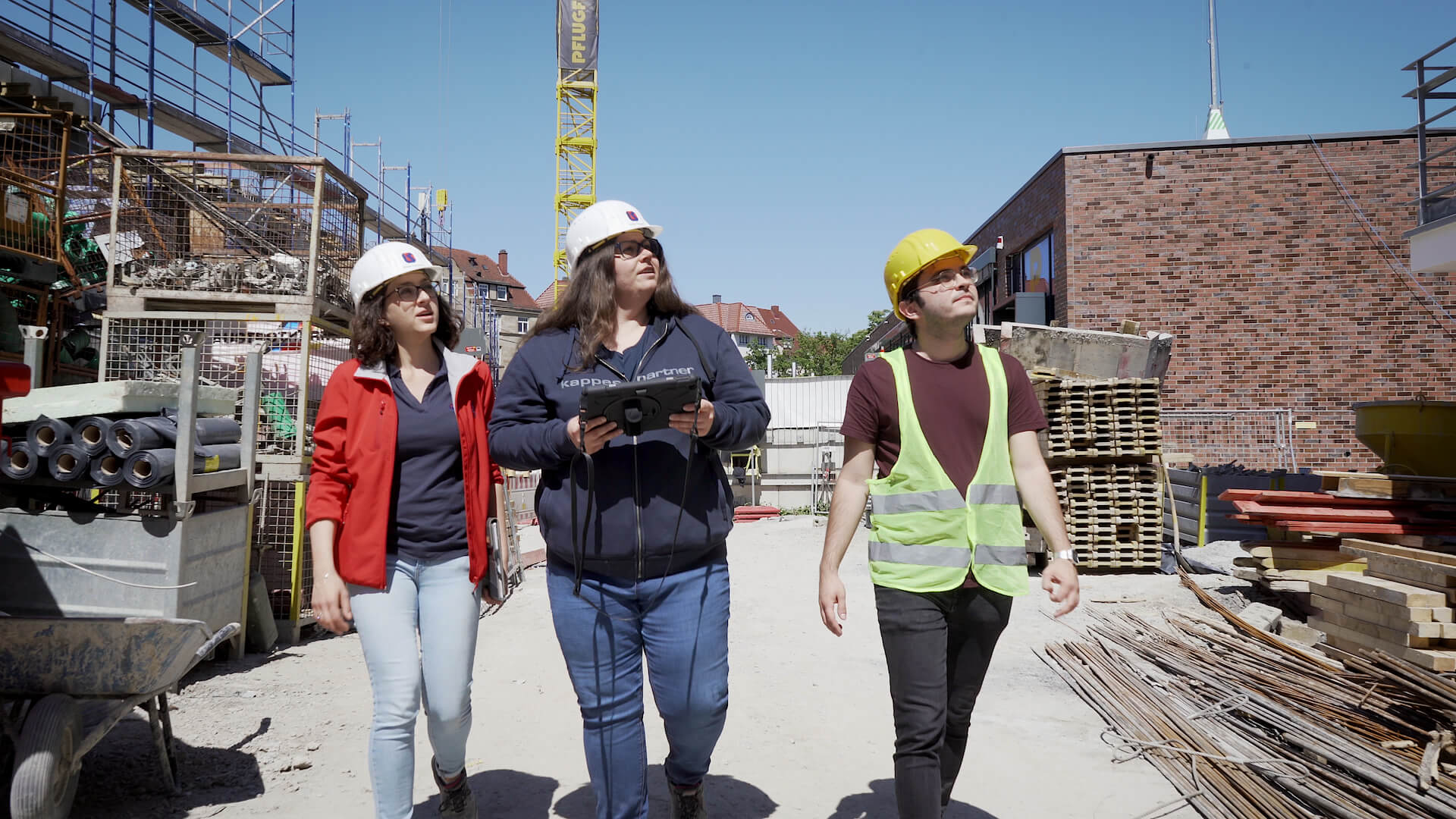 Using point cloud data to update BIM models on a regular basis
Elsewhere in the project, we have testimonials from professionals at Jundi Schrade Baumeister (JSB), an architecture firm operating out of Stuttgart which offers BIM services that are safe, innovative, and interdisciplinary.
"We're no strangers to working with point clouds as we've done so before several times," says Julie Scheffler, Project Leader at JSB.
"With the Vogelsang project in Stuttgart, the creation of the point cloud was very fast and efficient," she continues, "because the construction management decided to deploy NavVis VLX to capture the site at different stages of the project."
Scheffler is using the data to update the BIM model. Taking underfloor heating in the residential units as an example; the layout of the pipes is planned, but it's not fully documented.
"Using our point cloud," Scheffler says, "we know exactly where the pipes are located. We can also take measurements, thereby avoiding possibly damaging any pipes when drilling."
In this way, where as-built documentation is used to maintain the BIM model that all stakeholders are referring to as a single source of truth, costly planning mistakes are avoided early and often.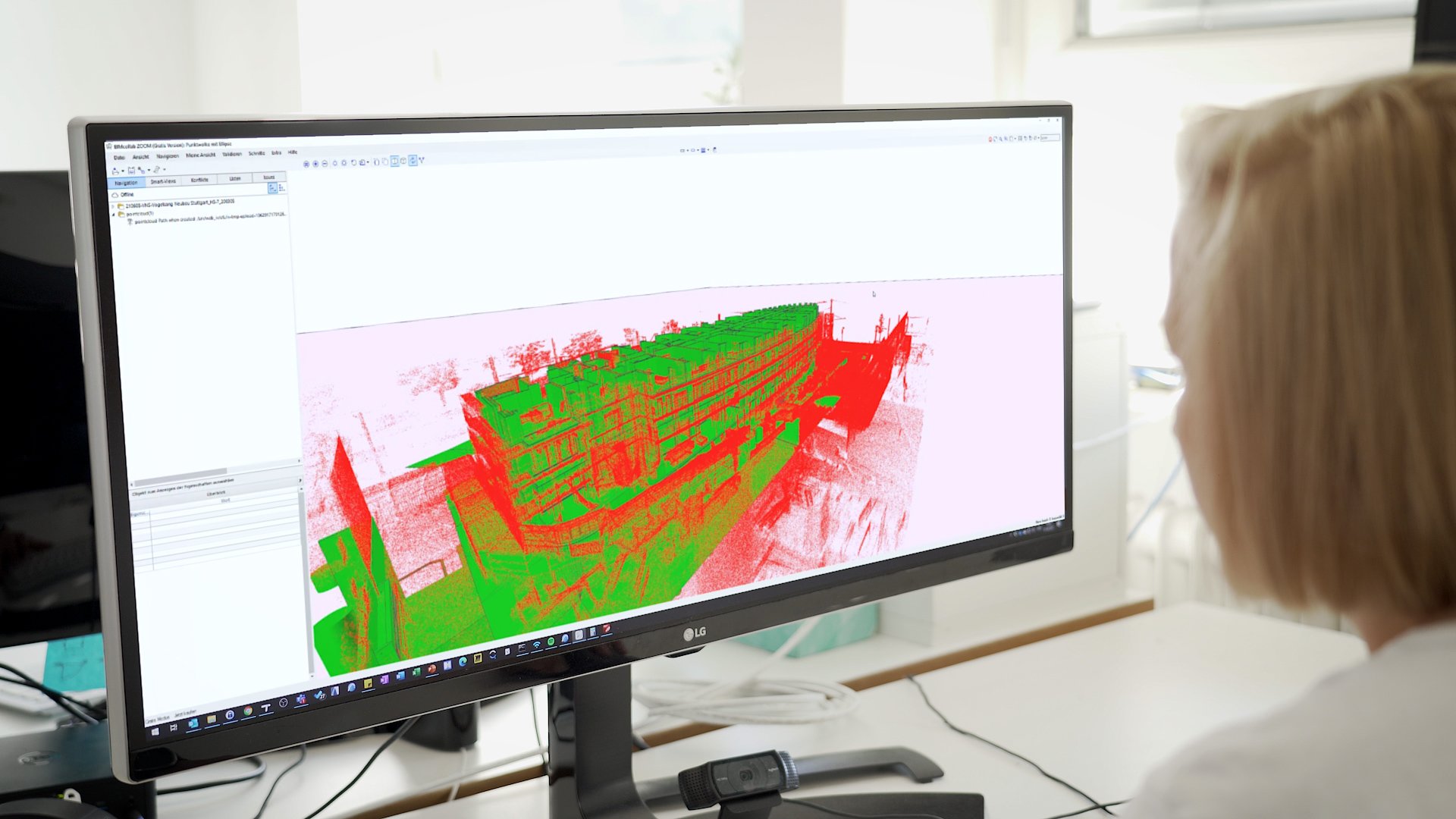 Combined point clouds and BIM models meet clients' needs
Founder and partner at JSB, Sirri El Jundi, has his own perspective on the work they're doing at the firm.
"The challenge we are facing at JSB is providing our customers with documentation, more precisely with as-built models," he says.
"What we're seeing is that a hybrid approach combining point clouds and BIM models works best in meeting our customers' needs and supporting them with their current projects."
The rewards of this approach are enhanced efficiency and accuracy, with these benefits passed on to the client. "We are saving big on time and resources, while still delivering exactly what our customers need," says El Jundi.
"The data we provide them with can then be integrated into a point cloud or be used for creating a BIM model," he says with conviction. "That's the future right there if you ask me, and NavVis is the one to help you implement it."
So, there you have it. Using NavVis VLX in one construction site, every AEC professional working on the project is positively impacted by its versatility, robustness and accuracy – and are motivated to achieve their best work.
With special thanks to Kappes IPG, Pflugfelder Unternehmensgruppe, and JSB Architekten for their support.