Existing Conditions' historic building capture with NavVis VLX
As-built capture company Existing Conditions produced its best work yet with the help of the cutting-edge NavVis VLX.
Key takeaways
Existing Conditions tested NavVis VLX to speed up large-scale as-built documentation
To stress-test it, they used it as part of a hybrid workflow on a 350,000 sq foot capture
NavVis VLX produced high-quality data while reducing overall capture time by 75% and budget by 25%
With minimal control, the point cloud exhibited so little drift that it "snapped into place" with the drone and TLS data
Ease of use was so high that adding NavVis VLX to the Existing Conditions workflow was "seamless"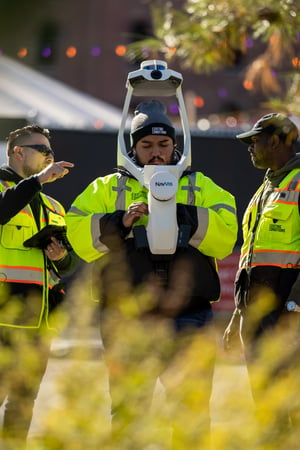 Atlantic 470
Existing Conditions was founded in 1997 to capture high-quality as-built documentation as efficiently and accurately as possible — while still offering a cost-effective service.
Last year, their reputation landed them a project to document the 14-floor, 350,000 sq foot Independence Wharf in Boston, Massachusetts. The 100-year-old building had recently changed hands, and the architectural firm tasked with updates needed as-built documentation for projects to improve energy efficiency, update the building to attract new clients, and perform a myriad of other projects.
Capturing the historic site presented several challenges. It is located in downtown Boston, fronting the Rose Kennedy Parkway, a major tourist attraction with a lot of pedestrian traffic. The pathway of a local harbor walk passes through the property. And finally, a large portion of the building sits on the pier itself, right over the Fort Point Channel.
Better, faster data
According to VP of operations Brian Ely, these challenges were fairly typical for Existing Conditions. In the past, the company had documented many buildings of this complexity and size. Even going back to their early days using total stations, measuring tape, and graph paper.
The team's challenge, instead, was to use this site as a stress test for a new way of working that would deliver better documentation faster than ever before.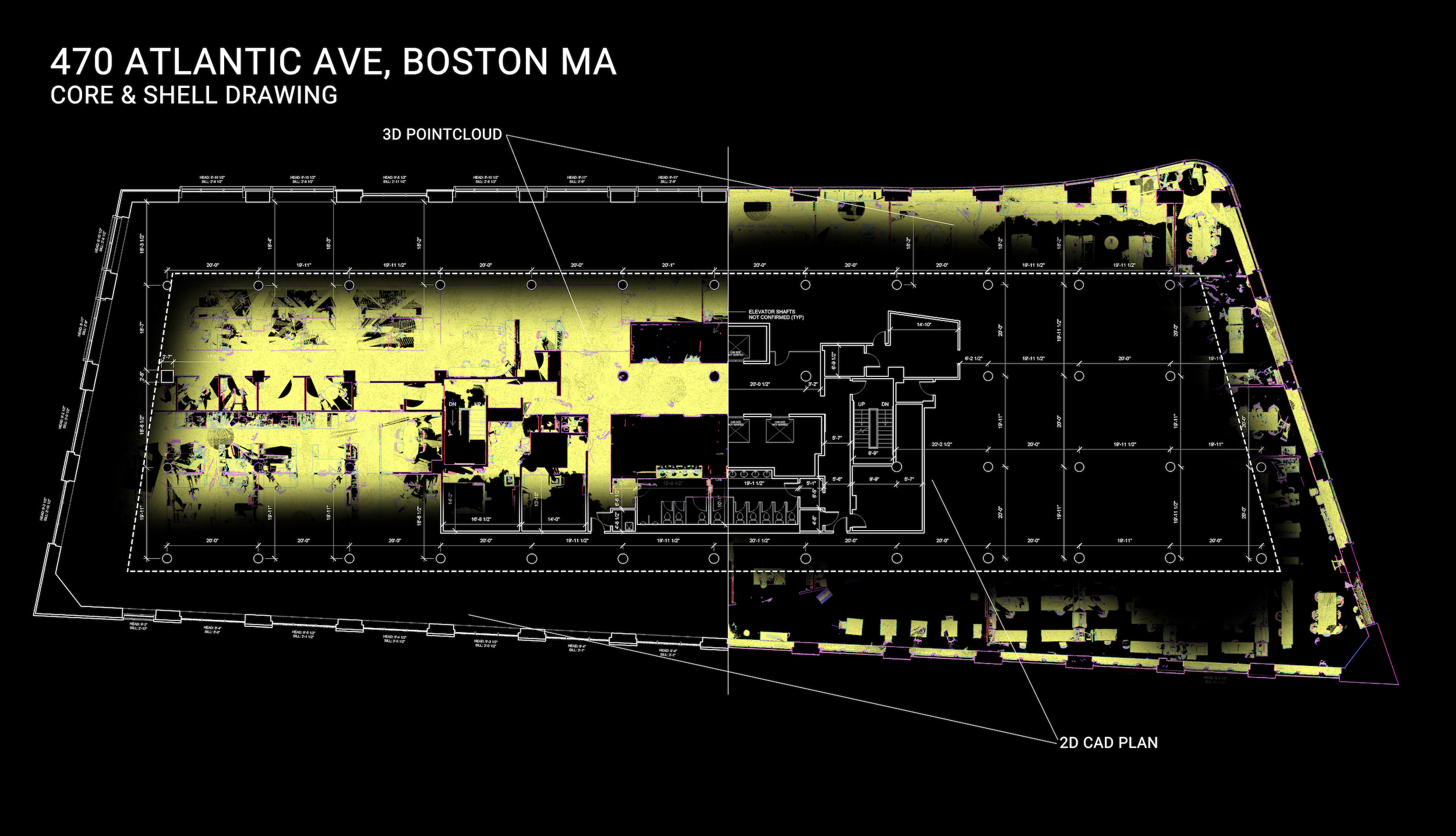 Breaking the status quo
In the past, Existing Conditions would have captured the site using some combination of terrestrial laser scanners (TLS). This would have offered them the highest accuracy possible. The problem, says Ely, is that TLS just aren't nimble enough for their workflows. "We're not typical surveyors where we're on a project for a long time," he says. "Our timeline is much faster."
That's why the team historically sped up the process by performing their TLS scans in grayscale. Capturing in color with their industry-standard systems would have required 3x the time and kept them in the building far past the end of the timeline.
Ely says the other problem with TLS is that the scanning process can be so deliberate – and offer so little feedback – that the team can't always be sure they've captured everything.
"There are times when we're doing a building where we only have one shot. If we're doing an MBTA tunnel, for instance, it takes almost an act of Congress to get us in there. So we need to be able to leave the site knowing that our data is good."
As a forward-looking company, Existing Conditions has kept an eye on mobile mapping as a possible solution. This technology enables them to capture the site quickly in color, but with one huge caveat: Most mobile scanners on the market have a big problem with drift, where the relative accuracy of the data degrades as scan length increases.

"We couldn't capture anything larger than a single-family house or a small retail space," says Ely. "Anything larger than that and the drift just became too bad."
Promise fulfilled
The team found its answer with NavVis VLX. Like many mobile mapping systems, the cutting-edge device would enable them to capture colorized data and do so much faster than they could with TLS. It would also offer the benefit of a screen that displayed live feedback on scan progress and quality, making it easier to get all the necessary data before leaving the site.
Unlike other mobile mapping devices, however, NavVis VLX features an advanced SLAM algorithm that minimizes drift in complex indoor and outdoor environments. "This was the first time that we could actually use mobile mapping technology to get accurate information at that kind of speed," says Ely.
From an abundance of caution, Existing Conditions tested the device before bringing it out for the Independence Wharf project. They scanned an area with their terrestrial scanners, then captured the same site with NavVis VLX and overlayed the data for comparison.
The system passed with flying colors, returning accurate data in places where previous mobile mapping tools would have failed. That higher quality of the data, coupled with the system's easy colorization, would even produce more aesthetically pleasing point clouds. "From a legal standpoint, it doesn't change our ability to create a nice model. But for marketing purposes, and the client's impressions? We knew they'd be much more appreciative of the data."
"The thing that really impressed me was that the floor slope was dead on. That's one thing that mobile mappers have always struggled with."

- Brian Ely, Vice President of Operations, Existing Conditions
Unique control
With that first test a success, Existing Conditions deployed NavVis VLX on the Independence Wharf project. To ensure the best possible data, they planned to use it in a hybrid workflow with a Leica P50, RTC360, and a drone.
The team captured the exterior of the 14-story building using the P50, even placing the device on a nearby bridge to ensure full capture of the water-facing side of the building. They also used a drone to get close to the building and capture detailed imagery of damage to the envelope. Next, they captured the parking garage and the building's core using the RTC360.
To set up control for the NavVis VLX data, the team placed targets at the core on each level. Then, they scanned a line out to the building's corners using the RTC360. This gave them a frame to which they could attach the scans of each floor.
Lastly, they walked the space with NavVis VLX, capturing each floor in its own scan.
The results
The first thing that stood out was the high quality of the data. The NavVis VLX point cloud was accurate and crisp enough that they were able to identify several floor deviations throughout the structure and flag them for the new owner. "We're able to see details that we might have missed otherwise because we would have done the scanning in grayscale," says Ely.
Existing Conditions was also surprised by the speed of the device, which captured colorized data 4x faster than they could have done with TLS. This helped them to reduce the budget by 25% overall.
The device's ease of use was also noteworthy. "This was the very first job we completed with NavVis VLX, so we were able to learn some things in the field about the best way to do things," remarks Ely. "But the machine made it so we were able to complete this 350,000 sq foot building without the usual hiccups of onboarding new technology. It was really a nice, seamless process."
Process and deliver
When it came time to connect the various data sets — as captured by NavVis VLX, TLS, and drone – Ely says the mobile mapping system made the process easy.
"We processed the TLS data in Cyclone Register 360 and exported it as an .e57 file. Next, we brought them into NavVis IVION, where we had processed the NavVis VLX data for each floor separately. Then we dummied up the building, and we were able to actually level each floor exactly right. We fixed all the levels to be awesome." Lastly, they brought all the data into Revit, and it all just "snapped into place."
"I just keep on going back to the seamless integration between NavVis VLX data and our other data," says Ely. "We don't have to tinker with, 'How exactly does this floor line go?' Or risk getting this stairwell accurate but causing a problem with another stairwell. You just put it in and then you can start modeling. You can trust the data. It's fantastic."
Existing Conditions used NavVis IVION as a platform for providing the client with virtual walkthroughs of the data. The architectural firm loved it, particularly the measurement tool, which enabled them to get horizontal dimensions quickly. Though they had never used laser scan data before at this scale, they found it extremely helpful for their improvement projects.
Mobilizing for big projects
Seeing the results, Existing Conditions has made a hybrid NavVis VLX and TLS workflow its standard for multi-day projects, at least in buildings larger than 50,000 sq feet. "That's where we start to see savings," says Ely.
He says that NavVis VLX and NavVis IVION have proven very popular with Existing Conditions' clients as well. "We're starting to get clients asking us purely for mobile scanning. They don't want us to go through with the RTC first. They're using it as a competitor to Matterport because they prefer the quality and speed of the NavVis VLX data."
Jared Curtis, president of Existing Conditions, offers a conclusion that encapsulates his company's feelings about NavVis VLX.
"We bought our first device around this time last year. By the time it was shipped and set up, we were deploying it on this project. That was the first trial of the tool — and NavVis as a company because we weren't clients for previous hardware. Right after we completed the project, we bought two additional NavVis VLX devices. We're so confident after stress testing that we tripled our investment."

- Jarid Curtis, President of Existing Conditions

Next generation 3D laser scanning is here
Wearable, 3D laser scanning devices are faster and more scalable than ever before, providing survey-level data quality for even the most demanding projects.
Find out how our entire reality capture solution can benefit your as-built documentation workflows by chatting with one of our experts: