Vermessung Schubert brings BIM to an Austrian landmark
When NavVis mapping partner and surveying company Vermessung Schubert were chosen to work on the renovation of Gumpendorfer Strasse Station, one of 109 stations in the Vienna metro system, they were faced with a unique problem: the original plans were paper drawings from 1898.
Task
NavVis partner Vermessung Schubert (VS), a surveying company based in Austria, was chosen for a project where Gumpendorfer Straße station is one of 109 metro stations that are run by Wiener Linien GmbH & Co KG that needs updated building plans and a BIM model. For this particular project, the original plans were paper drawings from 1898.There have been many changes in the time since, including a major renovation that took place from 2006-07 with the aim of increasing station accessibility.
Location
Gumpendorfer Straße Metro Station in Vienna, Austria is a historical landmark that dates back to 1898 and features a curved structure and platforms.
Challenge
The biggest challenge of scanning large projects is having the capacity to capture the data. Gumpendorfer Straße alone encompasses over 2000 square meters. Metro stations tend to consist of large, open spaces and small, tightly packed technical equipment rooms. Both of these are among the most difficult indoor environments to capture. An additional challenge for this type of scan was that metro stations, like other public locations, are often full of people. A project this size results in many datasets, which means that, after the scan, alignment can be a very time consuming task. Furthermore, as-built BIM modeling is challenging because the model needs to reflect the reality. This requires a lot of verification to confirm that the data being modeled is reflecting the current state, especially when a high level of detail is required.
Solution
The NavVis Indoor Mobile Mapping System (IMMS) captures data automatically while being pushed through indoor environments by a single operator. The team at VS uses the NavVis IMMS for large indoor projects because it is up to 10 times faster than the stationary scanners that have traditionally been used to create as-built BIM models. With the NavVis IMMS, it took only six hours to capture Gumpendorfer Straße Station. The VS team took an additional step to increase accuracy and automate geo-referencing by including SLAM anchors, which are ground control points compatible with NavVis technology.
In addition to being used in the BIM modeling process, the point clouds can be uploaded to the NavVis IndoorViewer. The detailed imagery in the IndoorViewer is used for desktop verification of onsite conditions, which cuts down on the time spent modeling.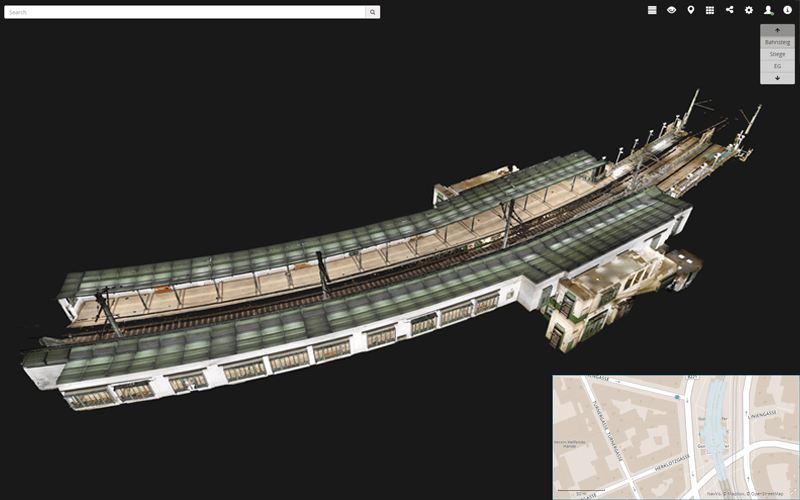 Result
Surveyors like Vermessung Schubert are getting more and more requests for as-built BIM models. Since adding the NavVis IMMS to their service offering, they are able to offer not only fast data capture for creating BIM models but also the added value of browser-based access to an intuitive walkthrough of the building. After all, viewing and modifying BIM models is not a straightforward process for people without a CAD/BIM background.
Reality capture technology has changed this by making building data accessible to anyone. In fact, for this project, showing the customer the easy to use, 360 degree "walkthrough" that the NavVis IndoorViewer provides was what won the pitch.
Added Value / Impact
Speed: the NavVis indoor mobile mapping system gives users an efficient way to capture the data needed to create and update as-built BIM models
Additional deliverables: reality capture devices such as the NavVis IMMS capture not just point clouds but additional data such as 360 degree immersive imagery without any additional scanning.
Automatic dataset alignment: using NavVis SLAM anchor ground control points during scanning automates dataset alignment, significantly reducing the post scan workload.
Usability: building information models are not just for stakeholders who have access to advanced CAD/BIM software.Unlike BIM models, everyone can use the IndoorViewer to virtually walkthrough the building, add and search for information and even take measurements.
Easy publishing: the floorplans, immersive walkthroughs and point clouds can be sent to the client as a link and accessed in any browser.