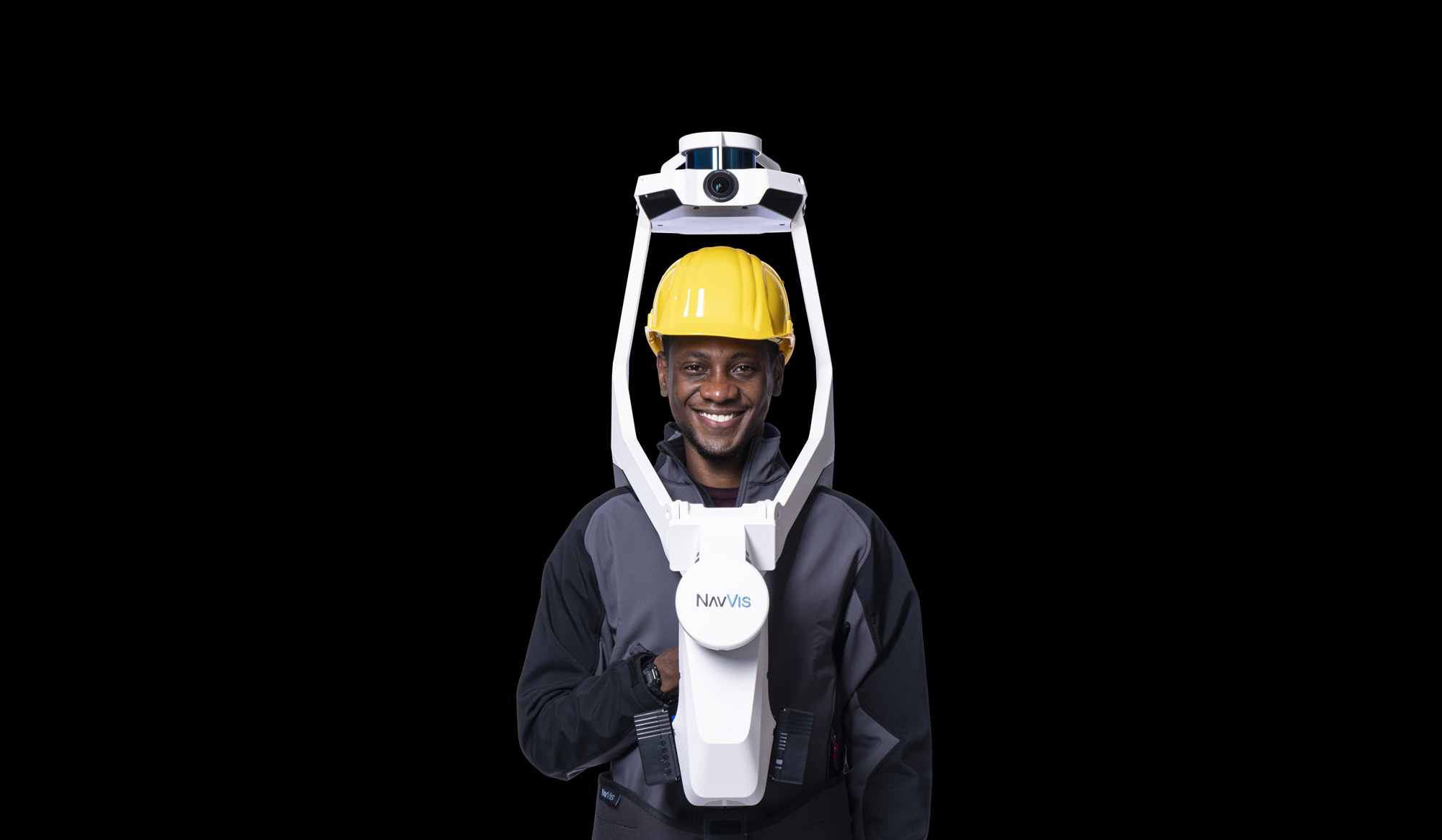 NavVis VLX 2nd generation:
Ready for anything
NavVis VLX is a mobile mapping system designed for laser scanning and AEC professionals that enables high-quality reality capture of complex buildings and construction sites.
The software makes the difference
Dynamic scanning
Versatility when you need it most. Up to 10 times faster than a terrestrial laser scanner, NavVis VLX 2nd generation can tackle anything from complex indoor spaces with challenging light conditions to outdoor environments and construction sites.
Superb accuracy
For accuracy that exceeds industry standards, NavVis VLX is powered by precision SLAM technology that's entirely in a class of its own.
The hardware makes it even better
All-in-one reality capture
Capture 3D measurements with two multi-layer LiDAR sensors in combination with industry-leading SLAM software to deliver survey-grade point cloud quality. Four cameras positioned on top of the device take high resolution images in every direction for complete 360º capture — all without the operator appearing in the field of view.
Live mapping feedback
Monitor your scanning progress in real time with a built-in touchscreen interface, to ensure complete coverage as you move.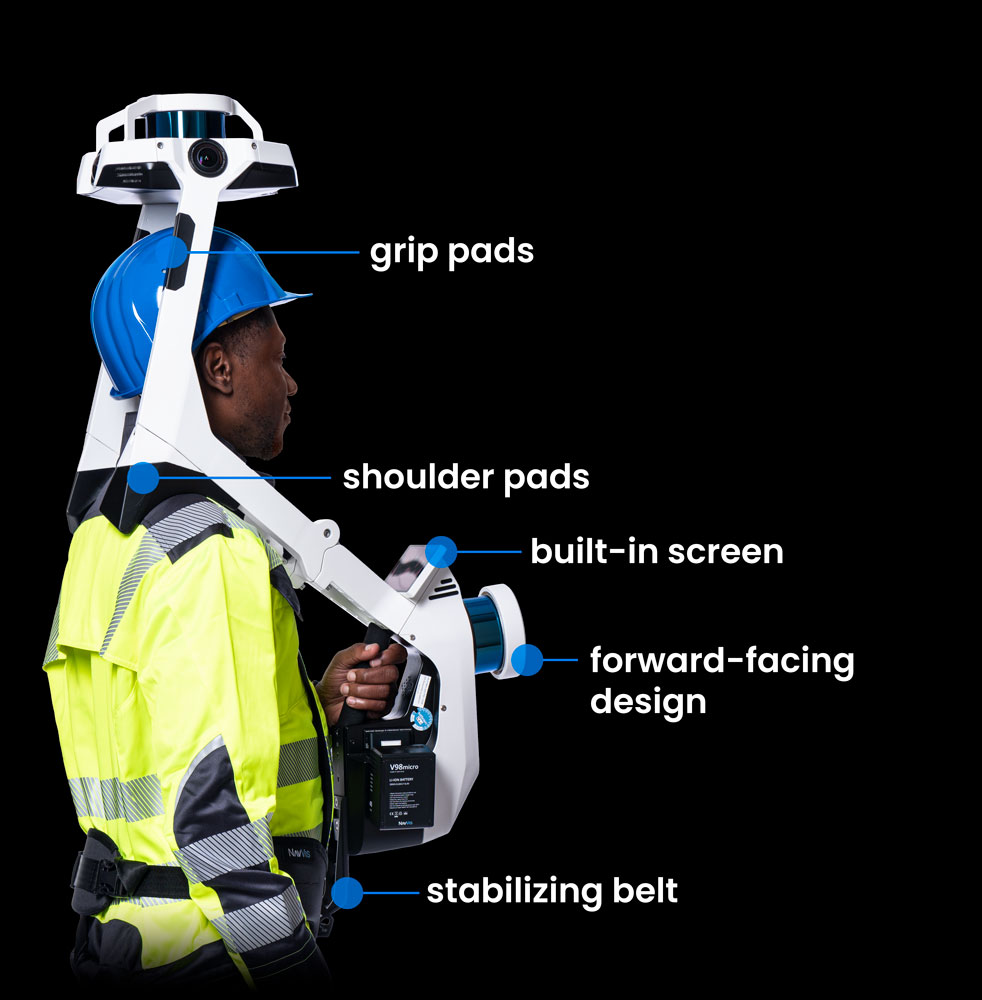 Precision meets ergonomics
A first-of-its-kind wearable device which enables operators to comfortably scan at the speed of walking. The forward-facing design allows for targeted scanning, together with a built-in screen for optimal viewing.
Grip pads
Shoulder pads
Built-in screen
Forward-facing design
Stabilizing belt
Geo-registration
NavVis VLX is fully compatible with standard tools in the field. It can capture control points in a local site coordinate system measured by Total Stations and GNSS rovers, and also supports national and global coordinates for precise geo-registration and alignment of datasets.
Folding design
The unique hinged design folds up and fits into a protective case, so that a single operator can easily transport and set up.
Survey-grade point clouds
NavVis system software features unique SLAM algorithms that have been specifically developed to overcome the challenges of capturing high-quality point clouds with a mobile system.
Preserve original details
Point cloud surface reconstruction preserves details while removing noise for more efficient use in 2D drawings and 3D models.
Highly realistic texturing
Highly detailed point clouds include color and realistic texturing.
Detect and remove dynamic objects
Objects that move through the scan are automatically detected and removed from point clouds during post-processing, resulting in less manual work.
Robust SLAM
Robust SLAM algorithms can accurately capture the entire building including the facade and surroundings.
Up to 10 times faster than a terrestrial laser scanner
NavVis VLX vs. TLS
Check out the results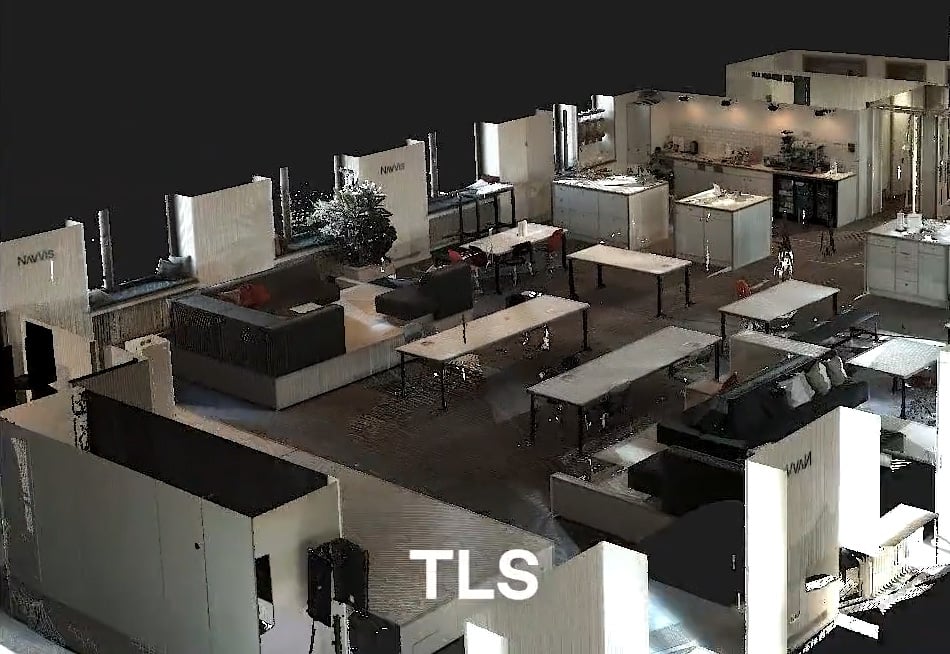 TLS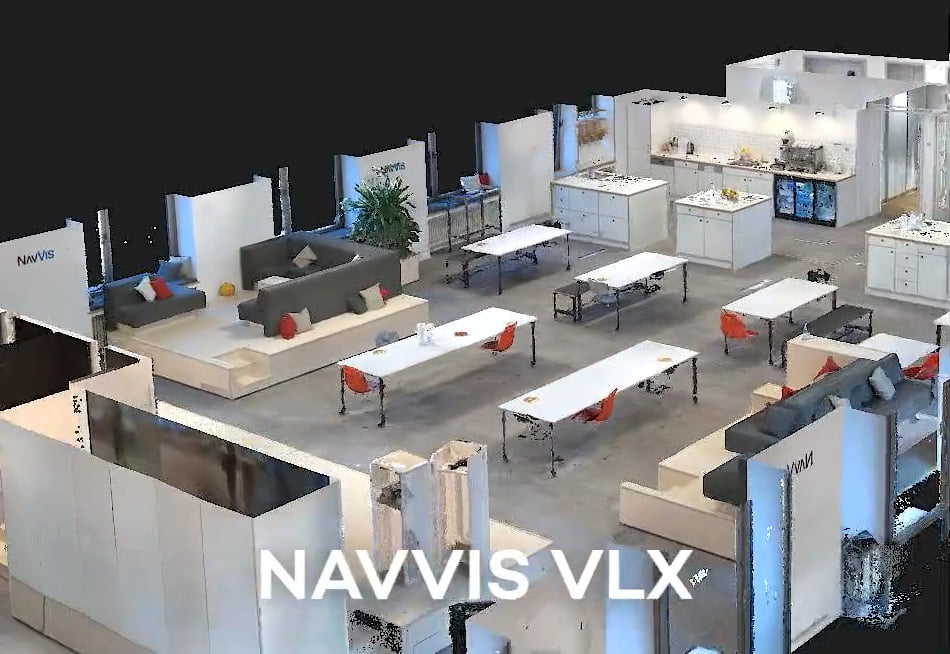 NavVis VLX
Ready for today and tomorrow
With regular software updates to the SLAM algorithm, NavVis VLX 2nd generation is optimized for outdoor environments and will continue to evolve long into the future. It also boasts IP42 for resistance against solid objects larger than 1 mm and vertically dripping water, and a carbon-fiber frame that's super strong and reduces overall weight.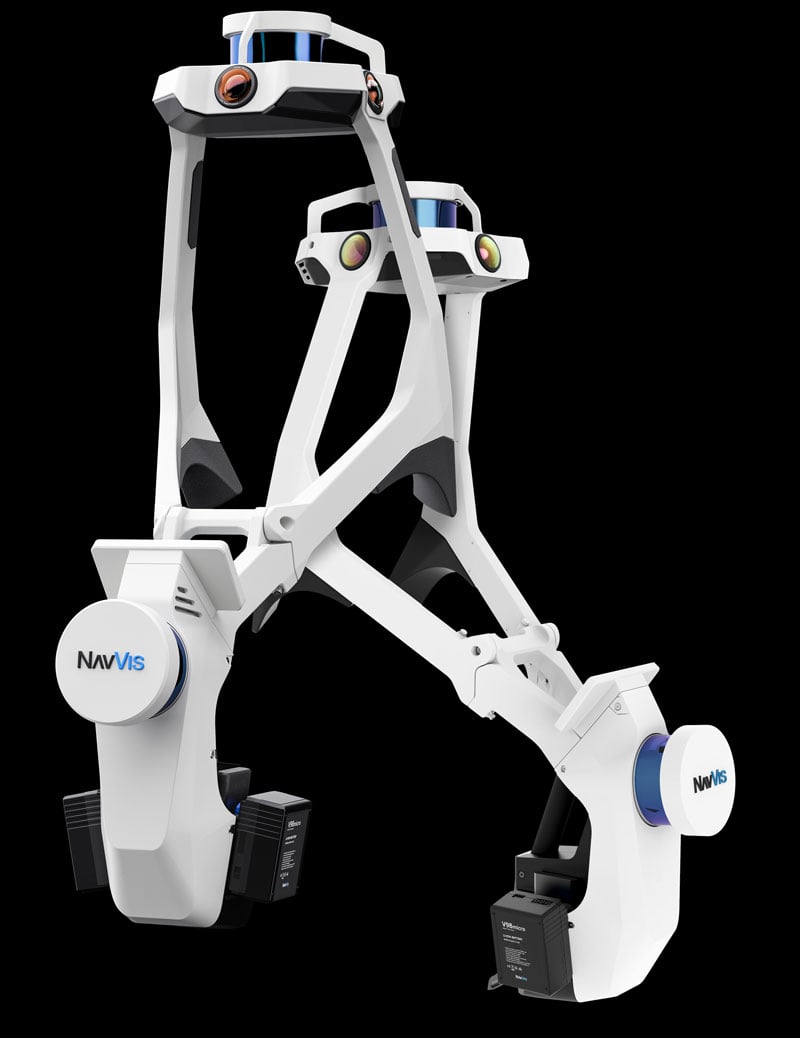 Other features common to all NavVis VLX devices (both 1st and 2nd generation):
A more intuitive mapping experience: Edit a control point live during a mapping session. Benefit from multi-floor support which displays a live quality map that fades in and out when the operator changes floors. Use the user interface to pan and zoom captured data while you map. Plus, auto recognition of belt-hook height and improved battery status indication and safe shutdown.
Panoramas: Now with vignetting compensation, HDR imaging for improved panorama quality, and auto white-balancing for improved coloration (especially outdoors)
Point cloud image quality: When scanning in poor light conditions, intensity and RGB coloration will step in to compensate. Also benefit from optimized coloration, and

improvements to the accuracy of NavVis VLX point clouds as high as 30%.
A complete reality capture solution
TOUCH
White paper
Evaluating the accuracy of a mobile mapping system indoors and outdoors
White paper
Evaluating the accuracy of a mobile mapping system indoors and outdoors
Download now
TOUCH
Guide
A complete guide to using mobile mapping for CAD & BIM as-built documentation
Guide
A complete guide to using mobile mapping for CAD & BIM as-built documentation
Download now