2021 has been an amazing year. Let's look back on some of our accomplishments!
To wrap up this busy, transitional, and exciting year, we are reflecting with gratitude on our milestone achievements over the past twelve months. In unprecedented times such as these, we could not be prouder of what we have accomplished, including launching new products, expanding our team, and getting recognition as a top employer in Germany.
In the outgoing year, we grew our international workforce to over 240 people comprising of over 60 different nationalities across our offices in Germany, the United States, and China. Additionally, while growing the team, we successfully launched our latest technological offerings, NavVis IVION and NavVis VLX 2nd generation. While growing the team and launching new products, we also massively grew our bookings, and our customers scanned a record-smashing number of square meters.
But that's not all! Let's review some of these amazing achievements in more detail.
Launching new versions of our flagship products
This year, we had two successful product roll-outs, NavVis IVION and NavVis VLX 2nd generation. With these launches, we further solidified our reputation as a global leader in end-to-end solutions for reality capture and digital twin technologies.
Both of these products round out our NavVis Reality Capture Solution and NavVis Digital Factory Solution, which are considered gold standards for capturing building information and asset data in the construction and manufacturing sectors.
In the words of NavVis's CTO and Co-founder, Dr. Georg Schroth, the technology behind NavVis is revolutionizing the game in the digital factory and construction sectors by facilitating "immediate access to reliable building data", which is in line with the vision of the NavVis founders to bring cost-effective and innovative spatial intelligence to every building.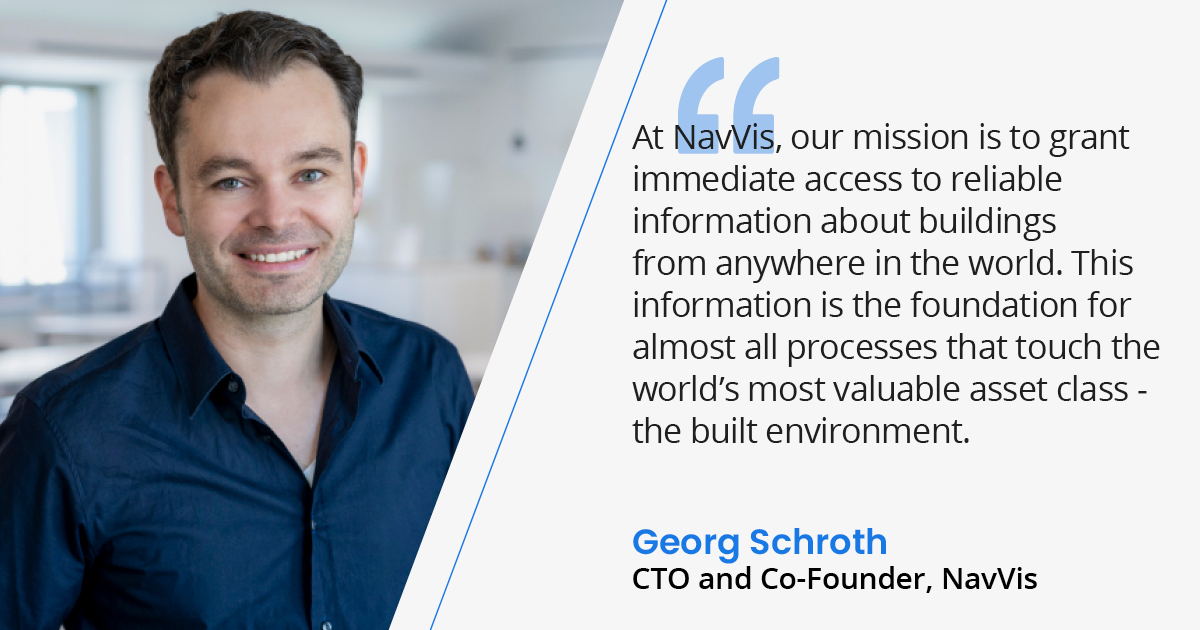 A record-breaking reception
Product launches are measured by a number of metrics – two of which are qualitative feedback and market impact. With around 100% growth in sales, it's safe to say we impacted the market in an extremely positive way.
As seen in our "Innovate with NavVis" series, customers from all regions and industries realized our value and are proud to show off their new, innovative NavVis technology. In addition, key projects in the digitization of automotive manufacturing plants now rely on NavVis technology as the foundation of their digital factories.

Q: How many square meters, on average, were scanned by our customers per month? If you guessed the equivalent of about 2,100 soccer fields (or 2,800 American football fields for our U.S. colleagues), you'd be correct!
On average over the entire year, our customers scanned 15 million square meters per month with our devices, and this number is already quickly growing. Towards the second half of the year, this average jumps to 20 million square meters per month. One customer even scanned 10 million square meters this year all on their own. Talk about getting it done with NavVis VLX.
In addition, the advanced capabilities of NavVis IVION have proven to be a game-changer for our customers in so many dimensions. Not only does it reduce the time-to-market and operational costs for our clients, such as BMW, Audi, and Siemens, but it also facilitates a considerable reduction in their carbon footprint by replacing the need for business travels with remote site visits. This takes them to the next level in terms of positively contributing to climate initiatives and sustainability.
Fresh funding will help us continue our mission to digitize commercial buildings and assets
We don't just owe gratitude to our customers and our team for our great successes, but also to those who acknowledge our value in a different format.
In our recently-closed funding round, we topped off our debt-financing from the European Investment Bank with additional capital from lead investor Cipio Partners and existing investors BayBG, Target Partners, Digital+ Partners, and Kozo Keikaku Engineering. In total, we received 85€m in funding, making us one of the best-funded deep-tech startups in Europe and placing us at a vantage point to continue digitizing the built environment in 2022.
With this new funding and our constantly-growing team of top talent, we plan to vastly expand our operational capacity, product portfolio, geographical reach, and market penetration in the coming year and beyond.
Hear more about NavVis's vision directly from CEO and Co-founder, Dr. Felix Reinshagen, here:
Recognition is the cherry on top
To top off this momentous year, we would like to highlight some of the renowned publications that recognized us as a top employer in Germany.
Wirtschafts Woche acknowledged NavVis as a disruptive and innovative startup to watch out for in Germany. In an analysis conducted by the magazine, we were ranked as one of the top 5 Digital Pioneers for medium-sized companies in Germany for 2021, alongside other cutting-edge technology brands, such as the Munich-based unicorn Celonis.
We also were among the group of movers and shakers that was named "Germany's Top Startup Employers" for 2021 by Business Punk & Statista. From a competitive list of 2,500 brands, scrutinized on the basis of their brand attractiveness, business model, and sustainability, we were among the top 10% that made the final cut.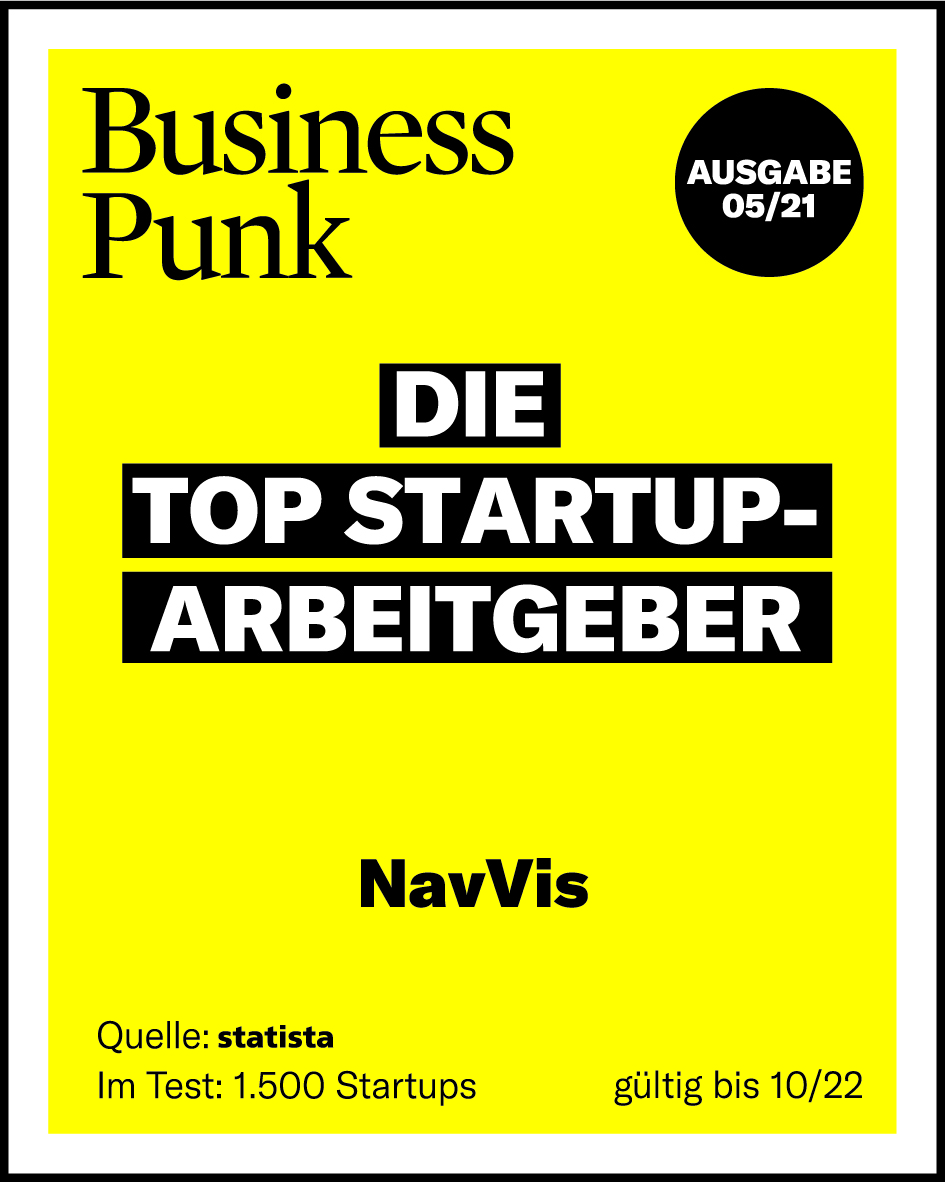 Translation: The top startup employers. Latest edition: 5/2021. Source: Statista. In consideration: 1,500 Startups. Good until 10/2022.
Wrapping up twenty-twenty-one
We would like to end this amazing year by simply saying thanks.
Thanks to our outstanding team for your enthusiasm and passion, for working hard, sharing jokes, staying flexible, and much more. You are the reason why NavVis is what it is today, full stop. Onwards and upwards!
Thanks to all of our customers and partners who put their trust in us to constantly deliver top-notch technology and for working with us to push our solutions to the next level. We look forward to our continued partnerships in 2022 and beyond.
Thanks to our investors for wholeheartedly believing in our mission and seeing the value we bring to the market. We wouldn't be where we are without you.
And thank you for reading to the end of this post. If something that we've accomplished this year or the mission we are driving has resonated with you, then come join us. We are hiring, and we'd love to see how we can work together.
With that, all that's left to say is happy holidays and to all a great New Year!