Improving workflow and space utilization in your manufacturing facilities with NavVis IVION.
Factory planning in the automotive industry presents a multifaceted endeavor with numerous complexities. Some of the most prominent factors that demand careful attention are factory layout optimization, space constraints, and adapting to the paradigm shift toward Electric Vehicles (EVs).
Efficient factory layout design is crucial for enhancing production efficiency, reducing material movement, and ensuring a safe, ergonomic work environment. Achieving this optimization can be intricate, demanding careful consideration of equipment placement and manufacturing process.
Simultaneously, limited space in existing facilities requires careful design and expansion planning, which can be complex due to physical constraints. Balancing space needs with existing infrastructure is crucial in automotive factory planning, especially with the EV industry's transformation. Adapting to new manufacturing processes and EV-specific infrastructure demands innovative strategies for success in this dynamic and competitive sector.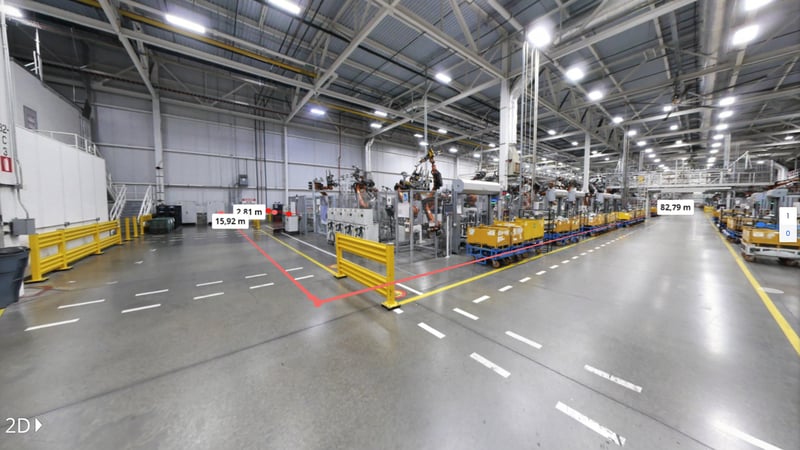 Understanding the significance of layout planning: The whys and challenges
Managers and teams overseeing layout and assembly changes face a dynamic environment, driven by factors such as new products, spatial optimization, and market changes. This is evident in the automotive's shift to EVs and digital technologies, with changes often coming from production shifts or continuous optimization processes.
Project managers and planners often struggle with outdated or incomplete documentation, which can lead to longer planning cycles and budget overruns. Relying solely on two-dimensional floor plans can overlook critical vertical elements and onsite status assessments can be time-consuming and costly, especially if travel is required. Additionally, data fragmentation and the complexity of 3D tools, coupled with limited access to specialized CAD applications, add to these challenges.
NavVis IVION: Revolutionizing factory planning
When it comes to advancing factory layout and assembly planning in the automotive industry, NavVis IVION stands out as a transformative tool. From optimizing material flow and space utilization to remote inspections to enhanced production productivity, NavVis IVION's Mark & Measure feature unlocks a new level of efficiency and precision across various critical areas, such as:
Layout planning
The markup capabilities in NavVis IVION enable factory planners to redesign a plant section to enhance lean processes. It allows planners to color-code and organize, facilitating remote inspection of the current setup and utility connections, which is crucial for future machine planning and contractor collaboration. Comparisons between current and new layouts can be made within the tool, identifying additional space for potential production lines. The finalized planning details can be easily shared with colleagues through web links or an exported PDF, streamlining the communication process.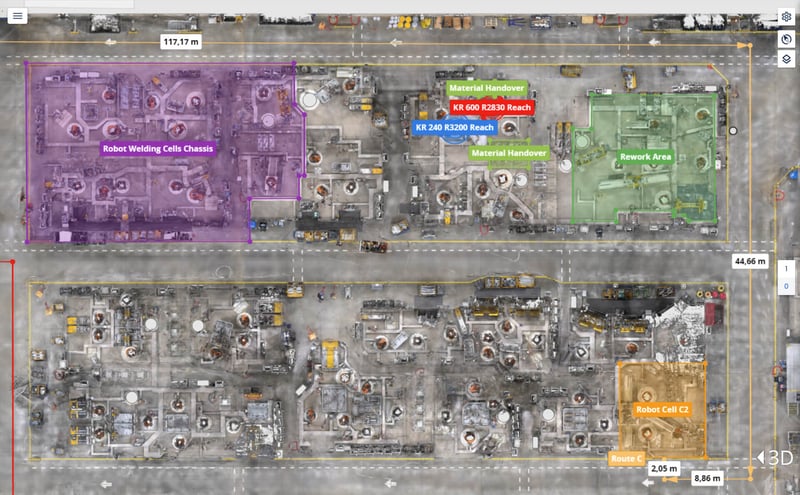 Operator paths
With the polyline tool, NavVis IVION enables you to analyze existing operator paths within your assembly and logistics areas. By identifying opportunities for optimization and eliminating non-value-adding time, you can create new, efficient operator paths. This leads to tangible benefits in cycle times, ultimately reducing factory costs and boosting production output.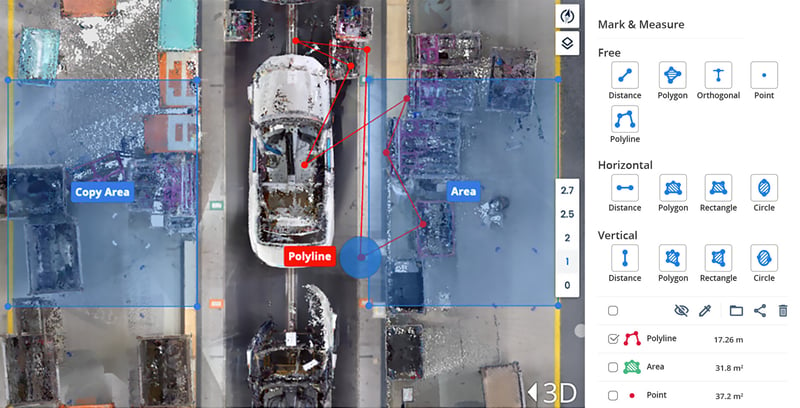 Logistics routing
The polyline tool also facilitates the examination of logistics train routes from storage areas to the assembly line. By identifying potential optimizations and combining routes, you can streamline train operations and reduce cycle times, thereby improving factory performance and cost-effectiveness.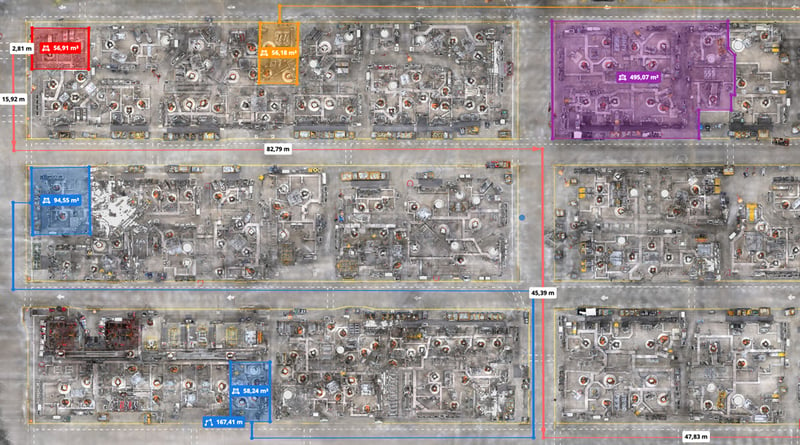 Measurement of pipe, tube, and cable lengths
Beyond operator and logistics paths, NavVis IVION's polyline tool empowers factory planners to measure pipe, tube, and cable lengths accurately. This information is invaluable for maintenance and planning purposes. Additionally, knowing the exact lengths of these components facilitates new plant designs. The polyline tool further allows you to document the routings within your factory efficiently.
Improving space utilization and production efficiency
NavVis IVION's circle measurement tool, a part of its Mark & Measure feature, offers valuable solutions in two key areas. First, in the realm of robot workspaces, it allows for precise analysis of a robot's existing position and working space. This tool aids in identifying potential collisions, determining the coverage of a robot's workspace, and even creating a baseline for concept planning. It can also be applied to machines, tools, and handling equipment with circular working spaces, enhancing transparency in identifying inaccessible areas due to technical limitations.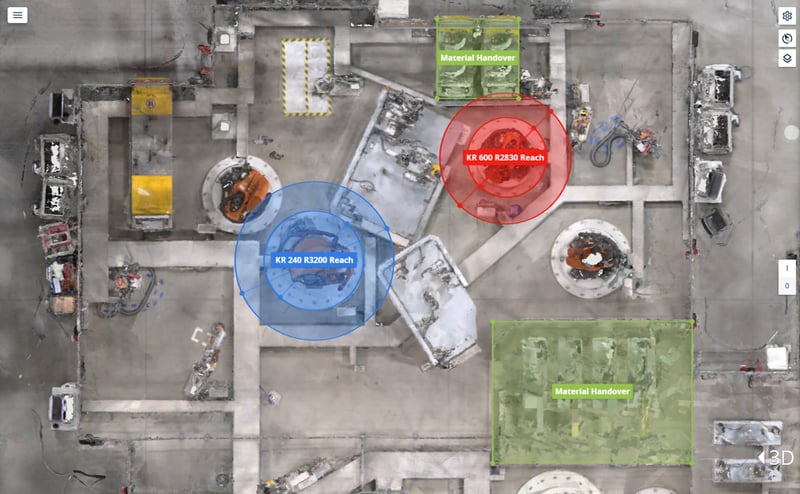 Second, in operator workspaces, the circle measurement tool proves instrumental in analyzing the available workspace for factory operators. It assesses both the space for gripping and working, as well as the personal space each operator requires. By identifying potential collisions and ergonomic issues, this tool can enable risk assessment and the development of more efficient layout alternatives, promoting lean manufacturing practices.
Measurement of emergency paths
Ensuring the safety and compliance of emergency paths is critical. NavVis IVION helps you validate and optimize these paths, aligning them with industry standards and regulations. By using this information, you can enhance the overall safety of your factory layout.
NavVis IVION, with its comprehensive capabilities, elevates factory layout and assembly planning in the automotive industry. It empowers manufacturers to drive efficiency, reduce costs, and ensure safety compliance, ultimately contributing to a more streamlined and productive manufacturing environment.
Unlock efficiency and boost production
NavVis IVION empowers you to experience unprecedented operational excellence. Thanks to reliable and up-to-date factory data in the form of precise point clouds and high-resolution 360-degree panoramic images, manufacturers and their planning professionals don't only gain valuable insights into logistics and processes, but also avoid implementation errors and minimize downtime. In a nutshell, NavVis IVION is the catalyst for operational efficiency and substantial cost savings.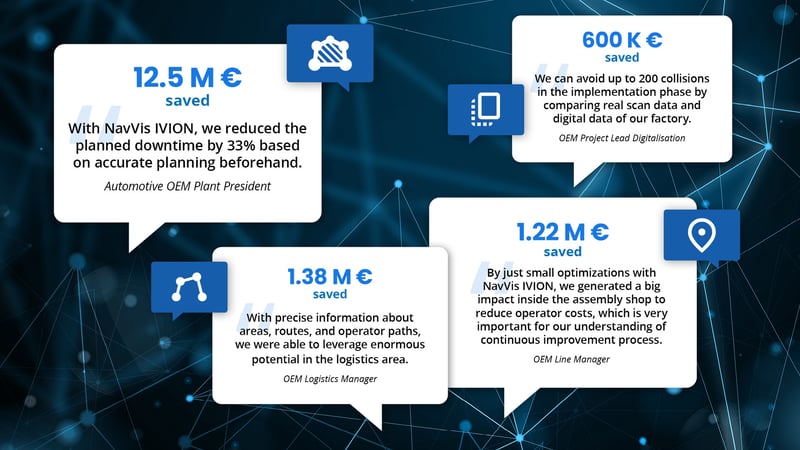 Wrapping up
Embarking on a digital transformation journey for your factory requires more than just technological implementation – it demands strategic foresight and conceptual planning. By incorporating a comprehensive conceptual plan, you lay the foundation for a successful and sustainable transformation.
Are you currently navigating the digital transformation landscape? Do you have plans to digitize your factory or manufacturing facilities with a focus on reducing downtime and improving production efficiency?
Get in touch with our experts, and let's initiate the process of unlocking your factory's true potential. Together, we can ensure that every step taken aligns with a well-thought-out conceptual plan, paving the way for a future-proof and efficient digitalized factory environment.