NavVis sees a bright future for robotic mapping, actively exploring proof of concept models both independently and in collaboration with our partners.
Behind the scenes at NavVis, some of the brightest minds in spatial technologies are fully engaged with the latest developments in their field. We're visionaries but also pragmatists, excited by cutting edge innovations while also considering their most viable applications.
And based on many years of research and development – conducted both independently and in collaboration with partners around the world – we believe that robotic mapping is fast approaching an inflection point.
When we talk about robotic mapping, we're referring to a kind of mobile mapping that is autonomous and capable of operation without human intervention. Firms like Boston Dynamics have made great strides in this direction, particularly with their "Spot" quadruped robot and the option to mount a laser scanning device to its back.
The promise of this concept is that it offers low scanning costs and reliable data, which is updated at high frequency, together with unlimited access to the site. An example of this in action might be for the inspection of remote facilities, where robots do the work of people to perform routine safety checks.
In the current moment, our calculations show that autonomous scanning is not faster nor cheaper per individual scan. Factors like the cost and maintenance of the robot, conducting practical trials, and the installation of infrastructure like markers and route-training make for a complex setup.
But the real benefit comes from repetition. The more often an area is mapped, the cheaper mapping becomes per square meter; by that same token, the more current the data is, the more valuable it is. In those terms, robotic scanning is hugely attractive for companies who need scans daily to make data-driven decisions, or where there might be a danger or security issue for humans.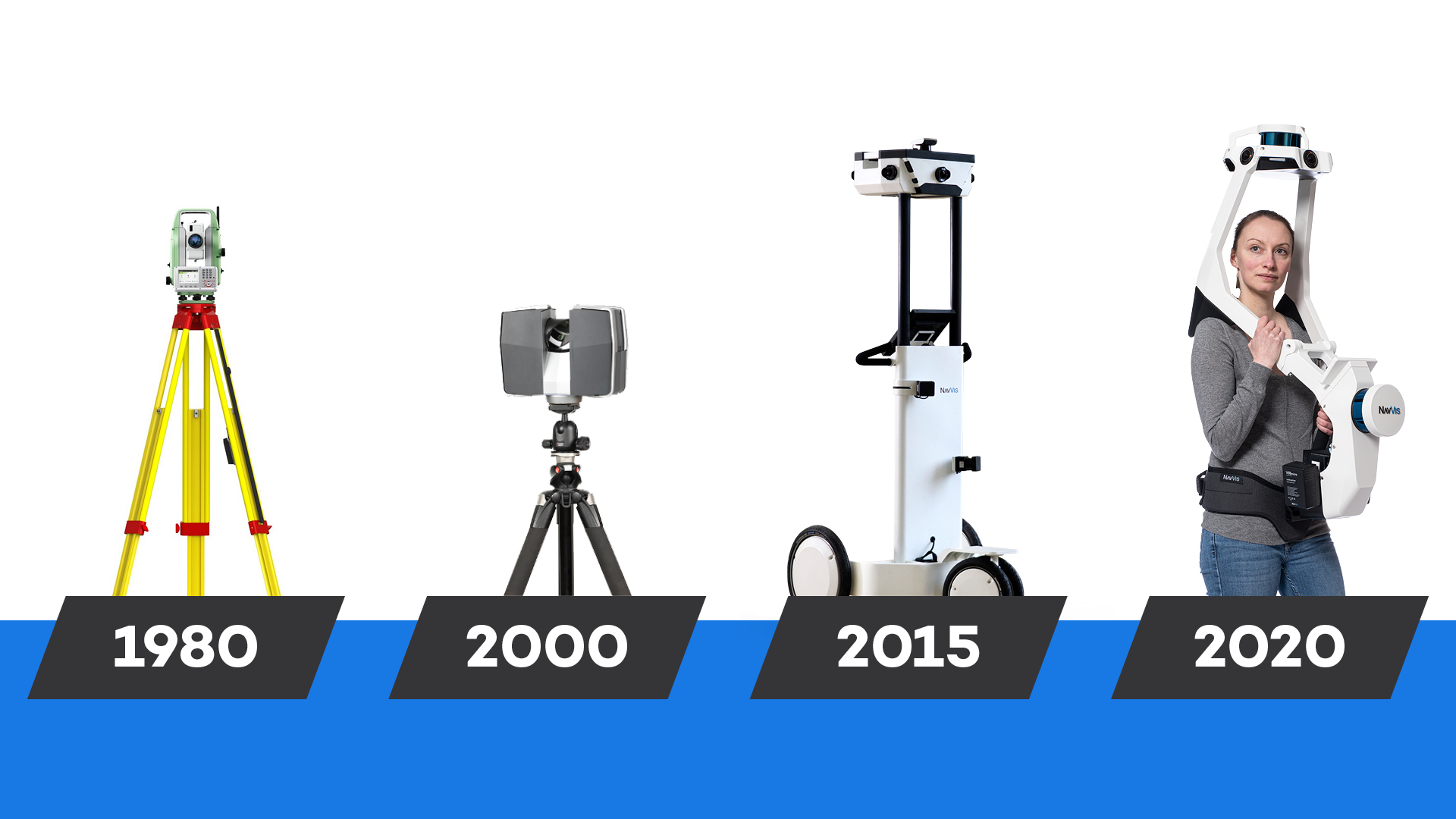 Robotic mapping powered by NavVis SLAM technology
Exciting times, eh? But progress like this doesn't happen in a vacuum. Within the context of reality capture and spatial intelligence, robotic mapping is part of a line threading all the way back to total stations, which then gave way to terrestrial laser scanners (TLS), which then led to mobile mapping.
And it so happens that the technological overlaps between robotic mapping and mobile mapping are not just extensive – they're mutually beneficial.
The SLAM (simultaneous localization and mapping) algorithms that give the NavVis M6 and NavVis VLX mobile mapping systems their competitive edge make the perfect foundational technology for robotic mapping.
Our SLAM is based on the same ideas driving the autonomous car industry, after all. Using our technology, operators of a robotic mapping device will never have to worry about the quality of the point cloud data being captured, nor about its versatility for downstream applications.
Collaboration with our customers and partners are continuous and ongoing, and highly productive. If anyone else wishes to start down the path of robotic mapping, our advice for getting started is to invest in a SLAM-based mapping system from NavVis, which already drastically cuts cost on scanning in comparison to a TLS.
And for that next step in autonomous scanning? We'd be delighted to talk with you further about your specific use-case and how we can help make it a reality.