What happened at the NavVis Summit19? With stimulating conversations and hearty German fare in a fabulous setting, our guests went home filled with big ideas, inspiration, and tools to scale up their business with NavVis.
At the grand location of the Isarpost in the heart of Munich, NavVis was pleased and excited last week to welcome our partners to the NavVis Summit19.
The event took place over three days, where more than 100 laser-scanning professionals and digital factory experts from 40 countries came together for a series of keynotes, workshops, and open conversations.
Top-flight NavVis personnel and partners shared the latest and greatest in spatial intelligence technology, with a particular focus on Surveying and Digital Factory use cases.
However, we didn't just outline our roadmap for the future; we also took this opportunity to listen to our partners and receive their feedback.
Bigger, Faster, Better
So what were the hot topics of the NavVis Summit19? Managed digital twin. Scaling up to mega projects. Digital factories. Winning it together. These phrases came up again and again.
Since the previous summit last year, NavVis and its partners have committed to unleashing bigger projects, completing them faster, and delivering them better.
Our Head of Global Sales, Finn Boysen, presented concrete steps on how to achieve this. NavVis Account Executives and Partner Managers are committed to working together with partners to win over enterprise client by offering a globally managed digital twin.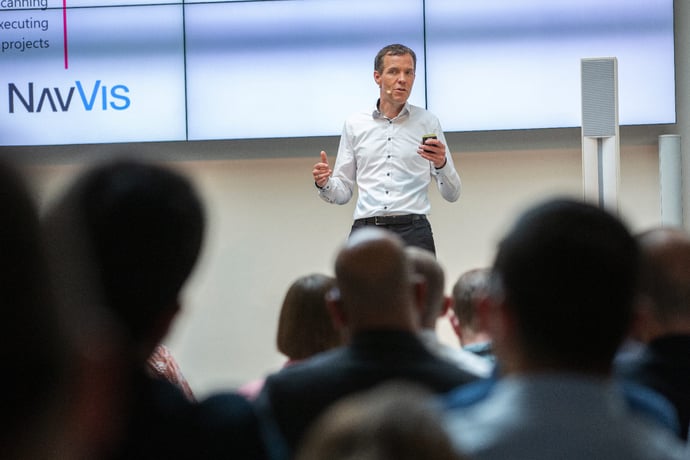 Head of Global Sales, Finn Boysen, on stage at the NavVis Summit19.
Building the Global NavVis Community
The opening keynote by CEO Felix Reinshagen was about the great year we have had, and also about the future ahead. He kicked off the morning recounting the milestones of the past year, including photos of customer visits all around the globe, exciting events, and major product launches.

NavVis Summit19 was about the results of a year of hard work, he said, and we're ready for the next frontiers, for bigger, faster, and better. Together with our partners, we're building the future of indoor spatial intelligence.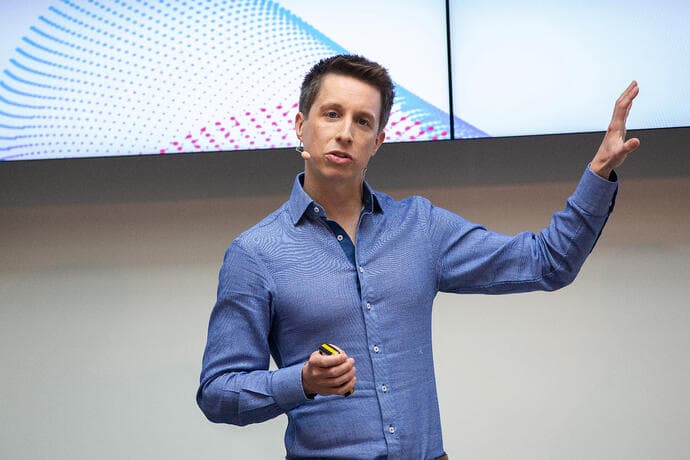 NavVis CEO and Co-Founder, Dr. Felix Reinshagen, delivering his keynote at the NavVis Summit19.
Mapping at Scale
Shifting towards a customer perspective, a trio of knockout presentations from our guest speakers caused more than a few members of the audience to drop their jaws.

Lennart Andersson from The LiRo Group, a NavVis mapping partner, presented a glimpse of their mega construction projects in New York City. They've scanned over 100 buildings in just six months, resulting in vast quantities of quality data they use for interactive documentation and planning.

Next came NavVis enterprise client Dr. Oliver Geißel, from automotive giant Daimler. The audience was hugely impressed with a demonstration of Daimler's advanced digital factory operations, which serve to boost the firm's global collaboration across factories around the world.

Rounding out the guest speakers, Marcus Davies from Henkel dazzled the delegates with a presentation about an industry 4.0 smart factory solution powered by NavVis, allowing for agility and global mapping at scale.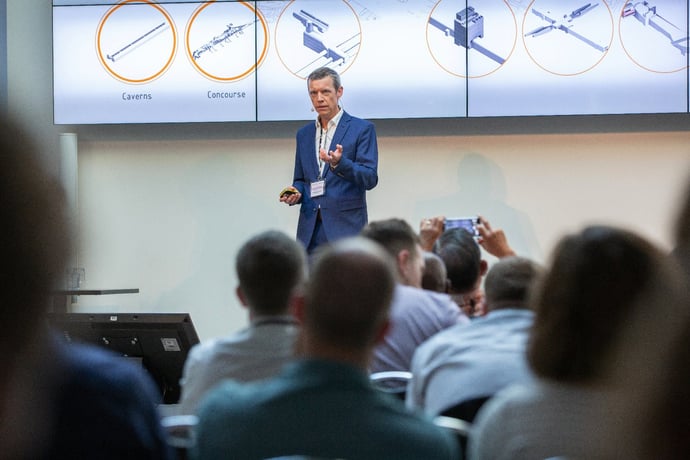 Lennart Andersson, Director of Virtual Design at The LiRo Group, speaking at the NavVis Summit19.
Foundations for the Future
The third and last day of the Summit19 revolved around partner success. What concrete steps can NavVis partners take to improve their operations?

Paulo Costa, Head of Customer Experience at NavVis, dropped the curtain on the new Mapping Partner Certification Program. The program will give partners leverage to tackle enterprise scanning projects together with NavVis.
In addition to the operational side of the technology, also covered was the business side. Felix Reinshagen presented a workshop on how to pitch NavVis IndoorViewer. Together with NavVis pricing expert Agnes Rahardjo, Felix stepped on stage again to present our research on pricing benchmarks.

Next, Head of Global Marketing Irene Herranz took her turn on the stage, touching upon partner marketing topics and creating excitement over our joint marketing efforts.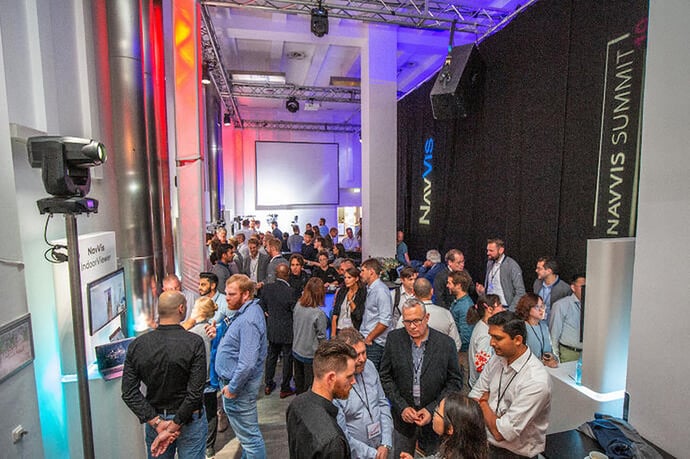 Attendees engaged in some intense networking at the NavVis Summit19.
New Frontiers in Spatial Intelligence Technology
We're always committed to developing NavVis technology further. So what are the new frontiers in spatial intelligence technology?
NavVis CTO Georg Schroth outlined a grand vision to build on innovations like dynamic image removal and color digital floorplans, the contents of which remain exclusive to the summit... for the moment!
Lisa Cali, Head of Product Web and Cloud, stepped on stage to talk about NavVis IndoorViewer. The big reveal for Version 2.5 and its new downloadable point cloud feature earned a big round of applause and cheers from the audience.
Design & Engineering team lead Andreas Goebel and Senior Software Engineer Tim Habigt presented the hardware and software roadmap for the Indoor Mobile Mapping System (IMMS).
Elsewhere, Business Development Manager Maiju Laamanen answered questions about how to take the technology to enterprises, while Solution Manager Georgios Pavlidis talked about measuring the accuracy of indoor mobile mapping systems.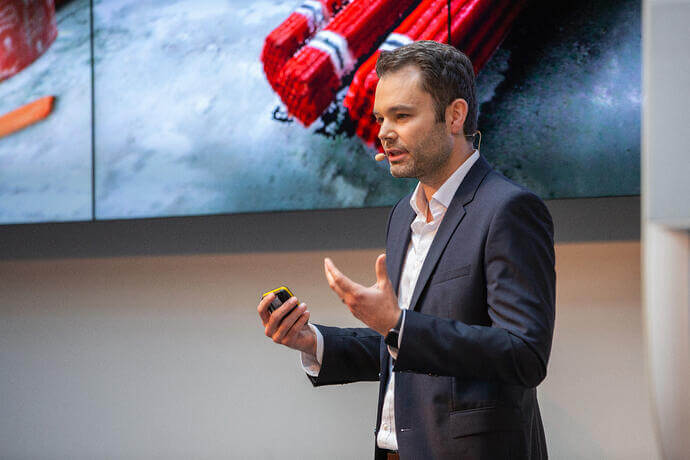 NavVis CTO and Co-Founder, Dr. Georg Schroth, presenting his keynote at the NavVis Summit19.
A fine time was had by all
After a whole lot of questions were answered – and many demos of NavVis IndoorViewer were given – the discussions over the new groundbreaking technology continued from one day to the next with several parties.
Everyone here at NavVis is proud that we could share this experience with our partners, learn from one another, and celebrate together. A hearty thank you to all the guests and speakers who helped to make it a success.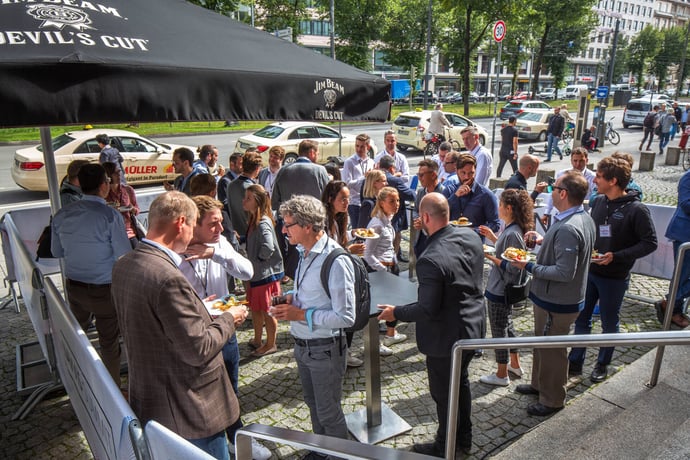 NavVis partners and guests enjoying the Munich sunshine.