Attending the biggest geospatial industry show in the world, the NavVis team were left exceptionally positive about the future of indoor mobile scanning.
Now in its 25th year, INTERGEO is an unmissable annual event for surveyors, laser scanning professionals, and geospatial specialists. A global community gathered together in Stuttgart, Germany, last week to discuss and explore new advances in the geospatial industry.

Especially for laser scanning professionals, INTERGEO is a unique opportunity to meet a great many industry experts in one place, to try out new hardware and software, and get an extensive overview of the latest market developments.

So, what was on offer? The key themes revolved around Building Information Management (BIM), smart cities, Unmanned Aerial Vehicles (UAV), and mobile scanning. There was also scope to explore more cutting-edge technologies, ranging from cloud solutions and artificial intelligence to the applications and processes of virtual and augmented reality.

Besides that, intensive networking and interesting conference talks were a big part of the fair.
Building Information Modeling is still important
BIM is still the hottest topic in construction. The momentum behind it is growing, especially in Germany, where BIM will become mandatory in all public sector works from 2020. Indeed, BIM is already integral to many pilot projects.

This will have a considerable impact on the geospatial industry, where more and more solutions are leaning in this direction. New, holistic workflows are being introduced to convince participants how BIM will revolutionize the design, construction, and operation of a building.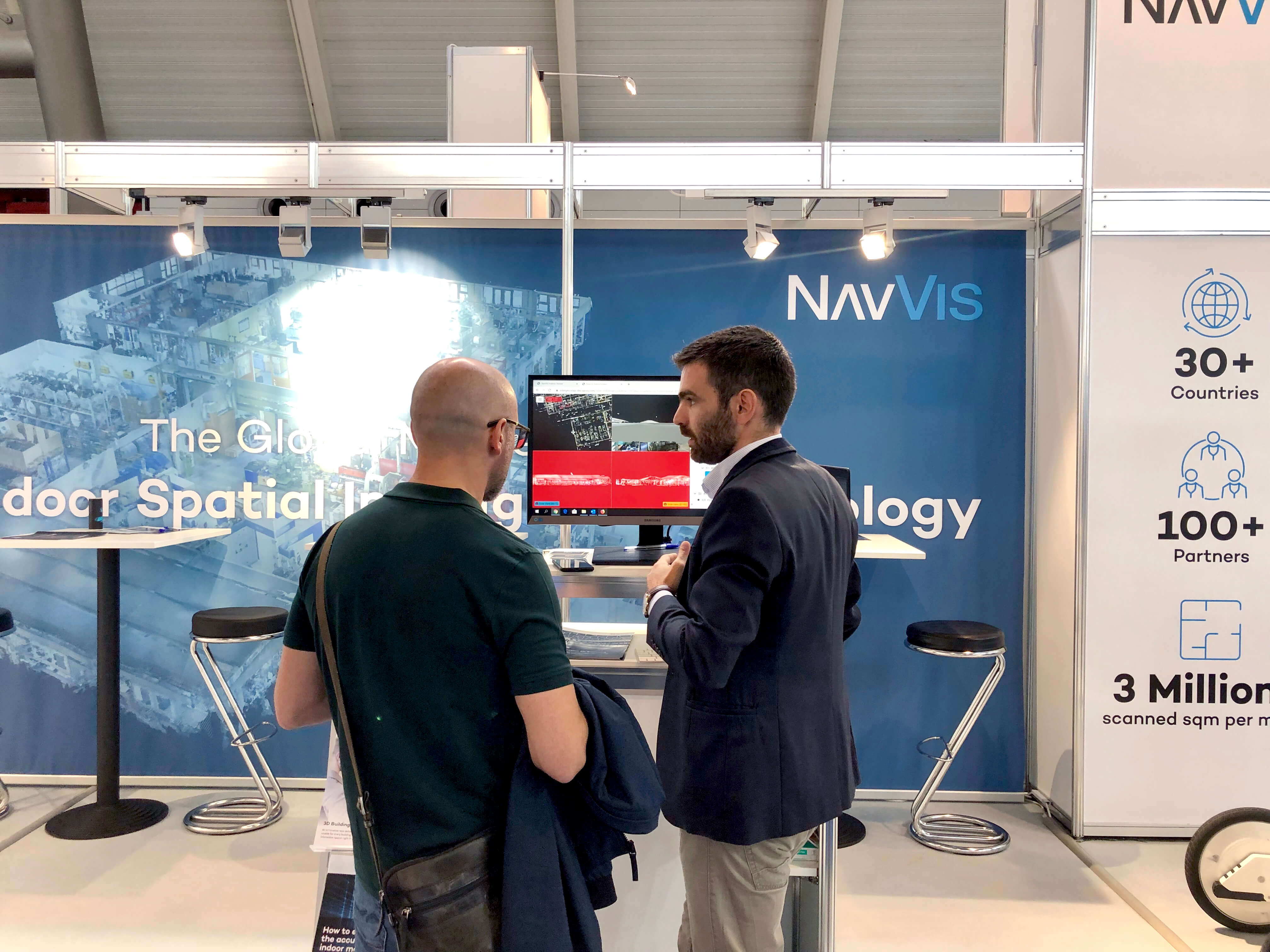 Solution Manager Georgios Pavlidis discussing Building Information Modeling with a booth visitor.
Monitoring buildings with Unmanned Aerial Vehicles
The UAV sector is also growing. There was a dedicated themed hall at INTERGEO to provide opportunities for exhibitors and visitors to plan and discuss the future of the market, and the potential applications of UAVs range from monitoring and inspecting buildings to agriculture and forestry. The increasing number and variety of UAVs for the outdoors is a sign of the growing recognition of the benefits of mobile scanning.
Mobile Laser Scanning enters new phase of maturity
Since the introduction of the first tripod-based laser scanner to the market a decade ago, there have been dramatic improvements in terms of measurement speed, accuracy, and general usability. Nowadays, every laser scanning professional owns at least one terrestrial laser scanner.

Mobile laser scanning for the indoors as pioneered by NavVis is comparatively younger, but the technology is very much in a mature phase. Global players are now investing in mobile solutions and showing a keen interest in the subject, which demonstrates a significant shift in the laser scanning market.

The high demand for digitizing entire campuses, buildings, and industrial plants – laying the foundations for a digital twin – compels laser scanning professionals to seek more efficient tools than the traditional terrestrial laser scanners. And here is where mobile laser scanning takes central stage.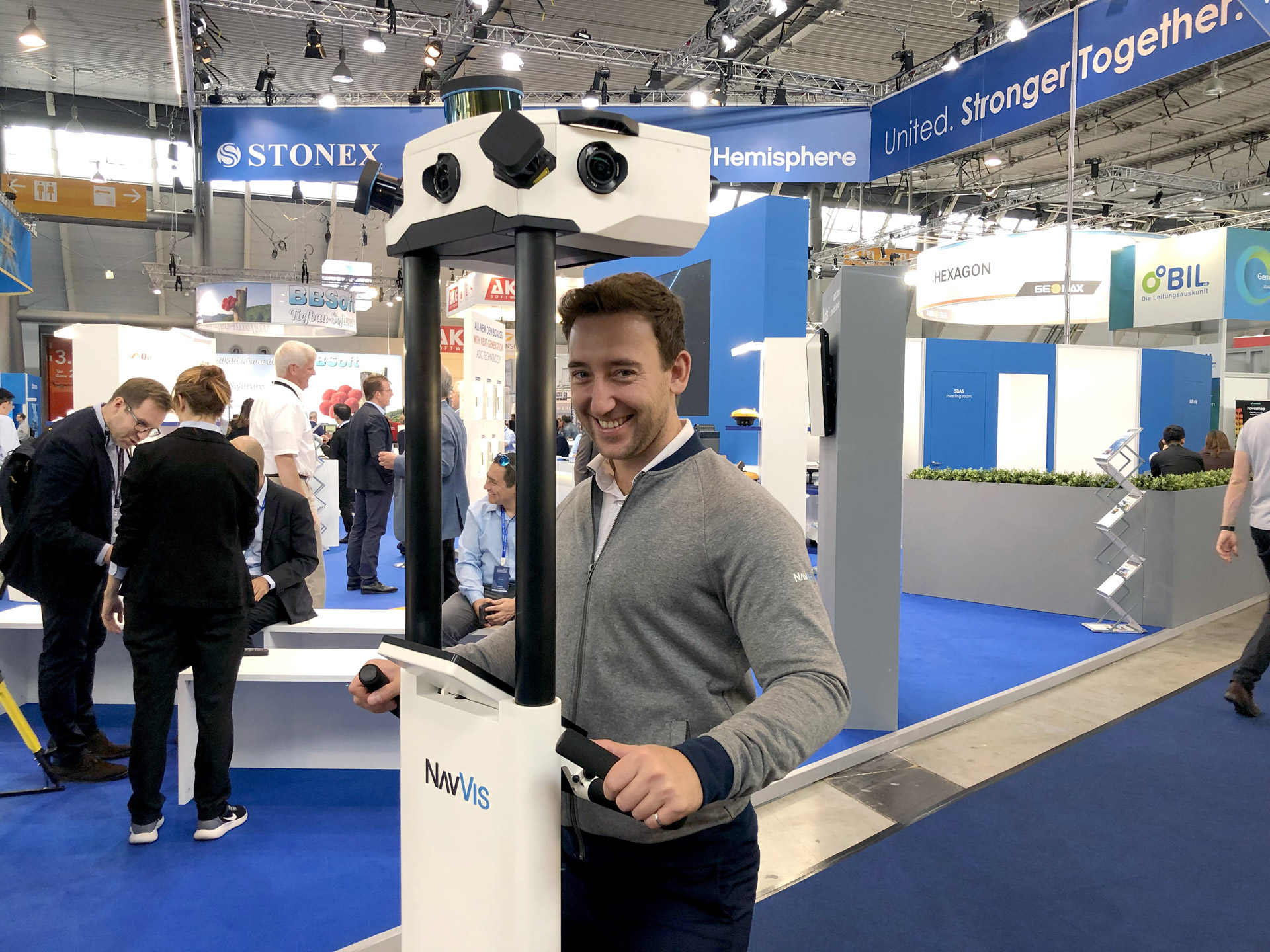 Technical Account Manager Mathieu Dupuis-Doiron takes the NavVis M6 for a spin.
The Democratization of Scanning Data
There was much discussion on the floor around data democratization, but what is it? Data democratization is about making digitalized information more accessible to the end user. The ultimate goal to enable non-technical personnel to gather and analyze data without needing outside support.
The democratization of data is especially pertinent to software platforms used in the geospatial community, and how all building stakeholders can leverage scanning data. It stands to reason that laser scanning professionals are looking for fast, stable, and secure platforms, where they can upload their scanning data independent of the hardware vendor and access it from anywhere. Cloud software platforms are one promising option, where high flexibility is the main advantage.
Leading the field in indoor spatial intelligence
With so many fascinating and inspiring developments at INTERGEO, we're more convinced than ever about the pioneering role of NavVis in the indoor mobile mapping industry. Why? Three reasons.

Firstly, a question of accuracy. The NavVis M6 is the most accurate indoor mobile mapping system on the market. At our booth at INTERGEO, we presented the NavVis Accuracy Handbook, a thorough analysis of the assessment criteria to help laser scanning professionals determine the accuracy of mobile scanning devices for indoors. We'll be making this document available for download soon.

Secondly, the NavVis M6 can function as the primary laser scanning device. It's fully capable of a wide variety of surveying tasks, including as-built documentation and BIM modeling.

Thirdly, SLAM is our specialty. NavVis engineers are industry-recognized experts in Simultaneous Localization and Mapping (SLAM), the same powerful technology used to develop self-driving cars. The bright minds at NavVis have knowledge about the application of SLAM for mobile 3D scanning that's unmatched anywhere in the world.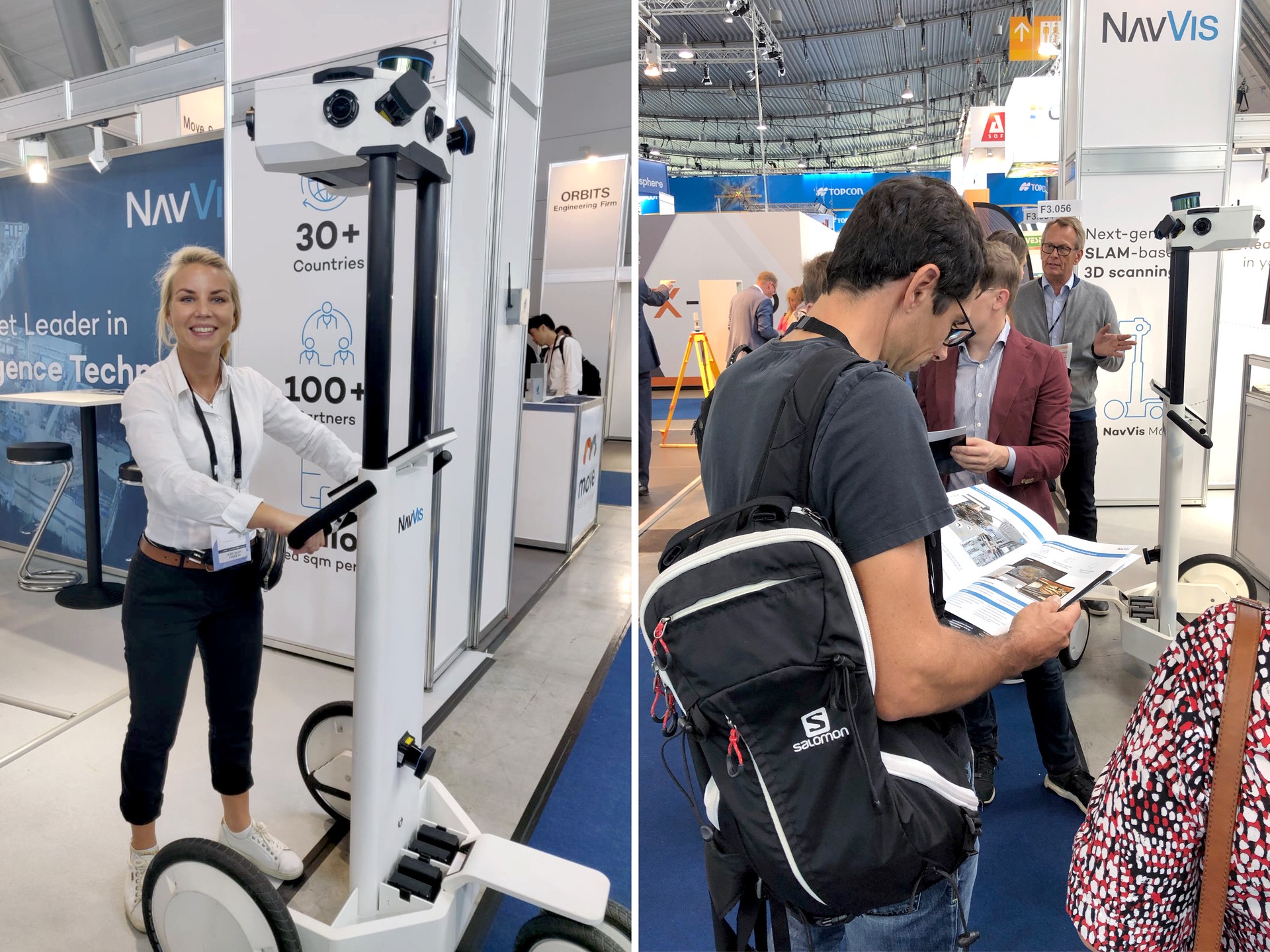 Business Development Manager Maiju Laamanen with the NavVis M6, while visitors check out the NavVis Accuracy Handbook.
Summing up INTERGEO 2019
All in all, we came away from three days at INTERGEO 2019 feeling profoundly inspired. There are new advances in the laser scanning industry to benefit all of us. And when it comes to hardware and software platforms, the world of surveying is rapidly changing.

Ultimately, however, it's wonderful to speak to people attending the fair who are eager to learn more and try out new things, are comfortable at the edge of innovation and, ultimately, move the industry one step further along the path towards digitalization. Everyone here at NavVis is already looking forward to next year's INTERGEO event in Berlin!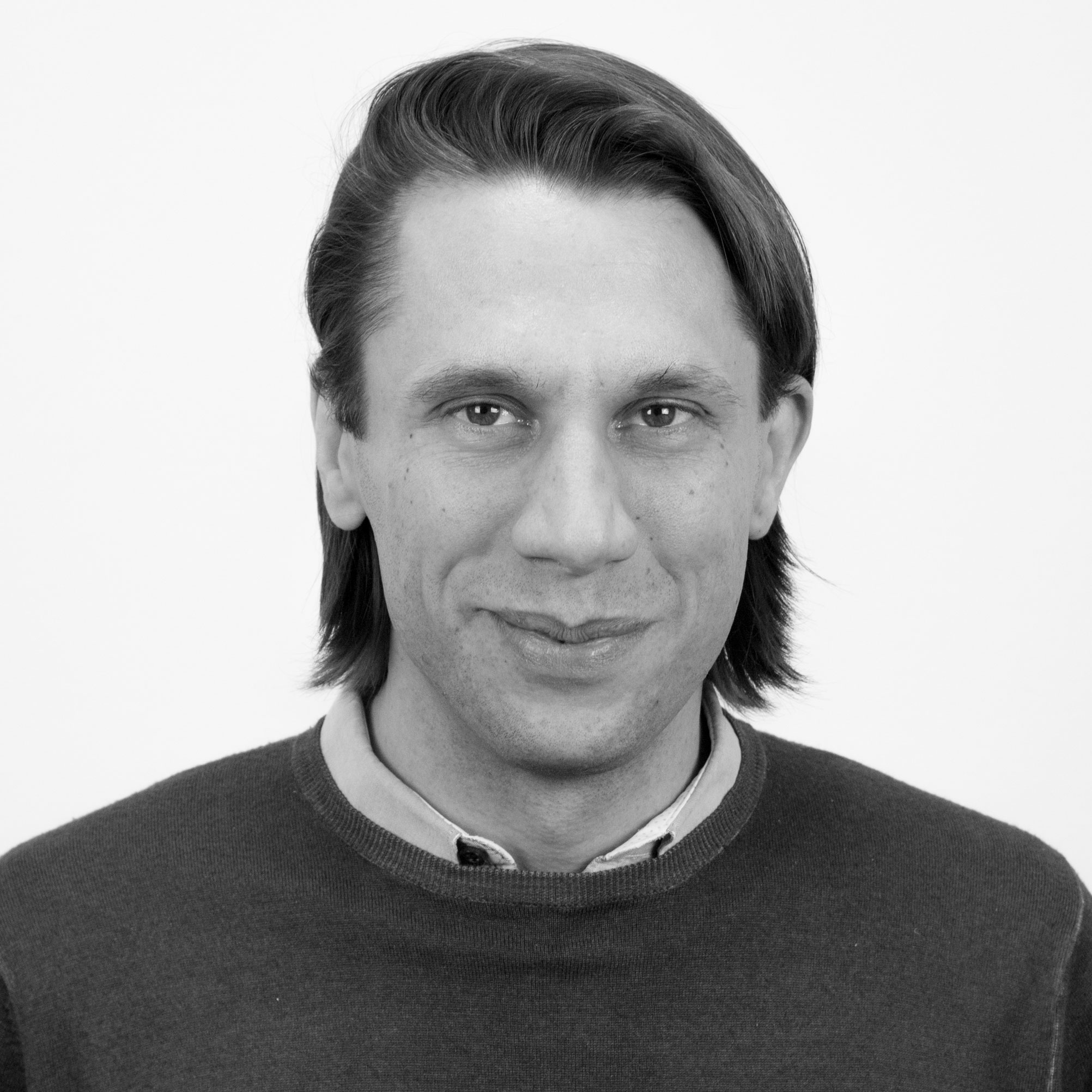 Lorenz Lachauer
Lorenz is the Head of AEC Solutions at NavVis. He brings strong expertise in software product management paired with a deep understanding of the construction and real estate sector.