Scanning 180,000 square meters of a university campus in three weeks, NavVis partners Zynka BIM and EXACT have together created the largest fully digital real estate model in Sweden.
Swedish company Zynka BIM is driving the digitalization of design, construction and facilities management throughout northern Europe. As an official NavVis technology solution provider, they offer digital building services, including the creation of digital twins and integration with existing asset information management systems.
On behalf of their client Akademiska Hus, Zynka BIM embarked on an ambitious project in July 2019 – to 3D scan and map over 180,000 square meters of Örebro University in Sweden. They completed scanning in three weeks.
Leveraging tools like the NavVis M6 and NavVis IndoorViewer – and importing E57 point clouds from other laser scanning sources like an aerial drone – the resulting model provides smart and innovative solutions like indoor routing for the benefit of everyone using the building.
According to Zynka BIM spokespeople, it might even form the basis for a research project on AI technology, representing the beginning of a digital revolution.
"NavVis IndoorViewer will change the way we plan and build, but above all manage and use real estate in the future," says Daniel Månsson, Business Area Manager at Zynka BIM.
Also involved in the project is another NavVis partner, EXACT, subcontracted to support Zynka BIM in delivering the mapping and scanning on time. They lent the power of their own NavVis M6 Indoor Mobile Mapping System (IMMS) towards the effort, so that a pair of them were used in tandem.
Developing a digital twin from existing buildings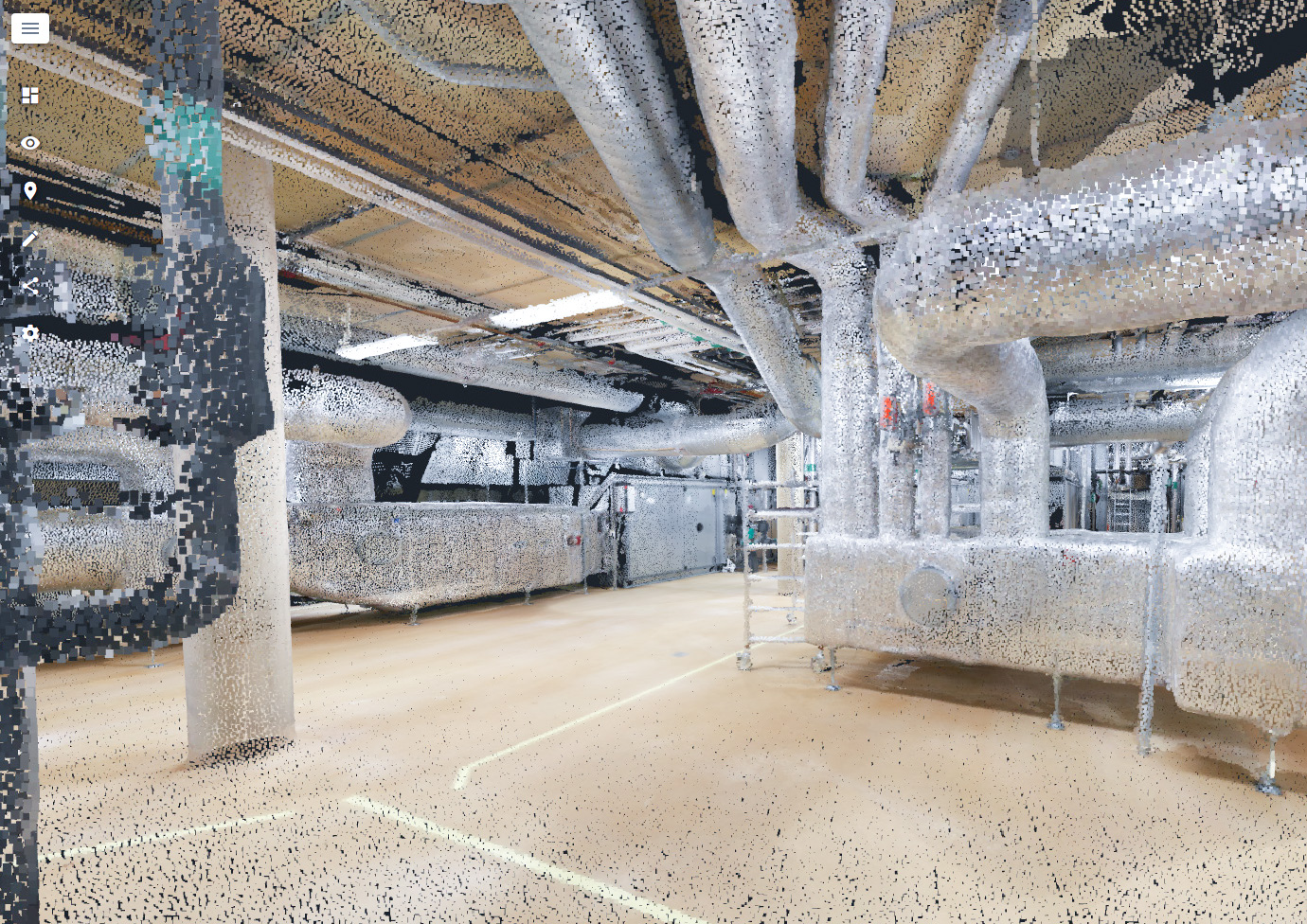 A detailed point cloud as viewed from within the browser-based NavVis IndoorViewer.
When it comes to creating a digital twin for buildings, BIM (building information modeling) plays a prominent role in the design and construction phase, which means a great deal of the necessary prerequisites for a digital twin are already in place before the project enters the management phase.
A digital twin is a virtual representation of the physical property, based on data from a variety of sources, including GIS (geographic information systems), BIM, and the Internet of Things. The digital twin can function as a central hub that shares real-time information with anyone using the building. It replaces drawings and other analog documentation, and property owners can inventory not only their assets, but also glean new insights about operation, maintenance, and efficiency.
Moreover, it's not just new buildings which can benefit from these new technological possibilities. You can also develop a digital twin from existing buildings, just like the campus of Örebro University. Project leads at both the University and Akademiska Hus are pleased now they have an intuitive, web-browser based interface for navigating indoors, based on NavVis IndoorViewer 3D visualization software which Zynka BIM customized using the NavVis IndoorViewer API.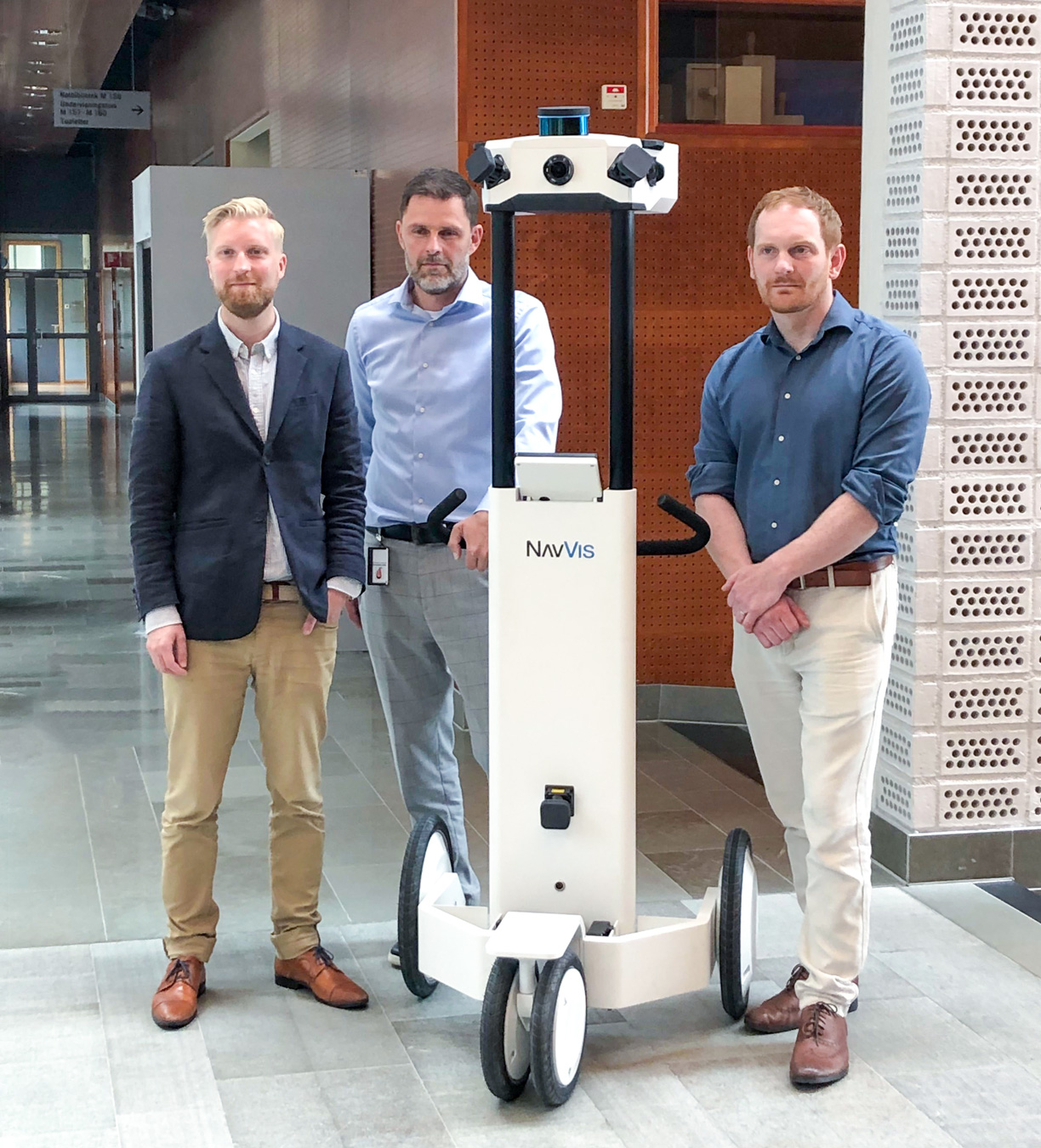 Daniel Månsson, Mikael Wetterstrand and Peter Karlsson with the NavVis M6 IMMS.
"The digital twin will be used in different purposes, but also for our students to be able to use AR (augmented reality) technology in apps, telephones, and glasses to navigate through the premises and find objects in the buildings. Being able to book rooms and make better use of our premises is just one of the services we see ahead of us," says Mikael Wetterstrand, project manager for Örebro Campus Lab at Örebro University.
"This is part of the joint venture of Akademiska Hus and Örebro University, where we work together to make the educational institution the most digitized in the country. With the scanned copy, we'll be able to operate the premises in entirely new and sustainable ways that partly reduce the climate impact, but also learn more about the buildings in daily use. In the future, we can create even better campus environments," says Peter Karlsson, innovation manager at Akademiska Hus.
"We are very excited about this project," adds Daniel Månsson. "Akademiska Hus has not only the areas needed for such a project of this size, but also a deep business understanding of the future of property management, a topic that lies at heart with us at Zynka BIM. The project with Örebro is just the beginning of an exciting development in the industry."
Find out more about the NavVis M6 Indoor Mobile Mapping System
Image credits: Zynka BIM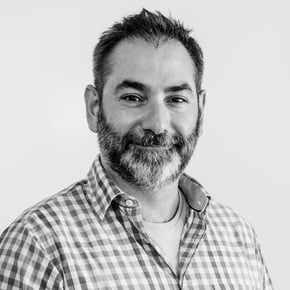 Bulent Yusuf
Bulent is the Content Marketing Manager at NavVis. He loves technology, writing, and above all speaking about himself in the third person.