In the first half of this overview of how facility management providers are using NavVis technology to provide innovative new solutions, we explained how 3D scanning and reality capture are evolving to help facility managers visualize and navigate complex buildings. In the second half, we will look at how NavVis technology is being used as a user-friendly alternative to BIM.
The benefits of 3D reality capture for facility management extend beyond visualization and navigation and into the realms of data, used to assist with different aspects of building operation and maintenance.
Some facility management providers are currently assessing the benefits of Building Information Models (BIM), used increasingly during the design and construction stages, to provide access to structured data on building system and components from within a geometric 3D model.
But the BIM approach has several drawbacks that have so far prevented facility managers and building operators from applying the technology, despite encouragement from the construction sector.
Today we wanted to share why this has led some facility management providers to start using NavVis IndoorViewer as an alternative to BIM.
NavVis IndoorViewer offers an alternative to BIM
Building BIM models in software requires considerable time and investment, especially when existing buildings have to be manually modeled and filled with data from scratch. And the software remains highly specialized, which limits the number of stakeholders that can update or access it.
IndoorViewer, on the other hand, offers a faster and more intuitive method of accessing a virtual building via interactive, realistic 360° immersive imagery.
The point of interest (POI) function in the software makes it possible to drag and drop building information, including comments, notes, and other information, to the corresponding location in the floorplan, with links to 3D panoramas. A search function enables users to find specific POIs or types of POI.
How facility management providers are improving CAFM with 3D tech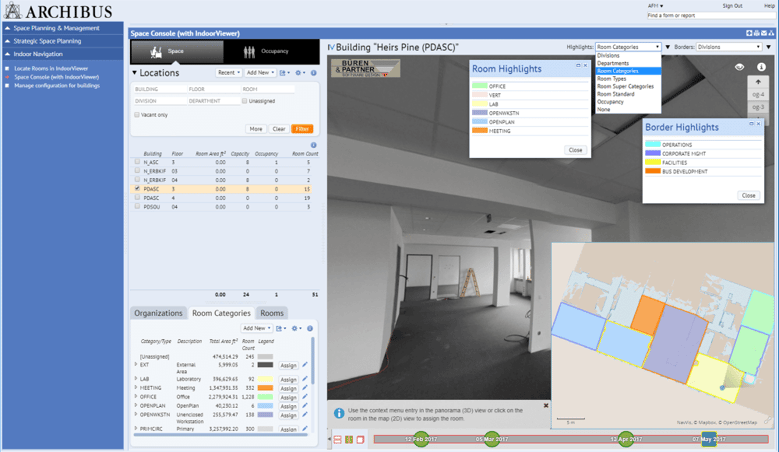 IndoorViewer integrated in Archibus CAFM system
In an effort to improve its visualization of building data, Archibus recently teamed up with NavVis and German software design company Büren & Partner to integrate IndoorViewer into its asset management software.
Büren & Partner developed an entirely new interface to enable a two-way exchange of data and information between Archibus and IndoorViewer as well as visualize the status of technical objects directly in 3D.
Anyone will be able to add a geo-tagged POI to an object visualized in IndoorViewer, which is then automatically added to the database. According to Archibus, the biggest advantage of this feature is the democratization of building information, which means even users unfamiliar with or unable to access CAD software can use the building model and add information.
The IndoorViewer solution being developed by Vinci Facilities will operate in a similar fashion, allowing users to open a document window that provides relevant information, including the most recent maintenance report, a video tutorial, and a nomenclature to help prepare and optimize a service call in advance.
Also striving to innovate in this area is design, construction and facilities management software specialist Zynka BIM, which is working with NavVis to develop Facility Information Models for the Swedish market. The firm believes IndoorViewer will generate significant cost efficiencies and benefits in terms of data validation and indoor navigation.
These solutions are only the beginning – check back soon for more on how NavVis tech is changing facility management for the better.