3D scanning and reality capture is evolving to help facility managers visualize and navigate complex buildings and access important asset data. NavVis is currently working with key players to develop cutting-edge solutions that exploit its IndoorViewer tool.
This is part one of a two part series.
Imagine a situation where a new light fitting is required in a meeting room in a University building. The maintenance department might receive a message with basic details such as "faulty light" and the room number and floor. But a technician still has to locate the room, typically by consulting a blueprint plan or using their own personal knowledge, then walk there to identify the specific fitting and the parts and tools required for the job.
Managing a built asset is all about efficient resource planning and optimizing processes to ensure that things run smoothly, but certain tasks can be held back if property and facility management teams experience problems identifying and locating different spaces, systems or equipment.
Advanced 3D scanning and reality capture technology can eliminate these issues by providing FM teams with immediate access to dimensionally accurate, realistic 3D representations of spaces that can be easily navigated and interrogated before having to visit the actual location in person. The advantages can ultimately help drive down the cost of occupying a building.
NavVis has made bold moves in this emerging field through partnerships with notable FM service providers, such as Engie, Vinci Facilities and Zynka BIM, and CAFM software providers like Archibus and GeoMap.
These firms are realizing the powerful capabilities of NavVis' IndoorViewer software to visualize interiors as high definition 3D walkthroughs, similar to those experienced in Google Street View.
How NavVis tech is being used in FM
The process of recording an asset in high definition 3D begins with the NavVis M6 Indoor Mobile Mapping system (IMMS), which captures a combination of highly detailed 360 degree panoramic images and point clouds.
In Facility Management, scanning with the M6 is fast and efficient compared to using a terrestrial laser scanner, so environments can be captured on a regular basis to ensure that operations and maintenance staff have a comprehensive and up to date record.
The data can then be viewed in the NavVis IndoorViewer, which is browser-based so anyone can click on a link to access and explore buildings as a 3D walkthrough. Or the floorplans in IndoorViewer can be navigated in 2D 'top down' view, on any mobile device, which when clicked on display 3D walkthroughs showing rooms, objects and assets, such as machines or pieces of equipment. These important visual cues can help technicians clearly identify, not only the location of a repair or maintenance task, but also the specific product or item that requires attention.
One example of where these 3D walkthroughs provide a benefit for facility management is with site inspections, where IndoorViewer can provide technicians with important visual cues to health and safety risks they might encounter on a task. For example, it can pinpoint physical obstacles or access issues, which could be important in buildings where access in advance is difficult and expensive, such as in a nuclear facility where costly security access and radiation checks are required.
The software could highlight other specific health and safety issues such as low ceiling heights, the need for specialized access equipment or protective clothing.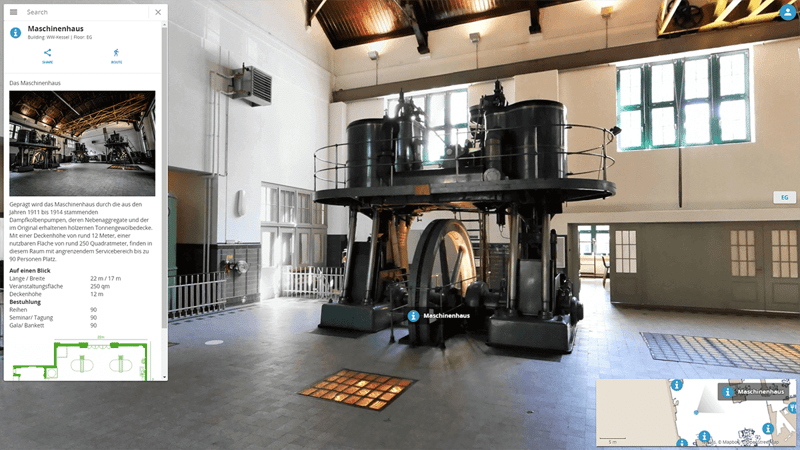 NavVis IndoorViewer provides a high level of detail, reducing the need for onsite visits
Key FM players are innovating with NavVis IndoorViewer
IndoorViewer also comes with an open application programming interface (API) that enables it to integrate with any compliant FM software.
When integrated into computer-aided facilities management (CAFM) software, IndoorViewer is transformed into a sophisticated repository for asset data and information, a so-called "Digital Twin" used to help manage the asset and generate further insights.
NavVis is currently working with Vinci Facilities, in Germany, to develop an innovative navigation and documentation management solution based on these technologies.
Its Digital Twin will allow a building user to create and send an incident report to a technician, including a photograph of the location where a failure occurred. The software then automatically locates the specific office and displays it in IndoorViewer where a virtual inspection can be carried out before proceeding to the site.
In addition, the platform provides access to all relevant documents and provides directions to the location of the alert, reducing the time spent looking for it and dependence on local and personal familiarity with spaces.
To help speed up internal navigation, IndoorViewer incorporates a routing option that enables users to find the fastest route from point A to B. A virtual path in the walkthrough shows you where you will be going to get to the location. In addition, it is possible to create and assign maintenance tickets in the 3D model that include exact location references.
Engie will offer this functionality as part of the new digital facility management solution it is currently developing.
In the next post, we will tell you more about how the NavVis IndoorViewer is being used as alternative to BIM in FM, so be sure to check back.