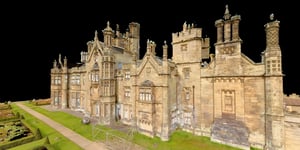 Sova Surveys' scan-to-BIM success at Margam Castle
Find out how NavVis VLX transformed and added major value to Sova Surveys' scanning workflow at Margam Castle
Key takeaways
Sova Surveys used NavVis VLX and a TLS for a scan-to-BIM project in this historic structure
Capture took only 2 days (compared to 10 with TLS alone)
The CAD and BIM modelers expedited their workflow using NavVis VLX panoramic imagery
The end-to-end workflow was so fast that Sova offered a value-add to the client and captured more of the castle than originally requested
The client was extremely impressed and has already awarded Sova more historical capture jobs for the future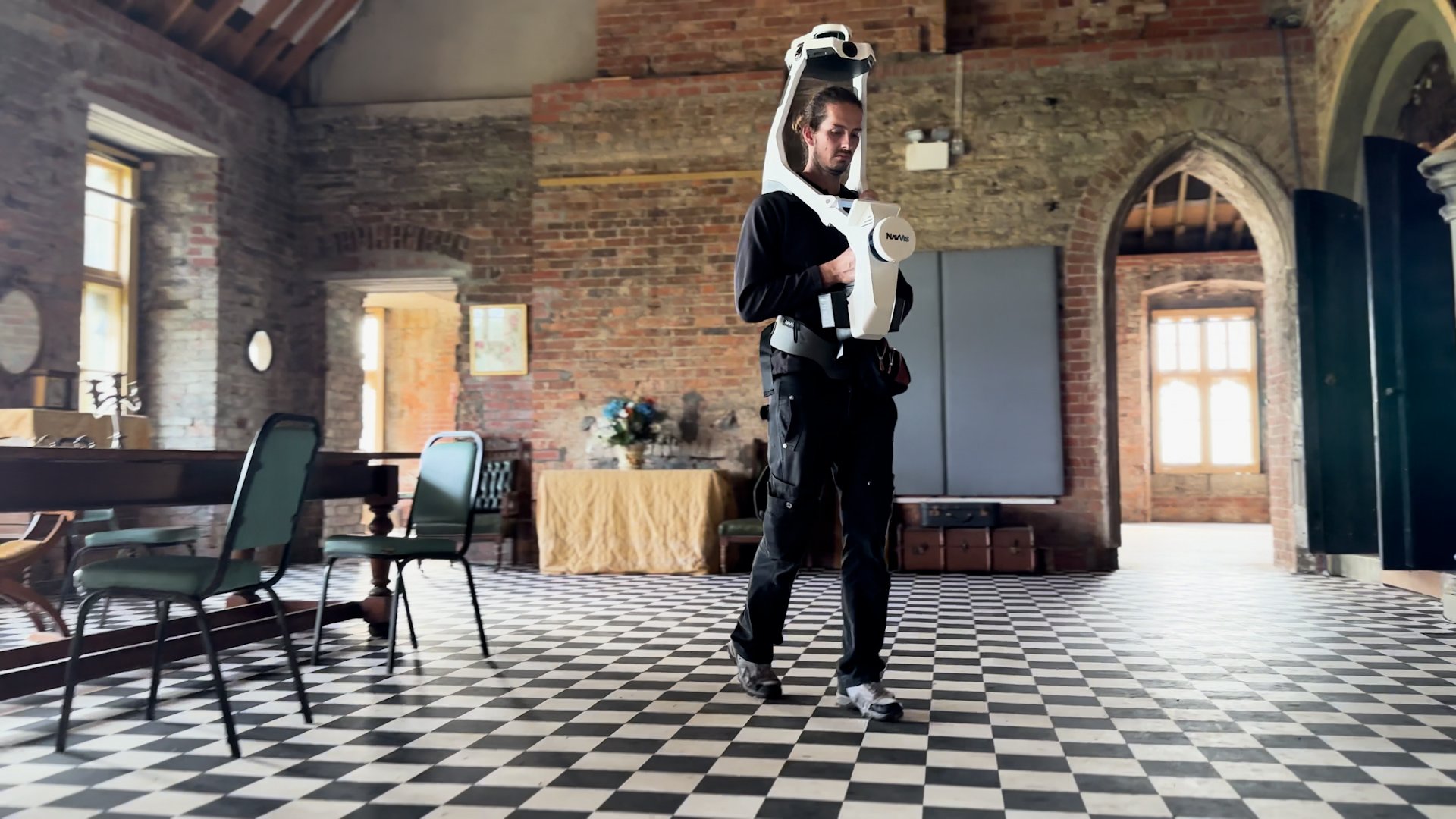 The future of historical capture
Sova Surveys in Bath, England, was recently contacted by a return client to produce a BIM model of Margam Castle in Wales for a refurb project.
The structure is a look into the past — a historical landmark and a "timeless, classic Tudor-style building sometimes used as a set for period pieces," says Sova Surveys director Jared Matthews.
Sova's workflow, in contrast, feels a lot like the future.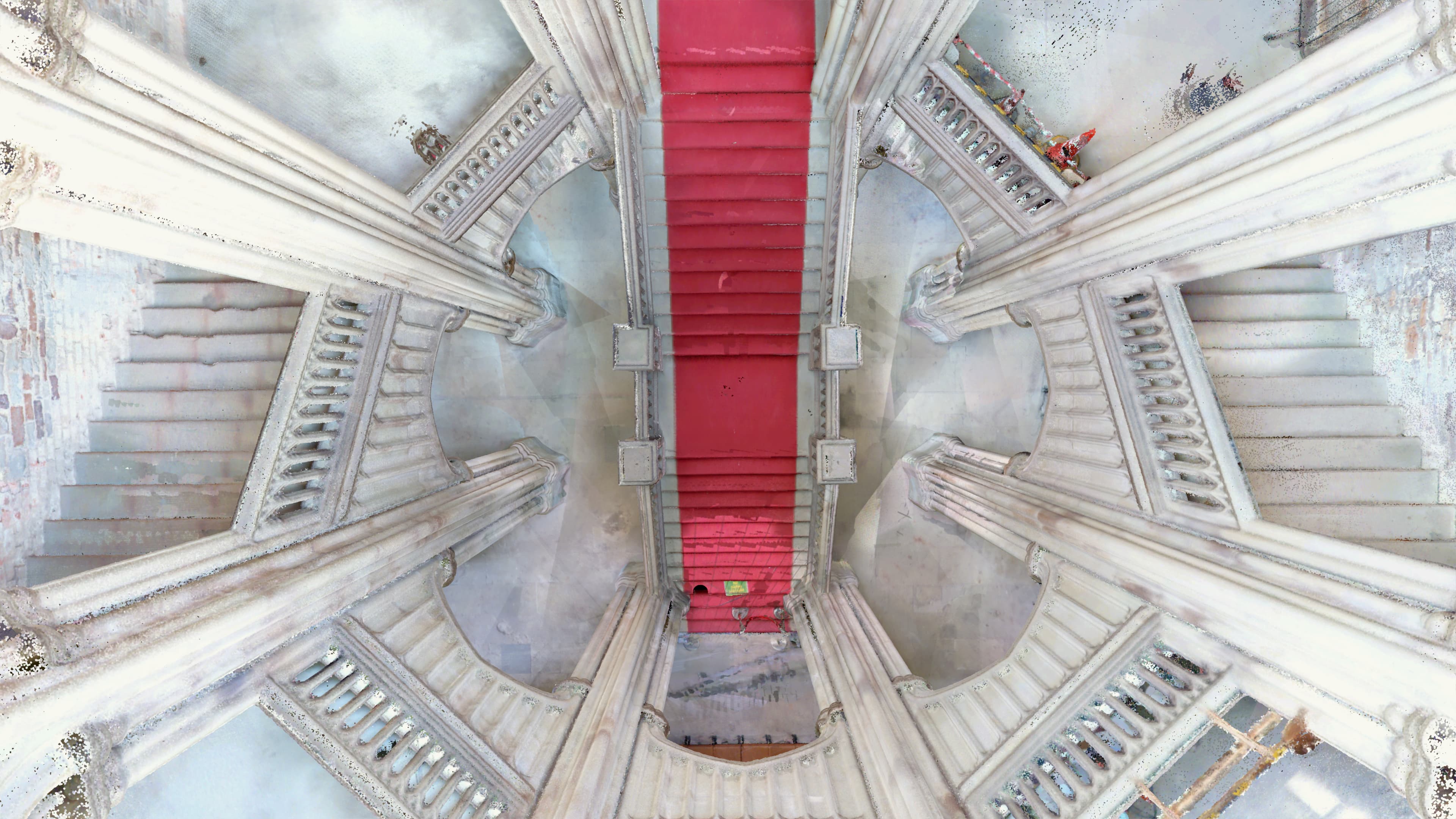 Classic challenges
Sova knew their work was cut out for them. Margam sprawls over 25,000 sq meters and seven floors. As you might expect for a structure roughly two centuries old, it includes complex and ornate features like a central staircase. It also has several tricky areas where it's tough to maneuver a scanner.
As if that weren't challenging enough, the castle is situated in a public park. Though most of the structure would be closed to visitors during the survey, the public toilets and bike-rental structures would be left open for business. Sova needed to finish capturing these high-traffic zones within two hours to reduce disruption to the castle's business.
And since the deliverables would be used for a historical refurbishment project, the accuracy requirements were high. Sova would need to deliver a BIM model at LOD200 for most of the castle and LOD400 for significant features like the central staircase.
The classic workflow
In the past, Matthews would have captured a structure like Margam Castle using the industry's standard scan-to-BIM workflow.
He and his team would establish a control network with a total station. Then, they would capture with a terrestrial laser scanner (TLS) and take 2D photos with a smartphone. Once they returned to the office, they would register the scans together, organize the photos, and generate deliverables.
The first problem here is time. Though Sova could have finished the job with this workflow – and achieved high accuracy in the process – the work would have been very slow and deliberate. Especially considering the number of setups necessary to scan into the tricky areas to eliminate shadows caused by occlusion.
On top of that, scanning the public areas with a TLS would have taken longer than the two hours allotted per day. And that would have caused significant disruption to the client's business.
Sova saw that they needed a different workflow. 
Enter NavVis VLX
For years, Sova had watched the development of mobile mapping technology. They hoped this new tech could speed up their workflow with minimal compromise on accuracy and data quality. 
Unfortunately, many tools Matthews tested failed to deliver on their promise. "The first major mobile scanner produced data that was too noisy," he says. "The next one cost too much and still delivered subpar data. Every tool we looked at was wrong until we tried NavVis VLX. It offered the best possible combination of performance and cost."
When a NavVis rep brought a NavVis VLX to a job site, Sova tested it against their traditional workflow.
"I had our scanner as a backup, so they scanned with the mobile mapper, and I scanned with the TLS, just in case. When we compared the data, the mobile point cloud was on point."

- Jared Matthews | Director at Sova Surveys
Working the castle
After the successful field test, Sova devised a hybrid workflow for Margam Castle. They would combine traditional TLS with mobile mapping to get the required accuracy but do it at a much higher speed than TLS could manage alone.
Matthews used a total station to set a minimal control network: four external points and five per floor in the interior. Next, he used a Trimble TLS to capture the "spine" of the building, which means connecting spaces like hallways. He also used the TLS to capture areas they planned to model at LOD400, like the central staircase.
To set control for the NavVis VLX scan, Matthews used the Trimble's integrated laser pointer to make markings as he went. "That way, we had all the control we needed, all without having to use the total station again." Then, it was a simple matter of walking the castle with the NavVis VLX to finish the point cloud and capture comprehensive panoramic imagery.
Once back in the office, they processed and registered data using NavVis IVION Processing in the cloud. Then, they handed the data to their in-house modeler, Shayne-Claire Matthews, who produced CAD documents, floor plans, and a BIM model for the client. 
Impressions from the field
The speed of the workflow was striking. "With the NavVis VLX, it took about two days of scanning," says Matthews. "Using our Trimble, it would have taken us ten days. To cut ten days down to two while hitting the accuracy we needed? That's much, much better for us."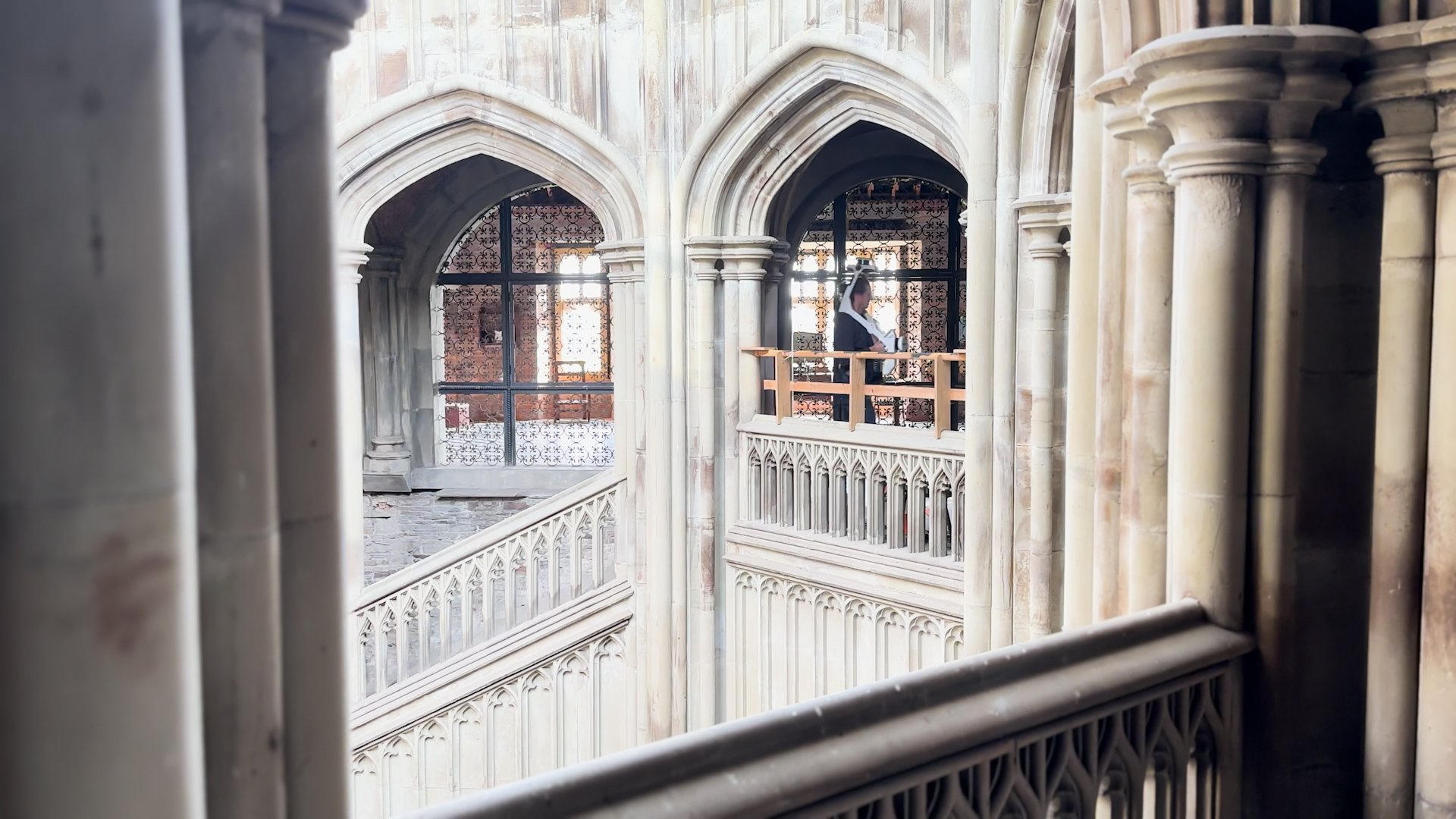 He was also quite impressed by the quality of the post-processing algorithms. "At first, I wasn't quite sure about the data in more complex areas. For instance, when I was scanning up the complex spiral staircase, that confused the SLAM and I got some drift in the data. I thought the scan had failed, so I did it again. But that was before I processed it with the control points."
"Once I processed the data, that fixed the drift completely. You can put your faith in the post-processing algorithms and know they will work. As long as you use the correct workflow, it'll produce good, clean, accurate data. And it did."
No more disruption
Due to the increased speed of capture offered by NavVis VLX, Sova captured the public toilets and bike rental areas well within the two-hour window allotted. And that minimized disruption to the castle's business. 
"Usually, while doing one set of toilets, you'll have people coming up and asking, What are you doing in there ? With NavVis VLX, I can say 'It's going to be 5-10 minutes, and then we'll open the toilets right back up again.' It makes everyone's life happy. My clients are happy because we don't disrupt their business. I'm happy because I don't have people standing around talking to me while I'm trying to work!"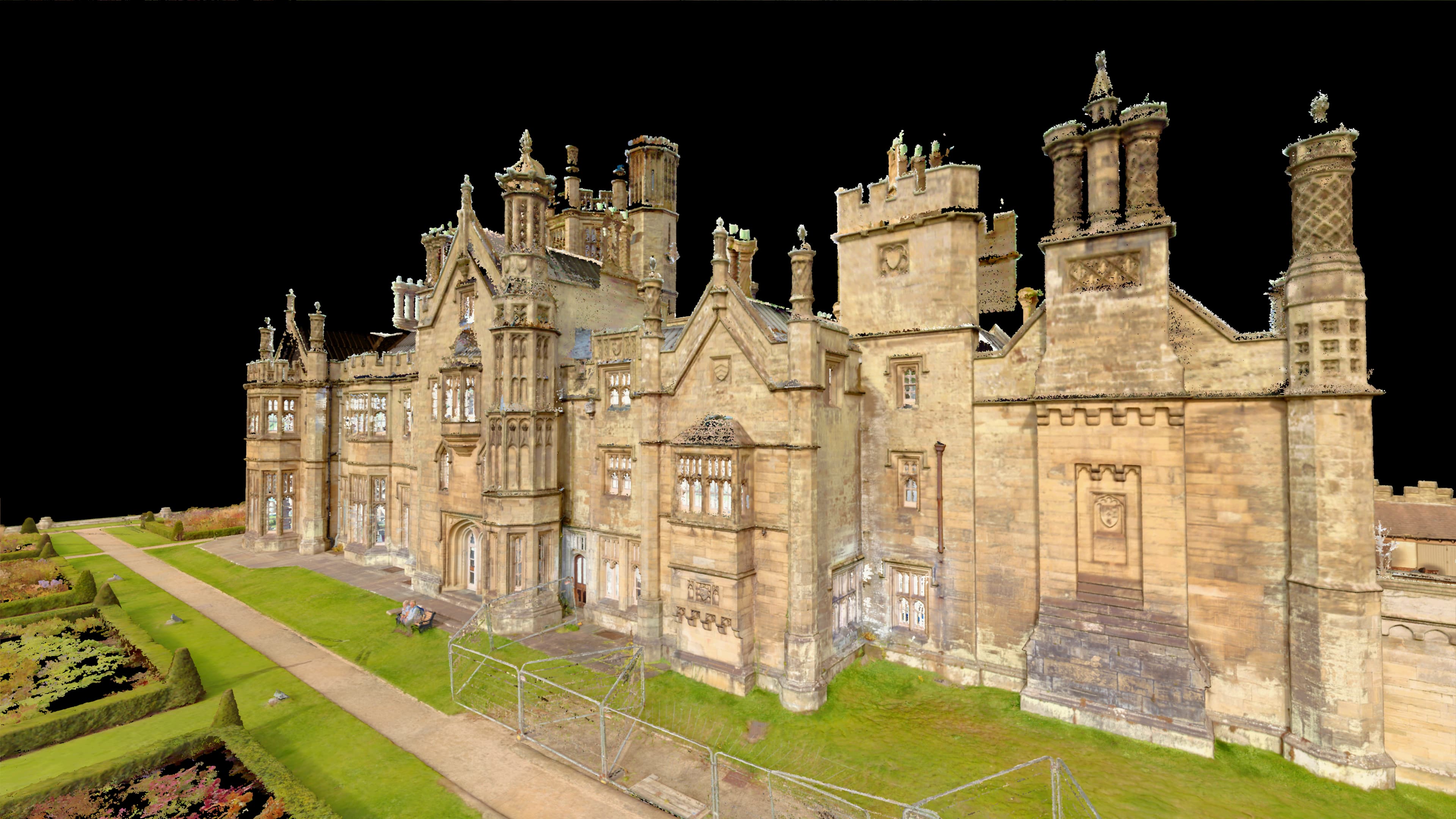 Downstream speed up
Our case studies often focus on how NavVis VLX can reduce capture time. But Matthews emphasizes that it can speed up your whole workflow, from end to end.
"A lot of surveyors are trying to get over the time factor," he notes. "Even with fast TLS scanners like Leica RTC, you have to register your data in the office, and that creates a bottleneck. With NavVis IVION Processing, I was able to come back to the office, upload the data, and then head back into the field to do another project. When I came back, the original scan was done processing."
Matthews adds that the colorized point cloud and panoramic imagery provided by NavVis VLX were a huge help during the modeling process.
"In the past, the modeler would go through the 2D photos and TLS walkthrough looking for the details they needed to model. Now, they just go into NavVis IVION, and it's all together, the point cloud and the panos. It's easy for them to make sense of it and find the details they need. It makes for much faster modeling."

- Jared Matthews | Director at Sova Surveys
Win/win
Matthews notes that it wasn't just his team that loved the NavVis VLX hardware and software. The client was impressed, too — particularly when it came to NavVis IVION.
"We offered the walkthrough to them," he says, "and they were excited to be able to see the data themselves. If they were uncertain about something in the drawing or the point cloud, they could pull up the walkthrough, go to the particular area, and come to an understanding. They can revisit sites without going there, which is a huge plus."
The client also loved how easy NavVis IVION was to use. "Everyone knows how to use Google Streetview, right?" asks Matthews. "That means they already knew how to use NavVis IVION. It was quick and intuitive for them."
Bonus: asset management
The client even found an unexpected use for the NavVis IVION data set. 
"In some rooms, they needed internal elevations," Matthews explains. "So I created a tagged asset for those rooms in NavVis IVION and attached the CAD file. They can go look at the room and pull up the CAD file. Simple. So, it's become something like an asset-management system for them. They were very impressed with how centralized all of their data was in NavVis IVION."
A business builder
Matthews says NavVis VLX has helped grow Sova Survey's business after just one job.
Here's how: While the team was on site scanning, they saw that the castle had stables not included in the spec. Since Matthews knew it would be quick and easy to capture the stables with NavVis VLX, he offered to do it for free.
"They were so impressed by the NavVis IVION data from the main structure," says Matthews. "So they said to go for it. We captured the whole thing in less than an hour, and on a day we were already on site. It would have taken me an extra two days to capture with TLS – and eight hours of travel. That's a full day's work just in travel. It just wouldn't have been feasible."
This proved very valuable to both Sova and their client. "They saw the extra data and the benefits of our NavVis VLX workflow and came back to us saying, "OK, we have another project like this, can you do it with the same workflow?"
"Sure, we could have gotten it done with a TLS," concludes Matthews. "But the NavVis VLX workflow was so impressive to the client that it helped us build an ongoing relationship. It helped us win a client that will come back and get more work from us in the future."

Next generation 3D laser scanning is here
Wearable, 3D laser scanning devices are faster and more scalable than ever before, providing survey-level data quality for even the most demanding projects.
Find out how our entire reality capture solution can benefit your scan-to-BIM workflows by chatting with one of our experts: