Gumpendorfer Straße station in Vienna, Austria dates back to 1898. Famous for its curved platforms and structure, passengers and even tourists often stop to admire the historic landmark designed by the famed architect, Otto Wagner. But while historical buildings often become local attractions, archaic floorplans tend to lose their charm over time. In the case of Gumpendorfer Straße station, the original plans were paper drawings also dating back to 1898. There have been many changes in the time since, including a major renovation that took place from 2006-07 to increase station accessibility.
Gumpendorfer Straße is the first of 109 public transport stations across Vienna where floorplans are getting updated and building information models (BIM) are being introduced.
NavVis partner Vermessung Schubert, a surveying company based in Austria, was chosen to pitch to station owner Wiener Linien GmbH & Co KG why they should provide the scanning and BIM services. To get an edge over the competition, they showed the potential client that they can offer them the next generation of technology for buildings: reality capture. And when they showed them that the end product would include the NavVis IndoorViewer, they won the pitch.

3D BIM model of Gumpendorfer Straße Metro Station
How it works
Since adding the NavVis Indoor Mobile Mapping System (IMMS) to its arsenal of surveying tools, the VS team has been able to scan large indoor spaces much faster, making it much more efficient to update BIM models for existing buildings. But the real selling point, they tell us, is that captured building data is no longer just for BIM users. Potential customers are always delighted to find out that they will get browser-based, virtual access to their buildings, which means they can "walkthrough" it from their desktop and use it to verify measurements remotely.
For surveyors, reality capture technology actually makes it easier to capture more data without additional effort. The NavVis IMMS is on wheels and automatically captures point clouds, dense imagery and sensor data as the operator pushes the device through indoor environments.
The scan
Of course, there are now a few reality capture technologies on the market. But very few are suitable for being deployed in large indoor environments – that is what sets the NavVis IMMS apart. Transportation facilities are, for example, notoriously difficult to capture: large, open spaces, often with long tunnels and corridors, and full of stressed out travellers running around at peak times. Gumpendorfer Straße Station is a perfect example of this type of complex indoor environment. The VS team had to capture open spaces, long platforms and even the small technical rooms that keep the trains running.
Gumpendorfer Straße Station encompasses over 2000 square meters. Capturing this space with the NavVis IMMS took a little under six hours – half the time it would take using static laser scanners. At the same time, 46 ground control points (GCPs) were captured by a total station. While this step is not necessary in every situation, GCPs are often used in the surveying industry to increase the accuracy of scans. With NavVis technology, these ground control points are used to accurately position the scan in relation to the real world around it and to automate dataset alignment.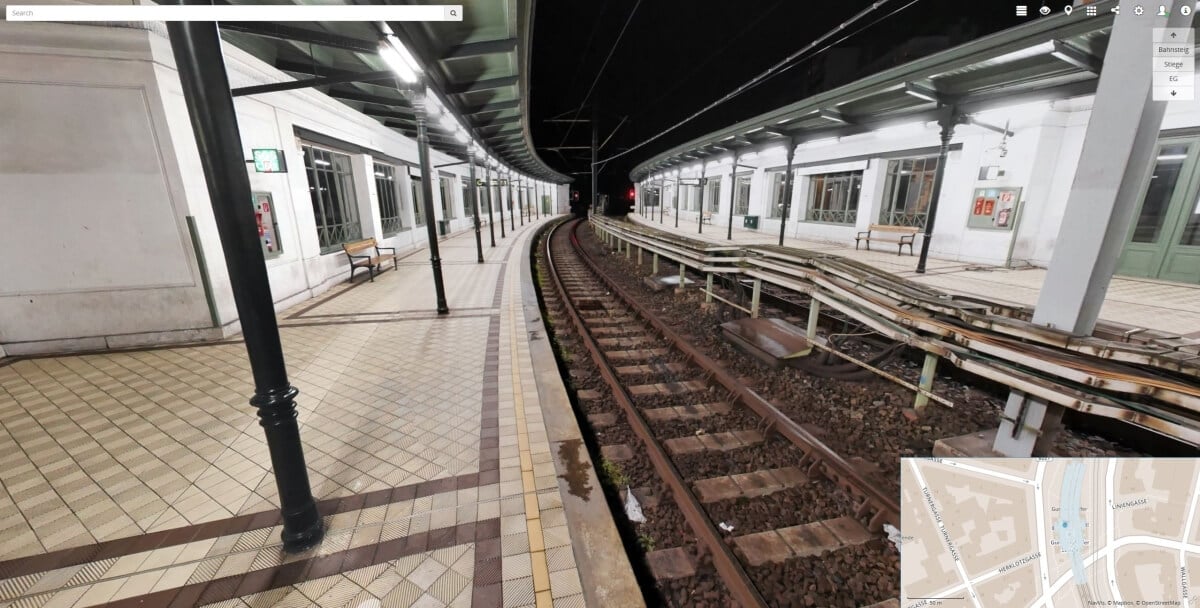 Panoramic image of the metro station under poor lighting captured by NavVis IMMS
The result
NavVis technology made it possible to quickly capture the data needed to bring an historical European structure to BIM. The customer liked the idea of minimizing disruption to the passengers and being able to turnaround large indoor spaces much faster. But in the end, it was the addition of the NavVis IndoorViewer that won the pitch for Vermessung Schubert.
Dario Gaudart, Project Manager and BIM Expert at Wiener Linien GmbH & Co KG, made this point when we spoke to him, "Having experienced the benefits of designing new construction projects in BIM, we decided to test it in our existing buildings. The NavVis mobile mapping system captured the data needed to create BIM models and provided added value with the browser-based IndoorViewer. With the NavVis IndoorViewer, our building data will no longer be restricted to those team members who know how to use BIM software, which is an excellent starting point for increasing the use cases of digital building technology."
In short, BIM serves many useful purposes but is limited to those users who have access to advanced BIM software and the knowledge of how to use it. The NavVis IndoorViewer democratizes building data by offering access to every stakeholder, making it a valuable addition to every surveyors' offering.
To find out more about this scan and how our surveying partners, Vermessung Schubert, are using NavVis reality capture technology to speed up as-built data capture and bring BIM models to existing buildings download the case study by clicking the button below: