In the first part of this blog, we shared how NavVis partner Geomap is providing an innovative facility management solution by integrating their own Information system with NavVis IndoorViewer software and the scan data captured by the NavVis indoor mobile mapping system. In this post, we are going to take a closer look at how Geomap is using this technology to transform the way facility managers communicate with building occupants.
Facility management teams have traditionally experienced problems when trying to communicate with building occupants. For example, if someone calls the facility management team to notify them that an item needs replacing, they may not know the precise location or the details of the specific asset.
With this in mind, Geomap developed a product that tackles this problem. The company's Information System has integrated NavVis IndoorViewer software to fully digitize the communication process. The result is a solution that eliminates the headaches caused by poor communications between those managing a building and those occupying it.
A digital solution for communications
With the Geomap and NavVis software integration, building occupants can log into the software, open a "ticket", ie. a corrective maintenance request, and state where the asset is located, the component that needs to be fixed and the level of importance, for example if it needs to be fixed within 4 hours or 24 hours. To make communication super-streamlined, all assets, rooms, and spaces in the building are assigned dedicated code numbers.
"If you open a ticket in our Information System you can be sure that the facility management company has taken charge of it directly, which is much more reliable than having to make a call to a third party call center to pass on to facility management company which can result in information being lost or miscommunicated," said Andrea Paglialunga, Business Development Manager at Geomap.
The beauty of integration with IndoorViewer is that technicians can raise, track or close out maintenance tasks directly from within the browser. "Full integration into Geomap's Information System makes it possible to track almost anything from within the panorama. Building occupants can open new tickets or track their progress in the IndoorViewer by clicking on individual component or building system," he added.
Users can simply click on assets to access information on things like maintenance history or serial numbers etc. The same information can also be accessed by clicking on links in 2D floor plans.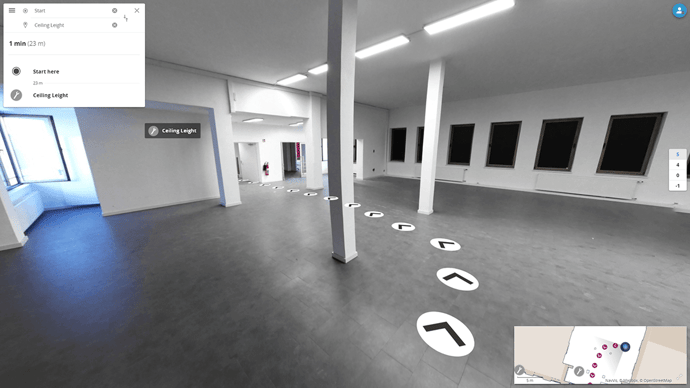 Better navigation in complex environments
IndoorViewer panoramas are often used to help technicians navigate to where issues are located, which can be important in massive sprawling buildings, like airports or hospitals, where finding your bearings can be difficult. A 'route finding' function in IndoorViewer highlights the quickest path to a location that can be followed by clicking the mouse or tapping on screen if the technician is carrying an iPad.
Clients and customers with an international presence have found IndoorViewer useful to keep tabs on properties across the globe. "Whereas previously, a Global Facilities Manager' was required to travel across the world to inspect buildings, now they can manage and control everything from the office, resulting in a huge cost saving," said Paglialunga.
Paglialunga compares facilities maintenance to servicing a car: if you don't service and maintain it frequently, in a few years it will be a wreck, but keep on top of things and you will extend its lifecycle, resulting in an overall reduction in maintenance costs.
Geomap's integration with NavVis has really enhanced this process, and Geomap's IT development team is continually working on improvements to extract even more value from the collaboration.
"This technology has revolutionized the facility management market, mainly due to the way it streamlines communication between the building occupant and facility management company," says Paglialunga. "In future, more and more companies will come to rely on it. It's not just about the approach, the technology is going to save them money, which is ultimately is the most important thing for any business," he concludes.
Stephen Cousins
Stephen is an experienced freelance journalist focused on technology and sustainability in the Architecture, Engineering and Construction sectors.