See how easy it is to make interactive digital floor plans for your building with NavVis IndoorViewer, a web application with realistic 3D visualization.
The old-fashioned floor plan is long overdue an upgrade, especially when you consider that buildings are among our most valuable assets. The interior spaces where we live, work and play demand so much more than a static, fixed document.
When was the last time you looked at a building floor plan? Were you genuinely impressed by what you saw? Whether it's a floor plan for a factory floor or an office, there's a strong chance the locale is depicted on a PDF or printed on paper. Revisions to the floor plan are a headache to implement. They disrupt daily operations, and they cost time and money. However, implementing them is critical to prevent documentation errors from perpetrating.
In this blog post, we'll explain why you should create a digital floor plan for every building – and how advances in indoor spatial intelligence technology make it incredibly easy to create one. If you're responsible for maintaining the documentation and floor plan of a building – and haven't had the pleasure of using NavVis IndoorViewer before – then we're about to make your day, your week, and perhaps even your year.
Why every building needs a digital floor plan
There are several compelling reasons why every building would benefit from an interactive digital floor plan.
With the right software, for starters, a digital floor plan is simple to generate, use, and share. Long-term maintenance is straightforward, too, so the digital floor plan is always in step with the physical characteristics of the property. Users will appreciate this if the old floor plan shows a partition wall or doorway that no longer exists in the actual layout, for instance.
The one thing that every stakeholder will value, however, is the ability of a digital floor plan to provide accurate measurements and enhanced detail – even full color. Moreover, if you're a laser-scanning professional tasked with creating a building scan, providing a fully interactive digital floor plan on top of your existing deliverables will surprise and delight your clients.
What is NavVis IndoorViewer?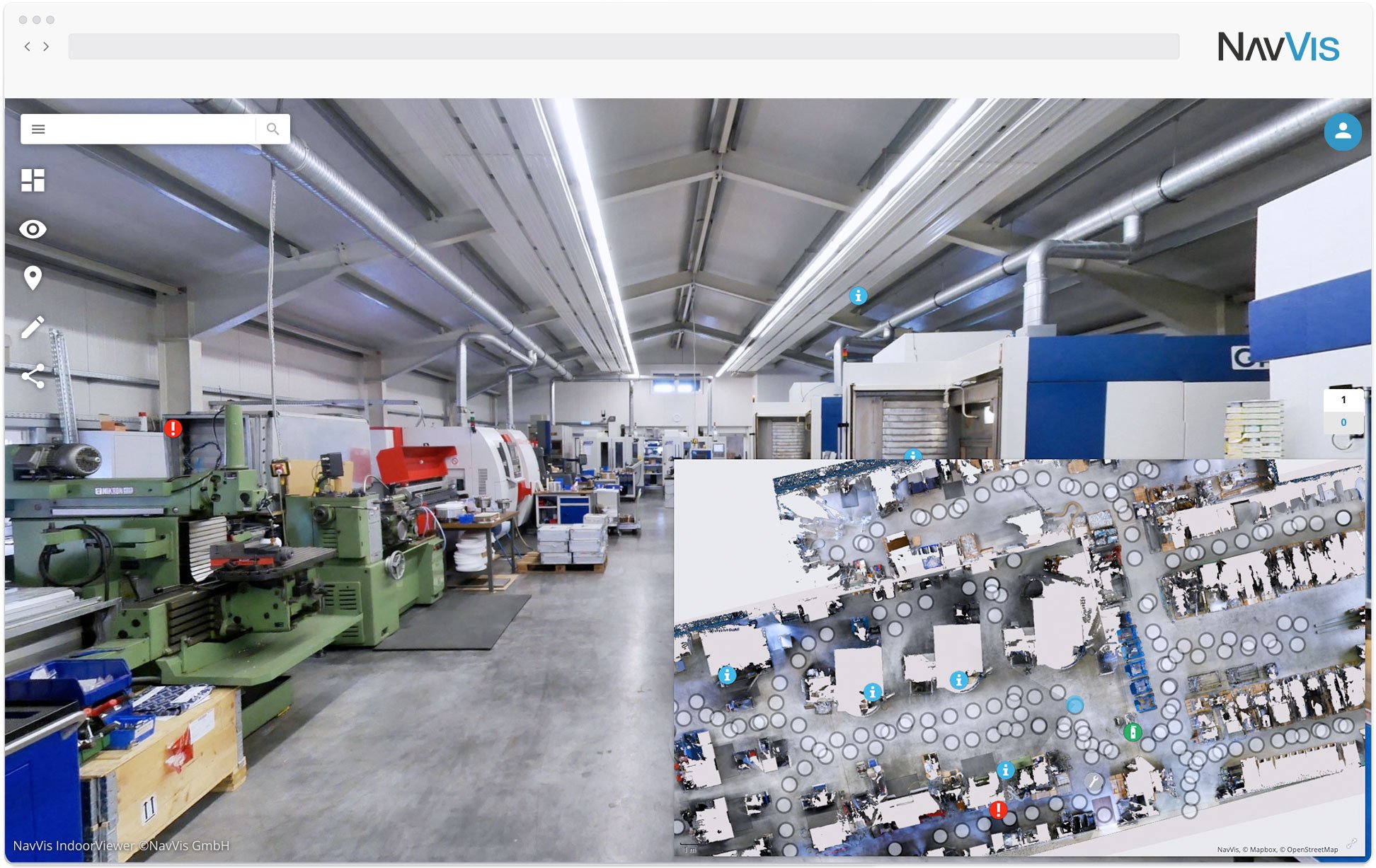 NavVis IndoorViewer is a web-based application that combines realistic 3D visualization of buildings with an intuitive interface that anyone can use.
Building scan data uploaded to NavVis IndoorViewer is presented as fully immersive 360° images, point clouds, and digital floor plans. While the 360° and point cloud views let users move through scanned spaces in 3D, the map view provides a 2D overview of the scanned structure and its surroundings.
These maps are generated automatically from point cloud data captured by the NavVis M6 Indoor Mobile Mapping System (IMMS). The NavVis M6 is constructed with a nimble, versatile design so that a single operator can map a building just by walking through it. It also has six high-resolution cameras for capturing immersive 360° images, plus integrated laser scanners to collect measurements of the environment up to a range of 100 meters.
Since the release of version 2.6, NavVis IndoorViewer is also compatible with terrestrial laser scanners. For structured e57 point cloud files, it's possible to use static scans to automatically generate high-definition floor plans.
What's a point cloud? Essentially, a point cloud is a set of data points in space created by a laser 3D scanner, which measures a considerable number of points on the external surfaces of objects around it.
What you'll need to get started
To get started in creating your interactive digital floor plan, you'll need the following:
1. NavVis IndoorViewer
NavVis IndoorViewer is an in-browser 3D visualization software that uses advanced HTML5 technology to provide a seamless user experience without requiring you to install third-party browser plugins. On desktops and notebooks, NavVis IndoorViewer runs in all major web browsers with WebGL support, including Google Chrome, Mozilla Firefox, Apple Safari, and Microsoft Edge. If you don't have a subscription to NavVis IndoorViewer already, sign up for your free trial today.
2. NavVis M6 IMMS
Also required is a point cloud captured using the NavVis M6 IMMS. The NavVis Mapping software suite includes all the software packages used during mapping and for post-processing the recorded datasets. Post-processing produces point clouds, panorama images, and other artifacts from the data recorded during mapping. If you're not yet familiar with the NavVis M6 IMMS, you can book a demo of this powerful mobile mapping system for indoor environments.
Generating digital floor plans
After uploading the point cloud to NavVis IndoorViewer, you can proceed to create, add, and remove 2D maps from the dataset management settings.
If the respective options are available, you can find the buttons for doing this in the Advanced drop-down menu to the right of the dataset name.
Go to Settings > Dataset Management.
Open the Advanced drop-down menu.
To create new 2D maps, click Create Maps or Recreate Maps.
Click Remove Maps to remove them.
Click Add Maps to add them.
Advanced customization features for your interactive floor plan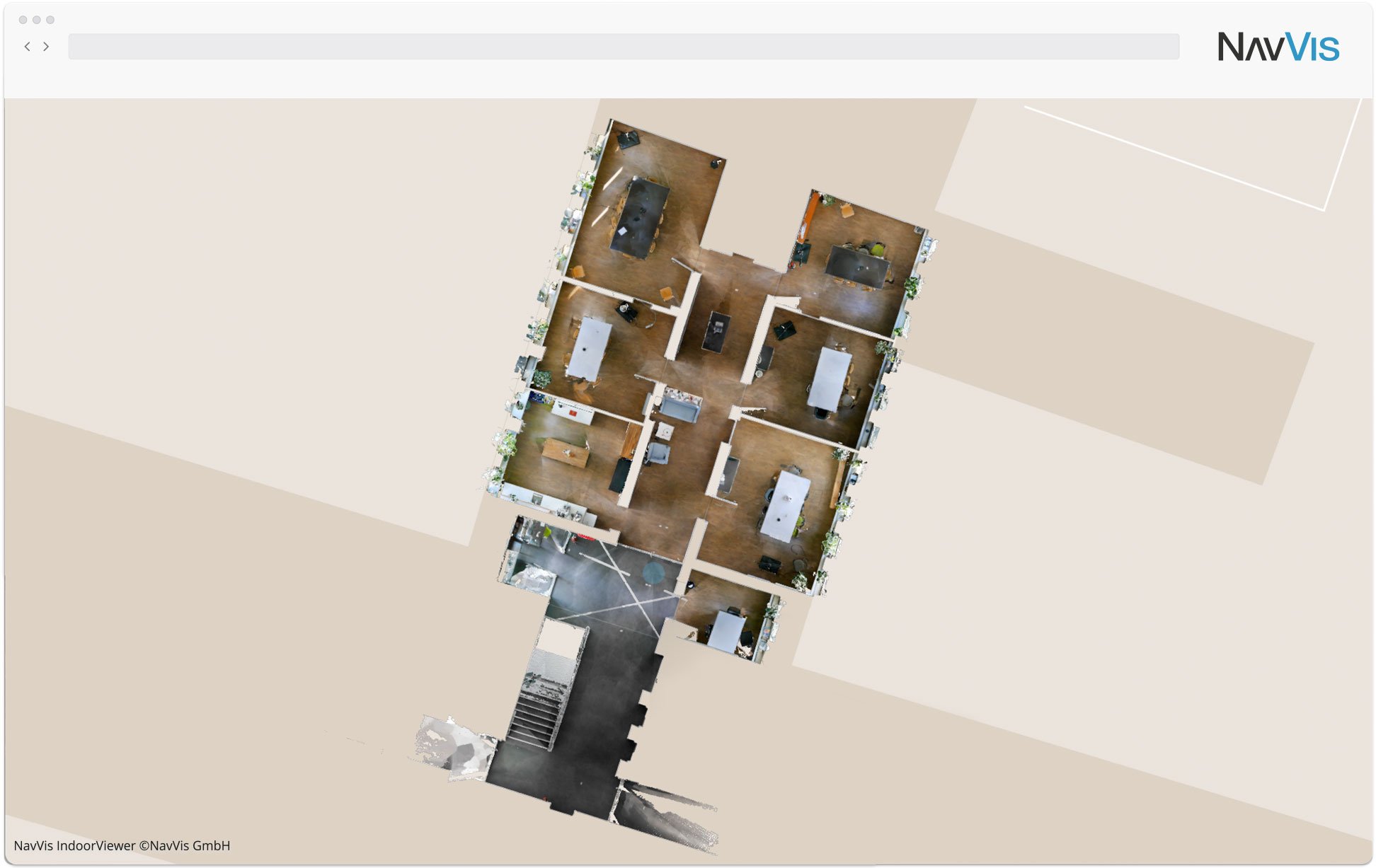 In addition, you also have the option to display 2D maps as either simple or as colored maps.
A simple map is a black and white outline of the floor plan, whereas a colored map is a highly detailed floor plan in full color. This latter option is highly recommended to make your interactive digital floor plans really pop.
Both simple and colored 2D maps can be generated automatically from your point cloud data. To change your map style, follow these steps:
Go to Settings > Dataset Management.
Open the Advanced drop-down menu.
Click on Recreate Maps.
Choose Simple Maps or Colored Maps.

Another option is to download a floor plan, customize it using the CAD or photo editing software of your choice, and re-upload it to NavVis IndoorViewer. It's useful for adding text labels and shapes to the original floor plan if you so desire.
NavVis IndoorViewer also supports Vector Maps with geo-referencing coordinates, a handy feature for positioning your digital floor plan in the context of more than one building or surrounding site.
Managing interactive floor plans has never been easier
By now, you should be able to see how simple and straightforward it is to create and manage interactive digital floor plans using NavVis IndoorViewer. Making the transition from sheets of paper to digitalized representations opens up new possibilities for efficiency and collaboration.
That's not the only standout feature of NavVis IndoorViewer, either. Not by a long shot. Stay tuned for more blog posts in the series about the unique ways our outstanding software solution can enhance the great indoors.
In the meantime, if you're curious to learn more about either the NavVis IndoorViewer or the NavVis M6 IMMS, sign up here for a free trial or arrange a demonstration. We look forward to hearing from you.