Using NavVis IVION Enterprise (previously known as NavVis IndoorViewer), factory planners have a powerful, easy-to-use tool to remotely investigate production sites and plan equipment changes.
A standard practice in modern manufacturing is that production facilities are situated close to target markets or end-customers. But if your market is going through periods of volatility, where demand can suddenly rise and fall, production facilities need flexibility to allocate their manufacturing equipment.
To transfer resources within a global network, a central planning team will frequently evaluate their entire stock of machinery, e.g., large heavy equipment and assembly lines. The information they provide feeds into the logistics of transportation, organization, and installation of such equipment.
For this reason, planners need up-to-date CAD (computer-aided design) data of both the donor factory and the recipient. They'll also need access to the latest documentation and evaluation on the condition of the equipment. And once the facility is disassembled, it's critical to know how to put it all back together at its destination!
Without proper documentation, planners may need to physically travel to the location to assess the status quo of the factory. If they can't gather information in person, central planning teams may fall back on old and outdated 2D plans. This leads to further disruptions in operations and the delay of essential changes.
That's where the NavVis Digital Factory Solution enters the picture. Using NavVis IVION Enterprise, 3D visualization software that's accessible from any standard web browser, factory planners have a powerful, easy-to-use tool to organize their assembly lines and install equipment.
Moving production closer to a high-volume customer
Let's explore this particular use case through a detailed scenario; imagine that a CNC mill needs to be relocated to another factory so that production can be moved closer to a high-volume customer.
To begin, the measurement tool in NavVis IVION Enterprise enables users to quickly and reliably verify the space required for the machine by checking its physical dimensions at its current location – all from the comfort of their desk.
Once taken, the measurements and any other bits of relevant information can be attached to this specific location as geo-tagged content using the Points of Interest feature, together with a direct link to the new location in the recipient factory.
With this set of measurements readily available, the factory planner can now review the dimensions at the new site and confirm whether the CNC mill will comfortably fit without any issues.
Other considerations like ventilation ducts or electricity supply cables can be also be reviewed by studying the high-definition panoramic images from within NavVis IVION Enterprise.
The proposed location is then tagged with a shareable Point of Interest and linked back to the original location.
Another benefit of NavVis IVION Enterprise is the way it can deliver routing information from within a spatial context. Before taking a single step, the proposed routing for both stages of the equipment can be shared with internal and external stakeholders for inspection, together with all relevant information that will accelerate decision-taking.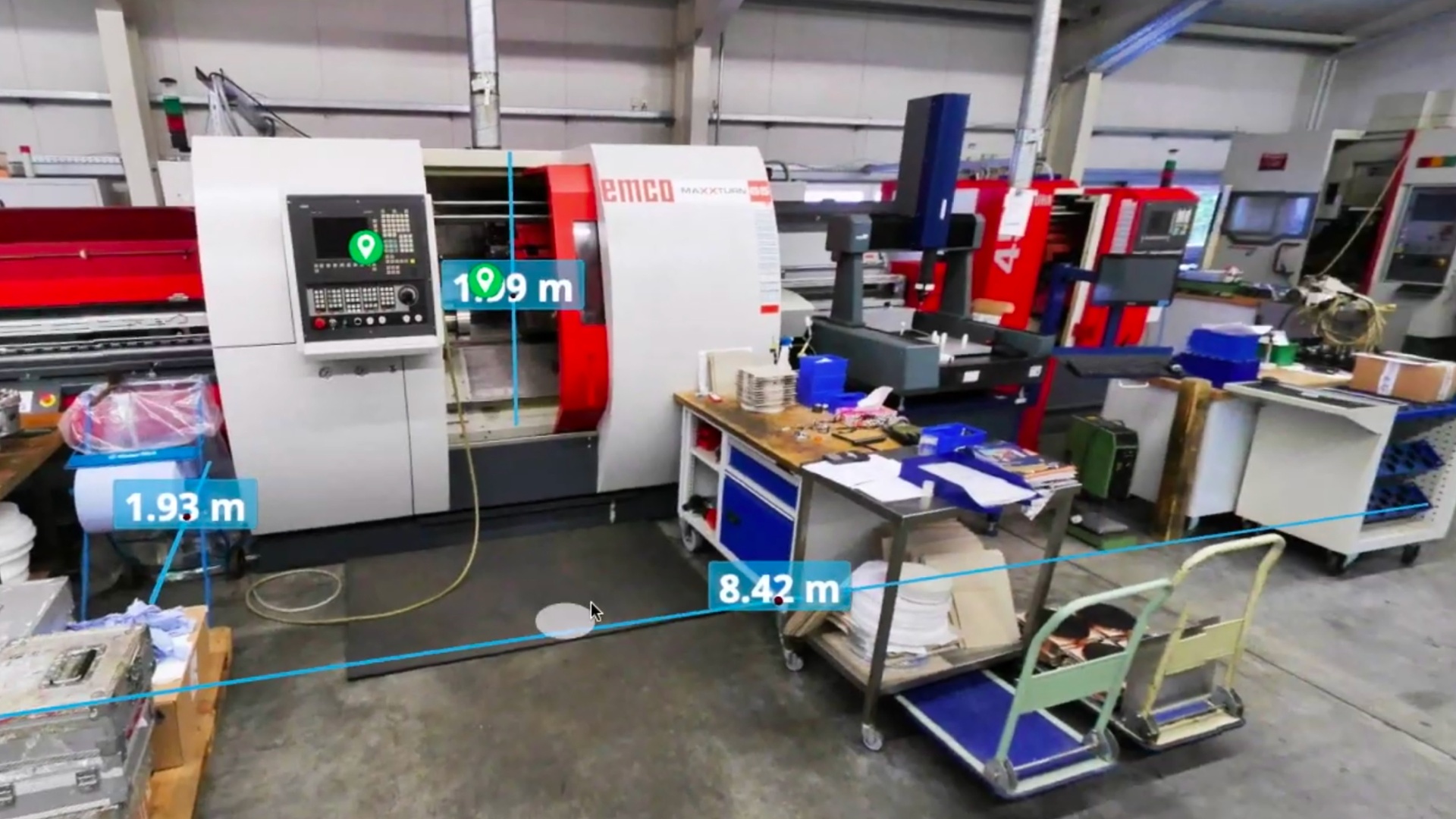 3D data as high-quality point clouds
In addition to the immersive panoramic images, the NavVis Digital Factory Solution also consists of 3D data as high-quality point clouds.
NavVis IVION Enterprise has a popular feature where users can crop and download specific sections of their point cloud datasets as an E57 file. This selection can be sent directly to the relevant teams and imported into third-party applications for modeling and simulation.
Layout concepts can be verified quickly and smoothly without the need for extensive modeling, simply by introducing point clouds directly into CAD software. This is especially valuable when examining fitting feasibility, considering the equipment in the context of its surroundings, and bringing stakeholders into alignment before anything is moved.
What about other related tasks like document compliance, training for new machine operators at the new location, or repairing and replacing worn parts? These activities can also be supported by the immersive visualization of NavVis IVION Enterprise, thanks to a suite of features that enhance collaboration.
In this way, the NavVis Digital Factory Solution to relocate equipment helps to not only reduce planning and travel time, but also the cost of external relocation service providers, while at the same time eliminating the risk of planning mistakes that lead to costly disruptions to production, or delays in starting up the relocated machines.
Ready to learn more? Download our new guide, Taking the next step towards your digital factory, where you'll find further information about implementing, using, and benefiting from digital twin technology in global manufacturing.