Read this month's NavVis Employee Spotlight where we spoke with Alex Klein, an engineer working on our cutting-edge laser scanning hardware.
People are at the heart of NavVis. We're much more than the innovative technology we've developed; we're a dynamic, culturally diverse, close-knit group working together to achieve remarkable things. That's why we launched the NavVis Employee Spotlight. We're showcasing to future candidates what life is like at NavVis, and the inspiring people with whom you could collaborate.
In this edition of our series, we spoke with Alex Klein, an Advanced Mechanical Engineer who has held many positions across the Design & Engineering (D&E) team since starting at NavVis in 2016. From a working student to a knowledgeable, reliable member of the mechanical engineering squad, he tells us about how he got to where he is today, and the role Lego played in that journey!
Q: Tell us a little bit about your background and how you got to where you are today.
I think there were a few pivotal moments in my life that led me to where I am today. I wouldn't say that I planned it as many people do, but I knew that whatever I did, I wanted to be good at it and have fun while doing it.
When I was younger, all I wanted to do was design Lego sets (mostly because I enjoyed playing with them). As I got older, I made the transition from building spaceships by stacking little plastic bricks to designing high-tech equipment by designing and screwing together milled aluminum parts. I realized what I was doing as a kid is not so different to what I do now.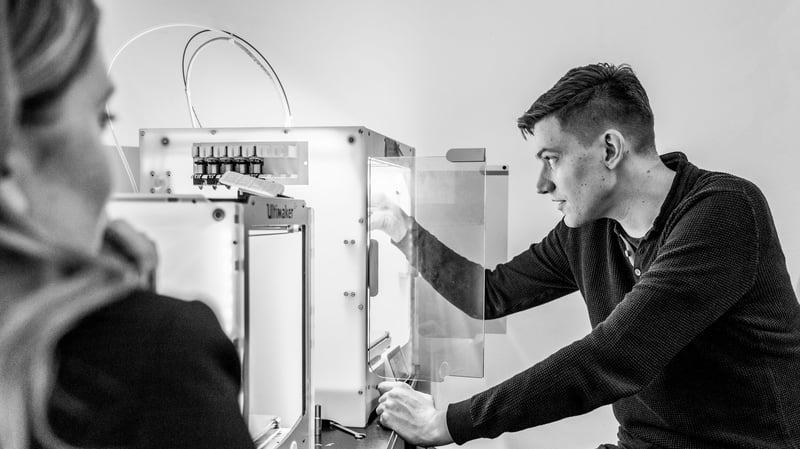 In general, I always found it fascinating to fix technical problems with the simplest solutions I could find. My mom taught me at a young age that you can fix a lot with nothing but wire. And as it would appear, that's pretty much exactly what a mechanical engineer in development does – finds clever solutions to complex problems.
Q: How did you find your way to NavVis?
My path to NavVis was actually set in motion before the company even existed, and without me even knowing. Back in 10th grade (around 2010), I joined an extracurricular activity which was a group project to build a robot that could autonomously map any given environment. Sound familiar?
This after-hour course eventually transitioned into a project seminar, which makes up a large part of your high school grade in Germany. It was titled DORO, short for documentation rover, and was financed by Munich Airport. My school was in charge of the autonomous driving unit of the rover, and it was so successful, it even received a prize.
Fast forward to 2016, I was talking to a friend about drones and laser technology, and how much cooler the future will be with this kind of technology. He then told me about this startup he had recently joined, and I happened to be looking for a working student position at the time. That's how I found NavVis and the rest is history.
Q: What was the transition like from a working student to a mechanical engineer?
After I finished writing my bachelor's thesis with NavVis, the team was unfortunately not in need of more product developers. There was, however, a new role that was offered to me because I had already been in a similar role as a working student. The idea was to create a position between production and development. Someone to communicate the needs of the assembly team to the developers and in return, train and support the assembly team with deeper knowledge from the developers' side. And thus, I started as NavVis' first-ever production engineer.
The production support team grew over the next years, cementing its position as an integral part of production at NavVis. During this time, I took over tasks like creating manufacturing documents for our suppliers and assembly drawings for our team. I learned a lot during this time and was lucky that the incredible people that I worked with were forgiving when I made mistakes and were supportive as I grew into this new role. After all, I came fresh from university and was as green as grass.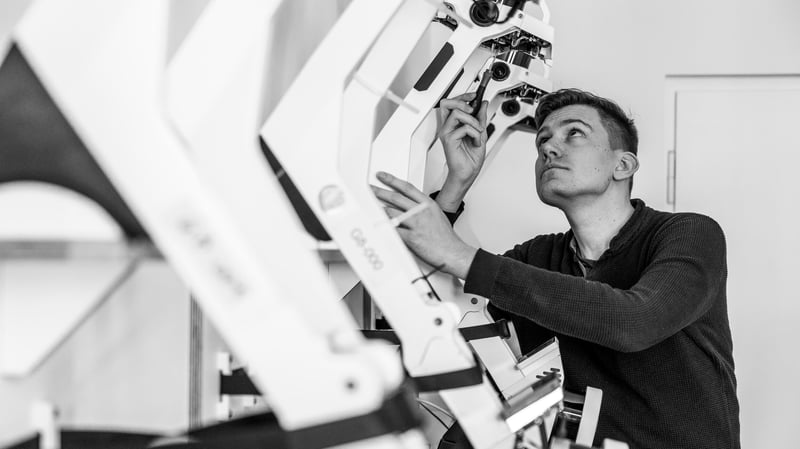 After about 3 years I had reached a crossroads and had to decide: should I grow into an expert role in process development, or should I become a product developer? Both choices had a lot of potential, but I knew that I wanted to work more creatively and help shape the future of NavVis' hardware. So, I took the leap from production to mechanical engineering. I was finally where I belonged. And green as grass again – well, maybe a little less green.
Q: Take us through a typical workday for you.
Working at NavVis, I don't think I've ever had a typical day due to the sheer number of different projects and challenges we take on. There is one thing that's the same every day though – I start the morning with a large mug of nougat bits (yes, mug, it's really the perfect size). Then I tackle current projects. This could consist of designing mechanical components for the next big release or 3D printing the latest prototype of a new part to see if it works as we intended.
Even though I normally don't have a calendar full of meetings, I do still get called upon a fair bit during the day. There might be a problem with a recent delivery of parts, or a colleague needs input for their new solution. This is a really cool part of my job. We all have the chance to help each other, and you can ask anyone for advice and input on your projects.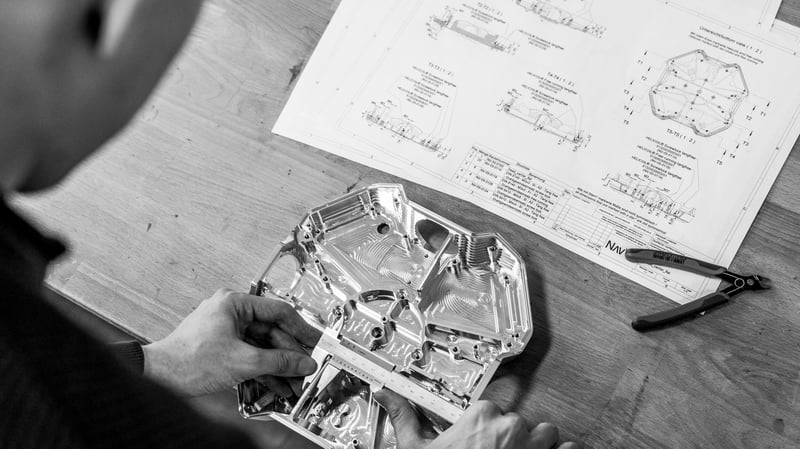 "Cross-team collaboration makes the office a lively place which makes me super happy to come in every day and work with these great people."
The afternoon is when I get most of my tasks done. I finish production drawings, set up the next 3D print, or read up on some new material that might help us get leaner. Learning and growing are big aspects of life at NavVis. When I leave the office, I usually have the feeling that my work has an impact on the grand scheme of things.
Q: How important is mentorship for your team?
I attribute the reason why I'm still here today to the mentorship I received as a working student. From the beginning, I have had amazing people by my side who shaped me into the person I am today.
Micha, my supervisor from day one, was and still is a tremendous mentor and guide. He showed me how to work with our CAD system, how to engineer without over-engineering, and even taught me how to write professional e-mails to our suppliers (which I had dreaded before). I'm still consistently learning from him, and I can't name a more patient and kinder person.
Another mentor I have here is Daniela, our Head of Production. She was my supervisor while I was a production engineer and has a quick wit and critical thinking skills that are quite rare. Under her guidance, I learned how to be more professional and how to position myself as the go-to expert for our assembly team when it came to mechanical issues.
These two people were the most influential in my case, but in general, there are many admirable people at NavVis that teach and guide others every single day.
Q: What advice do you have for people who are interested in pursuing a career in engineering?
I can only speak for mechanical engineering, but if you are somewhat interested in this field, I would say to go for it. We definitely need more engineers, and although it is challenging at times, it is extremely rewarding. There is nothing like seeing a concept you designed go from simple sketches to 3D-printed prototypes to a final product cut out of aluminum or steel for the first time. It brings me back to being a little kid opening up a new Lego set on Christmas morning.
Q: What is something that might surprise us about you?
I'm not the most athletic person – but I was once crowned "ball king" at a winter dance at my school in my hometown. The best part was that the person I went with was not chosen as the queen, it went to a friend of mine whom I was dancing with a lot as both of our dance partners had tired feet. We learned the complementary steps for a couple of dances and were a sight to behold as we danced the tango across the floor.
Do you want to join Alex in a flexible, dynamic, inspiring work environment? Check out our open positions, we are hiring across all departments!