Find out more about NavVis's cooperation with Haier and the details of the Best Channel Co-creation Cooperation Award.
At the beginning of the 2023 New Year, NavVis ushered in the first good news of the new year. Haier awarded NavVis the 2022 Haier External Ecological Partner Innovation Award - Best Channel Co-creation Cooperation Award. This award achieves a new breakthrough in NavVis digital twin technology, propelling it to a new level in the field of mobile mapping and further deepening the friendly relationship between NavVis and Haier.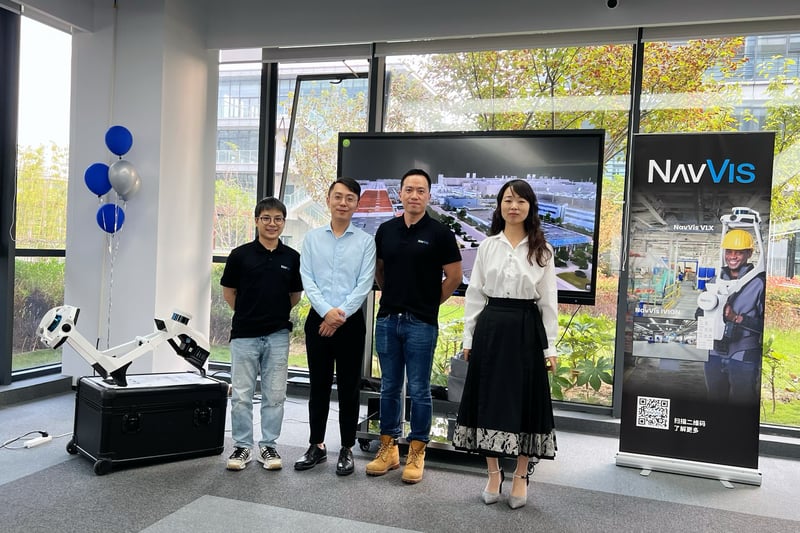 Award background
Although the cooperative relationship between NavVis and Haier has only been more than two years, NavVis has continuously recommended and introduced a series of new technologies, new methods, new resources, and new channels to Haier Industry, achieving remarkable results in solving at least two technical solutions or product innovation problems for the industry, and promoting the improvement of industrial capabilities.
COSMOPlat, Haier's industrial Internet platform with independent intellectual property rights, is an enabling platform for multilateral interaction and value-added sharing. During the cooperation, KAOS introduced NavVis' world-leading laser scanning equipment, and the two parties carried out innovative applications of 3D scanning based on SLAM technology to complete the detection and digital construction of physical space.
The two sides make full use of each other's advantages and leading positions in the industry to help in project development and project implementation. It is worth mentioning that NavVis has excellent overseas network capabilities, which plays an important supporting role in the cross-border application and project implementation of technology, and helps Kaos in key overseas technologies and international channels.
The history of cooperation between the two parties
September 2020
At the 2020 International Industrial Internet Conference and Digital Industry Series Summit, Kaos COSMOPlat signed a strategic cooperation agreement with the "Sino-German co-creation" partner Nefinz NavVis.
October 2021
At the parallel forum "Industrial Internet Ecological Innovation Summit" of the 2021 World Industrial Internet Industry Conference, CEO of NavVis spoke as an ecological partner to express the achievements and honors of cooperation with Kaos.
2022 to present
The two sides have gradually achieved results in technological innovation, project application, and domestic and foreign team cooperation, and new products have been recognized by industrial customers, public institutions, government customers, etc., and there are more than 20 project cases.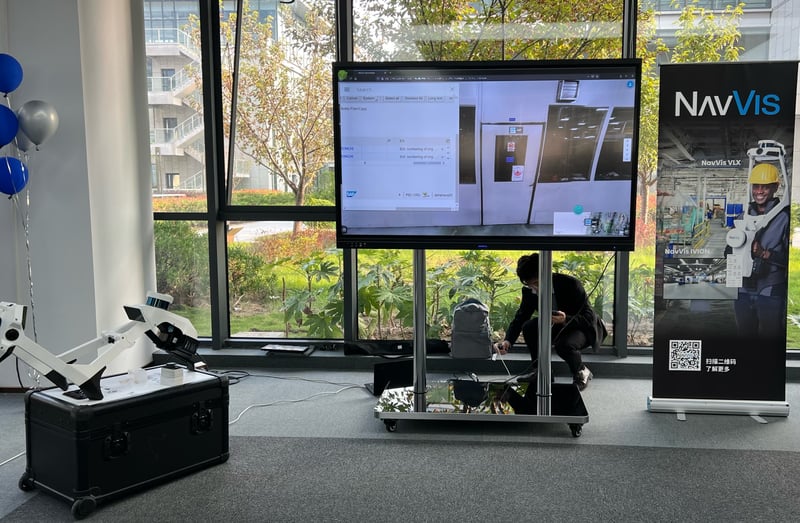 The basis for a win-win cooperation
NavVis is an international ecological partner of Kaos' "Sino-German co-creation" and has created a digital solution for HaiTwin Space by introducing leading equipment and key overseas technologies. As an "open, value-added, and shared" platform, Kaos and NavVis have reached a consensus on product technology, project support, and resource sharing to jointly serve China's digital transformation market.
The respective advantages of Haier and NavVis are also the cornerstone of win-win cooperation between the two parties. After NavVis won the 2022 Best Channel Co-creation Cooperation Award from Haier, we had the opportunity to interview the relevant leaders of the two companies, Mr. Chen Peng, Director of Haier Digital Technology Solutions, Ms. Chen Xianxian, Marketing Director of Haier Digital Technology, and Mr. Yang Ziyi, CEO of NavVis Greater China.
Q: Why did NavVis win this award?
Chen Peng: First of all, congratulations to NavVis for winning the Haier Group Best Channel Co-creation Cooperation Award! Since the signing of the strategic cooperation between CAOS COSMOPlat and NavVis in 2020, the two parties have achieved remarkable results in technological innovation, project application and team cooperation, and have successively explored and practiced in multiple application scenarios such as industry, cultural tourism, and urban governance, and derived a series of product solutions, and there are currently more than 20 model project cases, which have been widely recognized by customers. It is hoped that the two sides will continue to deepen cooperation in multiple fields in 2023 and jointly help the digital transformation of Chinese enterprises!
Q: What are your experiences working with NavVis from the perspective of the marketing department?
Chen Qianqian: NavVis is a "Sino-German co-creation" partner of Kaos COSMOPlat, and through the establishment of an open international cooperation system and the integration of overseas leading technologies and products, the cooperation between the two sides has truly achieved complementary advantages and value-added sharing! During the two-year market cooperation, the two sides jointly held events and exhibitions, carried out media publicity, and explored more industry application scenarios through joint promotion. It is hoped that the two sides will continue to deepen cooperation in 2023, improve the level of technological innovation and global service capabilities, and jointly empower the transformation of the national and even global manufacturing industry.
In the interview, Mr. Yang Ziyi, CEO of NavVis Greater China, commented, "Haier Cosmoplat is a pioneer and industry leader in digital transformation, with thousands of customers and hundreds of solution partners. The leadership team is visionary and the employees are passionate about their mission. Together, we identify use cases and create solutions tailored to the Chinese market and customer needs. I always feel very happy working with a professional, responsible team. Looking ahead to 2023, together with Haier, we will expand our successful use cases in the field of digital factories. NavVis is honored to be part of Haier's innovation and contribute to Haier's success in China's digital transformation to achieve a win-win situation."
Case sharing
Finally, we share the success story of Haier and NavVis. NavVis provides Haier with 3D scanning based on SLAM technology for space detection and map reconstruction is a low-cost and efficient digital twin technology, Haier provides an open tool platform, this solution can dock with IOT, intelligence, information systems. It can be widely used in scenarios such as smart factories, smart parks, buildings, digital museums, and commercial complexes. In other words, users can truly achieve "7-day factory pocket" with NavVis digital twin technology. It only takes 1 hour to scan, 1 day to preview, and 1 week to complete.
Cosmoplat AI Digital Twin - Industrial Intelligence Team
The team has more than 10 years of senior experts in the fields of industry, energy and major equipment, and the team members cover product development, project management, solutions, etc.
NavVis
BUILD BETTER REALITY — Bridge the gap between the physical and digital worlds through reality capture technology that provides the digital foundation for the world you want to live in. We supply fast, reliable spatial data to service providers and enterprises seeking to capture photorealistic digital twins of the built environment. And our digital factory solutions enable greater organizational operability, productivity, agility, and profitability. Headquartered in Munich, Germany, and with offices in the United States, the United Kingdom, and China, NavVis serves global customers across the surveying, AEC, and manufacturing industries. Learn more at www.navvis.com.