Crew-B uses NavVis VLX to scan multiple sites in a single day
Connecting real estate with BIM for the European market leader in fitness gyms, Crew-B has developed the perfect scan-to-BIM workflow with NavVis VLX.
Key takeaways
NavVis VLX is perfect for rapidly capturing multiple sites, scanning up to 15 locations in a single week, or 45,000 m2 a month.
With their scan-to-BIM workflow, Crew-B has optimal data quality to create BIM models with LOD (level of detail) 300.
The compact design and storage of NavVis VLX is ideal for traveling between different locations.>
The Cloud Processing Add-on for NavVis IVION crunches through data sets while members of the team are still on the road.
The company plans to scale up by investing in more technicians and NavVis VLX units as the business grows.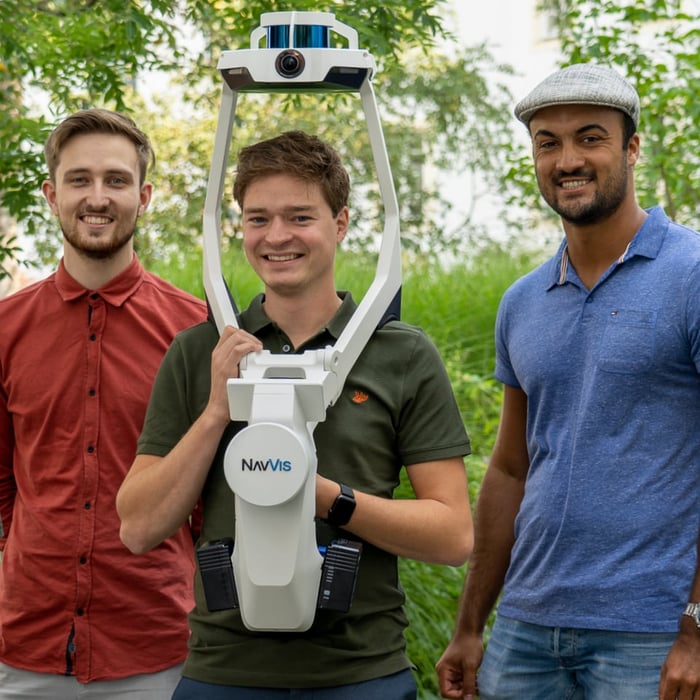 BIM for a healthy business
Crew-B are a trio of young entrepreneurs with a clear purpose – to connect real estate with Building Information Modeling (BIM). Based in the Netherlands and operating all over Europe, Matthias Louwerens, Twan Burger and Jorginho Kors are trained specialists providing exceptional BIM and reality capture services since 2018.

One of their biggest clients is the European market leader in the fitness market. With more than 2.2 million members and 905 locations in the Netherlands, Belgium, Luxembourg, France and Spain, the fitness chain has a property portfolio of at least 1,000,000 m2 and growing.

Crew-B won the business by demonstrating how BIM models made with Autodesk REVIT could be used to efficiently plan the floor layout of gym equipment and more besides, with additional applications like asset management and facilities management.
Scanning around the clock
The client is converting their gyms to 24-hour operation and Crew-B's brief is to provide BIM models that support data administration and the rollout of multiple upgrades. Examples of these improvements include first aid-stations, security camera coverage, and fire exits. Crew-B were initially tasked with delivering BIM models for 430 sites, but the scope of the project has grown to provide as-built documentation for all 905 locations.
But the work doesn't stop there. The client is opening an average of three new sites a week across all five markets, with an ambitious goal to expand to 4,000 clubs across Europe. Crew-B provides additional services by surveying newly acquired sites for development into fitness clubs. In effect, they're bringing both existing and new property assets into standardized BIM documentation.
Striking a balance between accuracy, speed & scale
Crew-B is rapidly scaling up their business to meet the expectations of their client. Where previously they took measurements of a site by hand, they needed more efficient methods to capture the data for creating their BIM models in Autodesk REVIT.
The challenge in mapping an indoor space like a fitness gym, however, is that it's an environment where GNSS (global navigation satellite system) is denied. Satellite signals for positioning are obstructed or weakened indoors by things like concrete, pipework and wiring. And without an absolute reference, surveyors need another means of creating very reliable or accurate reference points indoors.
Laser scanning devices can bridge this gap. Researching the market, the team could choose from devices capable of tying into measurement points projected into the GNSS-denied area, or a device featuring SLAM (simultaneous localization and mapping) technologies. Either way, it becomes possible to create BIM models using high-quality data from point clouds generated with a laser scanning device – a process otherwise known as scan-to-BIM.
Evaluating their options, the team found terrestrial laser scanners were too slow to setup for scanning at volume, while handheld laser scanners didn't have the required level of accuracy. But then came the launch of a new wearable mapping device offering survey-grade accuracy: "NavVis VLX is absolutely the best tool for the job," says Twan Burger, "providing the right balance between accuracy, speed and scale."
Best of all, because NavVis VLX has both SLAM capabilities and can tie into measurement points in GNSS-denied environments, it's even accurate and resilient to drift than other SLAM devices on the market.
"We alternate our working weeks between scanning and BIM modeling, and we spend of lot of time traveling. We can now scan more clubs in a single trip, scanning about 15 clubs a week on average – the most we scanned was six in a single day. Where one club is an average of 1,500 m2 in size, it means we're scanning roughly 45,000 m2 a month."

Twan Burger

Co-founder, Crew-B

Dynamic object removal delivers a clean point cloud
All of the team are impressed with NavVis VLX, citing many features such as the ability to scan at the speed of walking, the high quality of the data they've captured, and the usability that enables them to pause scanning or use the screen to verify that no areas have been missed.

Features like dynamic object removal are also incredibly valuable when scanning a fitness club that's operational 24 hours around the clock. "Members use the gym at all hours of the day, moving from machine to machine," says Matthias Louwerens, "so dynamic object removal is really useful for delivering a clean point cloud."

And with so many sites that require both scanning and modeling, every member of the team is completely hands on with the project. That means it's also helpful when Crew-B can minimize the amount of time spent traveling and the costs incurred.
"Proof of value for 3D models over 2D floorplans is that the height of the room doesn't always accommodate the gym machinery. It's very expensive to ship a heavy machine to another country and then find out afterwards that it doesn't fit in the gym."

Matthias Louwerens

Co-founder, Crew-B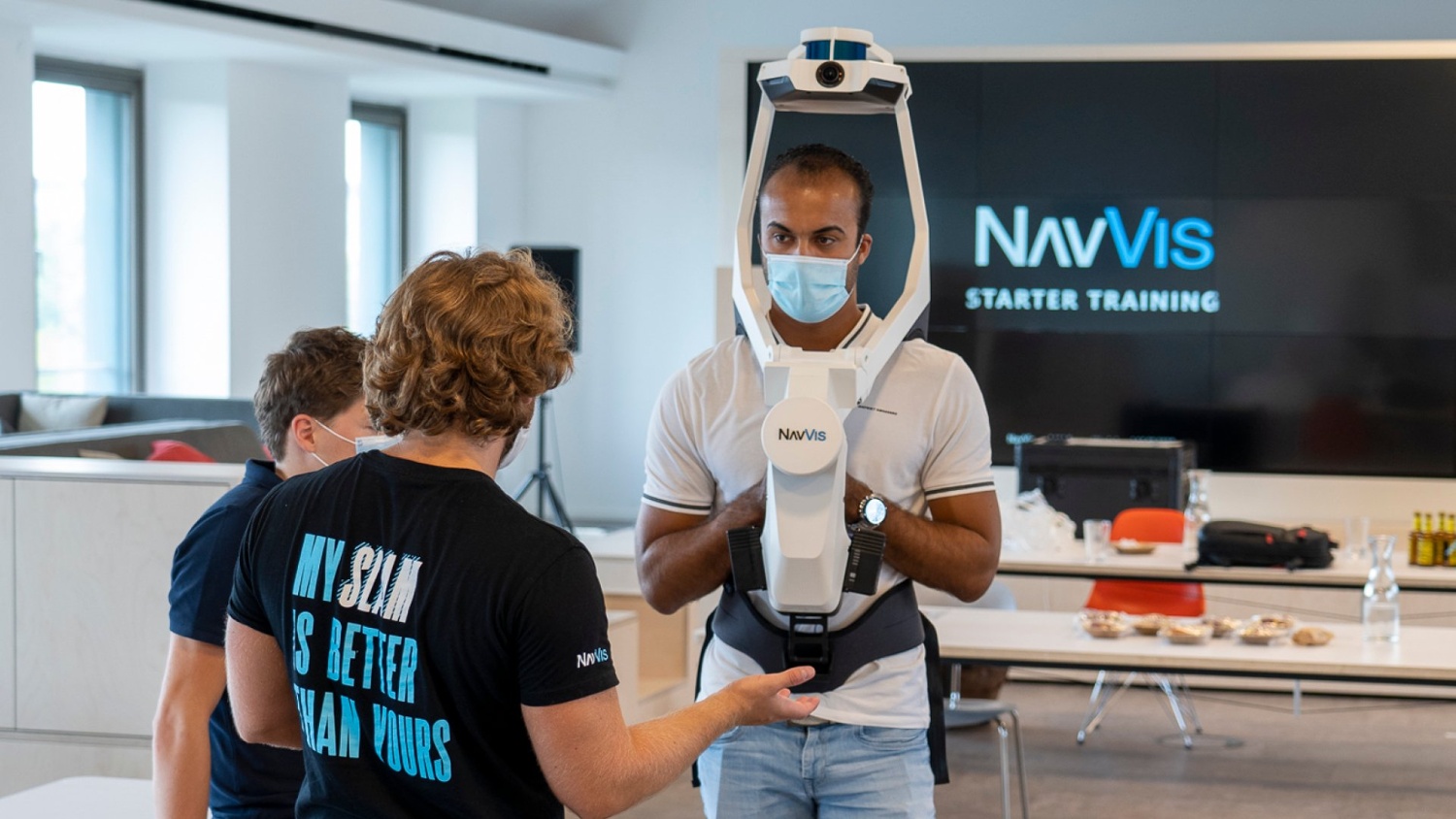 Delivering a better product
Every club that's scanned is hosted on NavVis IVION, and the team makes use of features like the measurement tool, panoramic photos, and automatically generated floorplans. They've also started using the new Cloud Processing Add-on for increased efficiency with data crunching while on the fly. "When you want to be quick, the cloud processing tool is what you want," says Twan.
Plus, Crew-B continue to make extensive use of Autodesk REVIT for their BIM models, importing the point clouds and panoramic images into the software to create 3D models, 2D floorplans, and building layers with up to LOD (level of detail) 300 for information concerning the site, building structure, and space plan. Their client no longer needs to physically visit each gym; now they can inspect each location remotely.
In total, the team finds that scanning with NavVis VLX is at least three times faster than other methods. "It's far more complete and far more accurate," says Jorginho Kors. "You deliver a better product to your client, of a greater quality, which we expect will unlock more customers for us down the road."
Looking to the future, as Crew-B expands as a business, they intend to take on more staff – and perhaps wearable mapping devices – to assist with the workload.
"NavVis VLX is so easy to use, we're confident that we'll be able to hire more technicians and quickly train them for scanning sites."

Jorginho Kors

Co-founder, Crew-B