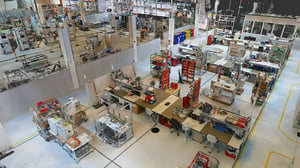 Elabo upgraded with a digital factory solution, powered by NavVis
Elabo is a leading provider of specialist technical workstation systems for electrical engineering and electronics. For the expansion of their manufacturing and training facilities, the company worked with iPO and NavVis to create a digital factory solution and improve the planning process.
Task
For almost four decades, Elabo has been a leading provider of specialist technical workstation systems for electrical engineering and electronics. The company designs, manufactures and installs these systems, and trains workers on how to use them.
Part of the company's vision for future innovation is to become a provider of digital factory solutions. Ahead of an expansion of their own manufacturing and training facilities, the company decided to design and plan the new facilities in a digital model, with the aim of not only creating a digital twin of the factory but also eventually providing their customers with a similar service.
Challenge
Due to increased demand for its products, Elabo decided to expand its manufacturing facilities. The total space after the expansion will be 14,000 square meters. To expand production, new machines needed to be added to increase operations and existing machines needed to be relocated. The company wanted to use a digital factory solution to improve the factory planning process.
Designing, planning and testing in a virtual environment generally has many proven benefits. Firstly, it can provide significant cost and time savings that result from reduced international travel to overseas facilities. Secondly, capturing as-is conditions to create a digital twin helps to avoid costly delays caused by out-of-date documentation during the planning phase.
But implementing this change can be a daunting task – it requires up-to-date information, a digital model and teaching employees how to use it. Moreover, especially in factory planning, a highly detailed model is required that shows all of the equipment.
Perhaps the biggest challenge in taking factories digital is how to even get started. Digital models offer many benefits and a potential solution but usually involve advanced knowledge, access to CAD software and a lot of modeling work. Elabo wanted something that they could use themselves but also offer their customers as a service in future.
Solution
Elabo chose the NavVis IndoorViewer and IPO.log software integration as a combined digital factory solution for their expansion. The solution covers everything from scanning, to visualization and simulation. Importantly, it also overcomes a key barrier for many manufacturing customers when considering the implementation of a digital model: efficiently capturing the as-is factory data needed to develop a digital twin with minimum disruption to production.
Process for setting up a digital factory
Scan the facilities using the NavVis M6 indoor mobilemapping system: 14,000 square meters were scanned in 6 hours, meaning disruption of production was minimal.
Examine the as-is conditions: using the point clouds and 360° panoramic images displayed in NavVis IndoorViewer, the team was able to assess the current state of the facilities.
Integrate as-is data into factory planning software: the highly detailed 360° panoramic images were used for verification while modeling the new facilities. Furthermore, point clouds captured by M6 were imported into IPO.Plan simulation software to create a realistic representation of machines in the planning software.
Plan the new facilities: accurate data allowed Elabo to be confident in the digital model. IPO.Plan software enabled Point cloud of Elabo factory scanned with NavVis M6 them to optimize workflows before making any physical changes to the shopfloor layout.
Streamline communication: both NavVis IndoorViewer and the digital factory model in IPO.Log were used to facilitate transparent communication among management, the Board, workers, union representatives, and Plant Safety Officers, enabling the Elabo project team to show rather than describe plans.
Implement changes: once the model had been optimized and the new plans signed off on, the new factory was set up and changes were made to the existing facilities.
Repeat scanning: once the new facilities and move are complete, the scanning will be repeated to verify that the plans have been implemented correctly.
Result
The hybrid solution consisiting of NavVis IndoorViewer and IPO.Log turned out to be exactly what Elabo needed to transition to working with digital factories. The factory planning team was able to plan the move, equipment relocation and new workflows in a highly-accurate digital model. This resulted in a shorter implementation time and a much smoother transition. They were also able to ease the transition to new facilities for workers who could now familiarize themselves with the new set up in the digital twin before the site was even ready.
Finally, they ended up with a model that can quickly be updated on a regular basis, which continues the optimization and planning of workflows, and breeds innovation by providing a place for planning and testing improvements. The team at Elabo is also now equipped with all the tools needed to help its customers make a similar transition to a digital factory.
Added Value / Impact
As-is documentation: the NavVis indoor mobile mapping system gives users an efficient way to capture the data needed to create and update digital factories.
Factory planning and equipment relocation: using NavVis M6 data and IPO.Log software meant that the factory workflow could be planned and tested in a digital model.
Virtual training: every shopfloor worker can use NavVis IndoorViewer to virtually walkthrough the building, add and search for information, and even take measurements. This makes IndoorViewer the perfect tool for onboarding new employees or familiarizing existing employees with a new work environment.