Mobile laser scanning technology is well on its way to become a key enabler of seamless BIM workflows and a fast Scan-to-BIM process. In this blog post, we explore how 3D laser scans help record internal and external environments in high detail.
Scanning technology is becoming a critical function of integrated Building Information Modeling (BIM) workflows. It improves the process of capturing existing buildings and converting the data for use in intelligent design software – often referred to as Scan-to-BIM.
This emerging field has come to rely on the use of static 3D laser scanners to record internal and external environments in high detail, ready to import into BIM authoring tools like Revit or AutoCAD.
However, recent advances in scanning hardware, such as mobile laser scanners, and advanced software and other processes are helping usher in a new level of scanning utilization for the industry.
Today it is possible to generate 3D scan data for BIM that is not only accurate and reliable. But it is also turned around as fast as possible, covering vast environments, available in multiple formats and providing more functionality than simple 3D coordinates.
Capturing mass data via fast scanning processes
In outdoor surveying, drones fitted with scanning equipment provide a convenient method of capturing large construction or infrastructure projects. They do the job in a fraction of the time and cost associated with using humans to move and set up static laser scanners at numerous locations.
The potential of the tech was demonstrated in the UK. Unmanned SUAVs were deployed to quickly map 230km of the planned High Speed 2 train route from London to Birmingham. This made it one of the largest drone surveying jobs in the world.
Digital topographical surveys were needed to plan enabling works for phase one of the £53 billion project. Using traditional static 3D laser scanners would have taken several months, requiring workers to cross hazardous terrain. The autonomous drones, meanwhile, completed the job in just three weeks capturing a massive 18.4 billion data measurement points.
Mobile laser scanning in places with no GPS signal
In indoor environments, the application of simultaneous localization and mapping (SLAM) technology has opened up the potential to use mobile laser scanning systems in places with no GPS signal.
SLAM was originally developed for robotics applications and allows mobile devices equipped with sensors to incrementally build a map of their environment and pinpoint their location within it. Measurements are recorded and chained together to estimate the device's real-time movement and build a map.
The tech utilizes algorithms to automate the positioning process that normally requires surveyors to reposition static scanners every time they scan at a new location. Mobile scanning solutions that use SLAM, such as the NavVis M6 indoor mobile mapping system (IMMS), can therefore offer time savings in large indoor environments. At the same time, they deliver a point cloud quality that meets the requirements for BIM modeling.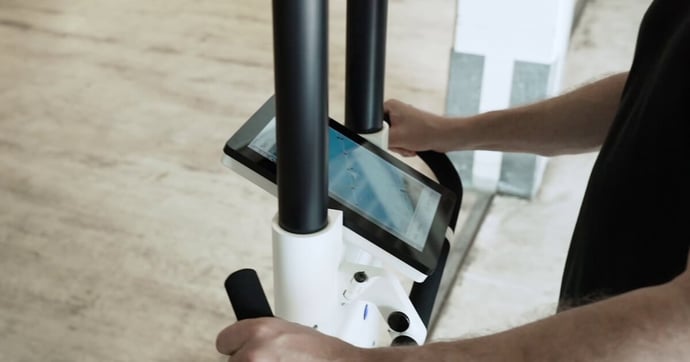 NavVis M6 displays live scan data during the mapping process
Advantages of reality capture for Scan-to-BIM
The process of converting scan data into geometric BIM objects can be a cumbersome and time-consuming process. Data-rich point clouds can become huge and unwieldy requiring powerful CPUs to process.
In what is commonly known as the post processing or 'registration' stage, human designers must stitch together data from multiple point cloud files. Then they build object models that reference the point cloud in BIM authoring software. For existing buildings, images or onsite visits are often required as well because sometimes the point cloud will not include important details, such as what type of material the window frame is made out of.
But new software and techniques are being developed to accelerate these processes, relieving pressure on surveyors and building design teams.
Mobile reality capture technology such as the NavVis M6 IMMS not only accelerates point cloud data capture. It also captures a vast number of images of a site that can be used for BIM modeling.
To simplify the verification process, NavVis developed an add-in for Autodesk Revit. The add-in connects the highly detailed, immersive NavVis IndoorViewer instance with Revit BIM models. Once the add-in has connected to the software, users can click on the 3D model floor plan and the 360° image tagged to that location will pop-up in the same screen. This tool is now also available for point clouds that have been captured by terrestrial laser scanners and post-processed as structured E57 files.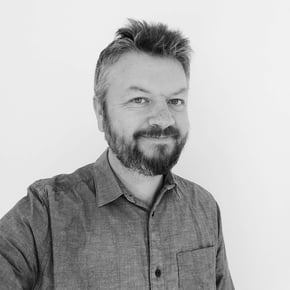 Stephen Cousins
Stephen is an experienced freelance journalist focused on technology and sustainability in the Architecture, Engineering and Construction sectors.