Think you need to wait for a case-study-worthy, big and impressive project to make the most of a mobile mapping system? Three laser scanning professionals offer their perspectives.
Many laser scanning professionals want to invest in a mobile mapping system, but decide to wait for a big project before making the leap.
The logic seems solid: A system like NavVis VLX has the biggest effect when you're capturing a 15-story parking garage, a factory, or an office building. It gets the job done so quickly that you can charge much lower rates than competitors, and maybe get a flashy case study in the process.
But that's just one perspective on this complex issue. There are ways that you can reap benefits from a mobile mapper without waiting for that big project.
To offer some other perspectives, today we'll focus on three laser-scanning service providers use NavVis VLX for smaller projects. Their experiences will show how the mobile mapping system speeds up their workflows, provides better data to their clients, or offer a new kind of service—all of which can change their business for the better.
TruePoint - Scanning a Doctor's Office
TruePoint Laser Scanning has found that their mobile mapping system can save them significant time on even the smallest projects.
The firm was hired to document a 3,500 sq foot doctor's office in Birmingham, Alabama, US. The owner already had the 2D CAD documents used to construct the building, but they needed a true as-built 3D data set for ongoing applications like facilities maintenance, operations, marketing, and any future construction work.

The scanning team opted for a hybrid workflow, using NavVis VLX to capture the interior and a terrestrial laser scanner for the building façade. The whole asset took just over 2.5 hours—one 30-minute scan with NavVis VLX, and 2 hours of work with the terrestrial device.
TruePoint's regional manager Andy Foshee said they could have captured the space without a mobile mapping system, but the tool helped them to finish in a single evening. "The whole workflow is shorter," he says, "and this got us off site sooner. I'd say that, on average, NavVis VLX cuts our time on site by 50%." On top of that they were able to offer their client extra value by capturing 40 plus HD panoramas for use in marketing materials.
Qk4 - Mobile Mapping for Small Bridge Surveys
Ben Shinabery, a professional land surveyor with Qk4 in Kentucky, US, has performed more than 600 surveys for small bridges in Kentucky since 2019. Since he has many more to come, he says he was able to build the cost of NavVis VLX into his existing contracts. That means the device was paid off immediately, enabling him to use it for a better capture workflow on his surveys for the past year.
Shinabery says that the tool is so easy to transport that he brings it with him into the field for every project. "Now I can have the option of scanning anytime, on any site that I go to," he says.
And the design of the NavVis VLX makes quick work of bridges. "Wearing it on my shoulders, I'm able to walk down the side slope, go underneath the bridge, back up the other slope, and then do the same process on the other side and close it off," he says. "I can capture data wherever I walk in an efficient way. And it has the good color overlay, so it supplements the survey that we're already gathering in the field."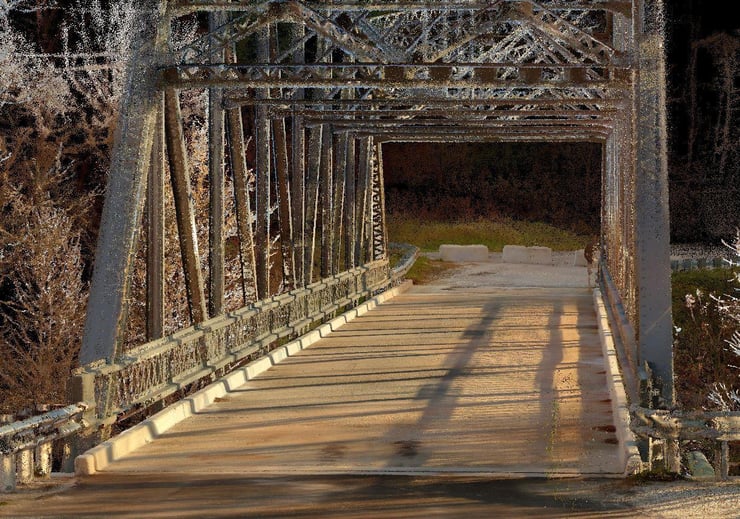 Source: Ben Shinabery (2022), Linkedin, Link to post
That combination of convenience and capture speed mean he can grab data he wouldn't have captured with traditional survey methods. "On our bridge surveys, I can collect data to measure the heights of traffic signals in the middle of an intersection without actually setting up our survey instruments," he says.
"For an intersection survey, it would usually take six or eight hours. But with NavVis VLX, I can collect the entire intersection in 10 minutes. I can have all that contextual information to make measurements, and even build existing conditions models to give to the design engineers."
Check out our interview with Ben here on this topic and more.
Primal Technology – Thinking Differently about Small Projects
Brandon LeBrun made the NavVis VLX his first equipment purchase after setting out on his own with Primal Technology Services. He says that the economics of the scanning market are complex—and mobile mapping may not be for everyone just yet—but there could be a number of cases where it makes sense to get a mobile mapping system before you have that big project.
For one, you might want to consider getting the tool right away, and getting it into the field, so can understand its best practices and limitations by the time your bigger projects come around. "I've tried to break this thing so many times," he says of his NavVis VLX. "I tried everything to break the SLAM on it, I tried all kinds of things just so I can understand what the tool can do."
LeBrun also makes the case that if you're planning to buy the scanner anyway, you should think about utilization. "Everybody wants return on their investment," he says, "and the key to that is utilizing your gear—or getting it in the field and getting it paid for on some small projects. Especially if you have big ones down the line that are going to expedite that process."
Lastly, LeBrun says that using your mobile mapping system for small projects might just help open up business opportunities.
For example, he says that he has started to do smaller scanning jobs for terrestrial laser scanning companies that want to bring in mobile scanning, but aren't ready to spend the money on one. "They've partnered up with Primal Tech. It saves them money and allows them to offer an additional line of service. It also helps me build relationships, gets me in front of people, and it's helping me utilize my scanner more."
"With that mindset," he concludes, "there's the potential to use it on a bunch of small projects. I've seen a lot of success there."
Listen below as Brandon tells more about using NavVis VLX on all kinds of projects:
Sean Higgins is an independent technology writer, former trade publication editor, and outdoors enthusiast. He believes that clear, buzzword-free writing about 3D technologies is a public service.
Get the latest news as it happens
You'll get the latest updates, news, and industry insights – plus the occasional newsflash – direct from the team at NavVis.