It's not all about the hardware!
When your AEC company evaluates a mobile mapping system, it's easy to focus on the hardware. But that slick, futuristic slab of industrial design is only half of the solution you're paying for.
The software that comes with the lidar scanner is just as crucial. It's the starting point for your downstream 3D-data workflows. You'll use it for a variety of tasks across the building project, like post-processing and registering your scans, taking measurements, and even sharing data with other applications, stakeholders, and clients.
Without the right software, your company won't ever use that mobile scanner to its full potential — no matter how small, fast, or accurate it is.
In a recent blog post, we explored how NavVis VLX is helping AEC companies add mobile mapping to their workflow and accomplish tasks that were impossible in the past. But if the software is so important, why didn't we talk about the application designed to work alongside this scanner, NavVis IVION? What are its benefits? What does this tool bring to the table for AEC customers?
To answer those questions, let's try a quick list. Here are five things you can do with NavVis IVION to take your NavVis VLX mobile data to the next level in AEC.
1. Share Data Everywhere
As we've talked about, NavVis VLX makes it faster, easier, and less expensive to capture data, enabling your team to scan data it would never have had before. NavVis IVION complements the hardware by making it possible to distribute that data in ways that were previously impossible.
Share data with any employee on the project, whether local or remote, directly within NavVis IVION. Or, generate links to share full scans or part of a scan with anyone with access to a web browser (and the correct permissions). The end user doesn't even need to download software.
This empowers your stakeholders on the AEC project to use the data for a variety of purposes. For example, you can share the data with:
clients or other stakeholders for communication purposes
subcontractors to prepare their work before coming on site
engineering to check for big elements like beams
and more
Some of the biggest AEC companies in the world have found that NavVis IVION's easy sharing has changed their whole way of working. When data is this easy to capture and use, you'll find new uses you never expected.
2. Cut Time and Costs
NavVis IVION uses cloud technology to automatically handle post-processing tasks like basic scan cleanup and full registration.
That means your survey or 3D-capture department can start processing the data at the end of the day. When they return in the morning, they'll find the data ready to go. And that saves a lot of time for working on more pressing tasks.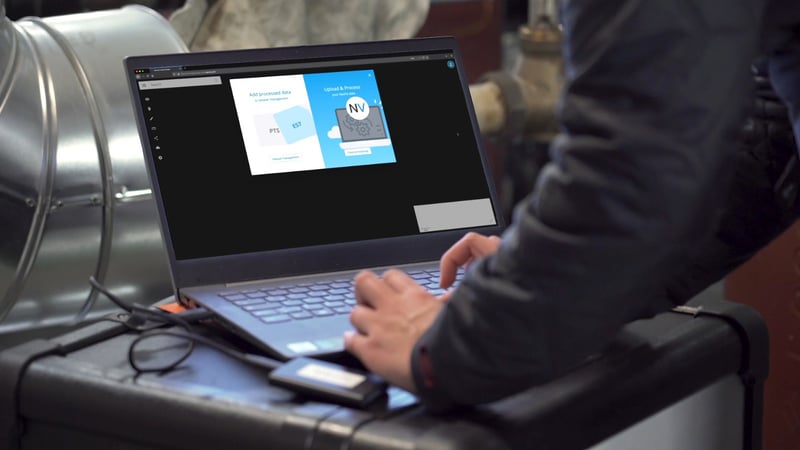 But what if your company is just getting started with 3D capture and you don't have the post-processing expertise in-house yet? This automatic processing functionality saves you the time and cost of building out (and maintaining) a full department. With much less training, your existing employees can handle post-processing without pulling too much focus from their core competencies.
In short, automatic cloud-based post-processing generates value that you can pass on to your customer.
3. Integrate with Everything
Since NavVis is a young company in the 3D-capture space, the developers knew it was important to make NavVis IVION work with your existing tools as seamlessly as possible. After all, it's a deal-breaker when you find that a new tool doesn't work with the tools you already use.
That's why NavVis IVION makes it easy to bring in different kinds of data, like drone captures and TLS point clouds. It also plays well with a range of software, with free plugins for integration with major AEC tools from Autodesk, Bentley, and AVEVA, among others.
But the biggest draw might be the open application programming interface (API), a tool that enables your developers to build custom integrations between NavVis IVION and any software tools that don't already have an official plugin. This API is well documented — a rarity — to make it as easy as possible for your dev team to get up and running.
Have a tool that you need to connect to NavVis IVION? No problem.
4. Make Your Team Happier
A lot of mobile mapping software is designed by companies that specialize in hardware first, and it shows. These applications are powerful, but they can be difficult to use without extensive training and, even then, can be extremely complex to work with.
Since NavVis is a software developer first (and a hardware manufacturer second), NavVis IVION is just as intuitive as it is powerful. Though it features extremely powerful processing beneath the surface, the user experience is straightforward. You'll find web-based sharing, workflows that automate the registration and clean-up of your scans, and even simple tools for inspection, planning, and measurement.
This may seem like a secondary point, but it's hugely important.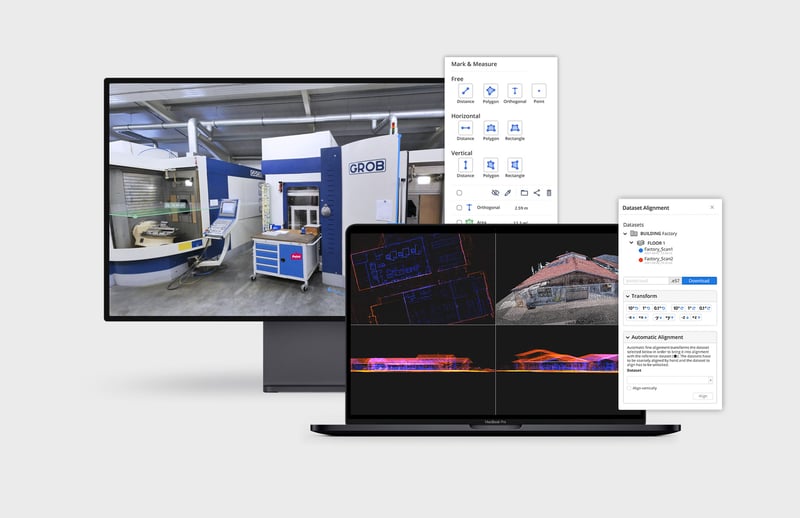 If you buy a mobile mapping system, you're probably hoping to capture data you couldn't have captured before, share it with stakeholders across the project, and use it for a wider array of applications. If the software makes any of these tasks difficult or cumbersome to do, then your team will simply do them less. And you'll be leaving value on the table.
5. Get Regular Free Upgrades
NavVis has developed a reputation for updating the software on NavVis VLX to improve performance and add new features. Existing owners have seen improvements to the accuracy of their mobile mapping systems, all without making a single new purchase.
The same goes for the company's post-processing software. In fact, NavVis will soon release a workflow that makes the process of rescanning much simpler, streamlining crucial workflows like progress tracking.
Think about your software
Mobile mapping hardware gets most of the attention, but the software you use to process and share your data should be innovative, too.
And many AEC companies agree. In fact, more and more of them are starting with a focus on software when they buy a mobile mapping system. They know that their building projects require a point-cloud tool that is intuitive to use, inexpensive to implement, integrates easily with their workflow, and makes it much easier to share data with stakeholders.
NavVis IVION not only delivers on all of these points, but it is also constantly improving. This makes it a great complement to the NavVis VLX, and a tool that can help you extract the last bit of value from that mobile data you worked so hard to capture.
Sean Higgins is an independent technology writer, former trade publication editor, and outdoors enthusiast. He believes that clear, buzzword-free writing about 3D technologies is a public service.